A road runs from the East River to the tip of the North Fork of Long Island, running through Long Island City, Woodside, Jackson Heights, Flushing, Auburndale, Bayside, Douglaston, Little Neck, Great Neck, Munsey Park, Port Washington, Muttontown, East Norwich, Oyster Bay Cove, Cold Spring Harbor, Huntington, Northport, Smithtown, Stony Brook, St. James, Port Jefferson, Rocky Point, East Shoreham, Wading River, Calverton, Riverhead, Aquebogue, Jamesport, Mattituck, Cutchogue, Southold, Greenport, Orient and Orient Point, and would go further were an ocean not in the way. It is a precolonial trace used by Native Americans before Verrazano and the Dutchmen who followed him caught sight of the lengthy island along whose north shore it limns. It's Jackson Avenue, North Hempstead Turnpike, Lawrence Hill Road, Fort Salonga Road, North Country Road, Main Road, Route 25A, Route 25, and in NYC and Nassau County, it's Northern Boulevard.
In Queens, Northern Boulevard has been called Jackson Avenue (the stretch west of Queens Plaza still is) Bridge Street, and Broadway; a Flushing enclave and LIRR station still bear the name Broadway after the old road. I'm unsure when the whole kaboodle was renamed Northern Boulevard; perhaps it was in the great 1920s "boulevard"-naming craze the Queens Topological Bureau underwent, when the Philadelphia-style numbering system was instituted and most major roads like Vernon Avenue, New York Avenue, and Rockaway Plank Road were given "boulevard" monikers.
To walk Northern Boulevard, or Routes 25A/25 from shore to shore would require a few days, and at the sluggish pace your webmaster generally employs, more than a week. Perhaps someday I'll accomplish the feat. On a sunny Sunday in the fall of 2006, though, I was on my way to a ramble in the Bronx when I discovered yet another Flushing classic house on Sanford Avenue being demolished by wreckers so that the Fedders buildings so beloved by New Flushingites and the developers who cater to their wishes could have their way, adding to the destruction of a neighborhood I have called home for the past 13 years. Dismounting from the bus to chronicle the travesty, I decided instead to wander along nearby Northern Boulevard and register the remnants of a bygone Flushing that stubbornly cling there. I walked from College Point Boulevard to 157th Street.
WAYFARING MAP: NORTHERN BOULEVARD, FLUSHING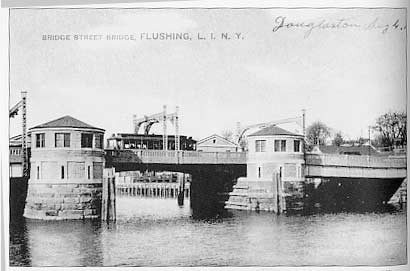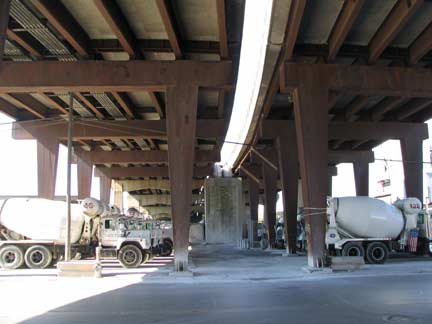 In the late 19th and early 20th Century the stretch of Northern Blvd. between the Flushing River and Main Street was called, sensibly, Bridge Street. A succession of bridges have been employed here, including the drawbridge shown at left, opened in 1906. It's hard to imagine it supporting toady's parade of pedal-to-the-metal roling behemoths. However, it did last fairly far into the 20th Century; the current span, which elevates the boulevard far above the river so that boats can pass and connects traffic with the spaghettilike intechange of the Van Wyck Expressway and Grand Central Parkway, dates to October 1980. The surface section of Northern Blvd, which joins the elevated part at Prince Street, is welcomed by a fleet of cement trucks. picture from Flushing 1880-1935, James Driscoll, Arcadia Publishing 2005
Forgotten Fan Ken Buettner: The 1906 span shown in the page was replaced by another drawbridge in the 1930's when a sister drawbridge was built at the same time for the Whitestone Parkway (leading to the new Bronx-Whitestone Bridge). (That span, whose drawbridge mechanism was removed in 1963 and fixed in place, is currently being replaced.) It was the 1930's span which was replaced by the current fixed bridge. The new bridge is higher and longer.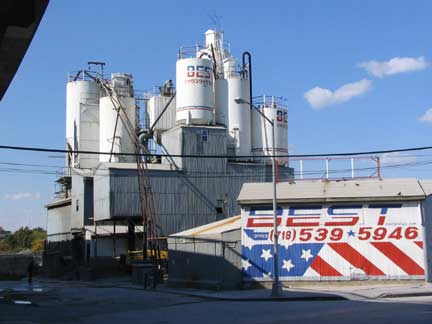 Surprisingly, Art Moderne architecture turns up quite a bit in industrialized areas; perhaps the style was ideally suited for it. You can tell the building at left was bult from 1933-1938, or thereabouts. Best is likely a cement plant, but College Point Boulevard is beginning to change its character as luxury housing has started to spring up along its southern stretch, chasing out the last of the strip clubs. From here north to its titular neighborhood, though, College Point Blvd. is heavy industry all the way.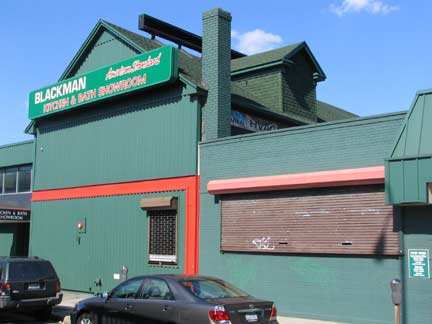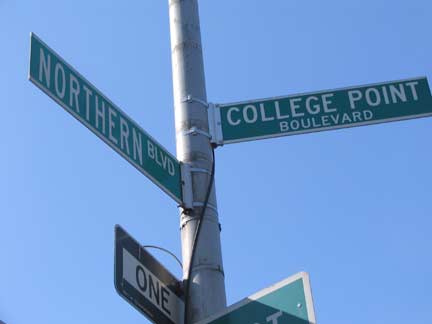 You can tell that the Blackman Kitchen and Bath Showroom was adapted from what was possibly a residential building, from the peaked roof and dormer window.
A sampling of the businesses along the north side of Northern Blvd. east of Prince.
[The sign says "beloved dogs" or "dog love"]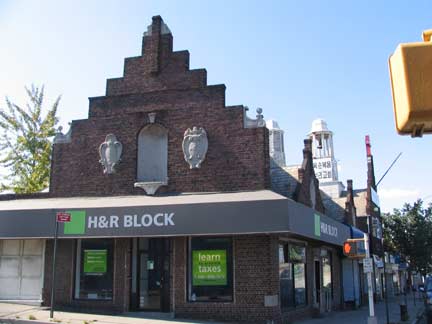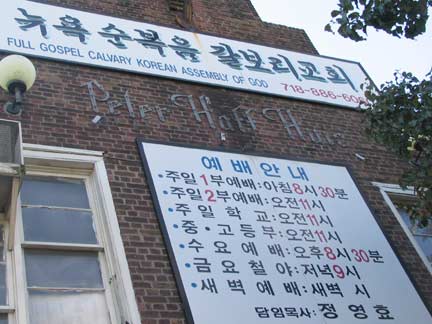 On the south side of the boulevard, west of Prince, we have a very odd building with a Dutch-style roofline and a bell tower. Lettering above the front door says "Peter Hoff" …something. Apparently Huis, Dutch for House.
One of the entablatures shows a griffin or lion rampant (standing on left foot, as the heraldic term goes).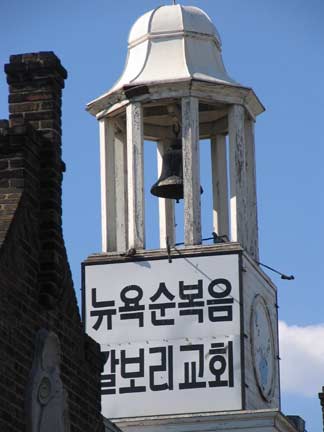 The bell seems to be of considerable age. Sometimes bells are captured or removed from former buildings and used elsewhere.
Tenants include the Full Gospel Calvary Korean Assembly of God, a fishing tackle/bait place (the Flushing River is nearby, but I can guarantee you there are no fish there), a kung fu place, and a cabinetmaker, perhaps this is one of the building's original bay windows.
Staten Island's Wu-Tang Clan got their name from Chinese martial-arts flms.
King Road trails off to meet College Point Boulevard at the old Serval Zipper Tower, a focal Flushing touchstone for anyone who has sat freezing in the upper deck at Shea Stadium watching the Amazing Mets drop another one, as your webmaster has done on repeated occasions. I wish I knew more about the Serval tower, but there doesn't seem to be a wealth of information floating around about it. I have a thing about old, nonfunctional clock towers, as you'll see later.
King Road is in the old trackbed of the Long Island Rail Road Whitestone Branch, which was abandoned in 1932 but would come in awfully handy today, though as a non-driver, I lament the abandonment of any railroad branch. I still mourn the passing of the Toonerville Trolley.
Boy Scout Mall
Since the mid-1860s Northern Boulevard has been blessed with a wide mall between Main Street and Union Street. Called the Daniel Carter Beard Mall after one of founders of today's Boy Scouts who spent part of his life in Flushing, it is dotted with memorials to war dead and lined on both sides with historic structures from the 17th, 19th and 20th Centuries.
The large flagpole at Main and Northern Streets is a rare Spanish-American War memorial, dedicated in 1950 to the memory of Whitestone-born Alfred J. Kennedy, a commander in the war and, among other positions, a member of the NY State Assembly and New York state senate. According to Political Graveyard, his burial site is unknown, so this location will have to suffice.
Also at Main and Northern there used to be, from the 1870s to the 1940s, cast-iron and zinc Neptune Fountain depicting the Roman god of the sea and a bevy of mermaids. Since my admiration of mermaids is well-known, I lament its passing. This was the site of the first public Christmas tree erected in a Queens park. On Christmas Eve in 1913, Flushing residents gathered to light the tree and hear a concert by a 26-piece Parks Department band. If Neptune's your guy, you can still visit him at the Bailey Fountain at Grand Army Plaza in Brooklyn. Main Street's Neptune was melted down for war munitions. NYC Department of Parks
At Linden Place and Northern Boulevard is a concentration of historic structures. There is the Quaker Meetinghouse  and Civil War Memorial (1865) and lesser sites, such as a horse trough presented to the ASPCA (1909) and the NY Telephone Building, which is a survivor in this region of constant change (1915).
The inscribed names on the venerable memorial, all of them belonging to volunteer warriors, are fading with time. 
1915 view. picture from Flushing 1880-1935, James Driscoll, Arcadia Publishing 2005
The original Penn Station (1910-1964) was built from beautiful pink marble similar in appearance to what can be found at Hermon MacNeil's World War I memorial bearing the names of Flushing's dead in that conflict. MacNeil, a College Point resident, also designed the "Standing Liberty" quarter (the predecessor to today's Washington Quarter), the Marquette Memorial in Chicago, and 4 busts in the Hall of Fame of for Great Americans, among many other works.
The traditional Roman fasces consisted of a bundle of birch rods tied together with a red ribbon as a cylinder around an axe. Though adopted by Italian fascism in the early 20th Century, the symbol seems to have avoided the stigma that the swastika acquired after its adoption by the Nazis.
Your webmaster recalls fasces from the depiction of one on the reverse of the "Mercury dime," which was still circulating in the 1960s. The dime didn't show the Roman messenger god, but Liberty wearing a winged cap.
RKO Keith's Theater has lay empty at the head of Main Street at Northern for the better part of 30 years, resisting all attempts to restore or renovate it; a recent plan to make it a shopping mall, while retaining its grandiose lobby, appears to be stalled. It was built by prolific theater architect Thomas Lamb in 1928. Vivid accounts of what this great landmark once looked like, and what became of it, can be found at cinematreasures.
There's an approximation of architecture at the SE corner of Northern and Main. A more modest structure quite possibly going back to the 1800s has been obscured by modern signing. Peck's is a longstanding Main Street mainstay.
[By 2010 Peck's and its building had gone]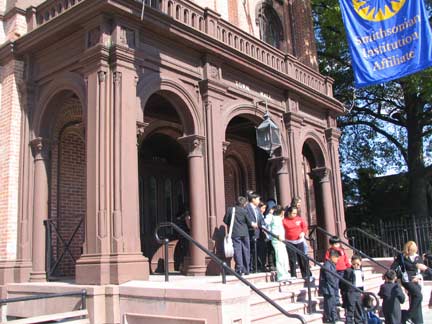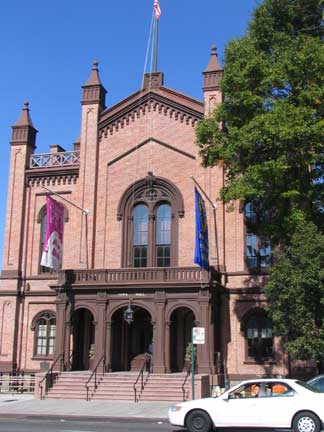 Flushing Town Hall has been converted from a crumbling ruin surrounded by chicken wire, as it was when I arrived in Flushing in 1992, to a wonderfully restored jazz, performance and lecture hall. Today, a be-suited cadre of kids were lugging violin cases on their way out of a concert. Why can't the nearby RKO Keith's get the same love?
I like the little survivor across from Town Hall next to the massive new Wingate Inn (if an 8-story building can be called an inn). I can't read Chinese and Korean signage, but their picturesque translations, like "Sister Beauty Salon" are always entertaining. This sign is not, however.
There's a building on Northern and Union Street, formerly an art framing place and computer retailer still home to a number of businesses, but also showing remnants of its 1920s Art Deco beginnings. The title above the door, hidden by the awning signage, says "Daily Journal," so it was likely a newspaper office.
Forgotten Fan Jeffrey Morris via the Queens Gazette: The Daily Journal was a predecessor of the Long Island Star-Journal, a daily paper that informed the community about local and world news until it folded in 1968. A banner across theStar-Journal masthead reminded readers that the newspaper's name came from the merger of the Long Island Daily Star(1876) and the North Shore Daily Journal– The Flushing Journal (1841).
Most incongruous, though, is the use of representations of Michelangelo's "The Creation of Adam" and Raphael's "The Marriage of the Virgin," probably by the art framer. The great masters probably wouldn't have liked that the color has been bleached out, the art cropped, and the dimensions stretched out.
Did artists prior to the 20th century imagine that their work would be used in pop culture or advertising? Would they care if they did?
"The Marriage of the Virgin", depicting the wedding of Mary and Joseph (as well as showing a disappointed suitor cracking a rod across his knee) was the first painting bearing a signature from Raphael, who was 20 years old at its completion. It was inspired by an earlier work by his mentor, Pietro Perugino.
Flushing's Armory, opened in 1905, is smallish as NYC armories go, but it is the only castle-shaped armory in Queens (a large armory in Jamaica is more Deco in construction). It has been home to the National Guard, high school proms, and the NYPD. This is the shorter of its two towers. A small piece of the Cornucopia Masonic Lodge can be seen at left.
Union Street has a cornucopia of signs covering its commercial buildings both north and south of Northern Blvd. in Flushing's Koreatown. Is this the practice in South Korea?
I've done a couple of pages on Flushing, but I rarely feature historic Flushing High, a landmarked Collegiate Gothic building dating to 1915. It resembles CCNY's Shepard Hall. It's difficult to photograph Flushing High since it's surrounded and shaded by tall cypress trees, and in late 2006, it was covered in scaffolding for a restoration, which had been completed by 2012.
A couple of Flushing Freedom Trail signs remain here and there, but the red line painted on the sidewalk connecting the Quaker Meetinghouse, John Bowne House, Kingsland Mansion, etc. has faded away. The Trail was proposed by Flushing High teacher and President of the Bowne House Historical Society Margaret Carman (1890-1976), a relative of Revolutionary War Captain "Lighthorse Harry" Lee* and Confederate general Robert E. Lee.
*Captain Lee described George Washington thusly in an address to the Continental Congress in 1793: "First in war, first in peace and first in the hearts of his countrymen."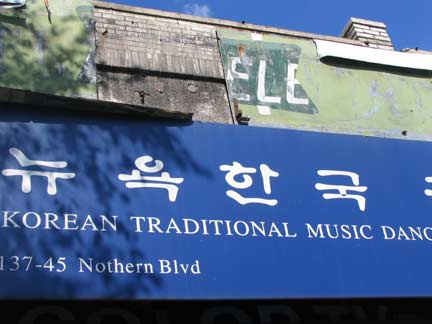 A Northern Boulevard facade has been removed, revealing a piece of an older sign beneath.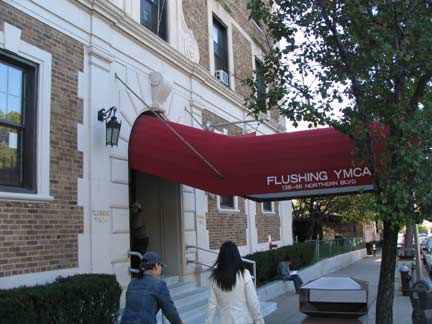 The Flushing YMCA bus shelter ads reflect the recent demographics of this now-heavily Asian neighborhood. The Y, at Northern Blvd. and Bowne Street, was built in 1925. According to the YMCA website, the organization was founded in 1844 and in 1891, James Naismith invented basketball under the YMCA's employ.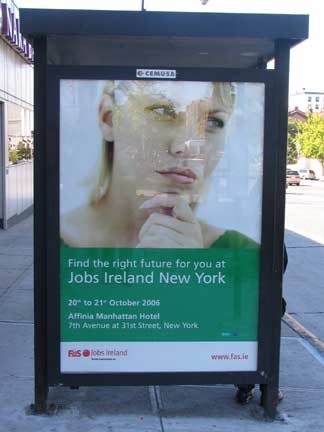 Conversely, Flushing's Irish seem to be invited to leave the good old USA and ride the Celtic Tiger, which roared in 2006 and had been silenced by 2008.
The "professionals" referred to on the old-school sign are, of course, physicians.
Here's an ancient campaigner on Northern just east of Bowne. It features a terrific hand-lettered copy of Futura Condensed, almost matching it stroke for stroke.
Northgate Towers, just west of Parsons Boulevard, is Northern Blvd.'s handsomest apartment complex on a stretch of the road where they're quite common.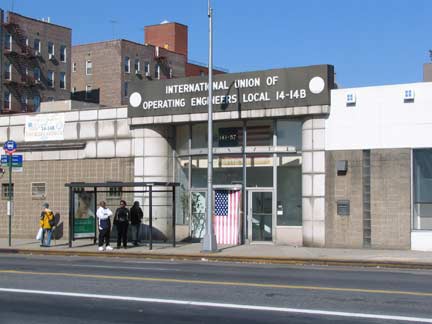 1950s-era union hall at Northern and Parsons. A former Horn and Hardart, I am told.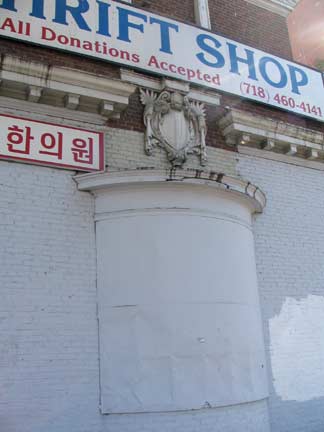 The SE corner of Northern and Parsons features a mystery building with dormers and a clock tower, now home to a variety of businesses. I'd say it was once a bank; is that a deposit window on the Parsons side?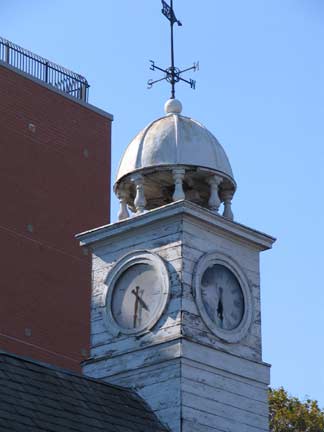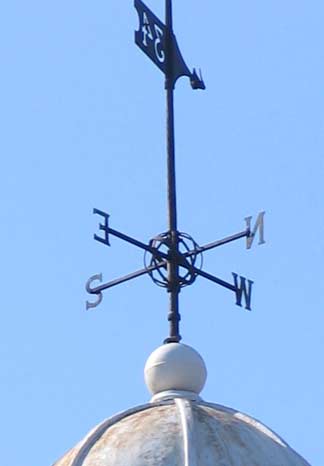 The stopped clock tower contains a final mystery…the number "34" on the weathervane. Decades ago, plans were drawn…designers sweated over blueprints…artisans struggled to piece together this intricate cupola, with its columned dome, 4-faced clock, and mysterious numbered vane. Today, only your webmaster wonders about it. Could "34" be the year of construction?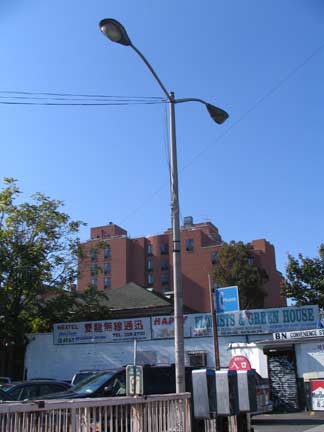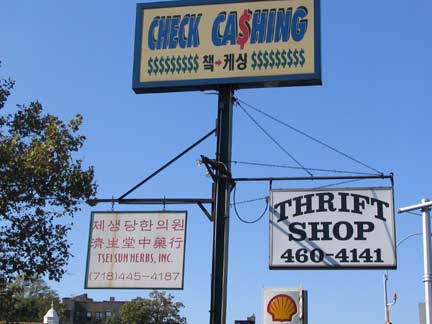 Parking lots (and the undersides of overpasses) are often repositories of the streetlighting designs of yesterday. A Northern Blvd. parking lot off Parsons features a pair of General Electric M400's once NYC's standard luminaire. Meanwhile, a plethora of signs, Korean and English, festoon a nearby pole.
Northern Boulevard doesn't give up its mysteries easily. This is the last of its older residential buildings, its carriage driveway long overgrown with weeds. I've never seen anyone enter or exit and in my 13 years in fab Flushing, I've never seen any activity of any kind here; there's always been a chain-link fence surrounding the property, which was today open for some reason, yet I detected not a soul in sight.
Apparently its owner has declined to sell it all these years. A shame. You can build 2 or 3 Fedders Specials here.
You say you like this building, the Greystone, on 149th Street just north of Northern but there's no vacancies?
Well, there's one just like it around the corner on the boulevard. Undoubtedly, the two had the same developer, probably between 1900-1920.
When it reaches 150th Street, Northern Blvd. presents us with some anachronisms. An old dormered building occupied by a porno video palace is apparently on its last legs and may be marked for demolition.  This is possibly the smallest freestanding building on Route 25A/25's 100-mile length. Next door, there's a lean-to home to a thriving locksmith.
So nice, I'll show it twice…a classic blue and white directional sign pointing traffic to the Bronx-Whitestone Bridge, completed in 1936. While the Whitestone Parkway connected Northern Blvd. to the bridge at the start, the bigger Whitestone Expressway was not built until 1958. Till then, from eastern Flushing, two-lane 150th Street went through north to Cross Island Parkway and was a major route to the bridge. An identical sign can be found a couple of blocks south at Sanford Avenue and 150th. Contrast with the newer similarly colored bus stop sign.
Continuing Northern Blvd.'s unlikely fishing supplies theme, near the north shore but a considerable distance from water. (just east of 150th Street)
At Murray Street. Bugler, according to lore, is the #1 selling brand of loose tobacco in American prisons.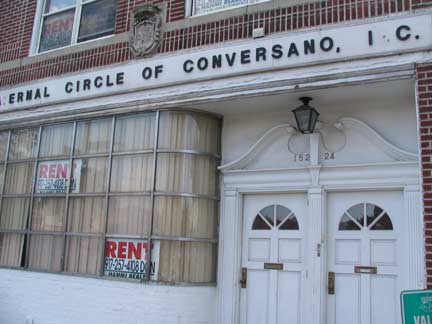 I'd guess this is an Italian social club, but they seem to have moved out. The entablature is very unusual: a tower surrounded by 5 dice, each presenting, in order, 1 through 5 pips, topped by a crown. It turns out to be the Conversano coat of arms.
Northern Blvd. becomes a mini auto row east of Murray Street (and again at Crocheron and 162nd, with an R & S Strauss there). Lots of Firestones have a go-go Fifties kind of feel but Auto Zone has abdicated all pretense that their premises is a building at all; it's simply an object that holds auto parts.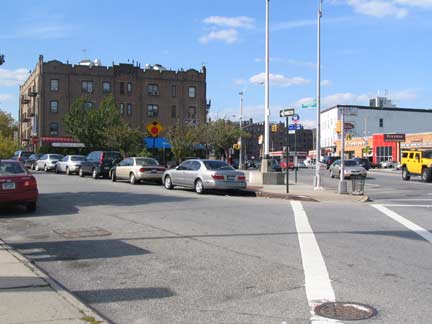 The beginning, or end, of Roosevelt Avenue at Northern Blvd. and 156th Street. Reverse course and travel west far enough on Roosevelt and you will pass through Corona, Jackson Heights, and Woodside; at Queens Boulevard, Roosevelt Avenue becomes Greenpoint Avenue and runs through Blissville before crossing the viscous Newtown Creek and entering its namesake Brooklyn neighborhood, finally ending at the East River just past the old Eberhard Faber pencil factory. You will be shrouded under an el most of the way, and incidentally, pass by Nancy Reagan's childhood home near 149th Place.
Roosevelt Avenue was created in 1915 and named for President Theodore when the IRT Flushing el was built, and a roadway was conveniently built under its right of way. The road became the dividing line between Jackson Heights and Elmhurst as local streets radiating from it were cut through, and in the 1920s beautiful garden apartments were built there as the el was able to bring workers to Manhattan within 30 minutes.
When the el was extended to Flushing's Main Street through a tunnel in 1928, a local route, Amity Street, was widened as an extension of Roosevelt all the way to its confluence with Northern. Roosevelt Avenue, and its el, have been described as the most ethnically diverse piece of real estate on the planet since along the route can be found dozens of ethnic enclaves from around the planet.
Just past Roosevelt Avenue, there are the remnants of the go-go Fifties and Sixties again, with a drive-in orthopedic shoe store across the street from a drive-in dry cleaners. I love that Great Scot sign.
The tallest building in the area, at 157th Street and Northern Boulevard, is St. Andrew Avellino Church, constructed in 1940.
This page was photographed October 15, 2006, and written October 22.