Cherry Street, which is named after a long lost cherry orchard, is one of the streets that run northeast in lower Manhattan, paralleling the East River up to Corlears Hook, where the river turns north. Cherry Street is accompanied by East Broadway, Madison, Monroe, Henry, a bit of Water, and South. In 1789, when the seat of government was in NYC, President George Washington's mansion was located at #3 Cherry Street near its junction with Pearl, a spot now under the Brooklyn Bridge approach.
Recently, NYC King of Lampposts, Bob Mulero, sent me a few photographs of a pedestrian bridge connecting Corlears Hook and East River Parks across the Franklin D. Roosevelt Drive, just south of Cherry Street where it meets the FDR service road. The bridge was built in 1962…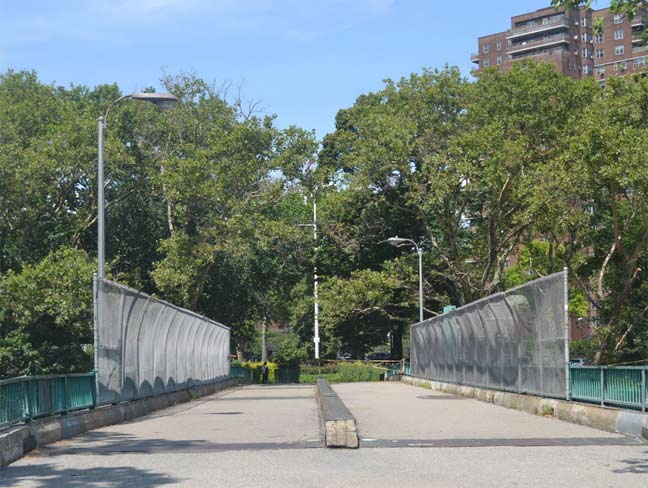 … and is still lit by only two mercury vapor lamps.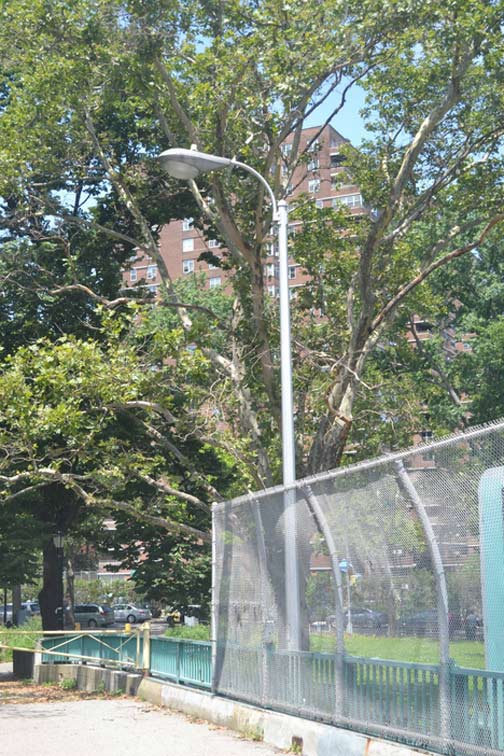 One of them is a General Electric M400, introduced in 1958…
…and the other is a member of the Westinghouse Silverliner OV25 family, first introduced in 1959. While still fairly numerous outside NYC, the Department of Transportation changed most NYC luminaires to a new variety of GE in 2009, so any other designs are now hard to find within city limits. This OV-25 variant was introduced in 1964 and has the photocell mounted toward the back, with a more streamlined design.
Also of interest are the short cobra neck masts, which are usually found only on park lamps or under elevated train structures.
You never know where lamp remnants may be lurking…
7/19/14