Having staggered through Greenwich Village, SoHo and the Lower East Side, I left off this extravaganza at Clinton and Houston Streets, where Clinton Street continues north as Avenue B. I'm always reminded of Larry Kirwan when on Avenue B, not from his stint in Black 47, but from this, a club hit in the early 1980s…
Follow along with me on this misbegotten journey:
GOOGLE MAP ROUTE: JULY 15, 2014
Liquor store rollgate art, storefront, and Croxley Ale rollgate by Antonio "Chico" Garcia, whose work is frequently found in the East Village in the alphabet streets.
The movie "Beat Street" featured Chico's work. The iconic lettering for the title of the cult movie "The Warriors"? Garcia made it. He has been all over the world teaching graffiti art, has been recognized as a pioneer in the world of graffiti murals and has even — as all good artists should — garnered some controversy. The Villager
The campanile of Most Holy Redeemer Roman Catholic Church dominates the view on East 3rd Street between Avenues A and B. As tall as it is, it was actually truncated in 1913 from its original height of 250 feet. The parish was founded in 1844 to serve the southern German Roman Catholics who partially made up the area then known as Kleindeutschland, or Little Germany, and this Baroque church was constructed as early as 1852. By 1865 there were over 15,000 parishioners. It's hard to imagine it now but the Catholic Church's Germans were once only second to its Irish. The parish school taught classes wholly in German until the end of the 19th Century.
It was only a matter of time before an imbibing establishment, like this one on Avenue B, took on the name of the ghostly gentleman from Providence. H.P. actually resided at two buildings in Brooklyn, whose neighborhoods have flipped the script as far as their fortunes are concerned: 259 Parkside Avenue was actually a better part of town in the Roaring Twenties, which has since been rundown, and 193 Clinton Street, which was down at heel then, has since become part of Brooklyn's Gold Coast in Brooklyn Heights.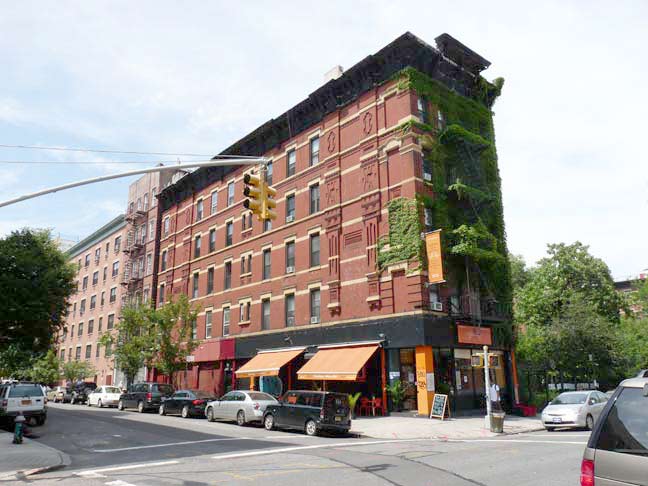 This apartment building at East 5th and Avenue B had to be placed on a severely rectangular plot. It shows architectural elements from the 1900-1915 period.
Funeral home ad, Vazac Hall, East 7th and Avenue B. "Vazac Hall" refers to a former Polish catering hall which opened in 1935. Now it's the Horseshoe Bar, but often called Vazac's or 7B.
St. Brigid's Church, Avenue B and East 8th Street, may be the oldest church built by prolific church architect Patrick Keely still standing. Its cornerstone was laid on September 10th, 1848, and construction was completed in a somewhat astonishing fifteen months. Designed in the Carpenter's Gothic style, the building is without transepts or apse (that is to say, it is rectilinear rather than crossshaped), and features a nave (center seating area) flanked by a north and south aisle, each with a second-story seating gallery fronted by elaborate wainscoting. The vaulted ceiling above the nave is said to have been fashioned by shipbuilders as an upside-down boat; and indeed, one student of architecture sees this theory borne out in the "extraordinary flattening of the nave vaulting," which resembles the hull of a ship. Sculpted faces that abut the corbels supporting the roof are said to honor the shipwrights who built the church.
About a decade ago, the church had suffered from years of neglect and deterioration and had a date with the wreckers, but parishioners rallied to its support  and brought in star power to testify for it; in 2008, an anonymous donor provided $20 million to go toward its restoration.  The church was rededicated in 2013.
As usual, Daytonian in Manhattan has the full story.
A tale of two boroughs: An even older church, St. Saviour's Church in Maspeth, Queens, was built in 1847 and had an even stronger pedigree, since its architect was Richard Upjohn. The church property was sold to a developer, but the church building was dismantled and languishes in storage until it can be rebuilt. No one has stepped up with any donations.
Even Jesus isn't invulnerable in the East Village, so He needs a protective coating to keep the neighborhood youth from making alterations.
I went west, crossing Tompkins Square Park. This is an earlier page I have on the place from 2008, but here's a 5-cent history:
Like many other NYC public squares, Tompkins Square Park was originally used as a place where military commanders could review troops marching in formation, in this case the 7th Regiment, and you need a wide, flat space for that. Between 1836 and 1850 what had been a swampy and unstable area was gradually graded and landscaped, with some sycamore trees planted (most were chopped down when the Regiment arrived in the 1860s but some, on the outer edge of the park, survive). The park did not become a public area until 1878; like many other NYC locales and streets, it was named for NYS Governor, then Vice President Daniel D. Tompkins, who was from staten Island; he is buried in St. Mark's churchyard, a couple of blocks away.
In the 1950s and 1960s there was a gradual deterioration in NYC's public spaces, as funds dried up and there was a general attitude on the part of our electeds for deferred maintenance. Everything came to a head in the summer of 1988, when the Koch Administration decided to forcibly oust the drug dealers and homeless that had largely "occupied" the park, and a riot ensued (see Luc Sante's account). The necessity of the force used by the NYPD is debated to this day, but the cleanup was the first shot in the battle between the longtime residents of the East Village and gentrifiers, who have gained the upper hand in the near 25 years since the Tompkins Square Riots.
To me, the most fascinating aspect of the park is the Temperance Fountain, one of a number of monuments to sobriety built in spots across the country by San Francisco dentist and temperance activist, Henry Cogswell. I have the whole story on my earlier Tompkins Square page. When the fountain was placed in 1891, "temperance" was just a suggestion — no one thought the Drys would have their way in 1919 when the Prohibition amendment was passed. Regulating behavior turned out to be a massive failure and brought a new class of criminals and crime lords into the picture, because people enjoy their substances, and the amendment was repealed in 1933.
Louise Lawson's sculpture of Ohio Congressman Samuel Sullivan Cox has stood at Tompkins Square's southwest corner at Avenue A and East 7th Street since 1924, after its initial  placement at the triangle formed by Lafayette Street, 4th Avenue and Astor Place in 1881. S.S. Cox (1824-1889) was a Democratic Party member of the House of Representatives from Ohio from 1857-1865, and from New York from 1869-1889, when he retired. He championed the Life Saving Service, which patrolled the coast looking for shipwreck survivors; the Service became part of the US Coast Guard in 1915.
He is remembered with a statue, placed while he was still in Congress, for his involvement with the US Post Office. He introduced legislation that assured paid benefits , 2 weeks' vacation, and a 40-hour work week — innovative in that era — for postal workers. Letter carriers from 188 cities inscribed on the monument, raised $10,000 for its creation.
Cox' statue stands across the street from a likeness of a man from a completely different place and time. John Mellor, known professionally as Joe Strummer (1952-2002) was the founder of "The Only Band That Matters," the Clash, in 1976 after several years as a rock musician. Of British parentage, he was born in Ankara, Turkey, as his father Ronald served in the British foreign service.
… the Clash was said to be "…one of the most overtly political, explosive and exciting bands in rock and roll history". Their songs tackled social decay, unemployment, racism, police brutality, political and social repression, and militarism in detail. Strummer was involved with the Anti-Nazi League and Rock Against Racism campaigns. wikipedia
The Clash achieved success in the US with the double LP "London Calling" and singles such as "Train in Vain" and "Rock the Casbah," but their chief legacy was as a killer live act — they played the old Bonds clothing store in Times Square for 17 straight dates in June 1981, one of which I attended, though I know people who were at all of them. After the Clash's breakup Strummer did solo work and alos played with the Pogues and the Mescaleros. He died of heart failure at age 50, but his legacy is his huge heart.
The artwork here at Avenue A and East 7th Street was originally painted outside the Niagara, a bar Strummer frequented, in 2003 several months after his death, by graffiti artists Dr. Revolt and Zephyr. When the wall was in danger of collapse and had to be replaced in 2013, the artists were called back in to create a new mural.
Jamaican-themed Miss Lily's 7A (for East 7th Street and Avenue A) features a handpainted awning sign. Typically, though, I was prompted to shoot the temporary stoplight installed while the street was under construction.
Yet another handpainted sign, this one for Ray's Candy Store, Avenue A facing Tompkins Square. Ray Alvarez  (1933- ) has operated the store since 1974 and has gradually expanded the menu to serve parkgoers, featuring comfort food like ice cream, hotdogs, and the like.
Ukrainian restaurant Odessa has been an East Village fixture since 1965; the restaurant survives, but the bar closed in 2013.
The Holiday Cocktail Lounge, 75 St. Marks Place at 1st Avenue, was a destination for cheap drinks for decades under the steady hand of Ukrainian  immigrant Stefan Lutak, who owned the place from 1965 until his death in 2009. His typed "manifesto" was mounted on the wall of the bar whose Christmas lights were turned on all year:
It was an all Italian place when we took over. The customers played cards, pool and bet on the horses. We soon became friends with these people because we asked them to continue to enjoy themselves as before.
People from many countries meet here. Polish people hear about us in Poland. They know to come here to find out about good jobs and apartments. Also, their money goes further here.
A few years ago a lot of 'Punk Rockers' drinking beer and making noise, began crowding all the time in front of the deli. People were getting very nervous. One night I invited them all into our bar and they come all the time now and behave very well. I still remember one young man who came in with terrible clothes on. I told him to go home and dress better. His face was red with anger. He left. But you know what, he came back and his clothes were better.
I frequented the place fairly often when I was in school.
Davey's Ice Cream, 1st Avenue between St. Marks Place and East 9th Street,  features an anachronistic plastic-lettered sign but a thoroughly modern ice cream menu with stuff like "black pepper strawberry" and "strong coffee cookies and cream." Make mine vanilla.
Into the skyey void at 1st Avenue and East 9th.
348 East 9th Street is the home of St. Mark's Veterinary Hospital, and advertises with some playful wall murals. The veterinary service has been an East Village fixture since 1986.
There's some competition a few blocks away at 23 East 9th, with the more somberly tricked out Washington Square Animal Hospital near University Place. It was founded by Dr. Benjamin Rosenthal in 1962 in this 1840s's brownstone.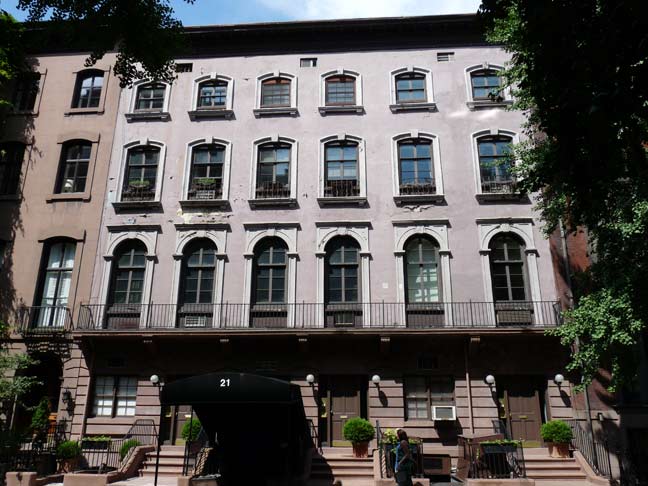 Crossing 5th Avenue, the pink Italian Renaissance buildings at #19-23 built in 1870 were once the heart of NYC café society from 1877-1905 when #21, now Omar's, was the Hotel Griffou, operated by French immigrant Mme. Marie Griffou. It became a hotel accommodating immigrants, especially French and Spanish artists by 1888, and was a friendly outpost for artists and writers who may not have been welcomed with open arms elsewhere. The hotel became an inspiration for American authors such as William Dean Howells, who set his 1890 & 1893 novels, "The World of Chance" and "A Hazard of New Fortunes" in the NYC European enclave. Historian and author Thomas A. Janvier, a Philadelphian who went on to write the engaging NYC guidebook "In Old New York," also became a Griffou regular in the 1880s; he set his "Casa Napoleon" series, published in Harper's, in a setting very like the Madame's hotel. Griffou patron Edmund Clarence Stedman left bohemianism behind to gain a seat on the New York Stock Exchange and became a literary critic. A nervous author once showed him a new manuscript; Stedman enjoyed it and assured the author, Mark Twain, that "Huckleberry Finn" deserved publication. Twain, who would later live a block away on West 10th Street, would stop in now and then; he was published by yet another Griffou frequenter, Richard Watson Gilder, the editor of Scribner's. Muckraking journalist Ida Tarbell was another member of the Griffou coterie.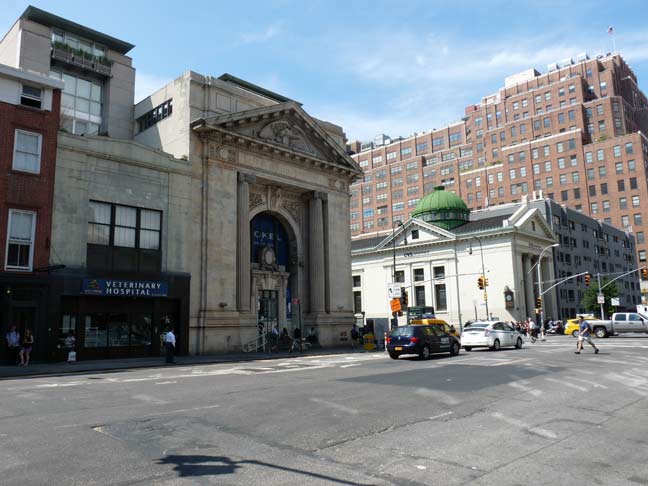 I continued along West 9th and then northwest along Greenwich Avenue, covered FNY-style here, winding up at West 14th Street and 8th Avenue.
Two magnificent former banks appear; on the left was originally the New York County National Bank (ghost letters can still be seen on the pediment), from 1907 by architects DeLemos and Cordes with Rudolph Daus. (DeLemos and Cordes also designed other monumental buildings like the Siegel Cooper Dry Goods Store on 6th Avenue and West 18th and Macy's in Herald Square)
After a stint as Manufacturers Trust– later Manufacturers Hanover Bank the building became a theater and then Nickel, a spa for men.
On the right, the beautiful copper domed, Corinthian-columned building on the NW corner of 8th Avenue and West 14th Street is the former New York Bank For Savings, constructed in 1897 by architect Robert Henderson Robertson. It passed through incarnations as Goldome Bank, Central Carpet, and most recently, Balducci's, which closed its NYC locations in April 2009. The Classic Revival bank resembles its contemporary, the Bowery Savings Bank in Chinatown. The former bank was restored in the 1980s by Robert Scarano Jr. Note the white marble exterior and the stained glass windows surrounding the dome.
Before kicking it in the head for this circular walk, here are my two favorite signs on West 14th, the gargantuan DISCOUNT LIQUORS marquee sign that's only there because the proprietor of the hand lettered West 14th Candy Store apparently feels it's too much trouble or expensive to take down! I hope it stays there forever…
8/3/14