On a midweek summer day in 2014, to relieve boredom and get some exercise as much as anything else, I walked a large circular route through lower Manhattan, beginning and ending in Greenwich Village but also entering SoHo, the Lower East Side and the East Village along the way. Sometimes I will just draw up what route to take at home, jotting it on a post-it® note and inserting it in my wallet and referring to it if I have to. I reserve the right to make a detour if I want to, if I see something interesting along the way. Sometimes these detours create material for additional Forgotten New York pages, as I'm sure it did today.
GOOGLE MAP ROUTE: JULY 15, 2014
You can see it's more of a rectangle than a circle but I pretty much would up where I started, and it's impossible to travel in a circle on Manhattan's grid.
When I left off at the end of Part 1, I was at the triangle formed by Broome, Thompson and Watts Streets near the mouth of the Holland Tunnel. In the Easy 80s, I had a now-deceased friend who had a pad at #66 Thompson — who knows how I remember the address — so I frequented the area. In those days, the triangle was bare concrete and had a particularly ugly modern art piece installed in it; the twisted metal pieces resembled a car wreck. They were the work of sculptor Robert Bowles, who called himself Bob Steel. When the city built an actual park in the triangle, they kept a few of Bowles' pieces and inserted them there.
Broome Street, named for John Broome, a post-Revolutionary merchant who imported tea from China, founded a massive NYC business in tea imports, and later became the first NYC alderman (now called NYC Councilman), runs through the heart of SoHo and is a fairly busy road with 4 lanes of westbound traffic including trucks. In the 1940s, NYC traffic czar Robert Moses planned the Lower Manhattan Expressway in a variety of configurations that would connect the Manhattan Bridge and the Holland Tunnel. It would be elevated, depressed in an open cut, or even run atop existing buildings. Though SoHo was then a mixed residential and manufacturing neighborhood, not the shopping mecca it is now, opposition was pitched and Moses was finally forced to back off after 20 years; a short section adjacent to the Manhattan Bridge had already been built.
Kenn's Broome Street Bar at West Broadway and Broome Street is located in a small, compact 3-story Federal-style building that likely dates to the mid-1820s. There have been a succession of taverns on the ground floor since the 1850s, including a German beer hall that placed the handsome stained-glass panels above the windows. Kenn's, established in 1972, was not only popular with truckers heading for the tunnel, but with artists such as De Kooning, Oldenburg and later on, Keith Haring, who moved into SoHo before the ritzy shops and yuppies did.
Sadly, owner Kenn Reisdorff passed away in early 2014, and the bar is set to close by the end of the year, according to Jeremiah. Hopefully an independent tavern and not a chain establishment will take its place on the coveted corner.
I have always been intrigued by the building at the southwest corner withe the chamfered edge, perfect for hanging billboards. Oliver Peoples eyewear occupies the ground floor and also has its name under the pediment clock, which seems to be missing a hand.
Needless to say, a lot of fine architecture would have been compromised or lost had "LoMex" been built along Broome Street, which is lined with many cast-iron front buildings, as many in SoHo are. 489-493 Broome, just east of W. Broadway, was built from 1872-1873 by architect J(arvis). Morgan Slade, who was 21 years old at the time. Note the Doric-style part-columns, or pilasters, and the date on the pediment.
The magnificent #484 Broome Street, at the corner of Wooster, was designed by Alfred Zucker and completed in 1890 using red brick and rusticated brownstone and decorated with medieval motifs such as dragons and warlike heads. Apparently its original use was as a mere storehouse!
Known as Rundbogenstil, literally Round-arch style in German, this modified method was established by Heinrich Huebsch in the early 1800s. What sets it apart from other Romanesque designs is the typical inverted crenellations that are found under the roof eave. Incidentally, this style was common for many Central European Synagogues and this was how it first found its way to the United States.  Complex
I'm not sure what had been here on the SW corner of Broome and Wooster, but there had been a building there since a bracing structure is needed to hold up the adjoining building. A rendering on the construction site, ween at the bottom, shows that the new building will at least attempt to fit in with the rest of the neighbors in this landmarked neighborhood.
Looking east on Broome Street. It has looked approximately like this since the early 1870s. LoMex would have obscured the view.
Lower Manhattan, especially the cast-iron front streets, features numerous stretches of small, circular panes of glass. They were installed before the era of Mr. Edison and Mr. Tesla, when shallowly built basements required skylights to augment the gas lamps and candles. Sometimes the glass panes become discolored and turn purple or a bluish color. Also: looking closely at the bases of the cast irons, near the sidewalk, will show the address of the foundry where they were built. Some of the addresses no longer exist, such as Goerck Street, once in the Lower East Side.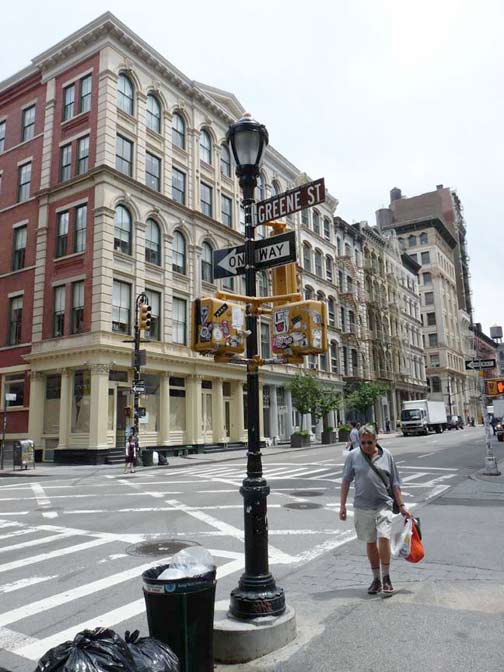 This is an unusual use for a Type B, Henry Bacon-designed lamp that first appeared in parks around 1911 or 1912. The design is sometimes used on main routes between corners to provide additional light and a bit of decoration, but I haven't seen it in a guise as a regular street corner streetlamp, with appended street signs and pedestrian control boxes before.
The Type B "Bacons" have been installed continuously for over a century — NYC's only decorative post that can claim that status. Bishop Crooks, Corvingtons, etc. were out of favor from 1950-1980, when the Department of Traffic, later Transportation, installed no new examples.
At the SE corner of Broome and Greene is another brick-and cast iron behemoth completed in 1873 by architect Isaac F. Duckworth, employing the Aetna Iron Works. It too employs the use of half-columns.
The Gunther Building, on the SE corner of (469-475) Broome and Greene, displays its name in a "cast iron tiara" above the 2nd floor corner window. The building was constructed for fur dealer William H. Gunther in 1872 (Griffith Thomas, arch.). Aetna Iron Works also contributed. Originally the building contained a number of balustrades, or decorative fencing, on its roof and also on the elements that appear like shelves on all floors on the Broome side and above the 3rd floor on the Greene side. Two cast-iron statues depicting fur-clad women once stood on either side of the Gunther Building nameplate; their pedestals are still there. Once again, this was just a mere warehouse in its heyday.
The magnificent Corinthian-style 3/4 columns, both square and rounded, on the ground floor belong to #466-468 Broome, built in 1861 for Aaron Arnold of Arnold Constable department store fame. Note the remnants of skylights on the sidewalk.
443-451 Broome Street (487 Broadway, 60 Mercer) is a late-19th Century extravaganza in brick, stone, terra cotta and iron, stretching along the entire blockfront on Broome Street for an impressive 29 bays. Its 12 stories and wide expanse were made possible only by the development of steel framing and skyscraper construction techniques of the late 19th Century. LPC SoHo designation report It was designed by architect John Williams and was finished in April 1896.
448 Broome, a minor creation perhaps, but replete with late 19th Century decoration and wedding cakery. This building has the same fathers of the magnificent Jefferson Market Courthouse on 6th Avenue, architect Fredrick Clark Withers and Calvert Vaux, the co-creator of Central Park. It was finished in 1871.
Can you believe just a few decades later, designers like Paul Rudolph would be turning out Brutalist stuff that looked like Orwell's Ministry of Love? Two world wars and a depression can do that.
Some architectural experts call the Haughwout Building, 488 Broadway at Broome, the most beautiful castiron building in NYC.  It is among the oldest: it goes back to 1856, when the castiron movement begun by James Bogardus was just taking hold. The architect was John B. Gaynor and the original owner, Eder V. Haughwout (there aren't any names like that nowadays). He was an importer of table and glassware who supplied china to the White House and exhibited at the ill-fated Crystal Palace at what would be Bryant Park in 1853. This was his showroom and retail store until 1869; thereafter it was home to a succession of wholesalers. A sportswear retailer was in the storefront in 2014. The big clock on the Broadway side is the building's original one and it's working again for now.
The exterior presents a stately succession of arched windows on the top 4 floors, each consisting of 2 Corinthian columns with another Corinthian in between.
This basic window unit is repeated 92 times on the two façades, one facing Broadway and he other facing Broome Street (above). There are 4 tiers of each of these arches, one above the other, each supporting a full entablature that runs around the two sides, giving a strong horizontal line at every floor. Cast-Iron Architecture in New York, Margot Gayle and Edmund V. Gillon Jr.
I haven't been inside the building but among its other attributes is the presence of the very first Elisha Otis elevator. Architect Gaynor also placed the first elevators west of the Mississippi in San Francisco's Palace Hotel. The existing elevator on the Broadway side is not the original elevator, which has been lost, but an 1896 installation.
The Haughwout Building in the 1980s. Like many other architectural treasures it was allowed to deteriorate badly. However, in 1995 the Kaufman family, which had owned the building since the 1930s, got rid of the rust, stripped off the old paint and gave it a new cream-colored scheme when stationer Staples moved in.
Around the corner on Broadway I was attracted to the narrow building at #495 with the copper mansard roof, initialed "ENL Co." I found that this is the 1892 New era Building:
The eight-story brick and masonry building has been described as a "gem" and a gorgeous example of Art Nouveau architecture. Eschewing the then-popular Beaux Arts style, this is one of the few and possibly the earliest Art Nouveau building in Manhattan still standing. Four squat rounded Doric columns seem to support five stories with three vertical rows of large windows separated by brickwork and iron ornamentation, culminating in three large arches at the sixth floor. This is topped with a two-story copper fronted mansard roof, now coated with verdigris, reminiscent of Parisian architecture. wikipedia
Perhaps I am mistaking the L, but perhaps "ENL" or NE Co. stands for the New Era Printing Co,, the building's original short-lived tenant.
The building on the SW corner of Broome and Crosby, #433 Broome, was built in 1827 but given a cast iron French Renaissance facade in 1870, so it resembles its fellows from the same era on Broome.
East of Crosby Street, Broome exits the cast-iron district and enters what is left of Little Italy. Pretty much the epicenter of the region is the corner of Broome and Mulberry, with two of its ancient bastions, Caffé Roma and Grotta Azzurra. Caffé Roma has two old signs, a classic neon and a constantly renewed and repainted building ad, one spelled the Italian way and one in English.
Traditionally Mulberry and Broome were Neapolitan territory. In the early 20th Century the Ronca brotehrs from Naples opened a cappuccino, espresso and Italian pastry shop on this corner. The Roncas sold to Vincento Zeccardi in 1952, who renamed it but kept it close to the old Ronca name. His descendants (some of whom were "connected") continue to run Caffé Roma, maintaining original elements of the place such as a saloon clock over the espresso machine, dark green pressed tin ceiling, and handwritten recipe book. Directly across the street was Umberto's Clam House, now the Crudo Oyster Bar. Mobster Joey Gallo breathed his last at Umberto's when it was located nearby on Mulberry Street.
The original Grotta Azzurra ("Blue Grotto"), named for a picturesque sea cave in Capri, opened in 1908 and lasted until 1997, serving fare to the likes of Enrico Caruso and later on, Frank Sinatra and the Rat Pack. The restaurant reopened in 2003.
At #378 Broome, what was originally the Most Holy Crucifix Catholic Church, built in 1925,  has retained its denomination, but is now the Filipino Chapel of San Lorenzo Ruiz. The church was rededicated by Edward Cardinal Egan in 2005. Masses are held in Spanish, Italian, English and Tagalog, the Philippines' principal language.
FDNY Engine 55 at 363 Broome Street near Mott is especially reconizable because of its large terra cotta identifying label across the top of the front entrance. The firehouse was designed by R. H. Robertson and finished in 1899. At the time architectural style was moving toward the ornate Beaux Arts style and away from Renaissance Revival, and the firehouse represents something of a transitional style. There are 5 arched windows with two lions' heads between the arches on the top floor on which unintimidated pigeons find good perching. A bronze plaque inscribed with the names of the architect, fire commissioner, and fire chief in 1898 is affixed to the wall between the two windows on the second floor.
When prolific actor Steve Buscemi ("Fargo", "Boardwalk Empire") was a firefighter, Engine 55 was his company.
Daytonian in Manhattan has much more on Engine 55
Next door to the firehouse is the former Church of San Salvatore, founded by Italian immigrants in 1880. Originally masses where held in the Church of St. Philip, an 1830s building on Mulberry Street; when a street widening threatened it, a plot on Broome belonging to the Brookes Assembly Rooms was purchased, and the present neo-Gothic building was dedicated in 1903. as Little Italy shrunk so did the church's congregation and it ultimately became the Holy Trinity Ukrainian Church.
Can someone explain this sign to me at Broome and Elizabeth? Their name is "Fat" maybe?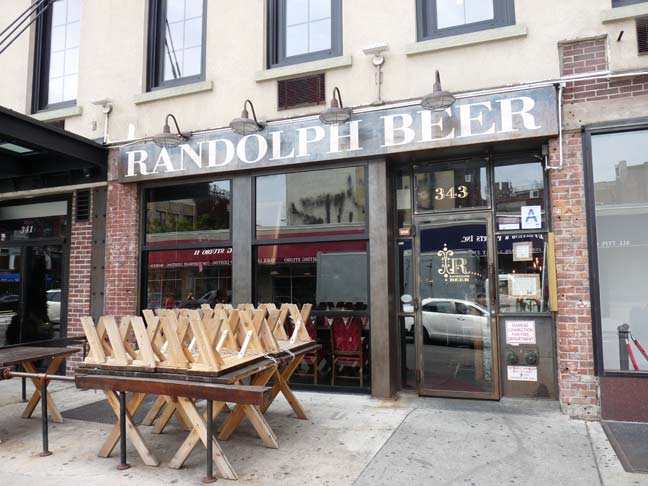 Just west of the Bowery. I liked the awning sign, as it's in good old school Bodoni Boldface, although expanded on the computer just a bit. Prices for lunch are in the mid-teens and most reviews are good.
Broome at the Bowery. Here, we are in the midst of the Bowery's wholesale lighting district. Along the stretch, there are still many worlds. The Bowery began in the pre-colonial era as an Indian trail, and then it became part of the Post Road to Boston. It later became NYC's entertainment district, and after an elevated train (the 3rd Avenue El) was built over it, the Bowery became a mecca for down-and outers from the entire Northeast. Its latest guise is as an upscale boulevard with expensive condos and eateries.
But, the Bowery has a little-publicized role as a home for wholesalers. There's diamonds and jewelry in Chinatown, and further north, cash registers and their descendants; lamps and lighting; and kitchen machinery and implements.
The only stretch of Broome Street that retains its old Belgian-block pavement is between the Bowery and Chrystie Street…
… where it is interrupted for a block by Sara D. Roosevelt Park, a lengthy corridor running between Chrystie, Forsyth, Canal and Houston Streets. The park is named for the mother of President Franklin Delano Roosevelt. Land between Chrystie and Forsyth Streets was acquired by the city, which planned to build low-cost housing, but built a corridor park instead and named it for Mrs. Roosevelt in 1934, two years after the ascension of her son to the White House.
The stretch Broome Street passes through is rather uneventful, with a brick "Central Communications" building and an empty, concreted playground marked by "No Dogs Allowed" signs.
Moving east a couple of blocks to #280 Broome Street, between Eldridge and Allen Streets, you come to the Kehila Kedosha Janina Synagogue, one of NYC's most unusual. While most of NYC's Jews belong to the Ashkenazim (German) or the Sephardim (Spain-Portugal) there is a third faction, the Romaniotes, whose roots go back to Greece. This, the only Romaniote synagogue in the western hemisphere, was completed here in 1927.
Janina's appeal is fine-grained. It's small. It's humble, even a little dowdy… The main hall is divided, as is customary, with women seated above and men below, but the room is narrow and filled with sunlight pouring through the central skylight… Even the synagogue;s principal Torah has a utilitarian simplicity: the decorative crown on the olivewood case is a simple brass cutout with a Star of David punched into it with what might have been a nail. T.M Rives, Secret New York: An Unusual Guide, Jonglez
There are plenty of old-school apartment buildings like this, at Broome and Allen Streets, in the Lower East Side. Can't vouch for the interiors, but in the early 20th Century, buildings had so much more flair to them in every aspect. A pizzeria has hung "Fresh Pizza" signs on the fire escapes.
RPM, northeast corner of Broome and Allen. When this was Lolita (as it was up to 2013) I participated in a debate a few years ago moderated by my pal Todd Seavey, against L.B Deyo of the now-dormant Jinxmagazine on whether historic preservation was good thing or not. Of course, I won.
At the NE corner of Broome and Orchard Streets is the former home of the NYC Tenement Museum, which moved  a few years ago to new quarters further north on Orchard. This storefront served as the set for a pawnshop run by an alien in Men In Black I.  The space is presently empty.
In 2005, I took note of some ancient pasted advertising on the brickface. I noted to the Museum that something should be done to preserve it, but it was left to the elements and has mostly deteriorated. The ads are currently behind protective grating, but the damage is mostly done.
The Seward Park Houses, Broome and Essex Streets, were built according to the Corbusian ideals of "towers in the park." They get the job done, but they're utilitarian and nothing more. The complex was deigned by Herman Jessor and opened for business in 1960.
The east end of Broome Street, from Essex to Clinton Streets, is one of Manhattan's last great undeveloped territories, lined by parking lots:
… in 1967, the city leveled blocks of rundown apartment buildings. More than 1,800 low-income families, largely Puerto Rican, were sent packing and promised a chance to return to new apartments someday. Now, nearly 50 years later, the land is still a fallow stretch of weed- and rat-ridden parking lots, though in the waning days of the Bloomberg administration, the city announced that the land would finally be developed into a complex called Essex Crossing, to include retail markets, restaurants, office and cultural space. And new apartments. NY Times
The abandoned Beth Hamedrash Hagadol Synagogue sits at #60 Norfolk Street south of Broome. It was built in 1850 as the Norfolk Street Baptist Church, and became a Methodist church in 1860 and a synagogue in 1885.
Turning north on Clinton; here's a picturesque doorway at #29 Clinton, near Stanton.
This is one of the few streets named Clinton not named for NYS Governor DeWitt Clinton; it is instead named for an earlier governor, DeWitt's uncle George Clinton, who served from 1777-1795 and later as US Vice President under Thomas Jefferson and James Madison, one of two men, besides John C. Calhoun, to serve as veep for two different presidents.
Street art on Clinton Street south of Houston. The inscription quotes the Goya etched classic "The Sleep of Reason Produces Monsters."
It's kept so neat and trim you would never guess the building is over 160 years old, but the Congregation Chasam Sopher, #10 Clinton Street near Houston, is the oldest building in NYC that has been used continuously as a synagogue since it was built in 1853 to serve Congregation Rodeph Sholom. It was adopted in 1891 by two Polish synagogues who combined their congregations. The name means "seal of the scribe."
Before entering into the East Village in Part 3, I'll leave it here for now…
7/27/14