MTA employee and former bus driver Gary Fonville has assisted FNY in finding odd stuff around town almost since FNY's beginning in 1999. Here, he turns his attention to bank buildings now used for different purposes…
BY GARY FONVILLE
Forgotten New York correspondent
We as a society have been using banks for a long, long time.  Unless you're abundantly loaded, chances are you have to get a mortgage from a bank to purchase a home.  If you are saving money, where else can you store it safely AND accrue interest?  Have you looked in your empty wallet at 2AM and  needed  $100? What do you do? You seek out the nearest (A)utomated (T)eller (M)achine, usually owned and operated by a bank, unless you use one of those independently owned machines that you find in  transportation hubs, bodegas, supermarkets, restaurants, etc.
Take a look around the city.  New bank construction make the banks almost indistinguishable from an average retail outlet. If you drive by many of the newer banks today, and didn't look closely, you wouldn't even know it was a bank. TD Bank is fully guilty of this practice. Banks used to LOOK like banks.  Many of the pictures you'll see are of buildings that CLEARLY suggest they were banks. And in many cases,  these buildings have been recycled for other uses.  They are now churches, fried chicken joints, medical centers, gymns,  pharmacies and even condos.
In some sections of NYC, especially Manhattan, banks seem to be wherever your look. We're all familiar with Chase, HSBC (Hong Kong and Shanghai Banking Corporation), Citibank, Bank of America and Wells Fargo. These banks who we love to hate have extensive histories.  All the aforementioned banks exist today due mergers and takeovers.  As a result, it becomes FNY's duty to point out some of the history of these consolidations.  As a FNY correspondent, I have done this in previous entries over the years.
Most of the former bank buildings you'll see have traces of their former occupants.  Many of these traces cannot be seen on a cursory look.  That's where my Nikon D7000 and I come in.  I found the name(s) of these former banks often by looking very carefully at the building's  facade.  However, many of these buildings have left no trace of their former occupants.  That's where you loyal and knowledgeable FNY fans can contribute.  Please feel free to give some info about what you know of these former banks and buildings.
An example of the "new" architecture for banks. If you drive by fast enough, it would register to you that this was a bank here on 5th Avenue in Park Slope, Brooklyn.  Do the appearance of these buildings impart a feeling of security for your money?
This building on Broadway & Greene Avenue, in Bedford-Stuyvesant, Brooklyn is  strongly reminiscent of the Flatiron Building on 23rd Street & 5th Avenue in Manhattan.  Do any FNY fans have any info on this building?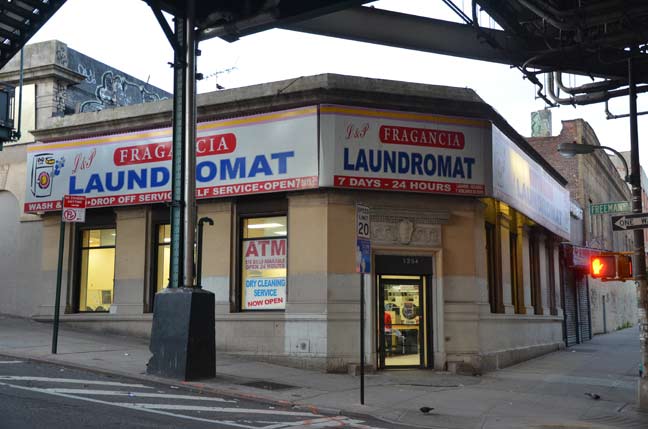 In the shadow of the IRT at Freeman Street & Southern Boulevard, in the Bronx sits this laundromat.  This is a classic case of a building that looks like it was a bank. Was it?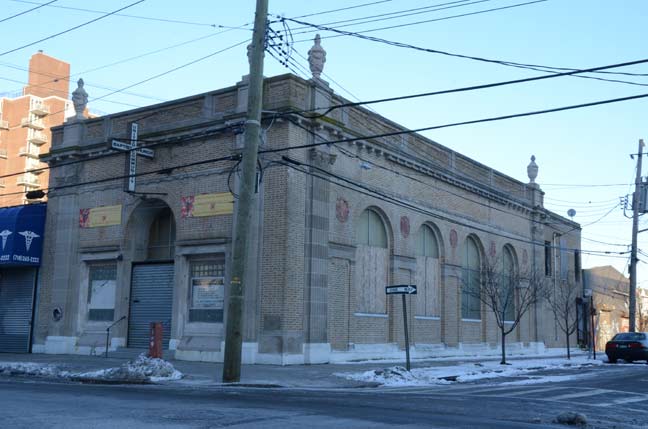 Mermaid Avenue,  a block north of Surf Avenue in Coney Island, Brooklyn hosts the current occupant, a church.  What bank was it and when did it close?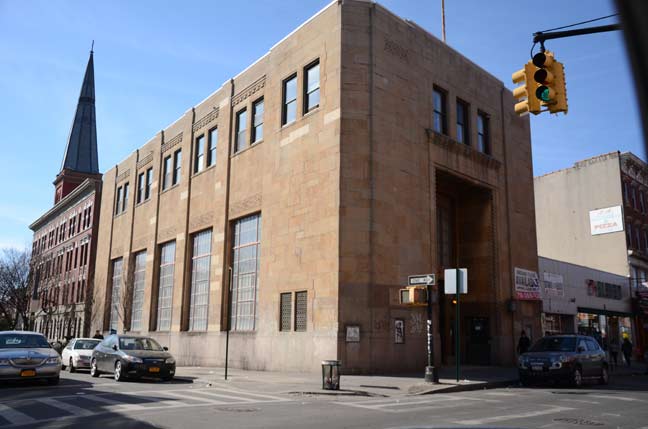 Does this look like it was a bank, or what?  Which bank was this on Manhattan Avenue & Milton Street in Greenpoint, Brooklyn?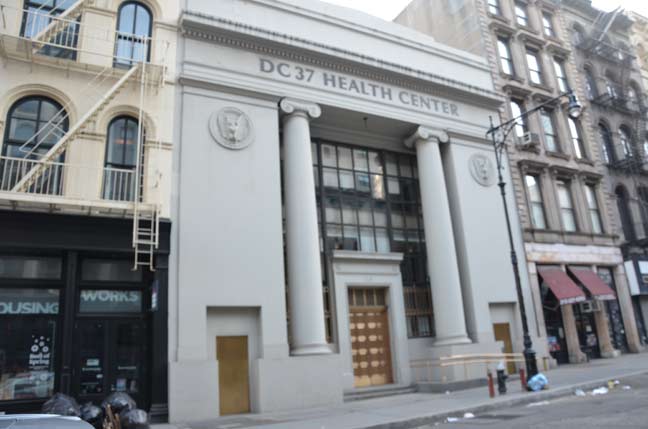 What bank was this that  currently houses a labor union's activities on Chambers Street between Church Street & West Broadway in Manhattan?
I personally know that this was a branch of Manufacturers Hanover Bank here at Broadway and Marcus Garvey Boulevard, dominated by Woodhull Hospital on the edge of Bedford-Stuyvesant, Brooklyn.  I don't know exactly when it closed as a branch.  When did it close?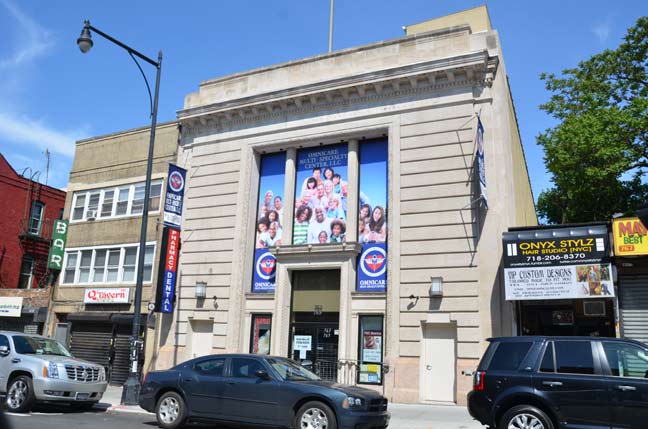 Nostrand Avenue, between St. John's  Place in Crown Heights, Brooklyn is the site of this medical office. Are there any former or current residents of Crown Heights who can share info on this?
The NW corner of Prospect Avenue & 149th Street in the south Bronx looks like it had been a bank. Its last tenant was a Popeye's fried chicken palace.
While passing this diamond in the rough many times at Throop Avenue and Myrtle Avenue, I always thought this was a former bank.  Upon closer examination, two clues confirm my suspicion. The bank's name, National Bank is almost invisible, but is barely legible. But you can't fool this eagle with his Nikon.  The other clue is this night drop box. Whoever put the sentence, "Jesus Saves" on it was clever.  That person should get a job in the advertising industry.  Are there any former residents of this neighborhood who may know what bank it was immediately before closing?
With its huge network of branches, Citibank has moved into many buildings that were originally other banks.  And I must say they generally do a good job of getting rid of any references to them, except here at its branch on the SE corner of Church Avenue & Flatbush Avenue in Flatbush, Brooklyn.  Over the years, I have passed this bank many times.  I've even been inside a few times. On the way to work while waiting for the red light to turn green  heading west on Church Avenue in the early hours while it was still dark, I happened to look over and saw that it was a former People's Trust Company branch.  Since its inception in 1889, People's Trust, had been involved in many mergers.  One move they made was being absorbed by the First National City Bank of New York  which eventually became  Citibank.
While living here in Crown Heights, Brooklyn for the past 20 years, I've personally seen this bank's name change three times. In 1993, it was National Westminster, then Fleet and now it's Bank of America. I'm willing to bet that the original clock was round until somebody squeezed this square one in to take its place.
While standing outside the bank one day, I noticed this ornate safe deposit box door. Upon closer examination, I saw the location's original tenant, the Montrose Industrial Bank. Incorporated in 1929, it went through several name changes to what it is today.  Location:  NE corner of Kingston Avenue & Eastern Parkway.
Manufacturer's Hanover was ahead of its time by constructing this glass branch in 1954.  The vault even faced 5th Avenue, as it does to this day.  It was constructed a few decades before the mostly cookie-cutter architecture that we see today.  I guess you could call it a pioneer in bank architecture.  It currently houses a clothing retailer.  Location: 5th Avenue & 43rd Street, Manhattan.
[One of the first glass-fronted office buildings, this was built in 1954 by Sidmore, Owings & Merrill; arch: Hughes and Bunshaft. –Ed.]
The Emigrant Industrial Building, started in 1850, commissioned this building around 1905. There's no mistake about what this building was used for.  Through many acquisitions of other financial institutions, the bank evolved to become Emigrant Bank.  Location: Chambers Street, near Centre Street.
The Chase Manhattan had a branch here on Jamaica Avenue in Queens Village, Queens.  In keeping with changes in the bank industry, Chase Manhattan decided to be called just Chase!
It looks like Chase never got around to taking down this massive neon sign on their Chase Branch on Broadway & Havemeyer Streets, in Williamsburg, Brooklyn.  Will they ever take it down?  Maybe they'll rejuvenate the sign and let it stand many years like the Kentile sign in Gowanus, Brooklyn.
[which was just dismantled and hopefully will pop up elsewhere. -Ed.]
I came upon this current discount store on 101st Avenue, near Woodhaven Boulevard in Ozone Park, Queens by accident and saw this this apparent former bank.  When I took a picture of the building, I discovered a bonus.  It was this night drop door with its original bank's name on it, United National Bank.  Are there any FNY fans who know what bank was its last tenant?
As a bus operator for the MTA, working on the BX13 , I always noticed this building on Ogden Avenue, near Edward Grant Highway in Highbridge, the Bronx. The clue that it was a bank was its night drop box door, now gone.  What bank was this?  Check out where the clock was over the door!  I seem to remember it being a nightclub about ten years ago.  Am I correct?
Freedom National Bank was started by Baseball Hall of Fame member Jackie Robinson and Harlem businessman Dunbar McLaurin in 1964. It was an African-American owned & operated commercial bank. This sign was on their Brooklyn location here at the corner of Nostrand & Church Avenues.  The branch eventually ceased to operate due to financial difficulties.  Incidently, this former branch is now a McDonald's.  Incidentally, this sign is plastered on the former Lincoln Savings Bank, also now a McDonald's.
Visible on Church Avenue, just east of Rogers Avenue, this Lincoln Savings Bank sign is still hanging on.  How long will it be before its painted over or blocked by new construction?
This building originally housed the National City Bank of New York which began as City Bank of NY in 1812.  As most banks did, they morphed into different names.  This one happened to wind up being part of Citibank family.  I don't know when it closed, but I do remember going there to make a deposit around 1977.  There's one thing I do remember about this bank.  As I was standing at the window doing a transaction, I remember the worn stone floor directly in front of the teller station from people over decades stepping into that same spot.  Are there any FNY fans who know when this branch closed?  Now houses the Cornerstone Seventh Day Adventist Church, aka, Iglesia Adventista Del Septima Dia.  Location:  NW corner of Liberty and Pennsylvania Avenues in East New York, Brooklyn.
South Brooklyn Savings and Loan Association was started in 1886.  Through consolidation, it finally became a Bowery subsidiary, Home Savings of America.  Is there anyone who can give some info as to when it closed? Location:  9th Street, near 5th Avenue.  Park Slope, Brooklyn.
On the NW corner of New Lots & Pennsylvania Avenues in East New York, Brooklyn stands a current church that's housed in a former bank.  I believe it was a branch for the Williamsburg Savings Bank.  If not please let us know here at FNY.  The thick outer door most likely protects and secures an interior revolving door.
This once New York Savings bank was constructed around 1896 at the NW corner of 8th Ave & 14th Street, Manhattan.  The New York Bank For Savings morphed into Goldome Bank. Goldome liquidated and sold its assets in 1991 to several other financial institutions.  Those institutions were Key Bank of Western Bank, East New York Savings Bank and Manufacturers Hanover – sort of a fire sale!  A carpet retailer recently occupied the floor space.   Now guess what?  It's a CVS drug store!  I betcha that there's a Duane Reade within walking distance of this location.
R.G. Ortiz Funeral Home, with several locations in Manhattan, Brooklyn and the Bronx has served the Hispanic community for many years. This is a perfect example of a building that "looks" like a bank. The edifice was originally constructed by the Italian Savings Bank, which was chartered in 1896 as the Italian Savings Bank of the City of New York.  The bank itself morphed into Marine Midland Bank in 1996, before being liquidated.  When did this building cease being a bank to become Ortiz Funeral Home?
Cypress & Myrtle Avenues in Ridgewood, Queens now hosts an obvious former bank with a Rite-Aid, the now-landmarked Ridgewood Savings Bank flagship branch.
This branch of Chase now sits in a building that once housed Bay Ridge Savings Bank here at 54th Street & 5th Avenue in Sunset Park, Brooklyn. The bank was started in 1909 and on its route to finally being a Chase branch, intermingled with the former Anchor Saving Bank and Bushwick Savings Bank. Incidentally, there's a former Bushwick Savings Bank building at Graham Avenue & Grand Street, Brooklyn that still has its name  displayed near the roofline.
A local community organization in Inwood, Manhattan is the tenant of this former Manufacturers Hanover branch at Post Avenue & 207th Street.  When did it close as a branch?  Anyone know?
Is this Art Deco or what!  Century 21, a retailer, now is the tenant of this gorgeous building at Cortlandt  & Church Street. It was formerly an East River Savings Bank, which began in 1848! It finally morphed into Marine Midland Bank before folding.  In my opinion, this building, constructed in the early 1930s rivals the Chrysler Building in design.
Surprisingly a clock wasn't put there.  It would have complimented the eagles.
An easily missed piece of evidence of the building's original occupant.
There's no doubt who the tenant is now.
Passing by the location on Fulton Street, just west of Nostrand Avenue you'll find a ubiquitous NYC pharmacy.  The classic architecture is easily recognizable as a former bank.
The original banking tenant was Brevoort Savings Bank.  Brevoort, founded in 1890, had this edifice constructed probably in the 1920s or so.   Incidentally, there's a Brevoort Place a few blocks away , that runs between Bedford & Franklin Avenues, just south of Fulton Street.  As usual, like most banks, it went through a series of mergers to eventually turn into Crossland Savings.  After Crossland left, Carver Savings Bank, an African-American owned and operated  firm, took over the building for a few years.  It eventually moved a few blocks east on Fulton Street to a site near New York Avenue.  The space was vacant for a few years until the space was eventually occupied by Duane Reade, itself a takeover target.  The firm was swallowed by Walgreens, a large national behemoth, a few years back.
Brevoort left this permanent trace to mark its former presence on the rear of the building that faces Macon Street.   Walgreens, Duane Reade's corporate parent indicates that it's a service entrance.  Will New Yorkers  eventually refer to Walgreen's newest acquisition as "Walgreens"? Probably not.  How many New Yorkers refer to 6th Avenue in Manhattan as Avenue of The Americas?  Just a thought!
8/10/14