Light-emitting diode lamps (LEDs), which emit a bright white light, have already appeared on several NYC expressways and parkways, and it appears that Northern Boulevard in Long Island City and Astoria will be the vanguard of LEDs as the gradual takeover from high pressure sodium lamps, which shine a bright yellow. The city replaced all of its sodium lamps in 2009, a mere five years ago, and now an additional multimillion dollar expense is again to be undertaken.
Most LED street lights have a lens on the LED panel, which is designed to cast its light in a rectangular pattern, an advantage compared to traditional street lights, which typically have a reflector on the back side of a high-pressure sodium lamp. In this case, much of the luminance of the light is lost and produces light pollution in the air and surrounding environment. Such street lights can also cause glare for drivers and pedestrians.
A drawback of LED focus panels is that most light is directed to the road, and less light to the footpaths and other areas. This can be addressed by the use of specialised lens design and adjustable mounting spigots. wikipedia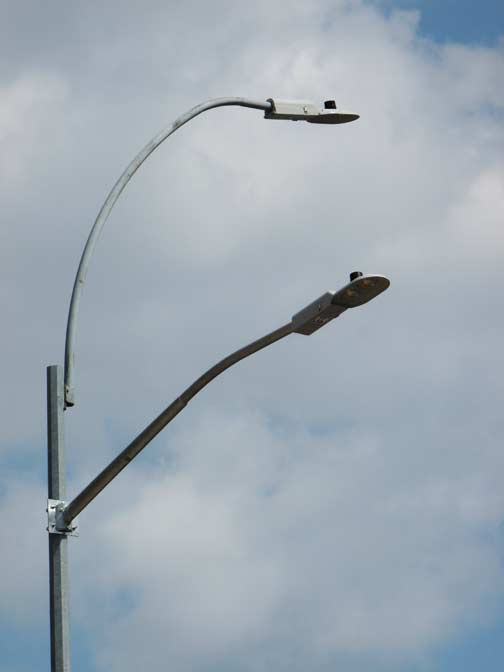 As far as I can tell thus far, LED lamps have no glass or plastic reflector bowls and thus concentrate their light directly beneath the fixture. While this will indeed cut so-called "light pollution," the lack of diffuse light would seem to contribute toward an overall lack of light coverage, and hence, add to the possibility of crime on streets that are darker. For me the jury is still out on whether the Great LED Revolution is a wise move.
9/22/14