I have an affinity for subways, trains and railroads… not at the "foamer" level,  but I have enough knowledge to recognize model numbers on most NYC, Long Island Rail Road and Metro-North (formerly NY Central) cars, or "equipment" as the insiders say. I know where the old els were, and where closed sections of various subway and RR lines are. I know enough that "Rail Road" is two capitalized words with the LIRR and only the LIRR.
In Part 2 I explored railroad grade crossings in East Williamsburg and Maspeth, associated with the Bushwick and Montauk branches of the Long Island Rail Road. Today, in the final segment, I'll look at Glendale, Queens; perhaps the heaviest traveled grade crossings by passenger trains in Little Neck, near the Nassau County border; and some crossings in the far reaches of Staten Island.
GOOGLE MAP: ACTIVE NYC GRADE CROSSINGS
The quiet neighborhood of Glendale contains a number of anachronisms, including the passage of the Long Island Rail Road Montauk spur from west to east. This sleepy line now carries freight only, but it's only been a year or two [as of September 2014] since at least one daily passenger train plied the tracks here. And, until March 1998 Glendale had its very own LIRR station, which in its final years consisted of a bare spot in the weeds alongside the tracks, on the right side in the above photo.
The Montauk spur, which was apparently named because it once served trains bound for Montauk, splits from the main branch in Jamaica west of the large Jamaica station complex and runs west to Long Island City on elevated, at-grade, and open cut portions. It once contained station stops in Richmond Hill, Glendale, Fresh Pond, Haberman (in western Maspeth, named for a local firm), Penny Bridge (named for the span the Kosciuszko Bridge replaced) and LIC. By the mid-1990s, patronage on the line had dropped to less than a dozen daily riders and, since new double-decked cars were being phased in that required high level platforms, the decision was made to close the stations rather than rebuild them.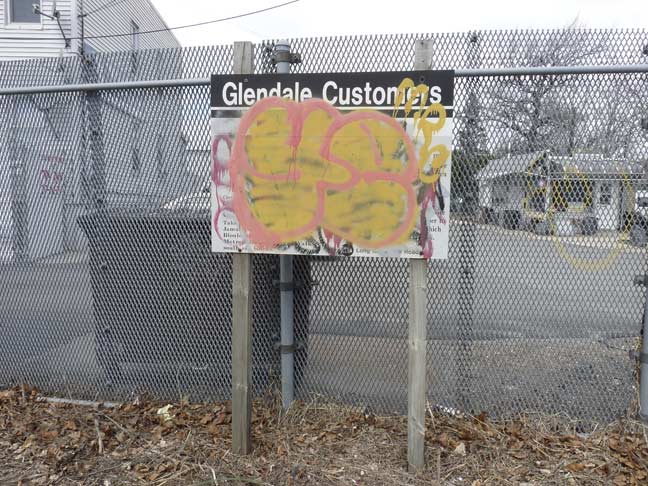 Two grade crossings, now rare in NYC in populated areas, hold firm in Glendale, and the westernmost one at Edsall Avenue and 73rd Street is the quirkiest of the two (the other is at 88th Street). Here, the public notice that the station would be closing March 16, 1998 is still in place and was legible until recently, when the local youth finally stepped in and alleviated the situation.
However the best efforts of the neighborhood youth couldn't obscure a typo that had appeared on the original sign when it was posted.
This metallic sign, installation date unknown, warns against crossing the tracks, but there is a florist there these days, and you won't be arrested for crossing. The sign was a lot less rusty a couple of years ago, but its age seems to be catching up.
If you think you're seeing the same pair of houses on these two photos from about 1910 and 2014, your eyes aren't deceiving you. Both the buildings shown here on Edsall Avenue were at one time hotels serving travellers exiting at Glendale: The former Woods Inn, or Kirschmann's saloon (1906), on the left and the even older George Gundolff's Hotel (1830s) on the right. Now they are private homes and the residents may have no idea of the buildings' former use.
This grade crossing owes its continued existence to the south gate of All Faiths (Lutheran) Cemetery, which is reached, allong with an attendant flower shop, by crossing the tracks.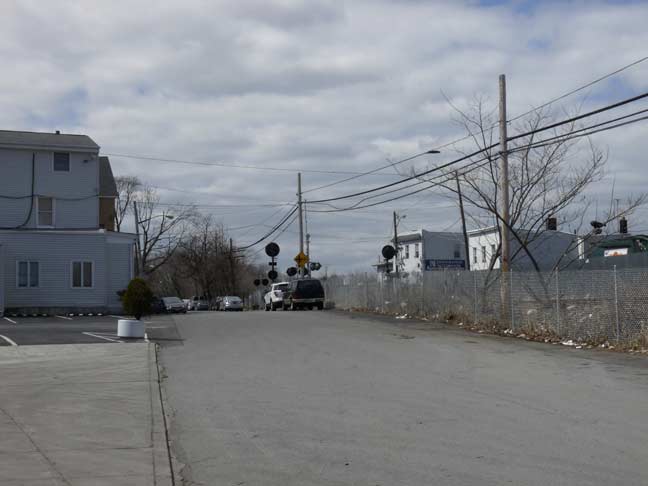 Edsall Avenue runs for a few blocks on the south side of the tracks at the 73rd Street crossing. Somehow, it escaped receiving a number as most Queens streets had in the 1920s.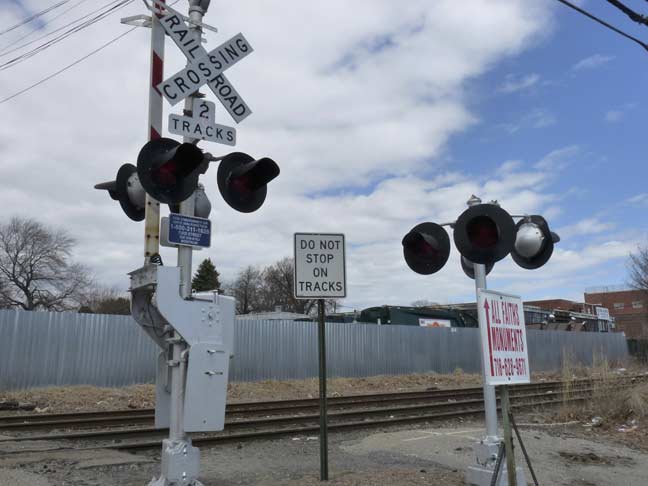 Closer look at the signals and gates.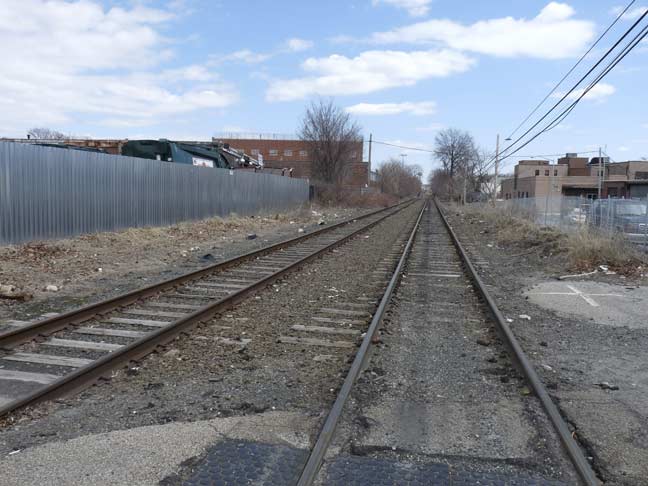 Montauk branch tracks looking east. These tracks are un-electrified, so only trains powered by diesel engines or battery power use them.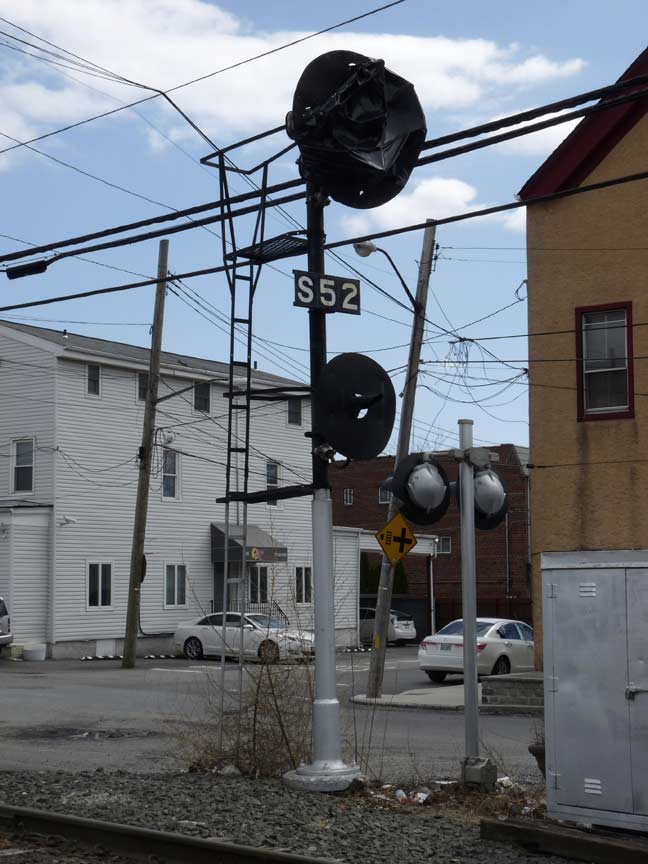 A look at one of the railroad signals on the Montauk, now decommissioned, but only in 2013. "S52" is a signal identifier.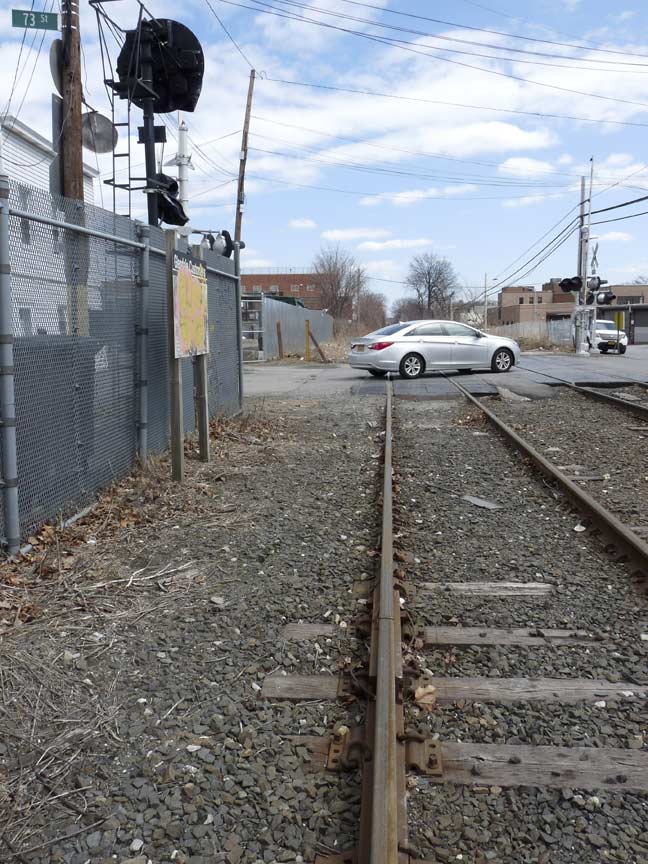 This is the former Glendale westbound passenger station — a clear area by the side of the tracks. The slow-moving engine, which carried two or more MP54 cars, would stop here, with the passenger entering the car up two or three stairsteps.
The Montauk branch passes busy Cooper Avenue just east of the Glendale station, but long ago Cooper Avenue, like Flushing Avenue (see Part 2) was depressed under the tracks, and becomes something of a speedway here. The road and underpass were treated to a reconstruction early in the 2010s. According to Art Huneke, this underpass was built in 1935.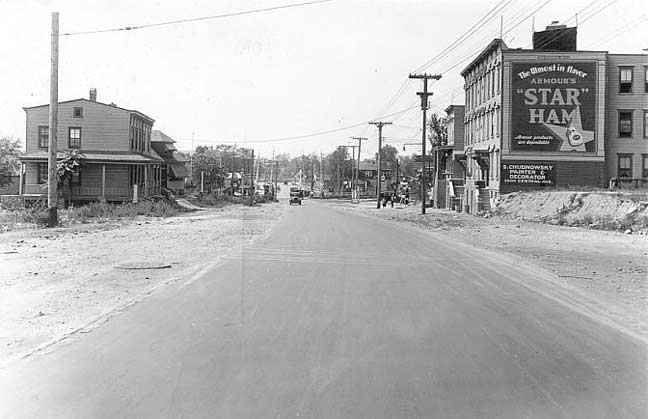 Cooper Avenue, facing southwest in 1929. A close look will reveal a diamond-shaped railroad crossing signal in the center distance.
88th Street (formerly Van Dine Avenue) also has a grade crossing at the Montauk branch, between 76th and 77th Avenues, one block west of Woodhaven Boulevard (which is bridged over the tracks). This is the furthest east grade crossing on a public street on this line. Neighborhood residents have called for it to be eliminated, citing potential increased freight traffic here, but it hasn't materialized, and the tracks still cross at grade.
A look west and east on the tracks.
A more recent report [May 2014] says that insufficient headways, or time between crossing gates' lowering, and passing trains, exist here.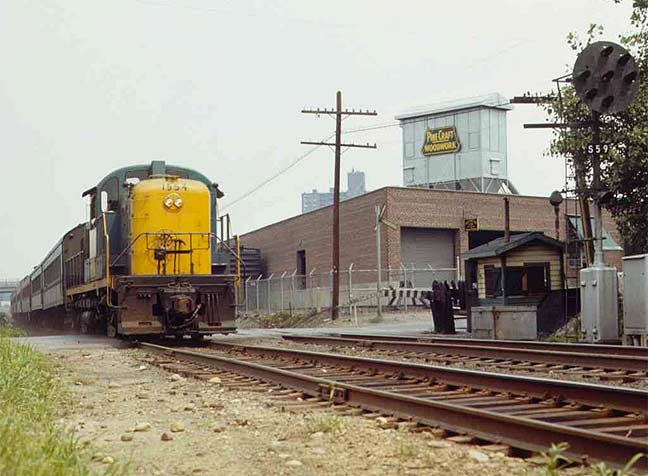 Again from Arrts Arrchives, here's LIRR Engine 1554 pulling a consist of four MP54 passenger cars across the 88th Street crossing in 1970. The signal is still in place, but no longer works. The one-story brick building is still there, now the home of Long Island Tinsmiths.
A narrow clearing along the tracks on 76th Avenue just east of 88th Street is home to a Vietnam Veterans of America memorial.
From Glendale we go a few miles northeast to the northeast corner of Queens, where the LIRR has crossed old House Landing Road, which has been called Little Neck Parkway for a few decades, at grade since the line was built in 1866 as part of the North Side Railroad out to Great Neck. For the first 33 years of the line's existence, there was no Nassau at all and Queens included North Hempstead, Hempstead and Oyster Bay. A dispute over where the county courthouse was going to be caused a rift between Queens' eastern and western towns. In 1898, half of Queens was in New York City and half out, until the three contentious towns formed their own county — Nassau.
So now, Nassau County is an Eli Manning touchdown pass from the Parkway grade crossing, at which a passenger station is located — the only remaining such station located adjacent to a grade cross remaining in NYC.
Looking west and east along these tracks, which admittedly have been an endless source of fascination for me — I live a block away from them. This is also the only active grade crossing in Queens — other than possibly Borden Avenue — in which trains taking power from a third rail cross a public street. (The rail is interrupted or there would be a great deal more fatalities here than there are already!)
At least once or twice per year, some brain-addled fool believes they can beat a train across the tracks and runs under the gates, only to get splattered. Since I've been here (2007) I have not heard of any cars being stuck on the tracks and plowed into.
Unfortunately both eastbound and westbound trains are scheduled to arrive just a couple of minutes apart each day in non-rush hours. I'm told that such an occurrence cannot be easily changed without causing other havoc along the length of the branch, which is reduced to one track east of Great Neck. Thus, there's always the chance that a 12-car unit will straddle the crosswalk, just at the very time a train you want to catch is on the other side. This doesn't happen to me a lot but it has happened.
Western-Cullen-Hayes makes most RR signals on the Long Island Rail Road, except for those made by Safetran.
LIttle Neck has its very own, albeit smallish, station building, located on the south side, Port Washington bound side, an incongruous place for it; you would think that long-ago designers would have placed it on the Manhattan bound side. The LIRR deactivated most station ticket sellers awhile ago, though I believe the station house still opens up for a couple of hours in the morning, as it comes in handy during cold or rainy days.
During the spring of 2014 the railroad deigned to add a ticket machine on the Manhattan-bound side, meaning you could safely cross to Manhattan-bound tracks and purchase tickets there. The LIRR charges considerably for tickets purchased onboard.
This crossover has existed for untold eons. In 2013 the LIRR installed new platform fencing, shelters, and new staircases here. Previously the iron steps were subject to incessant rust, which wore completely through several spots.
To glimpse NYC's other public RR grade crossings, you have to journey about as far out in Staten Island as it's possible to go — the end of the universe. Mine, at least.
Three New York City boroughs have grade crossings, Brooklyn, Queens and Staten Island. Staten Island had eliminated all of its Staten Island Rapid Transit grade crossings by 1965, and Brooklyn got rid of its final passenger train grade crossing, at the East 105th Street station on the Canarsie Line in 1973.
Staten Island's industrial shuttle railroads still contain a number of them, however, here in Howland Hook and further south in Chelsea. This one is a new spur from the SIRR into the New York Container Terminal. ("Howland" is likely a corruption of "Holland" from Henry Holland, an early Staten Island representative in the colonial era.)
Western Avenue (above) in Staten Island runs from the Goethals Bridge service road in what's known as Old Place north to the end of Richmond Terrace in Mariners Harbor. It is crossed by tracks belonging to the Staten Island Railroad, which brings freights from main lines in New Jersey across the Arthur Kill lift bridge to venues in western and southwestern Staten Island.
I have only walked the length of Western Avenue once, in 2007 — a trip that saw me also visit Staten Island's only trailer park.
According to its website, the Staten Island Railroad is:
… an eight-mile freight rail line that connects Staten Island to the national rail system. 
The re-establishment of service on the line [in 2007] accomplished two major strategic goals for the New York area: 1) providing on-dock rail service to the New York Container Terminal (the former Howland Hook terminal), which had been the only major container terminal at the Port of New York and New Jersey (NY/NJ) without rail access;
and 2) allowing the City to shift its solid waste disposal activities out of Staten Island to a remote location while retaining a significant number of jobs connected to the solid waste disposal industry on the island. 
South Avenue has always (at least since the early-to-mid 1800s) beeen the main road connecting Richmond Terrace and Mariners Harbor with isolated locales such as Bloomfield and Chelsea, which were completely rural in the 19th Century and almost till the 1970s. The Varrazano Bridge and the construction of the West Shore Expressway changed everything, and while isolated patches of rurality and wetlands preserves remain, Bloomfield is now dominated by large corporate "parks" such as the one occupied by the Staten Island Teleport, consisting of data companies and not, as I'd hope, research facilities working on prototypes of the Star Trek transporter.
The Staten Island Railroad has a grade crossing at South Avenue just west of its intersection with Chelsea Road and the West shore Expressway, guarded by some fairly massive signals and gates. I can't verify how much train traffic passes here.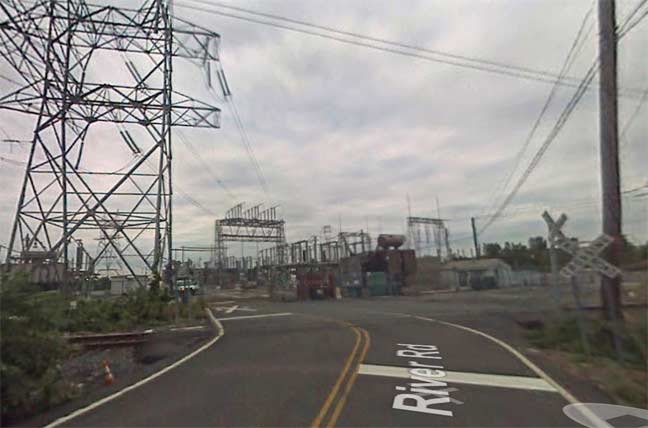 Finally, River Road, a dead end off Chelsea Road so remote the Google Street View truck hasn't been by since 2007, enters what appears to be an energy facility at the very end of the road, crossing the Staten Island Railroad there, with some crossbuck signs.
And that, as far as I know, is that. Have I missed any? You bet I have. Let me know. (Yes, I'm aware Victory Boulevard crosses the SIRR, but not on a public portion.)
9/21/14