The stolid brick Neptune Meter Works Building on Jackson Avenue and Crane Street stood from 1910 until today, October 9, 2014; it had been razed to make way for a multimillion dollar condominium project, joining many such in the neighborhood and along the Queens waterfront. Neptune, currently based in Tallassee, Alabama, occupied the building until 1972.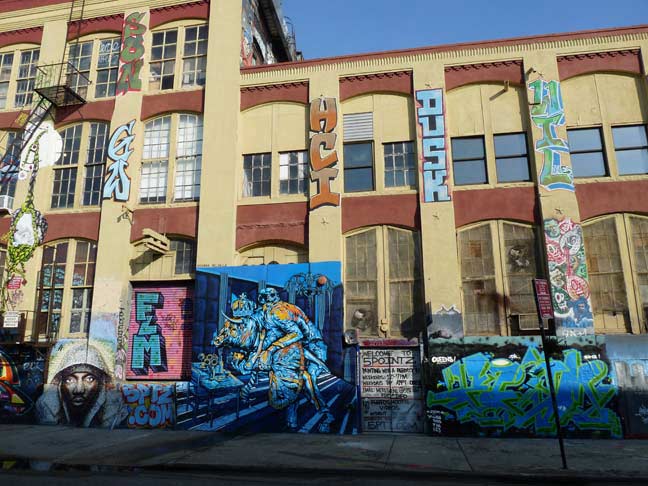 Crane Street
5 Pointz, originally the Phun Phactory, is an exhibit space on Jackson Avenue and Crane Street in which graffiti artists have decorated the exterior of a 200,000 square foot factory building. Artists pay below market rate rent for studio space in the interior.
Jackson Avenue
Pat DiLillo established Phun Phactory in the early 1990s to provide street artists a way of displaying their talents without breaking the law. However, some artists argue that anarchy is a part of graffiti culture, and a legal space circumvents that mission. 5 Pointz was most visible by passengers on the #7 el, which ran behind the building.
Supposedly, there will be "an inclusion of 10,000 square feet of external panels around the complex that will be devoted to aerosol art" on the new condo complex.
10/9/14