I have rarely visited southeast Queens. The truth is, I was there a lot more when I lived in Bay Ridge, since I could bicycle almost directly east and wind up there. I'd race myself to see how quick I could do a round trip from Bay Ridge to, say, Laurelton or Rosedale, and sometimes even Valley Stream. Since Brooklyn shares Long Island with Queens, it was much easier for me to get to Queens from Brooklyn. I rarely biked to Manhattan, since that would involve the Brooklyn Bridge. Roebling's masterpiece is at present uneasily split between idling tourists and bicycle racers, but in gthe 1970s and 1980s, it was mugger central, or so I was told, and since no-fuss and no danger has always been my credo, I can count in two hands, to this day, the number of times I've traveled the Brooklyn Bridge on a bike.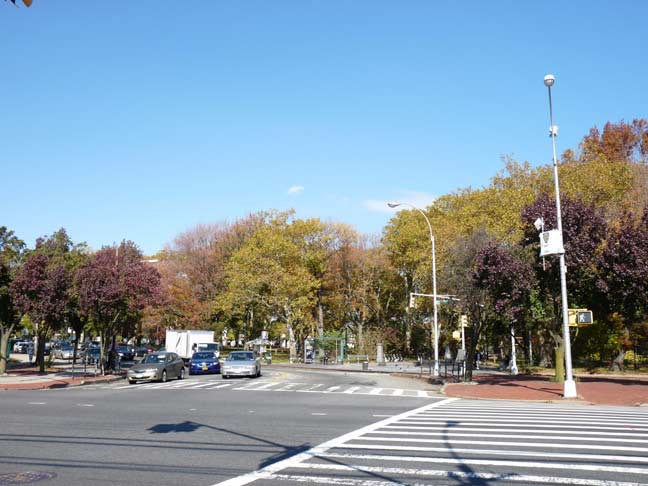 Rockaway and Sutphin Boulevard at Baisley Park
To the matter at hand, though, I was tipped by a brand new book by Adrienne Onofri called Walking Queens that Baisley Pond and its park were of some interest. Thus, I took the Q36 from Little Neck to Merrick Boulevard and then the Q6 to Rockaway and Sutphin Boulevards and walked up the length of Baisley to the St. Albans town center, then Linden Boulevard east to Springfield Boulevard, catching the Q27 back to Flushing and the Q30 to Little Neck Parkway, a meal at Five Guys and a walk home.
Baisley Pond Park
Visitors unfamiliar with southeast Queens will find a sweeping, green oasis in Baisley Pond Park, which sits on an irregular plot between Foch, Sutphin, Rockaway and Baisley Boulevards. The park's 110 acres offer baseball, softball and cricket fields in its southern extension between Rockaway Boulevard and the Belt Parkway, children's playgrounds, catch and release fishing in its large peaceful pond, and plenty of benches to laze on. This time of year the fall colors are beginning to blaze and the new promenade at the pond rim, with a dozen carven frogs, looks out over the mirrory pond and its collection of shorebirds.
On one of the playgrounds is what appears to be a sculpted elephant up to its shoulders in a tar pit. As you'll see, this is actually a reference to a prehistoric-era find that civic engineers made here in the early 1850s, when they were damming three streams to build a reservoir that would assist with the city of Brooklyn's water supply.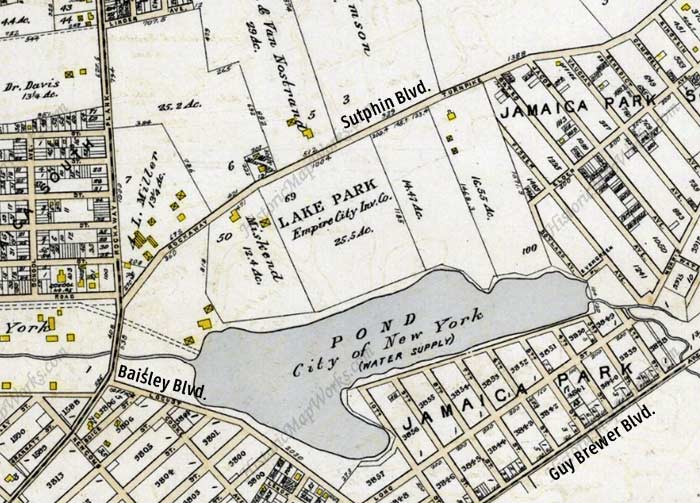 Baisley Pond, 1909. I've helpfully added modern street names. A number of place names in southern Queens reference water conduits: North and South Conduit Avenues, Aqueduct Raceway, etc. The names refer to a former aqueduct that the city of Brooklyn constructed in today's Highland Park called Ridgewood Reservoir, which was decommissioned in the 1960s as a water source, but was once a main source of the city and later borough of Brooklyn's water. The aqueduct ran between the now-demolished water works in Freeport and the Ridgewood Reservoir.
Today's Baisley Pond, named for a mid-19th century farming family on whose land the pond was created, first appeared in the 1850s. When Brooklyn's civil engineers were dredging the pond to make it deeper after its creation, remains were found of an American Mastodon including five molar teeth and a bone fragment, which were decades later dispatched to the American Museum of Natural History. The massive shaggy elephant-like creatures frequented southern Queens up until 10,000 years ago. The reasons for their disappearance are still debated, but likely have something to do with changing climate and the appearance in the area of the world's most feared hunter — Man.
In 1909, when the map was produced, real estate developments such as Jamaica Park were beginning to appear. As the overall street grid knit together, the developments became less exclusive and were folded into the overall neighborhood. Such real estate development only intensified after both World Wars ended.
Besides the concrete frogs seen on the pond pavilion, real bullfrogs frequent the pond, as well as snapping and red-eared turtles, dragonflies and a full array of shorebirds including webfooted friends like geese, ducks and swans as well as blackbirds, cormorants, herons, egrets, doves, mockingbirds, robins, starlings, warblers, cardinals, and of course, the usual pigeons and sparrows.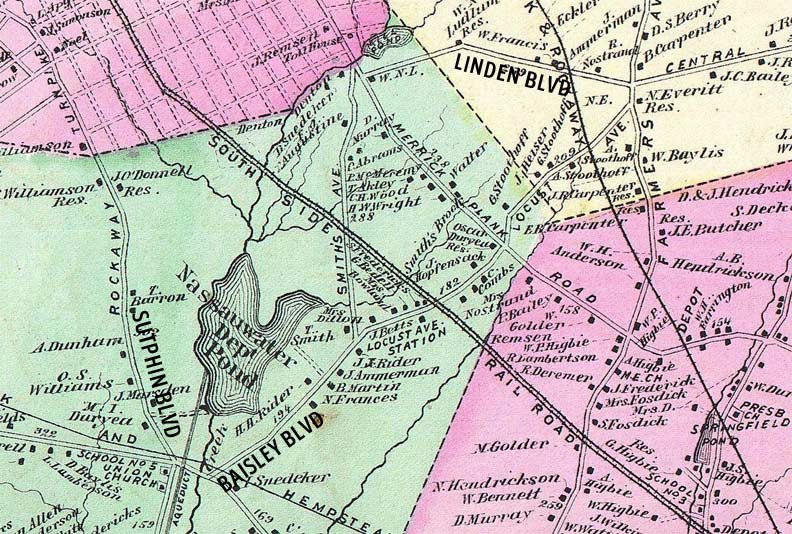 Here's an even older map of the region, from an 1873 F.W. Beers atlas of Jamaica. At this time, few roads ran through the region, though most if not all of them are still used today: Rockaway Turnpike (Sutphin Boulevard), Locust Avenue (Baisley Boulevard), Merrick Plank Road (Merrick Boulevard), Farmers Avenue (Farmers Boulevard) and Central Avenue (Linden Boulevard). One major north-south route that is missing is New York Boulevard, now Guy Brewer Boulevard, built in the late 19th Century. The major Long Island Rail Road routes that run through southeast Queens have already been there for decades.
The names on the map are property owners, many of whom were farmers, with the black marks being homes. The different areas in color are districts that the town of Jamaica was divided into.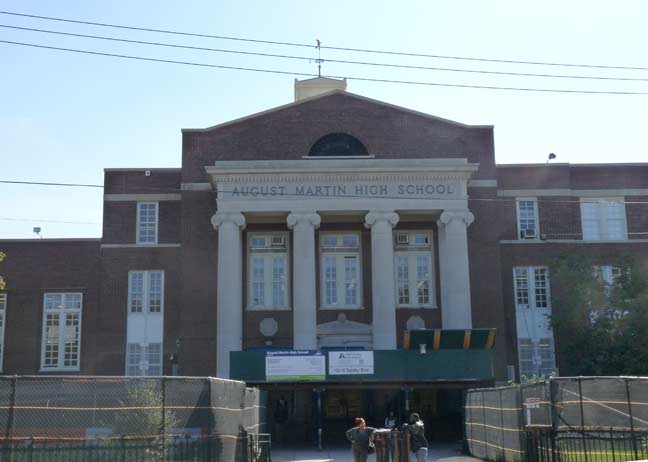 August Martin High School, on 156-10 Baisley Boulevard opposite Baisley Pond Park, opened in 1936 as Woodrow Wilson Vocational High School and was renamed in 1971 for the first African-American commercial airline pilot. He was killed in a plane crash on a mercy mission to Biafra in Africa in 1968. Alumni include hip hop entrepreneur Russell Simmons and the present [2014] mayor of Buffalo, NY, Byron Brown.
The striking, snow-white New Jerusalem Baptist Church building at Baisley Boulevard and Smith Street was dedicated in 2000; the congregation was established in 1988 by Rev. Dr. James C. Kelly.
Running athwart the established numbered street grid between Baisley and Foch Boulevards with an interruption for the Long Island Rail Road, Smith Street is one of southeast Queens' original roads (see above map where it is called Smith's Avenue, named for an adjoining landowner). It still looks like a rural lane in spots, as it occasionally has no sidewalks.
Baisley Boulevard encounters two LIRR overpasses. This one actually is the lesser-traveled of the two, as it leaves the main branch at 150th Street and joins the main Babylon branch in Laurelton. It contains one remaining station at Locust Manor, at Farmers Boulevard and Bedell Street.
The Baisley Boulevard underpass is still lit, unusually, by incandescent lights.
Baisley Boulevard skirts the northern end of the Rochdale Village co-ops, which occupy the old grounds of the Jamaica Race Track.
——
I was hoping to do this in one piece, but WordPress suddenly has a problem with adding new photos, so I'll have to see if I can get that straightened out soon. 
11/16/14