Before I was rudely interrupted by a WordPress malfunction last Monday, I was making my way northeast on Baisley Boulevard from Baisley Pond Park and had barely made my way to the LIRR overpass at Rochdale Village before everything went kaput. I'll pick things up from there.
The neighborhood in southern Queens named St. Albans was mostly farmland (note the name of one of its prominent streets, Farmers Boulevard) until the 1890s, when a small community began to take shape around Farmers and Linden Boulevards. The town was named by its first 100 residents for Britain's first Christian martyr. The area was home to the St. Albans Golf Course from 1915 to the Depression; sports luminaries such as Babe Ruth honed their strokes there. The old golf course is now St. Albans Veterans Administration Extended Care Center and Roy Wilkins Park.
Roy Wilkins Park sits on property that formerly was occupied by the St. Albans Naval Hospital. After the hospital closed in 1974 the U.S. Government allocated the 100-acre site to the Veterans Administration, which built a veterans' extended care center on the east end of the property and ceded the western half to the city of New York in 1977 for use as a park. It remained mostly undeveloped until 1982, when $3.3 million was allocated for its redevelopment. One of the hospital buildings was renovated and reopened as the Roy Wilkins Family Center in 1986, which includes an Olympic-size pool equipped to accommodate the disabled, comfort stations, a tot play area, picnic tables, tennis, basketball, and handball courts, baseball fields, and a jogging path. The facility also hosts a summer day camp for 300 children, after-school programs, a counseling center, and a variety of community events.
Roy Wilkins (1901-1981) was a Missouri-born, Minnesota raised journalist and civil rights advocate. After a stint with the Kansas City Call, he joined the NAACP in 1931 and served as the organization's president from 1955 to 1977, promoting voter registration, fair housing laws and wage equity.
The Black Spectrum Theatre in Roy Wilkins Park was founded in 1970 by playwright, director and filmmaker Carl Clay. Black Spectrum produces film, theatre and video works examining issues of concern to African American and Caribbean American audiences. The 425-seat theatre was built in  a former officers' club. The theatre holds an annual gala; past honorees have been the late husband and wife actors Ossie Davis and Ruby Dee and filmmaker Melvin Van Peebles.
In addition, Roy Wilkins Park features a huge vegetable garden tended by area residents, and an African American Hall of Fame honoring luminaries such as the USA undersecretary to the United Nations and Nobel Peace Prize winner, Ralph Bunche, and the first black woman elected to the House of Representatives, Shirley Chisholm.
A second LIRR trestle crosses Baisley Boulevard at 180th Street as we enter the St. Albans town center. This is the main branch that runs along Long Island's south shore to communities such as Babylon and Islip and on east to Montauk. I'm quite familiar with the LIRR along the north shore and towns such as Port Washington, where I worked for 12 years, Oyster Bay, Port Jefferson, Greenport (where I vacationed one year) but much less familiar with the south shore. One of these years I'll go all the way out to Montauk Point.
Unusually this overpass has just one lamp attached to it, a new LED fixture.
I have always been fascinated with this striking building at Baisley Boulevard and the picturesquely-named Lovingham Place since I first bicycled past in the mid-1970s. You could probably cut your finger on those eaves on the corner. I wonder what the original purpose of it was before it became a storefront church.
St. Catherine of Sienna Roman Catholic Church, Baisley Boulevard and Riverton Street, constructed in 1923. The name of the church above the door in gold leaf demonstrated what a creative carver can do with limited space with which to work. The spelling with two N's is an unusual one since Siena, Italy, is spelled with just one.
The church's namesake was a 14th Century philosopher/theologian and since the 1860s, one of two patron saints of Italy with St. Francis of Assisi.
PS 36 is a handsome brick building located tucked in St. Alban's original street grid, Foch Boulevard between Lovingham and Everett Places.
A walk around to the playground on Everett Place reveals depictions of musical instruments and symbols on the pavement. There's a reason they are there, but I'lll let that hang in the air for a bit.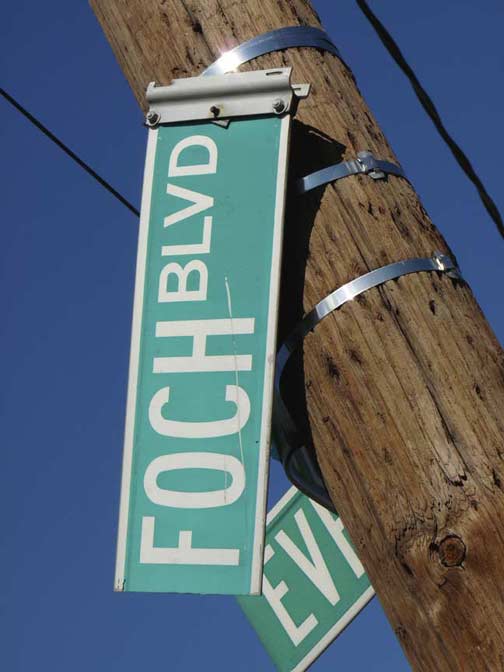 In south Jamaica and St. Albans, Foch Boulevard takes the place of 117th Avenue from Rockaway Boulevard to Merrick Boulevard, with a small piece for 2 blocks between Montauk Street and Everett Place. The only notable Foch I'm aware of is Ferdinand Foch (1851-1929), the commander of the Allied forces in the latter stages of World War I. Foch Boulevard appears on maps as early as the 1920s (it once was the name of Linden Boulevard from Farmers Boulevard to the Nassau County line); it may be named for the general, but his connection to Queens is fuzzy at best.
The Department of Transportation can't decide on a spelling for Everett Place (as the majority of signs spell it). In the mid-19th Century several families settled St. Albans at the crossroads of what was Freeman's Lane (now Farmers Boulevard) and Central Avenue (now Linden Boulevard) among them the Remsens, Ludlums, and Everitts.
Here's a look at our 1873 map again. The St. Albans crossroads is upper right — notice the "N. Everitt" notation. The DOT spells Everett Place a couple of ways, and both are wrong, it seems, as "Everitt" is indicated on the map. A general store at the crossroads was operated by an August Everitt.
Here's a look at Everett Place, one of the oldest streets in the center of St. Albans. I'd have to bet that the house shown is also one of the oldest in the area, its original form, perhaps even a porch, masked behind aluminum siding.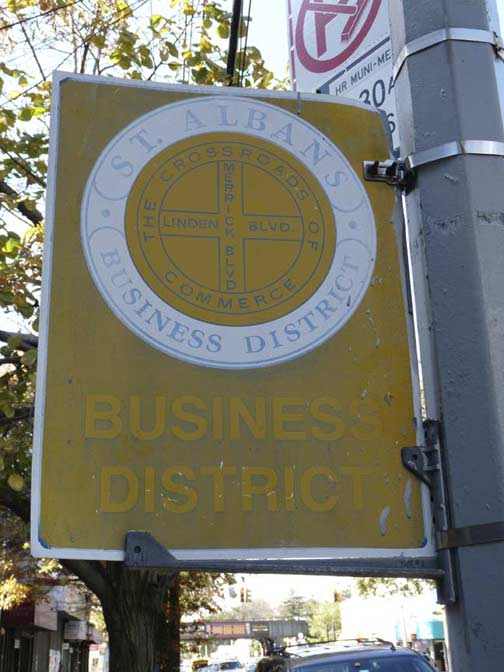 The designated St. Albans Business District is considered to be along Linden Boulevard from Merrick Boulevard east to Springfield Boulevard.
Collect 'em all! I've begun to take notice of these special 'business district' signs that frequently are installed along main drags in all boroughs. I don't have enough for a full page yet, but I'm getting there.
Unter Den Linden
The remainder of my walk consisted of a stroll down Linden Boulevard from the LIRR trestle (see below) east to the bus stop on Springfield Boulevard, where I got a ride back to my usual surroundings in northern Queens. When I first encountered Linden Boulevard in these parts, and first saw it on maps in the 1960s, I was mildly amazed. The street's western end is at Flatbush Avenue, and it was originally called Linden Avenue for a few blocks and so named for Flatbush's many linden trees at the time the avenue was laid out.
Over time, Linden Boulevard was gradually extended further and further east. In the early 1920s, Kings Highway was revived as a multi-lane behemoth and a road in East New York called Vienna Avenue received the same treatment, and was renamed as an eastern portion of Linden Boulevard at the same time. Linden Boulevard's traffic is transferred to Conduit Boulevard and thence into the Belt Parkway several miles east of Kings Highway.
But city engineers weren't finished with Linden Boulevard. There was once, apparently, a plan to make it a multilane behemoth all the way east to the Southern State Parkway. Maps from the mid-20th Century show it extending through the Aqueduct Racetrack and then continuously all the way out to Nassau line. Bits and pieces, dead ends that still exist in Ozone Park, are the only fruits of such plans that exist today. However, roads east of Rockaway Boulevard such as Lazy Lane and Central Avenue were renamed Linden Boulevard as part of that plan, and past the city line, Linden Boulevard does funnel traffic onto the Southern State.
There are two colorful murals on both sides of Linden Boulevard under the LIRR overpass near the St. Albans station. One of them was executed in 1982 (renovated in 2001) by local students and shows scenes from old St. Albans, including Engine 317  (still standing at 117-11 196th Street), St. Albans Presbyterian Church (190-04 119th Avenue) a school I do not recognize (feel free to add in Comments) and 19th Century scenes of St. Albans including a steam railroad (the line was electrified and elevated in 1935).
The mural on the north side of Linden is one of Queens' treasures and depicts local sports, jazz and pop greats who made their homes in St. Albans and nearby Addisleigh Park, including boxer Tommy "Hurricane" Jackson, Brooklyn Dodgers Roy Campanella and Jackie Robinson, jazz greats Count Basie, Billie Holiday, Illinois Jacquet, Ella Fitzgerald, Lena Horne, Milt Hinton, John Coltrane and Fats Waller, as well as R&B/soul giants Brook Benton and James Brown.
Southern Queens' ascendance as a mecca for jazz musicians began in 1923 when Clarence Williams, a successful musician and entrepreneur from Plaquemine, Louisiana, purchased a home and eight lots at 171-37 108th Avenue. Anticipating the increasing popularity of jazz in the north, Williams moved first to Chicago in 1920 and then to New York with his wife, singer Eva Taylor, in 1923. Desiring open spaces reminiscent of his upbringing in the Louisiana delta, Williams made his home in Queens. He would be the first in a lengthy line of jazz musicians to come to southern Queens. The area, named Addisleigh Park, was formally developed beginning in 1926 with several blocks of Tudor-style homes.
FNY's Addisleigh Park page depicts the homes of some of these famed entertainers, as well as a look at the previous mural on this site; this new mural was executed in the early 2000s.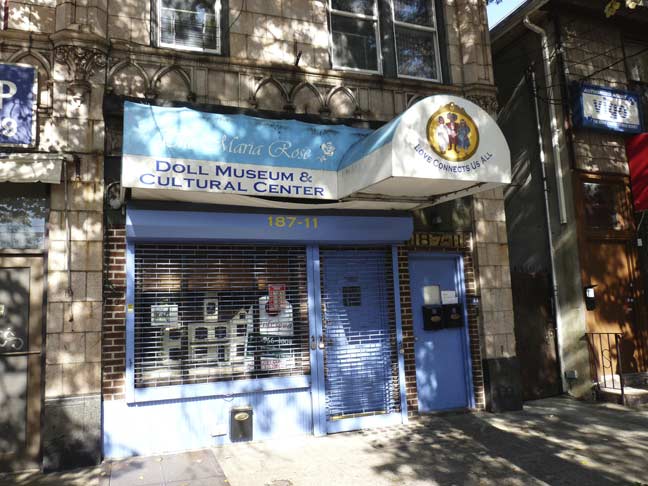 A museum in downtown St. Albans? The Maria Rose International Doll Museum, 187-11 Linden Boulevard, was founded in 2007 by retired nurse Naida Njoku, an immigrant with her husband, Dr. John Njoku, from Nigeria. Her collection numbers better than 500 dolls arranged by location: Africa, North and South America, the Caribbean, Europe and Asia. Famed personages including Shirley Temple, Jackie Kennedy Onassis, Prince William and Princess Kate Middleton are also represented. There's also a working model trainset for the boys.
When I checked while preparing this page the website for the museum wasn't working, but it's open Wednesday through Saturday from 12:30 to 4:30 PM for a small contribution. Call (718) 276-3454 for details.
The stretch of Linden Boulevard between Farmers and Springfield Boulevard has small lighting attachments using New Gumballs to illuminate the sidewalks. The Department of Transportation street signs are a little unusual, in that the numbers are a little smaller than usual. They usually fill the space from top to bottom.
Faded building ad at 192nd and Linden; so faded, I can make out nothing but an S. It appears to be a palimpsest of one ad over another.
The power of the atom at 192nd and Linden.
Painted awning ad still doing the job for several decades, using a classic Futura Bold Condensed font.
I left St. Albans to the sight of Martian tripod war machines preparing to train their heat rays on the hapless townspeople.
11/23/14