Making it 10 out of 11 tours in 2014 with sunny weather (albeit postponed from November 1 because of rain) November 8th's Evergreens Cemetery was conducted in sunny, 50-degree weather.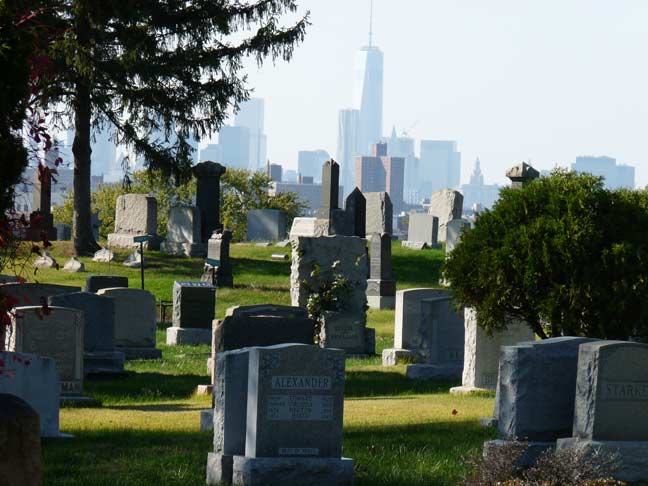 Evergreens Cemetery was founded in 1849 as The Cemetery of the Evergreens. Cemetery chronicler John Rousmaniere points out that "Evergreen" was symbolic; pine cones and evergreens symbolize rebirth and immortality. Evergreens were later brought to the cemetery from the Catskill Mountains by Rev. John D. Wells and A. P. Cummings. The land was purchased from a number of the local farming families. Alexander Jackson Davis and Andrew Jackson Downing, the most noted architect and landscape architect of the time, teamed up for the initial design.
A few highlights…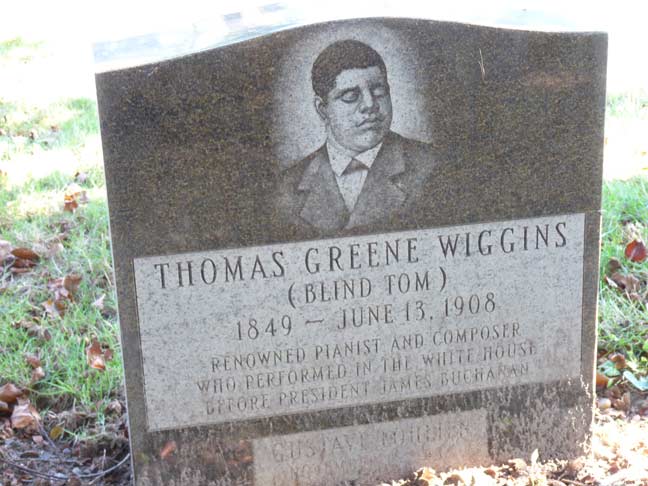 Thomas Wiggins was born a slave in Columbus, Georgia, and though blind and seemingly mentally handicapped, was able to play the piano flawlessly by ear – reproducing the most complicated pieces after only one hearing. In 1859, he went out on the road as a touring musical sensation, and in 1860 he played for President James Buchanan at the White House. He later went on a tour of the South, raising money for the Confederacy during the Civil War. He also wrote over 100 compositions, some of which can be heard on the CD "John Davis Plays Blind Tom."
Anthony Comstock (1844-1915) was born in New Canaan, Connecticut. As a young man, he enlisted and fought for the Union in the American Civil War from 1863 to 1865 in Company H, 17th Connecticut Infantry. He served without incident, but objected to the profanity used by his fellow soldier.Afterwards he became an active worker in the Young Men's Christian Association in New York City.
Find a Grave
John Bunny (1863-1915) was an early 20th Century comic actor and theatre impresario and appeared in over 100 silents in a little over five years, including a filmed version of Winsor McCay's "Little Nemo" (1911) and Charles Dickens' "Pickwick Papers" (1913). Bunny's exuberant style and 300-lb. girth made him a fan favorite; he was so well-known that many of his pictures billed him in the title.
Some theatres in Brooklyn and Manhattan, like Brooklyn's former Pavilion Theater at 7th and Flatbush Avenues and the former Nova, at Broadway and 147th, were originally named for him. A pair of stone rabbits in the façade of the old Nova Theatre location remained in place until just a few years ago.
11/10/14
Title photo: Walter Karling