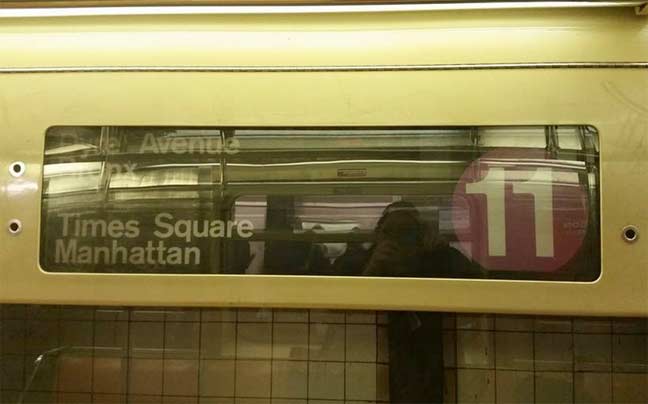 Forgotten Fan Brenna Solop recently found this odd sign combination on the #1 train in Manhattan on one of the 1980s-vintage R-62 trains still in use. She was, of course, perplexed about the #11 sign.
Notice that the color of the bullet is purple, the same color as the Flushing Line, or #7 train. At one time there was a proposal to give the express run of the #7 train a different number, and 11 was selected. Other IRT express runs were to be given Numbers 10, 12 and 13. None of these renumberings ever went through, but they were put on the roll signs just in case they ever were.
The #7 express was simply called the #7 diamond, and roll signs were produced with the 7 in a diamond instead of a bullet. Later on, R-62s on the Flushing Line were refitted with neon signs in a green circle, signifying local, or a red diamond, signifying express, replacing the diamond 7 on the roll signs. Later on, R-188 cars did away with the circles and diamonds and simply stated "7 express" or 7 local" on illuminated signage.
Other lines have used diamonds too, such as the #5 and #6. Diamonds usually, but not always, convey an express run on all or part of a line.
The #8 and #9, you say? Both numbers have been more or less retired. The #8 train was the Bronx leg of the 3rd Avenue El from 149th Street to White Plains Road; the el was demolished in 1973. The #9 was a skip stop rush hour version of the #1 train. Pop rocker Patti Rothberg titled her first album "Between the 1 and the 9." For reasons only the MTA knows, it retired the #9 several years ago, but retained the Z for skip stops on the J train.
Lastly, the BMT formerly numbered its routes from #1 to #16.
12/8/14