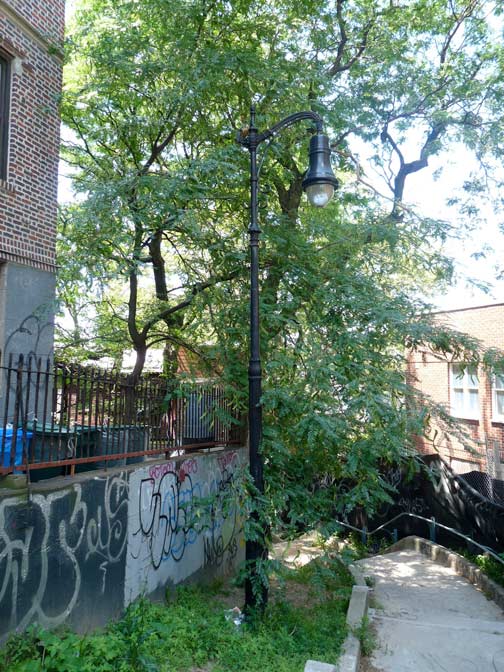 In a neighborhood that has its share of historic structures (some of which, like the Grand Avenue "wheelwright house" have been razed in recent years), this lamppost is Maspeth's only structure given protection by the NYC Landmarks Preservation Commission.
It is a decades-old "Type F" lamppost on a staircase connecting two sections of 53rd Avenue between 64th Street and 65th Place in the Ridgewood Gardens apartment complex. The staircase and the lamppost itself have had declines and reversals of fortune over the years, as the passageway becomes weed-choked and graffiti'ed from time to time, and then gets rehabilitated.
About 15 years ago the Type F was repainted, given a new luminaire, and shifted to the opposite side of the staircase. It is one of a handful of 'original' Type F lampposts still standing; others can be found on the Belt Parkway pedestrian overpasses at Bay 8th Street as well as 26th Avenue and West 13th Street in Greenwich Village.
New, 'retro' versions of the Type F have been installed along West 8th Street as well as Wyckoff and Metropolitan Avenues in Queens. The new versions can be told apart from the originals because older versions have the same bases used in Type B park lamps, while the retros use the heavier bases used in Type 24A Corvingtons and Bishop Crooks. The Type F is just one of a group of "lettered lamps" installed during the early 20th Century.
12/12/14