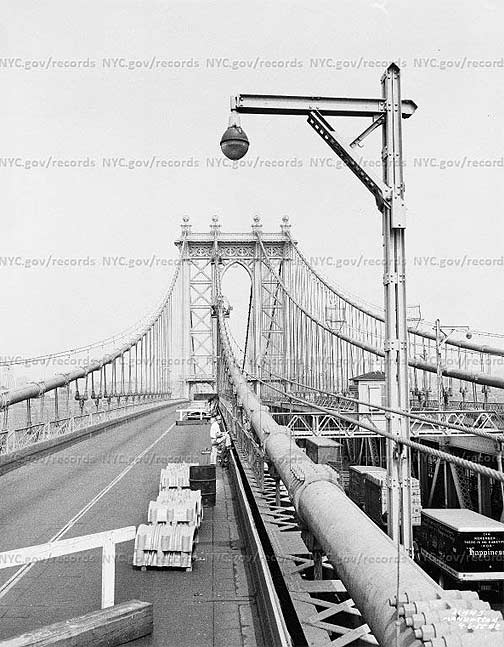 What a treat it was for the young webmaster in the Swinging Sixties, when a parent or parents and I would board an express train from Bay Ridge to travel into Manhattan. Of course, on our weekly bus rides to one Brooklyn outpost or the other, I'd carry my pencil, flashlight bulb and plastic Carvel spoon, the better to imitate the lampposts I saw going by out the window. (By college age, though I had grown out of that. There's just not enough variety to do it today!)
[I'm kidding.]
But, when riding the N train into Manhattan it emerged into the light to traverse the Manhattan Bridge, and in the early days, I'd see these very utilitarian and mechanical-looking lamps arrayed on the roadways, which are on either side of the bridge over the tracks, with a third roadway in the center.
This photo is from the New York City Municipal Archives, taken in 1955 and I seem to recall truncated versions of these lamps in the early 1960s before they were replaced with cylindrical lamps with short masts carrying Westinghouse AK-10 "cuplights." Even those were interesting, though. To get around the suspension cables at intervals, they had to be made to bend midshaft, producing an interesting shape. By the 1980s, they had been replaced by straighter versions.
And these days, except when the main cable comes close to the roadway midspan where they have retained the individual posts, lights are simply attached to the suspension cables, doing away with lampposts altogether.
A word about the Municipal Archives website: it contains thousands of vintage photos that scratch the surface of the archives' actual holdings, and the site, in its early days, had no intrusive watermarks. (I'm a fine one to talk because the Forgotten NY archives, linked from the Greater Astoria Historical Society here, has its own watermark, but since the Municipal Archives are an official historical resource, I don't think the watermarks should be that numerous.)
I know, waaah waaah waaah, I should buy the photos I want…
1/6/15