There are still some parts of Manhattan I haven't been in with regularity since I began photographing this website in 1998, and the area in the West 140s from St. Nicholas Avenue west to Riverside Drive has been one of those. Funny because I've spent a lot of time in the City College area, to its south, and Washington Heights, which begins at West 155th, to its north. However as you will see, there are a couple of items I have covered extensively before, and I just can't help myself, I'm attracted to them the way I'm attracted to pizza.
The area was named for Alexander Hamilton, the first U.S. Treasurer and co-author of the Federalist Papers, who built his home, known as Hamilton Grange, in the area in 1802. I passed by the place on this walk, but I have previously published a lengthy page on the Grange in 2012, so I'll blithely pass it over on this occasion. It looks better than ever now that it has been moved to St. Nicholas Park.
GOOGLE MAPS: My route for Hamilton Heights to Harlem
Arriving at the 145th Street A train station at St. Nicholas Avenue I struck off west toward Convent Avenue, where there is a cluster of interesting items. As with may parts of town some of the most interesting buildings are churches. There are a number of traditional buildings, and as we'll see a wild card that defines the word "wild."
While the neo-Gothic Convent Avenue Baptist Church on the southeast corner (1899) might get more notice in the area guidebooks, I find the even older Mount Zion Lutheran Church and its parish house (1909), built in two distinct eras, more camera-worthy.
Mount Zion Lutheran Church has been at its present location since 1944, but the building was designed by Joseph Wolf in 1888 for the Hamilton Grange Reformed Church. In 1906, St. Matthew Evangelical Lutheran Church purchased the building and moved from their downtown location at 354 Broome Street, bringing along their German-language memorial tablets that remain at the church entrance. NYC American Guild of Organists
The beige paint, applied long ago, is flaking off and the stepped roof is reminiscent of Flemish or Dutch architecture. The parish house, next door, is a Gothic masterpiece with ogee-arched stained glass windows. It is now home to the Global Community Charter School.
A handsome group of brownstones at the SW corner of Convent and West 145th is punctuated by a plaque honoring the Rev. Dr. John W. Saunders (with a passage from Leviticus), and a new street sign has been placed on a corner lamppost. Rev. Saunders founded the Convent Avenue Baptist Church in 1942 in what had been called the Washington Heights Baptist Church.
Note the new maroon Historic Districts sign above the older one for Convent Avenue that has faded quite a bit.
There's a little 3-story brick building at 401a Convent, north of West 147th Street, that I have always been fascinated with. It's a surviving former stable for 441 West 147th Street around the corner. I can envision myself ensconced in an easy chair by that reading lamp on the ground floor, or do they call it the basement?
The individual stories behind all the buildings in this general area can be found in the Landmarks Designation Report for Hamilton Heights/Sugar Hill.
I mentioned there was a wild card in the pack and here it is on the NW corner of Convent and West 149th, the Anglican Church of the Crucifixion. From the outside it looks like some minimalist grain silos with a convex roof and a crucifix.
The church was designed in 1967 by architect Costas Machlouzarides, making it nearly 100 years younger than some of the buildings surrounding it. It is thought that Le Corbusier's Chapel of Our Lady at the Height in Ronchamp, France, is the inspiration. The New York Times' Christopher Grey liked the church, but mentioned that Machlouzarides hadn't been popular with critics for his earlier work. The Greek architect, who had a quirky streak, also designed the Calhoun School onWest End Avenue  and West 81st Street. Its signature is its large picture windows with convex sides that look like TV screens did in the 1970s, when it was built.
What's interesting is that while in 1967 it was shockingly modern, the exterior seemingly hasn't been kept up or cleaned, and there's an old-fashioned pushpin-type message board on the outside.
The church itself was founded by Rev. Jedediah Edmead, an immigrant from St. Kitts, British West Indies, in 1916.
At Amsterdam Avenue and West 149th, a block west, is a repurposed theater building, later the New Covenant Temple.
Many experts believe that the Washington Theatre is the oldest surviving theatre anywhere that was designed by Thomas W. Lamb. It was built by William Fox Amusement Company and first opened on January 21, 1910. Little known beyond its Hamilton Heights neighborhood, the Washington Theatre closed in the 1950's and [later served] as the New Covenant Temple, with its interior substantially intact. Cinematreasures
If you have been reading FNY for awhile you know my admiration for brick factory buildings that have been repurposed as apartments. One of the prime species can be found on Amsterdam Avenue, West 150th and West 151st Street, the former Joseph Loth Silk Ribbon Factory. The factory, in its heyday, employed 600 workers and made ribbons in 15 widths and 200 colors.
Joseph Loth arrived in NYC from Hartford, CT in 1862 and in 1875 founded his silk ribbon company, "Fair and Square Ribbons." The company was originally located in what is now SoHo, but moved uptown to Hamilton Heights to this new building designed by architect Victor Hugo Kafka (!) in 1886. There was originally a monumental clock tower midblock on Amsterdam, but it was lost to a fire in 1916. Though the Loths owned the building through the 1920s after the death of the founder around 1900, it ceased to be a factory around 1920, and the building became more generalized. A skating rink and early 'moving picture' theater arrived around 1910, which is also when the columned entrance portico was constructed. Storefronts appeared around this time as well.
A look at the Loth factory with its clock tower [Harlem Bespoke]
There's a near-twin in Norwalk, CT. Its clock tower is intact.
I got a kick out of this mural on the north side of West 151st Street opposite the Loth factory. There are two murals, each dispensing some folk wisdom on walls on both sides of a parking lot. "You use the belt to protect … children from [themselves]."
Both murals are by local artist Queen Bilquis (the name is taken from a Muslim term for the Queen of Sheba, who visited King Solomon in Bible stories from I Kings and II Chronicles; Sheba was located in present-day Yemen).
IQRAA is a Muslim-themed television network. This is what "Kill Willie Lynch" is about.
For years, a large B, the logo of the Boston Red Sox, appeared on the sidewalk in front of a West 151st Street apartment, along with three uniform numbers belonging to Red Sox players from the Dominican Republic, including Manny Ramirez. Dominicans had a rooting interest in the Sox for this reason.
We saw this on FNY's ForgottenTour through the area way back in December 2004.
Returning to West 150th Street, at #562 between Amsterdam Avenue and Broadway we find the City Tabernacle of Seventh-day Adventists located in a former synagogue:
…the edifice that was built from 1915-17 as the Mount Neboh Synagogue. Berlinger & Moscowitz set out to repudiate both Moorish-Romanesque and Neoclassical synagogues because they resembled bank buildings and thus, "temples of Mammon", rather than "temples of God". The Mount Neboh congregation remained at this Harlem location until 1930, when it moved to the former Unity Synagogue at 130 West 79th Street. The Seventh-Day Adventist congregation purchased the synagogue, removed the Decalogue that had been over the entrance, and rededicated the building in 1950. NYC American Guild of Organists
We'll see another former synagogue and what became of it, a block south, a little further ahead.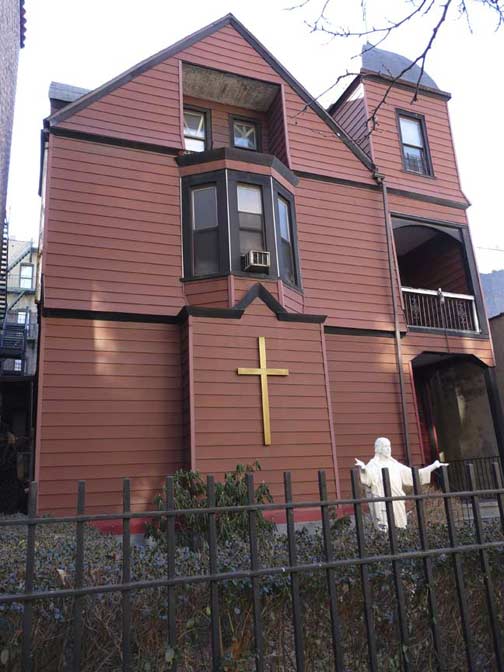 There's a parish house, or whatever the Adventists call it, next door. You have to call on your imagination to see through the recent siding job to what it must have looked like when it was built over a century ago.
Across the street, frolicking cherubs on a window planting box are oblivious to the decades-long parade of houses of worship.
At Riverside Drive and West 150th Street you will find the late (1915-2012) Elizabeth Catlett's sculptural tribute to author Ralph Ellison (1914-1994) It depicts, in spirit and execution, the protagonist of Ellison's best-known work, 1952′s "Invisible Man," a fictional study of the racial injustices he experienced as a youth. Ellison, born in Oklahoma City, moved to NYC in 1936 and lived most of the remainder of his life here. One of Ellison's favorite spots to relax was on the benches of the traffic island on Riverside between West 149th and West 153rd Streets, near his residence at #730 Riverside Drive. Ellison wrote "Invisible Man" while residing at 749 St. Nicholas Avenue near West 146th.
The moving work is close in design to the Korean War Veterans Memorial in Battery Park.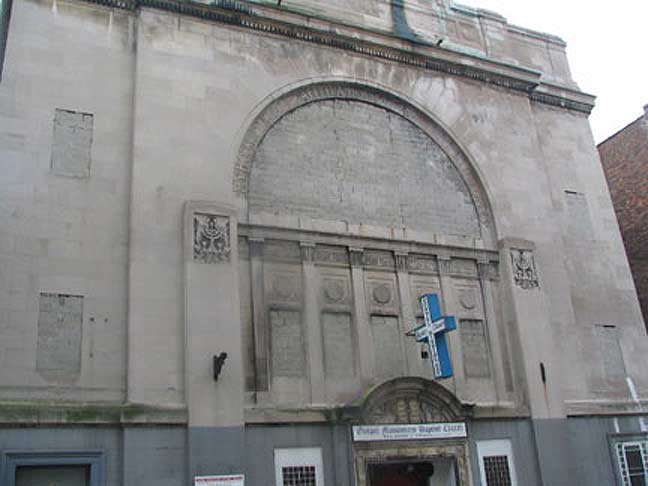 On that ForgottenTour I mentioned, we went east on West 149th from Riverside Drive and saw the old Temple B'Nai Israel, constructed in 1923 (Emery Roth, architect] at #604. It was once one of NYC's grandest synagogues (at present there is only one synagogue north of 125th Street on the island!) until its congregation departed in 1979. The building mostly deteriorated and declined after that, though a series of storefront churches such as the Gospel Missionary Baptist Church, seen here in 2004, occupied the old temple at one time or another.
In 1995, The NY Times' Christopher Grey was reporting that the building's owners were hoping to completely renovate it. When I passed by in December 2014, I found this brand new facade, and an entrance to the Gospel Missionary Baptist Church on the ground floor.
My question is, since I haven't been by in a decade, is this a renovation or a completely new building? You can respond in Comments.
2/15/14