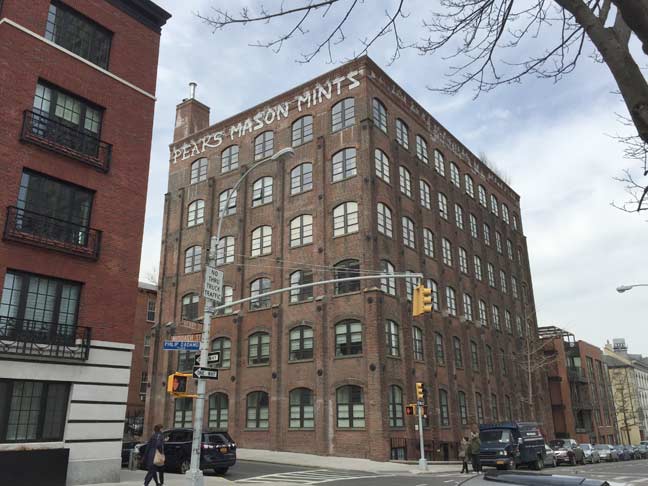 Oy, I may have covered this building before in One Shots, but time is the enemy these days, as it's early to bed as I have a temp day job. If I ever get permanent work again, I'll have to upend the post schedule even more dramatically.
This massive factory building was constructed by Mason, Au and Mangenheimer Candy in 1885 at #20 Henry Street, at the NW corner of Middagh.  According to advertisement researcher Walter Grutchfield, the company was in business here between until 1949. The company was founded by confectioners Joseph Mason and Ernest von Au in 1864.
In actuality the painted signs on the building are a bit misleading since there was no such candy as "Peaks Mason Mints"; there were Mason Peaks and Mason Mints. Mason Peaks was a coconut-chocolate combination (like Mounds) while Mason Mints was a chocolate-covered mint patty (like today's Peppermint Pattie). Mason also made Dots, a fruit or cinnamon-flavored gumdrop, and Crows, a licorice-flavored gumdrop. Both are still distributed by Tootsie Roll, which acquired Mason in 1972.
In 2012, Canyon-Johnson Urban Fund, a development group including former LA Lakers superstar Magic Johnson, completed the conversion of the building into luxury residences, with some "affordable" also included. In a nice touch, the painted ads were not only retained, but renovated to their current splendor.
3/25/15