By Sean Colby and Kevin Walsh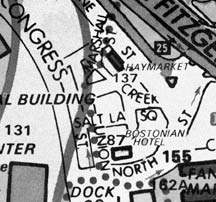 Wedged between Government Center and the North End, along Congress Street near the old Union Oyster House, you will find a labyrinth of tangled, crooked alleys; as George Weston puts it in Boston Ways:
…twisted and interlaced in as meaningless a maze as one could hope to find even in this city of sinuous streets. Cow paths? Hardly, unless the cows were drunk…
The Creek Square environs, now far inland, was originally a salt marsh with a small creek running into it, and the mazey lanes follow the rivulets' old paths and carry names like Salt Lane, Marsh Lane, and Creek Lane, now Creek Square.
Inside the historic Blackstone Block, behind the famed Union Oyster House (and the location of the Boston Stone) is this sign for Public Alley 102, which was created in the 1670's. These are probably latter-day street blocks.
Creek Square


Marshall Street was named for Thomas Marshall, captain of the first ferry "from Mylne Point to Charlestown" in the late 1600s. This narrow lane was originally a right of way Marshall allowed through his property.  
Boston Stone, on Marshall and Union Streets. The story goes that it was fashioned in London and brought to Boston in 1635 and was used as a grinding stone by Thomas Child in his paint mill. Child died in 1706, and the stone was lost. About a century later, in 1836, the stone was recovered while the foundations for the present building were being dug, and the stone was placed in the brick wall in the building that still stands today. According to legend, it was once used to measure distances from the center of Boston to other points, but that is in dispute. However…London does indeed have its own stone used for measuring distances dating back to the Roman era.
Directly across Marshall Street from Boston Stone is Boston's oldest brick building, dating probably to 1660. It was once occupied by James Davenport, Ben Franklin's brother-in-law.
SOURCES:
Boston Ways, George Weston Jr., Beacon 1957