By Sean Colby and Kevin Walsh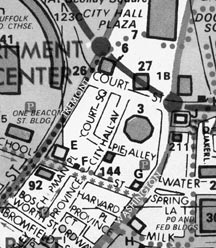 Though the downtown area has lost an entire entertainment district (Scollay Square) in the past 50 years, and a raft of byways and mazes of alleys have been lost, there are still quite a number of them to be found. On this page we'll concentrate on three, including one whose spelling has been in flux for decades, though its name is only three letters long. Each are a short walk from the State Street station on the Blue and Orange Lines.
Quaker Lane
Unusually-configured Quaker Lane is a U-shaped alley with each end terminating on Congress Street, but it also has a spur to Devonshire Street. Though narrow, it is large enough to fit a vehicle, although not many pass through it. Above: looking east from Devonshire.
A view from Quaker Lanetoward State Street, with a metal street lamp dating from at least the 1940's. Note the ornate fire escape on the building on the left, proof that these buildings are far older than many in the Financial District. In fact Quaker Lane used to extend through to State Street; then it was a semicircle at Congress with two spurs, one north to State and one west to Devonshire.
The reason for all this is that Quaker Lane used to be in the center of a cemetery run by the Society of Friends in this spot until 1827, when the plot was sold and the bodies disinterred and moved to Lynn, MA. However, in an unusual quirk, the paths through the Quaker cemetery were retained as a public street…Quaker Lane. Cemetery paths do tend to meander and crisscross themselves.
This view shows Quaker Lane's longest section running parallel to Congress Street. The lane cuves to meet Congress at each end.
The rear of a Congress Street building as seen from Quaker Lane, with a spiral fire escape.
Spring Lane
Further down Devonshire Street, Spring Lane, also unmarked, runs from Devonshire west to Washington Street on a slight curve. The alley was so named because it was the site of a fresh water spring for Boston's citizens. The intersecting street right before the alley is not so coincidentally named Water Street.
The first settlers in the area found a fresh spring that was, by accounts of the period, wide, plentiful and gushing. Massachusetts Bay Colony's first governor, John Winthrop, built his home here to take full advantage of it in the 1630s.
As Boston gained in population over the decades so many wells were sunk that the water table dropped and Bostonians built a well and pump to obtain water from the "Great Spring." It flowed anew when construction of a post office revealed it in 1868. Eventually the spring was paved over, with Spring Lane following its old course (much like Minetta Street follows Minetta Brook in Greenwich Village, Manhattan).
Also found in Spring Lane is this plaque marking the place of death of Mary Chilton, who according to the plaque was the only Mayflower passenger to relocate to Boston from Plymouth and died there in 1679.
Pi(e) Alley
Pi Alley runs from Court Square across City Hall Avenue to a dead end. No one is quite sure whether it is named for baked goods or the ratio of the circumference of a circle to its diameter (an infinite decimal number coming to approximately 3.1416). The city, in these carb-conscious times, seems to have sided with the mathematicians as the final "e" has been left out. The answer may be that it's neither.
A strong case can be made for the fruit-filled tasty treat, since there were a number of coffee houses and retaurants in the area in the 1700s and 1800s, many of which served pie. However, for many years, according to Boston Ways, the Bell in Hand Tavern in Pi(e) Alley (since moved to Union Street) served printers and typesetters working in the area in the hot-type era, when type was painstakingly set line by line and sorted and stored in cabinets. In printer's argot, type that's mixed up, or "out of sorts," was called pi. As for any mathematicians living here, that's the most unlikely explanation.
SOURCE:
Boston Ways, George Weston Jr., Beacon Press 1957