On Saturday, May 9th, 2015 ForgottenFans enjoyed a verdant walk through one of Staten Island's best neighborhoods, and in the top five in New York City, in St. George, Staten Island, which is replete with winding streets, harbor views and eye-popping Victorian-era mansions…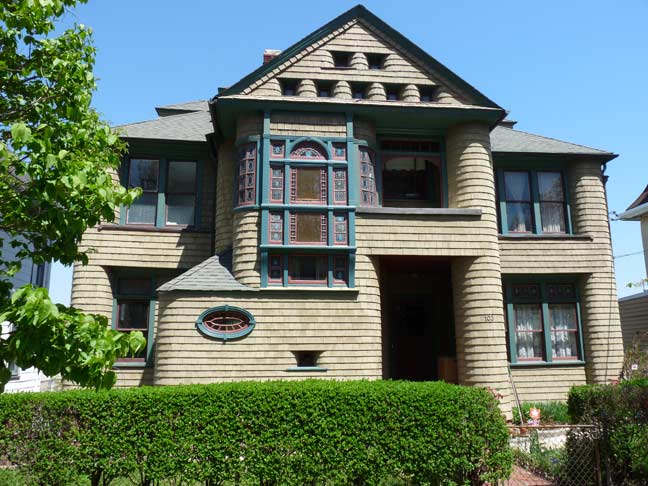 #103 St. Mark's Place was originally designed by prolific St. George-area architect Edward Alfred Sargent (1842-1914),  for banker Frederick A. Rodewald in 1890. It's filled with eclectic touches inside and out, such as the rounded edges, small oriel window on the left and intricate interior detailing. Of course, the kitchen has a "wide screen" view of the harbor…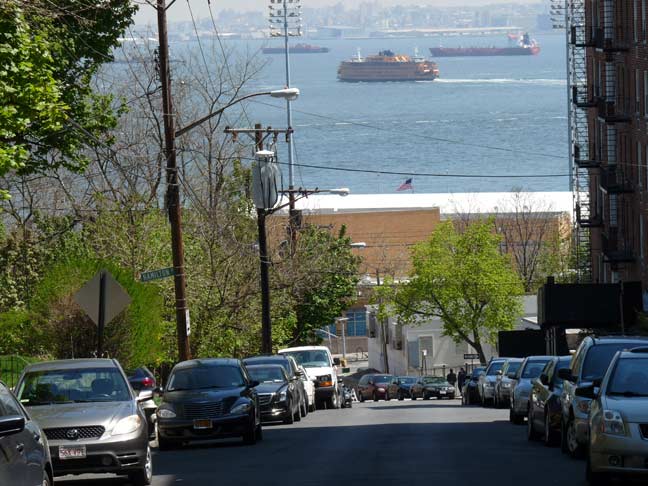 I'll admit, the photos on today's page come from the "scout mission" I did in St. George a week before the actual tour. The day of the tour was drizzly, foggy and overcast, which rendered views of the harbor from the high hills not quite as good as during clear weather.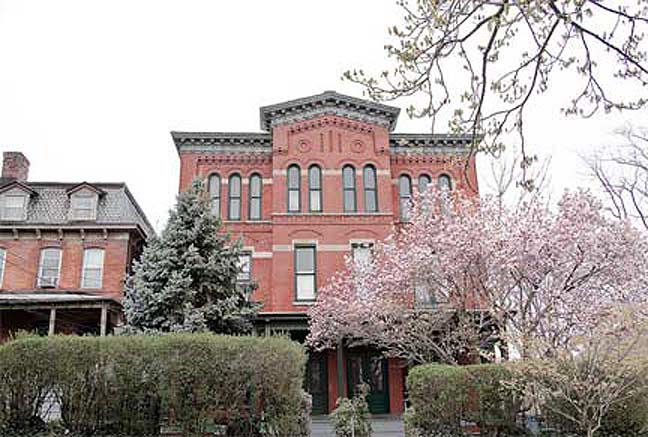 Classic brick architecture has always been my favorite. This Romanesque building at #30-32 Westervelt Avenue more closely resembles commercial structures of its era.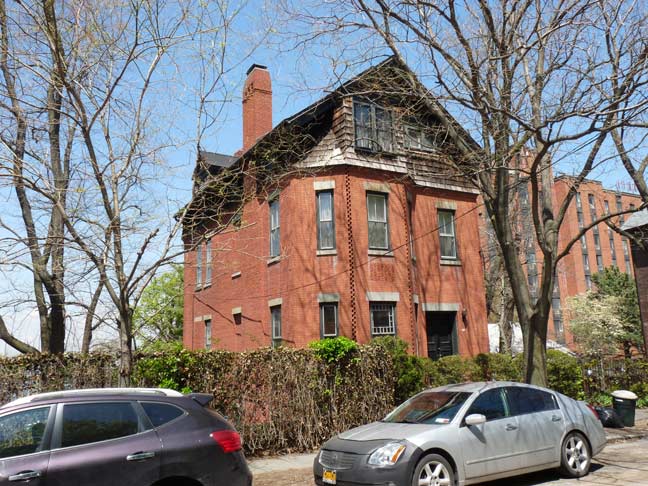 Another brick building, at #9 Carroll Place, was built between 1835 and 1845 as a carriage house and servants' quarters for the now demolished Richmond Terrace mansion of Samuel R. Brooks, the president of the New York and Harlem Railroad. It has been greatly altered over the years but has never lost its unique character.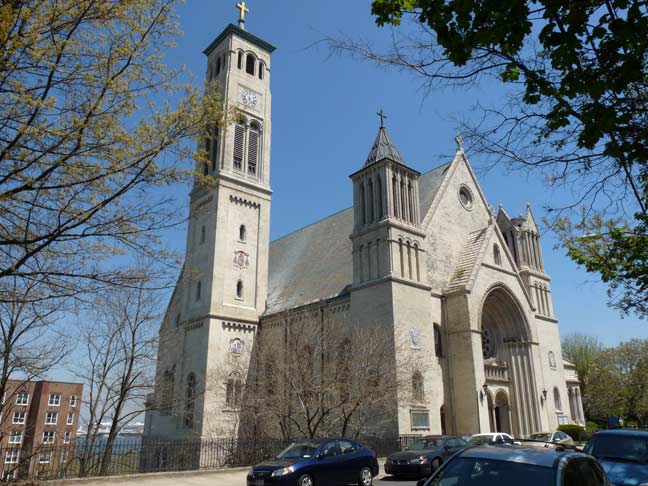 St. Peter's Roman Catholic parish is the oldest in Staten Island, having been established in 1839. Previously, Staten Islanders had to travel across the bay by boat to Manhattan to celebrate Sunday Mass and participate in church activities.  The original church stood from 1844 until it burned down in 1897; the present church, with its tall campanile that can be seen for miles and from across the bay, was finished in 1903.
344 Westervelt  Avenue, at Benzinger Avenue, was completed in 1882 in Second Empire style just as it was beginning to fall from favor. This house is one of the most imposing and architecturally distinguished of the masonry Second Empire style houses in northeastern Staten Island. It is located on Fort Hill on part of the former estate of Dr. John Westervelt, which was between the historic villages of New Brighton and Tompkinsville. In the mid-nineteenth century Dr. Westervelt's estate was developed as a fashionable suburban enclave favored by prosperous German-American families.
It's been divided into separate apartments and is currently in need of some TLC.
Forgotten NY tours are held from spring into fall. Check here for the 2015 schedule, or email me at kevinjudewalsh@gmail.com or info@astorialic.org for more information.
5/13/15