FNY continued with its weather winning streak for ForgottenTour #89 in College Point on Sunday, April 26th as fifteen ForgottenFans turned up for this romp through northwest Queens. College Point is, like Red Hook in Brooklyn, rather isolated from the rest of its borough by expressways and bodies of water; no subway runs through it (though the Long Island Rail Road served the region until 1932). The Q65 bus and other routes connect College Point with Flushing.
I'll show the title card image again since mobile devices do not show it under the current version of WordPress I'm working with.
Rubber manufacturer Conrad Poppenhusen's philanthropy and good will was, in good measure, responsible for College Point's early development. The Poppenhusen Institute, built in 1868 at what is now 14th Road and 114th Street, featured the nation's first free kindergarten, as well as a justice of the peace, the first home of the College Point Savings Bank, German singing societies, the first library in the area, a court room, the Sheriff's Office with two jail cells, and a grand ballroom.
Today the Institute is used as a community center and features karate and piano lessons, summer band concerts, and fire department museum and Native American exhibits, while the ballroom is rented for wedding receptions.
In the upstairs ballroom, two major works of art are exhibited:  Friedrich Spangenberg's "The Triumph of the American Union," and local sculptor Hermon McNeil's  "Coming of the White Man" depicting two Native Americans observing the Lewis and Clark expedition in the early 19th Century.
Main hallway, Poppenhusen Institute. We were honored to have an unexpected tour of the Institute by its Executive Director Susan Brustmann, who reports that the Institute will soon be getting an elevator. Donations are always welcome for this treasured neighborhood landmark.
Other tour highlights…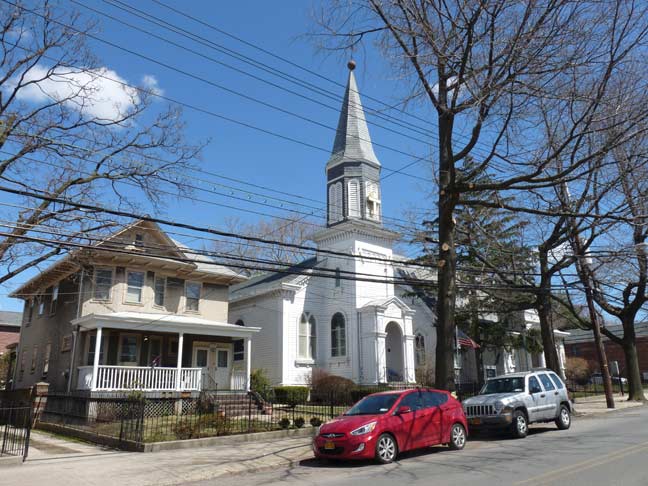 First Reformed Church (1873), 14th Avenue and 119th Street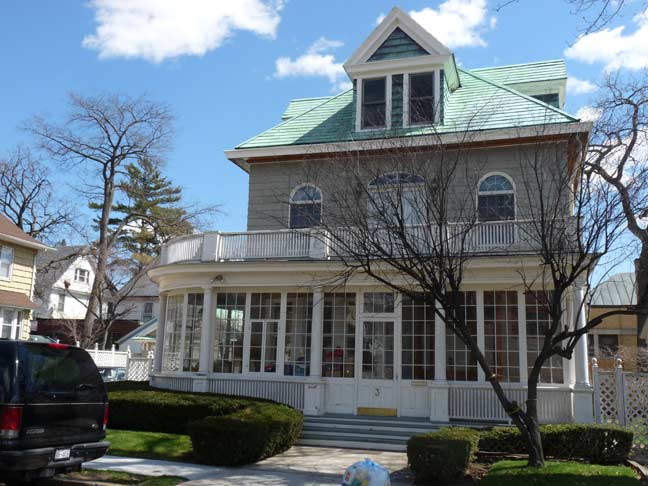 One of the Queen Anne-style homes on Beech Court, a semi-private enclave on 121st Street near 14th Avenue
The tour was on Sunday so, unfortunately, we didn't get into the Empire Market, open Monday thru Saturday.  This College Point institution was founded in 1921 by the Lepine family and has been in this location for over 90 years.
Stepping into their shop is like walking into a snapshot from another era: Though the floor is no longer strewn with sawdust, the dark wood–paneled walls are lined with German groceries, house-made sauerkraut is sold by the pound and huge slabs of bacon hang in the back, still marked with the impression of the rib bones once attached to the fatty meat.
Conrad Poppenhusen Memorial, College Point Boulevard at College Place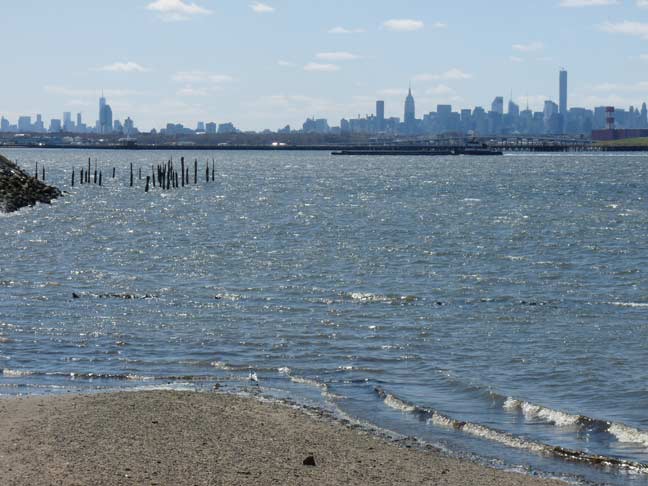 View of Manhattan from Hermon McNeil Park
Forgotten NY tours are held from spring into fall. Check here for the 2015 schedule, or email me at kevinjudewalsh@gmail.com or info@astorialic.org for more information.
5/12/15