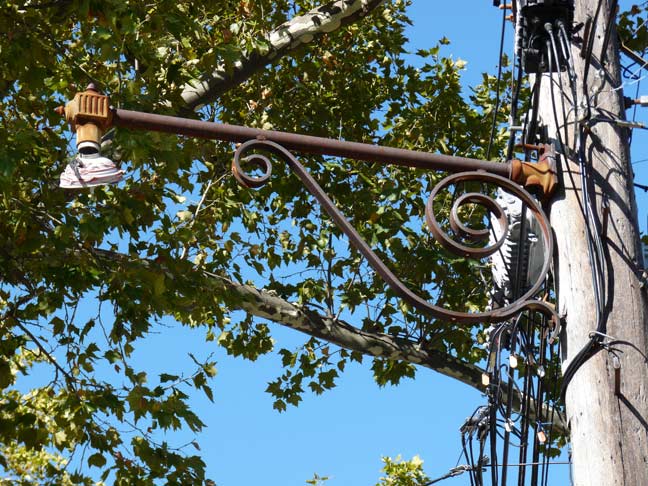 I'll miss these when they are gone.
Scrolled metal shafts like these used to hold fire alarm indicator lamps on telephone poles in three boroughs of New York City (I've never seen them in Manhattan or Staten Island). The light bulb at the end usually was covered by a silo-shaped orange plastic diffuser (supplanting the globular design of the 1920s). For the past decade the city has stopped servicing them as smaller alarm indicators were mounted on the main streetlight.
These lengthy shafts were the lesser-used alternatives to a simple J-shaped pipe that held the indicator lights. Sometimes they're clustered in a specific region (Pelham Bay in the Bronx was a stronghold) but sometimes you come upon them by surprise, like this one at 156th Street and Kalmia Avenue in Flushing.
These scrolled shafts were once the main telephone pole lamp holders in the outer boroughs, as they held incandescent lights in radial-wave holders by the thousands. When newer lights were installed, some of them were pressed into service to indicate fire alarms, and that's why they are still there today.
6/6/15