By SERGEY KADINSKY
Forgotten NY correspondent
In recent years, the coastlines of Manhattan and Brooklyn have been reclaimed by the public as ribbons of waterfront parkland take up shores that previously belonged to industry. As we reported previously in College Point and North Astoria, Queens' East River Shoreline is not as accessible. Here, residential developers hold sway and instead of parks, gated communities separate the public from the water. In our continuing series on the borough's northern coast, we now visit Whitestone, Beechhurst and Fort Totten.
Whitestone is the northernmost neighborhood in Queens, situated between Whitestone Bridge and Throgs Neck Bridge. Its shoreline is largely comprised of upper income tract mansions and high rise apartments. An important ferry landing prior to the construction of Whitestone Bridge, the community was served by the Long Island Railroad until 1932. Near the eponymous bridge, Francis Lewis Park occupies a portion of the former estate of American revolutionary Francis Lewis. The park has a small cove that has a beach, but swimming is prohibited. Considering that Queens's north shore once had numerous beaches with resorts and amusement parks prior to the Second World War, are there any swimming sites still in operation on the East River?
Whitestone Boosters Civic Association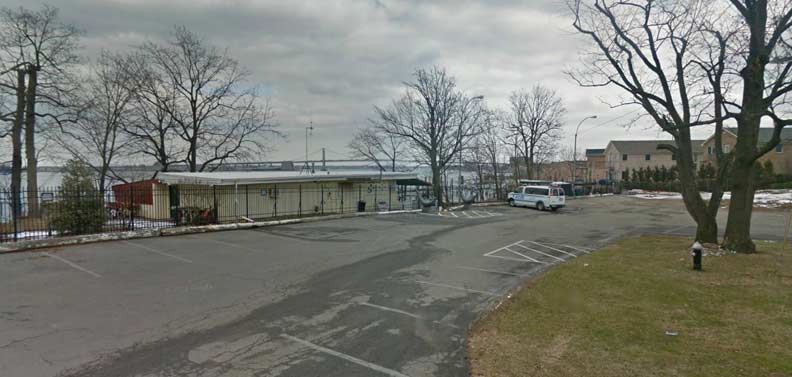 At a dead-end segment of the never-completed Powells Cove Boulevard to the east of 149th Place is a traffic loop monitored by Whitestone Boosters Civic Association. It is one of the two last private beaches remaining on the Queens shoreline of the East River. A third can be found in Little Neck Bay. In a neighborhood filled with private gated communities, cameras and security guards, the best day for me to check out these beaches is when there is a heavy downpour and no one's watching. Known as Boosters Beach, it occurring a narrow sliver of sand behind a tall fence.
Cresthaven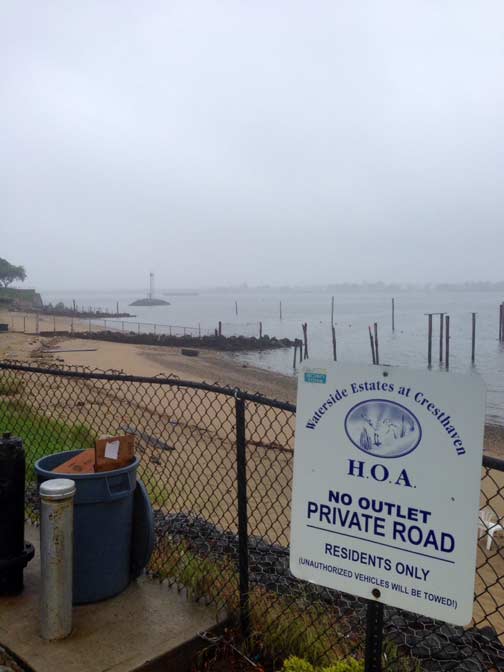 A former country club, Cresthaven, Powell's Cove Boulevard between 3rd and 6th Avenues, once occupied 22 acres of waterfront real estate. Following its closing in 1989, the property was subdivided for tract mansions accessed by private streets. A couple of these streets reach the water's edge, but it does not appear that there is a beach in use at Cresthaven. From the bead-end at Cresthaven, one can see Whitestone Point Rock. This outcropping used to have a lighthouse that was operated by a keeper until around 1990. It has since been automated like all other lighthouses in the city. Between 1889 and 1908, Whitestone Point had a romantic-looking lighthouse tower with a bell. Today, a simple skeleton tower with a beacon performs the duty.
Beechhurst Property Owners Association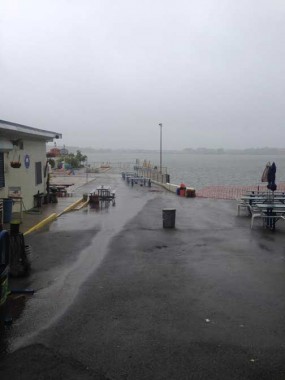 At the landing of 158th Street near Riverside Drive, a waterfront parcel as wide as the street belongs to Beechhurst Property Owners Association (BPOA) whose logo resembles a DOT-issue bridge directional sign. To the left of the beach entrance is a private segment of Riverside Drive, where one can find eight oversize tract mansions with their own docks and waterfront pools. Because Beechhurst shares the 11357 zip code with the more populated neighborhood of Whitestone, it is regarded by outsiders as part of Whitestone to the dismay of some residents.
Wildflower Estate
At the eastern end of Whitestone / Beechhurst, the shoreline curves south into Little Bay. This promontory is known on maps as Cryder's Point. In the early 20th century, this location was part of Long Island's Gold Coast, a stretch of waterfront mansions covering the northern shores of Queens and Nassau counties. In 1924, Queens' Gold Coast was enhanced by the construction of Wildflower, briefly the home of Broadway impresario Oscar Hammerstein II, who named the mansion after one of his plays. In 1930, Hammerstein fell on hard times and sold the mansion. From the early 1980s until 1999, the landmarked mansion fell into decay, overshadowed by Throgs Neck Bridge. Since then, the property was developed with upscale townhouses and the 15-room mansion was divided into six condo units. Because the estate has a gate and 24-hour security, the best I could do here is poke my camera between the fence posts. Although Wildflower has a beach, it is not used for swimming.
Le Havre
The modernist apartment complex's name seems like a nod to architect Le Corbusier, who promoted the Tower-In-The-Park concept in the postwar period. Only 19 percent of Le Havre's land is occupied by buildings. The rest is a private park-like terrain. In French, its name translates as "The Harbor." Completed in 1958, Le Havre comprises of 32 towers on 32 acres of waterfront land. Each apartment has a terrace and full-length windows.
Wildflower and Le Havre are both located at Powells Cove Boulevard and Totten Street.
Utopia Parkway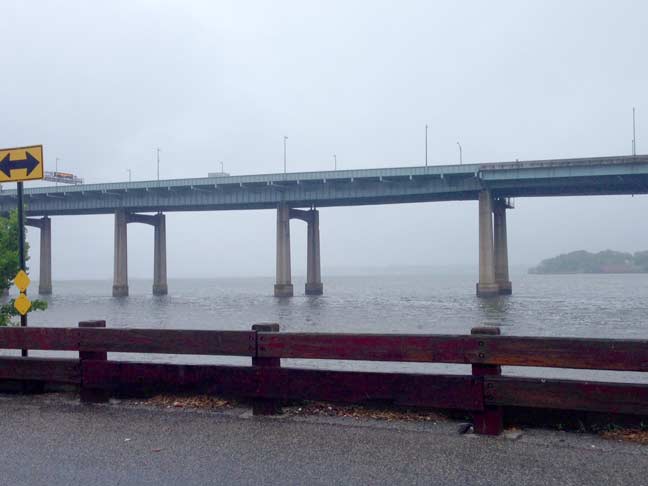 Running between Beechhurst and Jamaica Estates, this roadway begins as a one-lane dead-end on the shore of Little Bay. Behind the dead-end are the Wildflower townhouses. Across the bay from Utopia Parkway is Fort Totten and behind it is Great Neck. At this location (by some accounts) East River becomes known as Long Island Sound.
Fort Totten
The northeast extreme of Queens is an ear-shaped peninsula that was used as an army base between 1857 and 1995. Following the army's decommissioning of this historic base, the peninsula is shared by the Fire Department, NYPD, Parks Department, Coast Guard and a small remnant portion retained by the U.S. Army Reserve. While some of the buildings on the former base are actively used as offices and training facilities, others are in a dilapidated state, ravaged by the moisture and winds of the bay. Some of the former army residences appear as if transported from a small town. As a former residential community, Fort Totten had its own post office, zip code, swimming pool, little league and street signs. On the map, military names include Sgt. Beers Avenue and Walter Reed Road.
The largest unused building at Fort Totten is the former hospital, which flanks the Parade Ground. Reminiscent of Liggett Hall on Governors Island, it nearly spans the width of the peninsula. Considering the city's overcrowded public schools and neighborhood opposition to new schools in residential areas, I am surprised that the city hasn't reused some of the vacant buildings as schools.
Also vacant is the Willett Farmhouse, hidden behind thick vegetation. It predates the fort and is a link to a period when the peninsula carried the name Willet's Point. The chapel is leased to a Korean congregation while the Officers' Club is used by Bayside Historical Society.
Most of Fort Totten's coastline is rocky, unsuitable for a beach. Its swimming pool however, is open to the public during the summer.
FNY will soon have a more comprehensive look at Fort Totten.
Francis Lewis Park
This 9-acre park covers a remnant of the property that belonged to Francis Lewis. The Welsh-born merchant represented Queens in the signing of the Declaration of Independence and his name also appears on a local high school and the north-south boulevard that stretches from Whitestone to Rosedale. The city acquired this park in 1937. Its beach is useful for walking, launching canoes and fishing but signs inform visitors that swimming is prohibited.
Samos Lane
The northernmost avenue in Queens is Second Avenue, which is the first number in a grid sequence that extends to 165th Avenue in Howard Beach. In 2004, a private cul-de-sac was constructed between Second Avenue and the water's edge, containing four extravagant Mediterranean palaces. As a private road, it has its own custom-made sign.
As Whitestone has a large Greek population, it is possible that the street's name comes from the island of Samos in the Aegean Sea. According to the historian Strabo, its name is Phoenician for "rise by the shore."
Across the street from Samos Lane, a fire hydrant is tastefully wrapped by paving stones. Second Avenue does not have sidewalks.
Little Bay Park
When one visits Little Bay Park, the curved coastline is reminiscent of Orchard Beach.
This is no accident as in the early postwar years, Parks Commissioner Robert Moses intended to construct Clearview Beach on this site. Across the East River, Ferry Point Park also has a curved shoreline that was designed for a beach. Neither ever went beyond planning stage.
6/4/15