Woodside is often the jump-off point for some of my lengthier walks. The reason is simple. It's the westernmost Long Island Rail Road stop in Queens (on my branch, that is; there are stops at Hunters Point as well as Long Island City that are only used weekday rush hours). Thus, I set off for a lot of walks from Woodside, heading toward Astoria, Elmhurst, Jackson Heights, Corona, Maspeth and even Ridgewood from Woodside. This was a clear day in April and the temperature is still livable this time of year, so I just kept going and going, for about 9 or 10 miles over about 4 or 5 hours, finally reaching Bedford-Stuyvesant in late afternoon…
Google Map: Woodside to Bedford-Stuyvesant
Three roads, two originating in Brooklyn, meet in the center of Maspeth: Maspeth, Grand and Flushing Avenues all come together at 64th Street.
Flushing Avenue was originally opened from the Brooklyn Navy Yard to Bushwick Avenue between 1805 and 1850 as a toll road, the Brooklyn and Newtown Turnpike, and took a curving route east through hilly land as it was gradually extended through to Grand Avenue in Maspeth. By 1893 the hills were leveled, the road straightened, and Flushing Avenue assumed its current name. It is so-called because it originally led to wagon and cart trails such as the former North Hempstead Turnpike (now 63rd Drive) that crossed the swamps of what is now Flushing Meadows-Corona Park to the town of Flushing.
Grand Street (Brooklyn) and Grand Avenue (Queens)  together are about 120 years old. Grand Avenue was engineered in the late 19th Century as an eastern extension of Williamsburg's Grand Street, and was known as a Street in the early years of its existence before the Queens section became an Avenue, likely to differentiate it from Brooklyn. In Queens, the road's eastern course overlapped the course of the Newtown Plank Road, which is today's Maspeth Avenue as far as its eastern junction with Grand and Flushing Avenues. (Flushing Avenue itself is a straightened version of a colonial-era route called the Brooklyn and Newtown Turnpike.)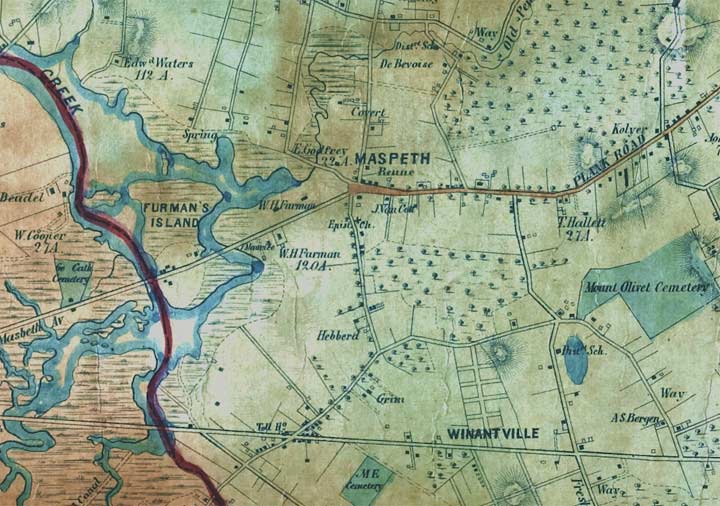 Here's an 1852 map of the heart of Maspeth, when only a very few roads went through. The wide east-west route in the center is the Newtown Plank Road, whose eastern section marks today's Grand Avenue route.
On this map we can also see "Masbeth Avenue" crossing Newtown Creek and Furman's Island to met the Plank Road. Today, there are two separate Maspeth Avenues, one in Brooklyn, one in Queens, but they were originally part of a plank road that was bridged over the creek; previous to wood planks, it was paved with oyster shells. The bridge was torn down long ago, but the abutments can still be seen at the creek at Maspeth Avenue (Brooklyn side) and 58th Road (Queens side.) Furman's Island was elimianted by landfill decades ago, and the Newtown Creek tributary that defines it has been truncated to the very short Maspeth Creek.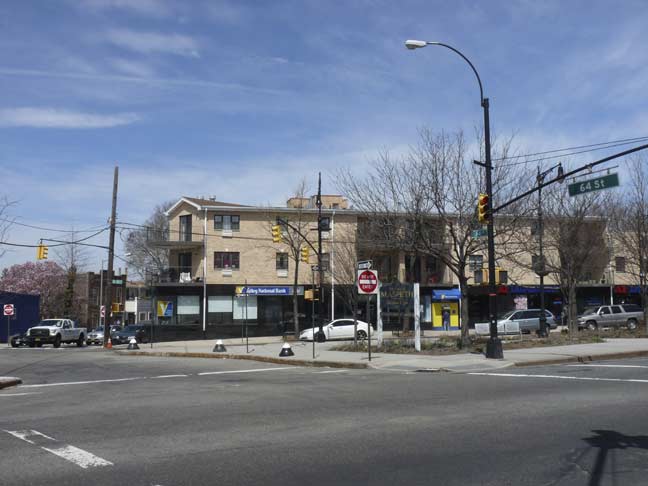 The intersection was a sentimental favorite. On all my visits to Maspeth, I'd be sure to get a vanilla cone with sprinkles at a Carvel at Maspeth Avenue and 64th Street. That Carvel was wiped out about a decade ago (around 2005) and these nondescript houses built in its place. As you will see, I was able to get my Carvel cone a little later on my walk.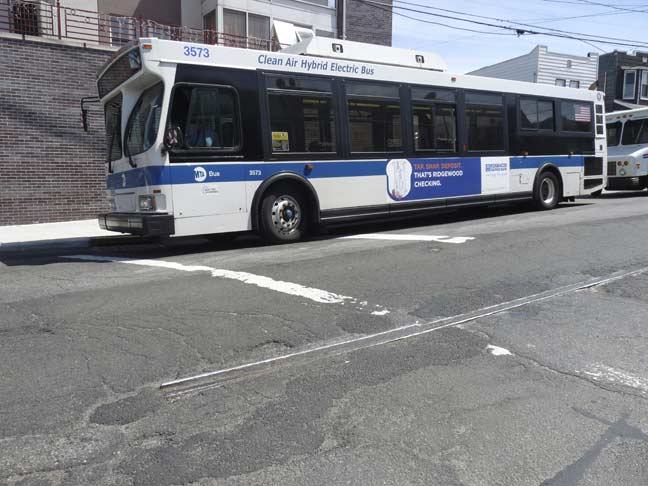 A trolley rail (and the bus that replaced it) are still visible at 61st Street and Flushing Avenue. The Flushing-Ridgewood #58 trolley line ran here until July 1949, when it was replaced on almost exactly the same route by the Q58 bus.
You can see the "bones" of the attached homes along Flushing Avenue today, as they are still there, albeit with aluminum siding.
Brick gateposts at 59th Drive and 60th Street mark a former real estate development called Ridgewood Terrace. As seen in Part 1's Ridgewood Plateau elsewhere in Maspeth, in the 1920s developers were quick to append "Ridgewood" onto planned collections of buildings, as Ridgewood was already well-established as a neighborhood and had a solid reputation.
In this part of Maspeth, a great number of streets are numbered "60," or at least between 58 and 60. Here, Queens' numbering system of north-south and east-west routes meet with the same set of cardinal numbers, making things rather confusing, or at least interesting.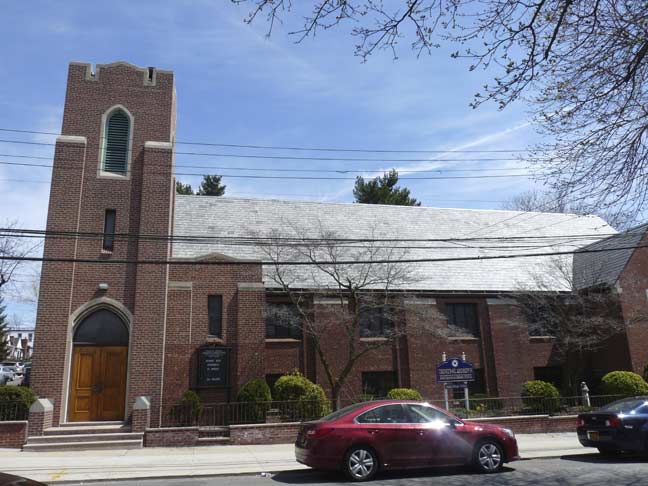 The compact brick Trinity-St. Andrew's Evangelical Lutheran Church, constructed in 1940. The address is, as you might almost expect, at 60-06 60th Street.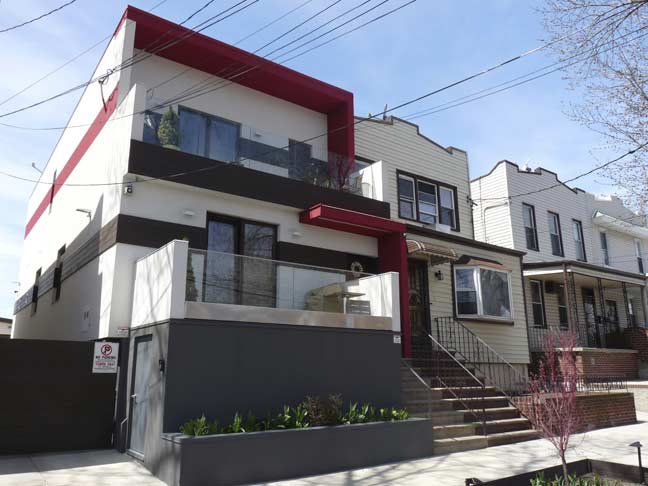 I've been knocked for not liking new architecture in the past (in the boroughs there's  not much to like) but I did dig the new treatment of an existing attached home at 60th Street between 60th Avenue and 60th Road. I wouldn't have put that moat-like raised entrance in, but the other treatments are OK with me. What can I tell you…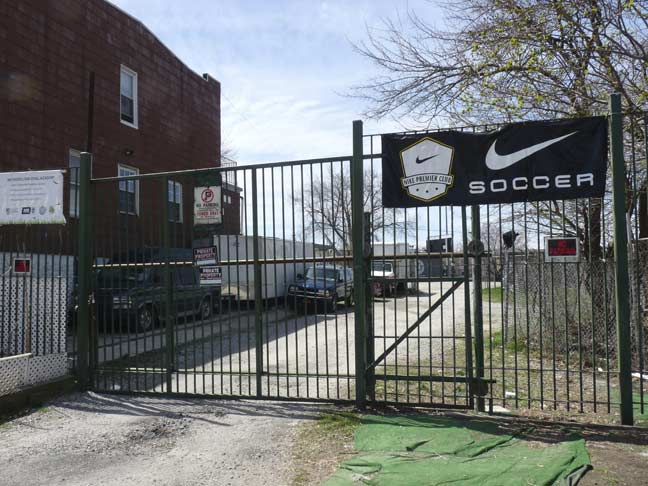 The Metropolitan Oval gates, 60th Street and the dead-end 60th Court, were closed during a weekday walk…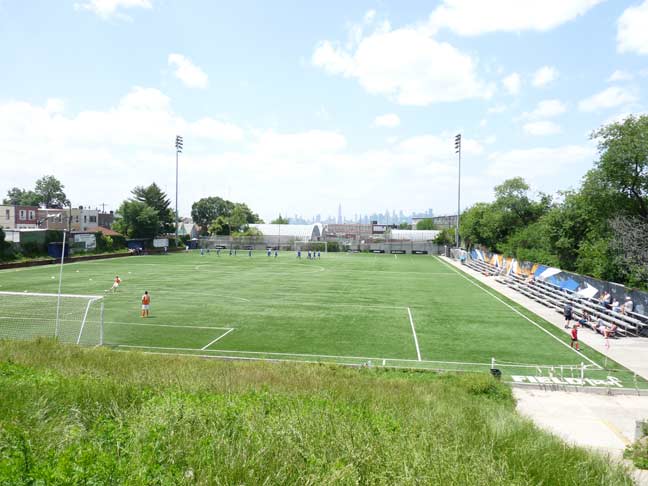 …but head there on a weekend, catch a match and enjoy the view of midtown Manhattan.
The Metropolitan Oval has been used continuously for soccer since 1925. Soccer greats Tony Meola, Werner Roth, Tab Ramos and Edson Nascimento (Pele's son) have all called Metropolitan Oval their home field at one time or another. The field is a U.S. Soccer Development Academy and seeks to develop the best young soccer talent in the region. The field hosts up to 20 games per week and is the home field for a number of local college teams.
Met Oval had fallen into decrepitude and disrepair a few years ago (even now, it's practically invisible from the street and you have to walk past a few dumpsters to reach the entrance) but half a million dollars from the U.S. Soccer Foundation and Nike turned it around, providing it with FieldTurf, a state-of-the-art playing surface.
I mentioned I was going to get my vanilla cone with sprinkles from somewhere, and now that the other Maspeth Carvel is gone, I patronize this classic version with original signage on Metropolitan Avenue between Forest Avenue and Harman Street. Its revolving mechanical ice cream cones advertising 36 varieties were decimated by Hurricane Sandy in 2012 and haven't been repaired, but it's still a classic roadside icon.
In 1934, company founder Tom Carvel was aided by a breakdown of his frozen custard truck in Hartsdale, New York: he decided to sell the contents on the spot rather than let them spoil, and began to franchise in the Forties. By the mid-1980s, at Carvel's peak, there were 865 ice cream franchisees. Carvel, you might recall, narrated his own commercials in his trademark unpolished style from the 1960s through the 1980s.
Most Carvels around town have received modern glass facades, but this one still has a glorious wood frame supporting plastic letters and ice cream cones. If only they revolved…
Like many churches, information on FDNY firehouses is sketchy at best on the internet. Engine 290/H&L 140, across Metropolitan Avenue from the Carvel,  is of a template with brick firehouses constructed in the 1925-1930 period; most of them have an exterior plaque, but not this one. I always like firehouses with red painted trim.
Crossing Metropolitan avenue into Ridgewood, Our Lady of the Miraculous Medal Church makes a striking appearance at 60th Place and Bleecker Street, where it takes advantage in a slight misdirection on Bleecker.
This church takes its name from a chapel in Paris, France, where Catholics believe that the Virgin Mary appeared to Zoe (Catherine) Labouré in 1830, and requested the production of a medal, saying: "Have a medal struck upon this model. Those who wear it will receive great graces, especially if they wear it around the neck." Today there are billions of Miraculous Medals worldwide.
The parish was founded in 1917, while the present church's cornerstone was laid in 1941. At one time, Catholic parishes were wealthy enough to build what amounted to small towns in association with parishes; shown here are the convent and recory, in addition to the separate school building, which also served as the church in the early days of the parish.
One more handsome church building, the Coptic Orthodox (basically, Egyptian Christian) Church of St. Mary & St. Antonios, the former United Presbyterian Church of Ridgewood, 62-54 60th Place (just south of Metropolitan Avenue), which has an exquisite Ionic-columed campanile, was built in 1909, though the Presbyterians had had a congregation here since 1863.
I turned west on Bleecker Street, one of the most often misspelled streets in NYC, often shown with a missing "C". It is named for the same family that Bleecker Street in Greenwich Village is so called, a wealthy landowning family that could count George Washington among its acquaintances. The name comes from a Dutch word meaning "bleacher of cloth."
Though some areas in Ridgewood are landmarked, there are others that should be, since they feature handsome, light brown brick residences.
Bleecker Street, like its parallel Ridgewood streets, takes a jog southwest toward Brooklyn west of Forest Avenue. Unusually here, though, Bleecker Street's westward line is occupied for one block by Butler Avenue. This creates a wedge-shaped space that is occupied by an oblong building. More handsome attached brick buildings are found on the east side of Bleecker.
Ricard Street runs for one block as well, between Greene Avenue and Harman Street. Note its un-Queens like house numbers, 488 and 490. Even though we're still technically in Queens, much of Ridgewood operates on Brooklyn rules as far as house numbering is concerned, because this part of Queens retained its street names instead of shifting to numbers. Thus, street numbering for north-south avenues begins at 1 on Metropolitan Avenue — while east-west streets are weird: numbering begins with 1700 at the Brooklyn-Queens line at Cypress Avenue (and then at 1600 when the line shifts a block west at Wyckoff Avenue). Hyphenated addresses are rare, though you see some.
As for Ricard Street's house numbers, they mimic Grandview Avenue's, one block west.
Greene Avenue is one of Brooklyn and Queens' longer streets, beginning at Fulton and S. Oxford Streets in Fort Greene and then going east and northeast , ending at Metropolitan and Forest Avenues. Avenue, fort and neighborhood were named for Rhode Islander General Nathaniel Greene, who won several key Revolutionary War battles in the South. As a Quaker he was initially reluctant to fight.
Here on the block between Fairview and Grandview Avenues are several aluminum-sided houses, but a couple still have their original iron railings.
A corner building at Fairview and Greene has not been re-sided and has its original arched window lintels, roof corbelling and pale brown bricks.
A look northwest on Onderdonk Avenue reveals the twin towers of St. Aloysius Church (and the single tower of the King of All Buildings). The church anchors the avenue and Stockholm Street, and its  bells ring out to signal vespers and matins throughout the day. It is the tallest building in NYC constructed with Kreischer brick, completed in 1917 by architect Francis Berlenbach. At 165 feet in height its twin campaniles are exceeded or rivalled in the general area only by the Spanish Baroque St. Barbara's R.C. church at Central Avenue (8 avenues to the south — we will see it on this walk, sort of) and Bleecker Street.
"Onderdonk" is one of those Dutch names that's fun to pronounce, much like "Knickerbocker." This avenue takes its name from the Van Der Ende-Onderdonk House at Flushing and Onderdonk Avenues, also known as the Van Nanda-Onderdonk House, the last in a group of colonial-era Dutch houses in the Ridgewood-Maspeth area, was built around 1710. It was most likely built by a farmer, Paulus Van Der Ende of Flatbush; his son or grandson, Frederick Van Nanda, owned it in the late 1700s and early 1800s. It was sold to Adrian Onderdonck in 1831 and the Onderdon(c)ks and their family lived in the house until the late 1880s.
"Privilege" sign at Onderdonk and Greene. Coca-cola paid for the sign many years ago, provided their logo was displayed prominently. This corner building also has very old siding, as well as the original roof treatment.
Very old garage, which could have been a stable at one time, on Greene between Onderdonk and Seneca Avenues.
Assorted townhouse fronts along Greene Avenue.
A group of multifamily pale brown brick buildings that are pretty much in their original condition at Seneca Avenue and Bleecker Street.
The genesis of Seneca Avenue's name perplexes. Unfortunately Leonard Benardo and Jennifer Weiss do not tackle it in their excellent Brooklyn By Name, and indeed all but a half block of it is in Queens. It can be one of two things: a famed Roman statesman, or one of New York State's indigenous Native American tribes. In the 1920s, Covert Avenue, named for a prominent local family whose farmhouse stood on Flushing Avenue until the mid-20th Century, was changed to Seneca Avenue.
Notably, the town of Covert is located in Seneca County in western NY State, so there's also that.
In some neighborhoods butcher shops are called "pork stores" such as this one at Seneca and Bleecker.
A variety of geometric shapes such as semicircles and angles are to be seen in the housing stock on Bleecker between Seneca and Cypress Avenues.
School's out at PS 81 at Cypress Avenue and Bleecker Street on one of the longest continuous borders between Brooklyn and Queens. The dividing line runs down the double yellow line. Amazingly, there are no metal detectors or machine guns in sight and entrance and egress remains unmonitored between the two boroughs. Brooklyn and Queens are the only two boroughs with a land border, except for a very short connection between Riverdale, Bronx and Marble Hill, Manhattan.
For some reason, the King of All Buildings appears at its most monumental from the Queens neighborhoods of Ridgewood, Laurel Hill, Sunnyside and Blissville; it seems to rise up from the horizon and tower over everything as it does nowhere else. Looking northwest on Cypress Avenue.
I like to spot the ESB from wherever I happen to be in the city; it pops up wherever you happen to be.
6/13/15