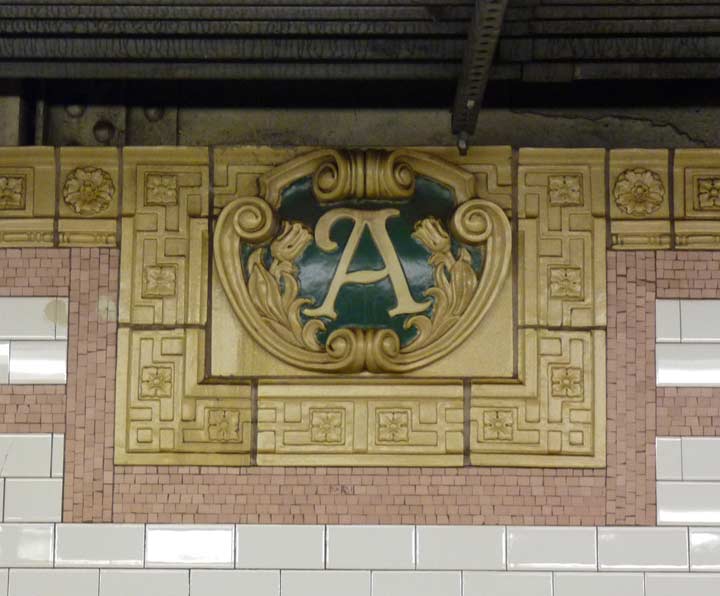 A social obligation necessitated my presence on Atlantic Avenue in downtown Brooklyn the other night, and I got off the IRT #2 train in the Atlantic Avenue station, which has gradually been completely remodeled and renovated over the past decade as the Barclays Center has risen above it. Barclays partially footed the bill for station renovations, and in return, had its name slapped onto the station names of the two BMT lines and one IRT branch that converge here.
The IRT Atlantic Avenue station is the oldest, opening May 1st, 1908 as the terminal of the IRT's first foray into Brooklyn, and still gives evidence of the Beaux-Arts era it was born into with several masterful mosaic plaques and ceramic medallions. As you can see, the medallions are modular, made up of several pieces that fit together. Several colors such as pink, beige and forest green all come together harmoniously. NYC's Dutch heritage is symbolized by a pair of tulips, which can also be seen on other ceramic plaques in Manhattan.
Note also the use of the swastika, a symbol of good luck before the Nazis forever corrupted it, at least in the West.
When the platform was extended in 1910, the "A" medallions were reproduced in mosaic to save a few bucks.
A glass block wall was constructed during station renovations and one of the mosaic ID plaques was mounted within it. Thousands pass by these artworks every day, but are too busy to notice the care and workmanship that went into them. Note once again the use of tulips in the blue border on each side.
(I'm now told these are new mosaics created during the reno, but I don't have confirmation.)
7/14/15