Dour, drizzly weather and intermittent rain in part held attendance down for FNY's first tour in Hunters Point in four years, but those who came were treated to a detailed discussion of the rapidly changing southwest Queens neighborhood. We saw well-known highlights like the new East River ferry landing, Gantry State Park, the Pepsi Cola illuminated sign and the landmarked 45th Avenue row, and also spots known only to locals such as the 108th Precinct (known to cops, criminals and lawyers), The Doric-columned Long Island City Post Office building,  and the former 5 Pointz graffiti building site.
Th 108th Precinct, like most other NYC police precinct houses, has two green lights at the entrance.  According to the NYPD website, "It is believed that the Rattle Watchmen, who patrolled New Amsterdam in the 1650's, carried lanterns at night with green glass sides in them as a means of identification. When the Watchmen returned to the watch house after patrol, they hung their lantern on a hook by the front door to show people seeking the watchman that he was in the watch house. Today, green lights are hung outside the entrances of Police Precincts as a symbol that the "Watch" is present and vigilant."
They were called the Rattle Watch because they would make noise with rattles when trouble occurred.
The former Waterfront Crabhouse, located in the one-story building with the red awning that had been called Tony Miller's Hotel when it opened in the mid-18th Century, is now dwarfed by the Hunters Point South Common and Crossing Buildings. Square inch by square inch, this section of Queens has seen more changes than any other this past year [2015].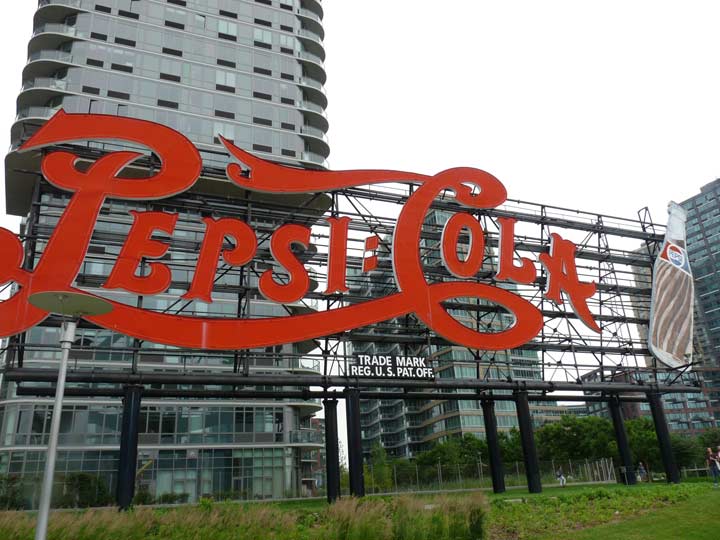 The Pepsi Cola illuminated sign has been a mainstay on the Hunters Point waterfront since it was installed on a bottling plant in 1937, but for the first time in its history, pedestrians are allowed to get "up close and personal" with it as the Gantry State Park walkway has been completed after over a dozen year of on and off construction.
The Breadbox, a restaurant on 11th Street, is notable for its exterior decor: hundreds of rolling pins.
New and old are juxtaposed in Hunters Point, as the 1989 Citigroup building towers over stolid early 20th Century brick residences.
Curious about ForgottenTours? I cover well-known landmarks as well as curios and curiosities FNY is known for, as well as cultural and esthetic neighborhood highlights.
Here's the remainder of the 2015 schedule.
7/15/15