I can't say why but this "faded ad" combo on East 16th Street just east of Union Square has really faded away in recent years. On the left is part of the ad for Crown Coat Fronts visible from Union Square East between East 16th and 17th Streets.
The two on the right concern me here; music publisher Carl Fischer had been an indelible part of Cooper Square, at Astor Place and 3rd and 4th Avenues, for many years. Patriarch Fischer (1849-1923) immigrated from Germany in 1872 and was succeeded by his son Walter Fischer and later, son-in-law Frank Hayden Connor. Fischer Music was located in Cooper Square from the late 19th Century, but in 1923 the firm constructed its 12-story office building which continued to house company offices until 1999.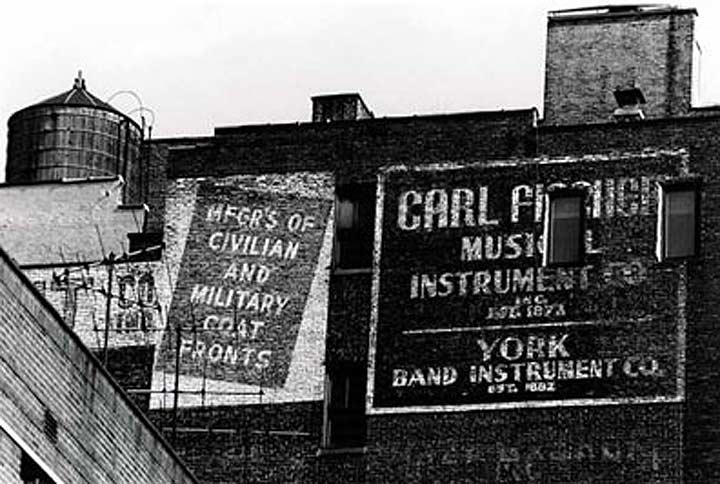 The "faded ad" ad on East 16th Street just east of Union Square advertises Fischer Musical Instruments, a 1930s offshoot of the music publisher. The accompanying ad for York Band Instruments has now completely vanished. Fischer Musical Instruments was located on East 16th from the 1940s to about 1970.
James Warren York founded York Band Instruments in 1882 in Grand Rapids, MI and it was sold to Carl Fischer Musical Instruments in 1940.
In the first photo the ad at the bottom had been for Mogi Momonoi Importers of Japanese Goods. The company was founded by Japanese immigrants  Kitaro Mogi and Tatsuo Momonoi in 1901 and moved to East 16th Street in 1915, and was out of business by 1942 and the advent of US involvement in World War II.
Research and photo from the Indispensable Walter Grutchfield.
7/24/15