The Childs restaurant chain was the creation of Samuel and William Childs. They revolutionized the American restaurant chain by creating a uniform look to each of their branches in order to make their restaurants recognizable. Their "brand" relied heavily on the portrayal of their establishments as sanitary, clean, and modern; the interiors were outfitted with white tile floors and walls, and even the waitresses and other workers dressed in white uniforms. The Childs brothers were also the fathers of the modern cafeteria, influencing another bygone NYC chain, the Horn & Hardart Automat. They would probably bristle if you compared them to McDonalds or Burger King, as the fare was more upscale than that, but it wouldn't be outlandish to compare them to, say, the old Howard Johnson's chain.
Child's Restaurants peaked in the 1920s and 1930s, and William Childs lost control of the company after a revolt from investors after he imposed his own vegetarian preferences on the menu. Child's became the Hotel Corporation of America in 1955 and was acquired in 1961 by the Riese Organization, which today operated restaurant chains like T.G.I. Friday's and Applebee's.
I don't know when the last Child's Restaurant closed, but I have a vague memory of one in the Times Square area in the 1980s. Can anyone back me up on that?
There are a number of former Child's Restaurants remaining in NYC, or at least the buildings where they were located. As we'll see, some of them are instantly recognizable as Child's branches, but the earliest ones aren't, yet they are recognizable as buildings that have stood for a long, long time.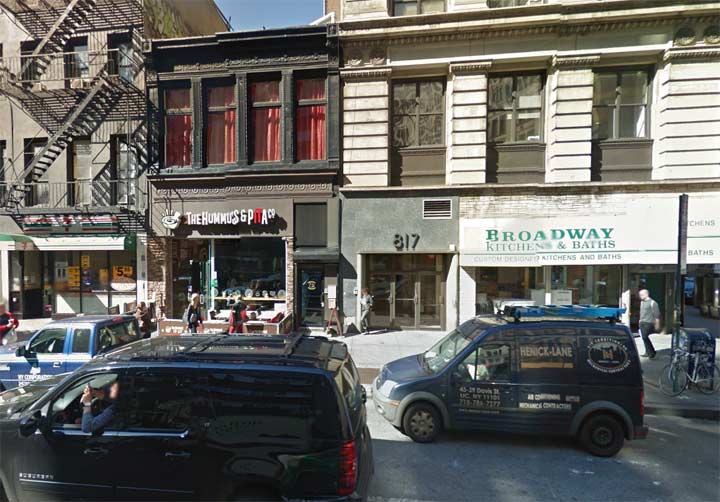 815 Broadway, between West 11th and 12th Streets, Union Square, 1897
Though this building (housing a hummus restaurant on the ground floor) was constructed in 1897 . Child's did not move in until 1910. One wonders what goes on behind those red curtains these days.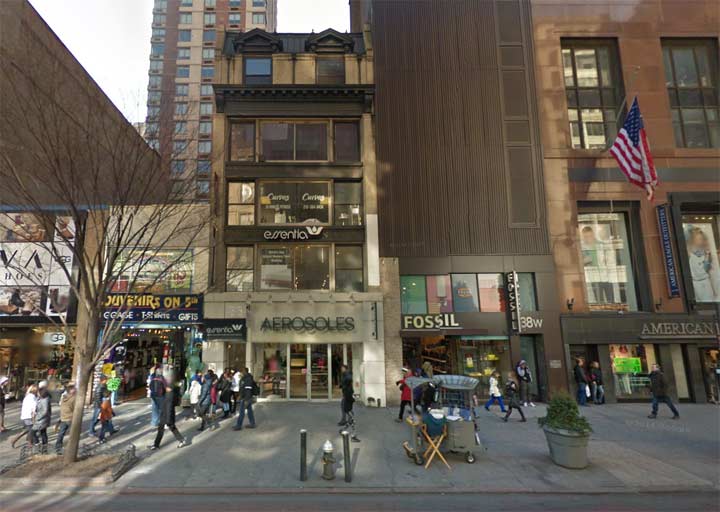 36 West 34th Street, Midtown Manhattan between 5th Avenue and Broadway
One of West 34th's surviving older structures in the shadow of the King of All Buildings, this 4-story building currently home to a shoe store on the ground floor went up in 1904. Midtown has some ancient gems if you look under the garish storefronts and neon signs. Child's moved in after the Empire State Building opened in 1931 and remained for over 20 years. Squint and you will see a pair of copper urns placed on both dormer windows, an original design touch that perseveres to this day.
The ubiquitous Daytonian in Manhattan has much more on this building.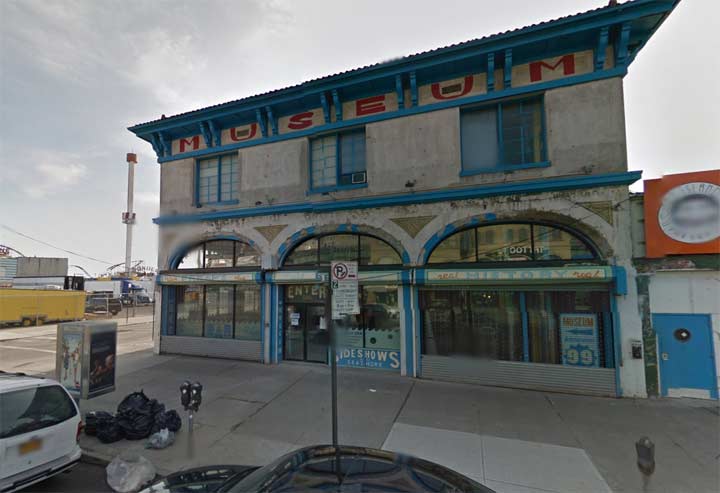 1208 Surf Avenue at West 12th Street, Coney Island
Coney Island has two iconic Child's restaurant buildings, to be expected in the longtime "People's Riviera."
The building was originally constructed in 1917 in the Spanish Colonial Revival style for Child's. After the restaurant moved out, the building became the home of a nightclub and restaurant known as the Blue Bird Casino. In the 1950s, the building changed uses again when it became David Rosen's Wonderland Circus Sideshow, a legendary Coney Island attraction.
The sideshow tradition continues in the building today with Coney Island USA's Sideshows by the Seashore, a traditional "ten-in-one" circus sideshow. Coney Island USA operates many other Coney Island favorites out of its building, including the Coney Island Museum, the Mermaid Parade, and other annual programs and events. For many years, Coney Island USA was just a renter of the former Childs Restaurant building, that is, until a few years ago when, with the City's help, it purchased the building and made it its permanent home. Coney Island USA has since undertaken a restoration of its ground floor exterior and interior, revealing long-covered storefront arches and creating the Freak Bar.
Posters showing some of the Sideshow's attractions are hanging on West 12th Street.
530 Fulton Street in Brooklyn, near Flatbush Avenue, is well-hidden these days under a beauty supplies billboard and neon sign. The building went up in 1919 and Child's was here in the 1930s.
377 5th Avenue between East 35th and 36th Street, Midtown
Child's Restaurant was in the building now host to the gift shop. It was constructed in 1921 and still retains some original features, including a pair of decorative urns on the roof. Child's was apparently one of the first occupants.
219 South 4th Street, Williamsburg, between Roebling and Havemeyer Streets
This looks like an uncharacteristic location for a Child's Restaurant, and it looks way too small for one. Nonetheless, it has an etched concrete plaque above the second story windows that reads "219 Child's 1922." If it was a Child's, it was a very small branch.
From one of the smallest Child's, we go to what many consider the Child's flagship location…
2102 Riegelmann Boardwalk at West 21st Street, Coney Island
This Child's on the boardwalk and West 21st Street is an otherworldly confection that has to be seen to be believed. The graffiti demons that are attracted to it like ants to a picnic can't mar its grandeur. It was built by architects Ethan Dennison and Frederic Hirons in 1924 with an exterior of soft stucco with four marble columns emphasized by four multicolored rondels depicting King Neptune, rising from the sea waving his trident, a Venetian galleon, the Golden Hine, flagship of Queen Elizabeth's fleet, and two fish swimming in rough seas. This Childs branch closed in the 1950s and later became a candy factory. In 2003, it was, thankfully, declared a landmark and will not share the fate of the almost-equally ornate Washington Baths, which stood on its left side for many years.
The  restaurant is currently being restored and will be part of the new Seaside Park and Community Arts Center by 2017. The restoration will likely spell the doom of another of Coney Island's secret alleys, Highland View Avenue, so named because the NJ Highlands can be seen on the horizon.
A close look at the terra cotta ornamentation will reveal that every possible nook and cranny is stuffed with representations of sea creatures such as crabs, lobsters, snails, grimacing, squirming fish and the like. A bearded figure with seaweed for hair is likely another representation of Neptune.
In the ensuing decade, most new Child's restaurants would be built with a terra cotta nautical theme, and this was likely the prototype.
604 5th Avenue, between West 48th and 49th Streets
This former Child's restaurant, opened in 1925 in an ironic twist, is now a TGI Friday's, owned by the Riese Organization, which snapped up the old Child's chain in the early 1960s.
It was an innovative structure when designed by architect James Van Alen in 1924. Note that the windows curve on the left side of the building. In the past, there had been a setback next to a church (since replaced by the Massachusetts Municipal Life Building at #600 5th Avenue) on the left side, which was completely visible. According to the NY Sun, the building was the first structure anywhere to be constructed without corner columns.
Both its flanking structures, #600 and #608 5th Avenue, the Goelet Building, have been accorded with NYC Landmarks status. Christopher Grey, in the NY Times: "The grimy white and red-striped advertising awnings are a particularly cruel touch for a structure with the elegance of a Parisian dress shop."
This Child's branch at 63-09 Roosevelt Avenue at 64th Street from 1925 looks very much like other Child's that followed it over the next decade. The roofline is ringed with terra-cotta sea horses and there are always one or two cartouches featuring sea life, and urn and Neptune.
Here's a look at a particularly well-preserved example on Broadway and 36th Street. An oval terra cotta "window" is ringed with sea life: fish, snails, clams, etc. and topped by a wriggling fish beneath an urn. Various representations of Neptune appear under the "window."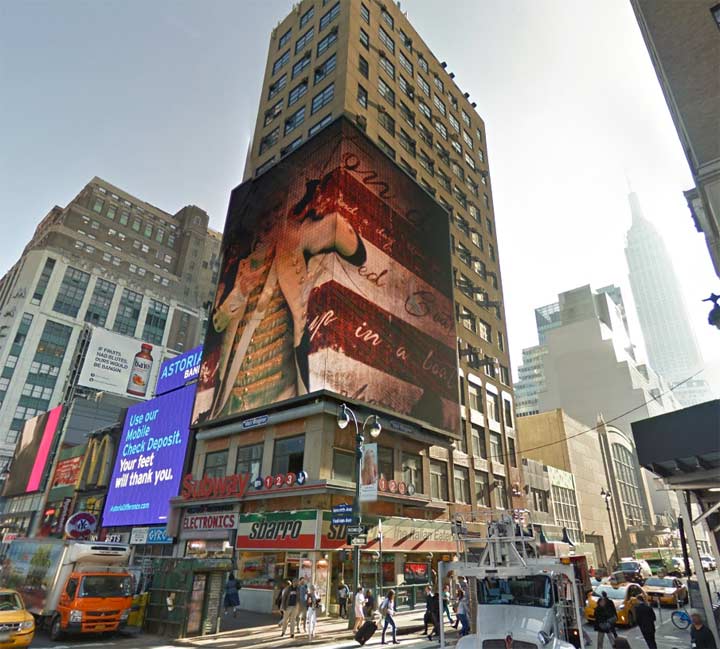 421 7th Avenue at West 33rd Street
This 14-story office building featured a Child's on its ground floor when opened in 1926. In later years, Child's moved to the adjacent #425. In recent years this has become a tacky fast food and cheap electronics row between Macy's and Penn Station. Many older buildings in Midtown have found a second function as stanchions for huge electronic billboards.
Full view of the Child's at 36-01 Broadway in Long Island City. The Rite-Aid recently closed, so it's looking for a new tenant; hope it's not demolished. Built in 1928.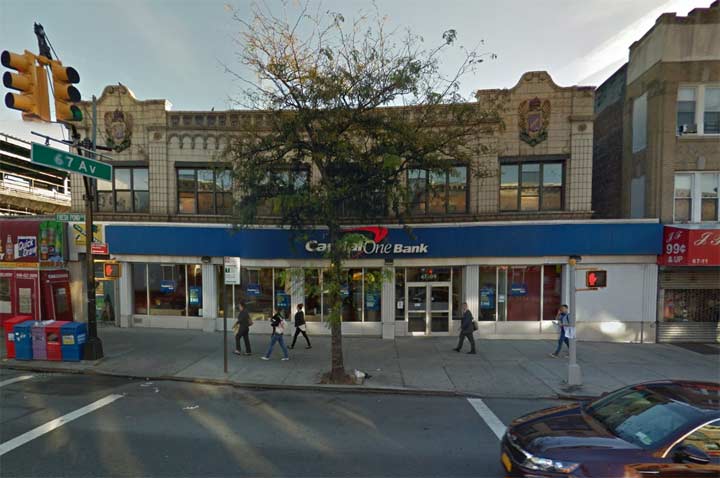 67-09 Fresh Pond Road, Ridgewood
By 1930 the template for new Child's restaurants had been set, but this one is a variation on the theme, with terra cotta faux coat of arms replacing the fish window-with urn device. The seahorses remain intact. This branch was placed propitiously, on Fresh Pond Road just south of the M train station of the same name.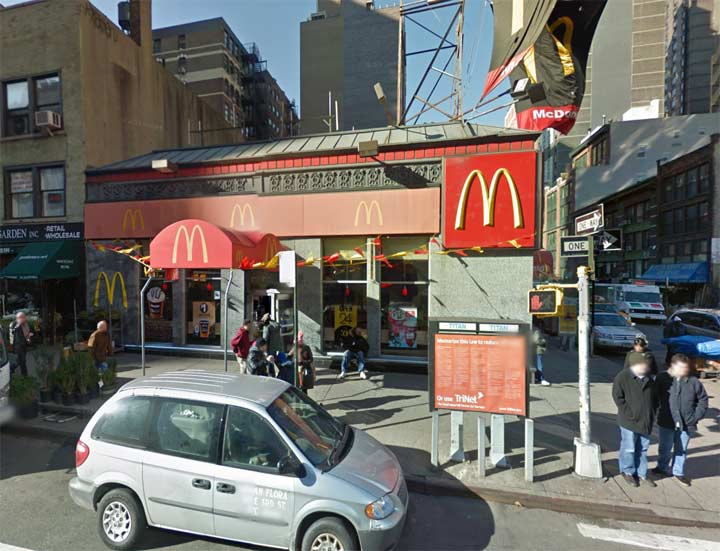 811 6th Avenue (Avenue of the Americas) at West 28th Street, Midtown
This ex-Child's branch has been hiding for years, as it was extensively updated when it became a McDonalds outlet a few decades ago. A close look, though, reveals telltale seahorses!
534 Flatbush Avenue, Lefferts Gardens
A former Childs' restaurant branch  on the NW corner of Flatbush Avenue and Lincoln Road. A central "fish window" with urn faces Flatbush Avenue, constructed in 1931, a golden year for Child's restaurant construction.
Lincoln Road is the second thoroughfare in Brooklyn named for the 16th President; Lincoln Place runs from Park Slope to Brownsville, interrupted only by Grand Army Plaza. Lincoln Road actually begins at East Drive in Prospect Park and runs east (though it's one way facing west) as far as New York Avenue, where it gains some width and becomes East New York Avenue. There's been some variation in street names in Lefferts Gardens since the early 20th Century; Tulip Street became Rutland Road and Robinson Street was changed to an eastern extension of Parkside Avenue.
59-37 Queens Boulevard at 60th Street, Woodside
By 1931 the designers had really got into a groove with the terra cotta Child's template, as this one combines the seahorse and coat of arms motifs with the urns found on previous entries in the series.
This one has found a multitude of uses in its old age, and contains a laundromat, bodega, sports bar, and a pizzeria/Italian restaurant. Who needs a mall?
45-02 43rd Avenue at 45th Street, Sunnyside
This corner Child's from 1931 is a second home or former home to a Rite Aid drugstore branch.
15-02 College Point Boulevard, College Point
By 1931 Child's was expansing to several out-of-the-way outposts such as College Point, north of Flushing. In 1931 it still had a dedicated LIRR branch, but it would close the following year. Flushing Airport acted as a buffer between College Point and Whitestone, but now the Whitestone Expressway does an even better job.
This Child's has no seahorses, but it does have a "fish window" and Neptune on the 15th Avenue side.
729 7th Avenue at West 49th Street, just north of Times Square, had a long-gone Child's that lasted well into the 1950s. It was just north of the old Brass Rail restaurant. Like many Times Square buildings, it acts as a billboard background these days.
1801 Avenue M between East 18th and 19th Streets, Midwood
This fairly large Child's occupied a long, narrow front along Avenue M.
245-01 Jericho Turnpike, Floral Park
This former Child's on the Nassau County border has lost its old Child's identity on the Jericho Turnpike side (it'll always be Jamaica Avenue to me) but a telltale fish window, seahorses and Neptune show up on 246th Street.
That's all I know about, but I'm sure there are a dozen more or so I know nothing about. For example I could have sworn I saw seahorses on White Plains Road in the Bronx. And Staten Island must have had some Child'ses.
Most images from Google Street View (it would take weeks for me to jump all over town and shoot these).
7/26/15