In mid-July 2015 I had just attended a show at Poe Park in Fordham, at  the Grand Concourse and East Kingsbridge Road, featuring photographs taken on and around the recently reopened High Bridge, when I was reminded that there was a large art exhibit, When You Cut into the Present the Future Leaks Out, taking place in the old, long-shuttered Bronx Borough Courthouse at Third Avenue and East 161st Street further downtown. I ambled out from the air-conditioned new Poe Park Visitors Center into the roaring, traffic-choked, fuel-exhausted heat and humidity and boarded a D train down the Concourse to Yankee Stadium, where I took a walk in the very same heat east on 161st Street a few blocks east to the old courthouse. Since the architecture on the street is striking, I thought it would make for an engaging entry in "this, your Forgotten New York."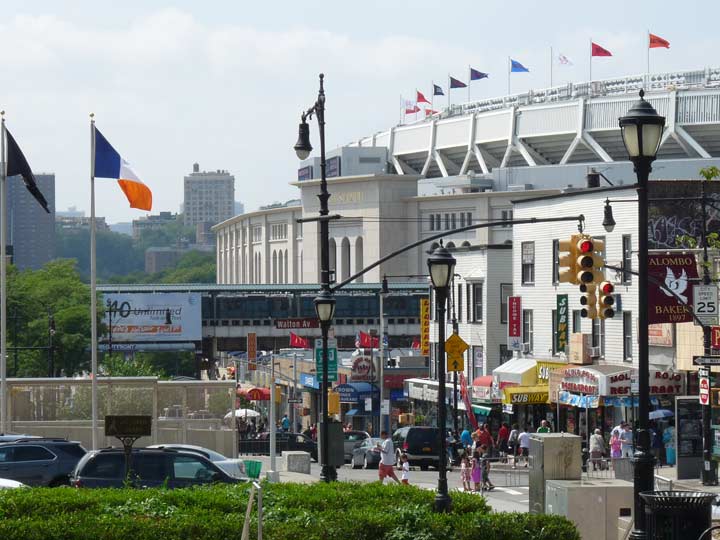 The old Yankee Stadium once made a giant backdrop on the scene looking west from Lou Gehrig Plaza and the Grand Concourse on East 161st Street, but beginning in 2011, when the old Stadium was finally torn down, the viewer can see Manhattan in the background, with the new Yankee Stadium taking its place on the right side of the scene.
Motorists traveling on East 161st Street wishing to avoid the intersection with the Grand Concourse can travel under a tunnel running between Gerard and Sheridan Avenues. Meanwhile, the area above the tunnel between the Concourse and Walton Avenue is occupied by the newly landscaped Lou Gehrig Plaza, named for he Yankees' Iron Horse who fashioned a 2,130-game participation streak between 1925 and 1939, the year he was forced to retire as he had contracted amyotrophic lateral sclerosis, a fatal disease of the nervous system.
Born in Yorkville, Gehrig attended Columbia University for two years until signing a contract with the Yankees in 1923. He began his streak in 1925, the year incumbent Yankees first baseman Wally Pipp supposedly had a headache one day and Yankees manager Miller Huggins put Gehrig in and he never relinquished the job. The true story is that in 1925 the Yankees were playing poorly — Babe Ruth sat out much of the year with various problems — and Huggins wanted to give the team a spark. Gehrig had come off the bench for parts of two years and was doing quite well in that role until Huggins decided to shake things up halfway into 1925.
Gehrig performed well, but didn't find his power until 1927, the year of the Yankees' "Murderers' Row"; that year he hit .373/47/173/.474/.765, a year that looks superhuman today. He kept this up year after year until 1939, when his disease manifested itself.
Lou Gehrig Plaza for many years has been marked by a marvelous bronze sign showing Larrupin' Lou taking a cut. For decades, Lou Gehrig and Babe Ruth shared the plaza, and the Babe had his own sign in the shape of a baseball diamond. When the new Yankee Stadium was built between 2007-2009, Babe Ruth Plaza was moved to East 161st Street near the Stadium front entrance, and the sign disappeared.
Any Forgotten Fans have an idea where the Babe Ruth sign wound up, and know anything about who made these signs and how they got here?
[Since I last checked Babe Ruth Plaza, the sign has indeed been moved there]
I have been walking the Grand Concourse or the Conk, as I call it, since the Dawn of Forgotten NY back in 1999 when I was wee-er a lad than I am now. The intersection with East 161st provides you with very interesting art and architecture on all four corners.
The NE corner of Grand Concourse and E. 161st is dominated by the massive 500-room Concourse Plaza Hotel, #900 Grand Concourse, designed by Maynicke and Franke and opened in 1923, the same year as the original Yankee Stadium. It has served as a gathering place for family reunions of Grand Concourse residents, and used to play host to the New York Yankees and visiting teams.
In The Bronx In Bits and Pieces, the late Bronx historian Bill Twomey reported that when the Concourse Plaza opened the rate for one night was $3.00 for a single room and $4.50 for a double. Even in the 1920s The Bronx was a tourist mecca with Yankee Stadium, Botanic Gardens and the Bronx Zoo. You could honeymoon in the Bronx in those days and the hotel was always booked for bar mitzvahs and wedding receptions in the enormous grand ballroom, which had a 2000-plus capacity, on what was then the heavily Jewish west Bronx.
As New York City went downhill in the Swingin' 60s, so too did the Concourse Plaza Hotel. By 1968 it was a welfare hotel. In 1974 it was converted to a senior residence.
Solid, stolid, weighty, implacable. That's the impression the passerby gets from Joseph Friedlander and Max Hausle's 1931 Bronx County Courthouse Building, the seat of borough business. The building used to be a familiar sight over the old Yankee Stadium outfield fence. The building is enlivened by friezes, sculpted by Charles Keck, depicting classical scenes with toga'ed men discussing Important Things, half-clad women, and bovines, as well as gold colored spandrel panels above and below the windows. Free-standing sculptures at the entrance were realized by Adolph Weinman, who also created the gilded Civic Fame statue that caps the Municipal Building at City Hall, and the "Walking Liberty" Half Dollar in circulation from 1916-1947 (succeeded by the Franklin and then Kennedy Half Dollars.
The interior features a mural by James Monroe Hewlett depicting the arrival in the 1620s by Jonas Bronck, considered the first European resident of the borough that would bear a name derived from his. It was unfortunately damaged in 2013 while interior work was going on.
Of all the mythological creatures mentioned in the classic tales, or tails, as it were, I'd prefer it if mermaids were real. That said, I'd have a hard time meeting any since I cannot swim.
On the northwest corner of East 161st and the Concourse, Ernst Herter's 1893 fountain statue in honor of Heinrich Heine, author of Die Lorelei, was originally rejected by Düsseldorf, the German city of Heine's birth. A coterie of affluent German-Americans purchased the work and offered to place it in Grand Army Plaza in Manhattan. That site, too, was rejected, and the fountain was ultimately placed here in Joyce Kilmer Park around the turn of the 20th Century. In the early 2000s the fountain has been fully restored to a brilliant white, given a new iron railing and moved to East 161st Street across from the Bronx County Courthouse.
The Lorelei was a German folkloric figure, and the statue shows her seated on a rock (which is an actual rock overlooking the Rhine River) surrounded by dolphins, seashells and mermaids. Heine's poem depicts the maiden innocently sitting on the rock combing her hair and distracting sailors, some to their death as they crashed on the rock.
Joyce Kilmer Park is a green rectangle between East 161st, & East 164th Streets, Walton Avenue and the Grand Concourse. The former Concourse Plaza was renamed in 1926 for New Brunswick, NJ native Alfred Joyce Kilmer, poet and journalist best known for "Trees," written in 1913. Enlisting with the Army during WWI, he was killed in action on the Western Front in 1918 as part of the famed "Fighting 69th" Regiment. The author preferred to use his middle name, the surname of his mother's family. He is also notably remembered by a plaza at Quentin Road and Kings Highway in Midwood, Brooklyn, and by a park and avenue in his native New Brunswick.
If I didn't tell you I got this shot in July 2015, one could easily imagine it being in 1950. Over the last 20 years the city has begun to install retro versions of classic cast iron lamps from the early 20th Century. In 1950, that building was there on the Concourse, and bythen the city had begin to use "arrowhead" directional signs. (The Throgs Neck Bridge, however, did not open until 1962.)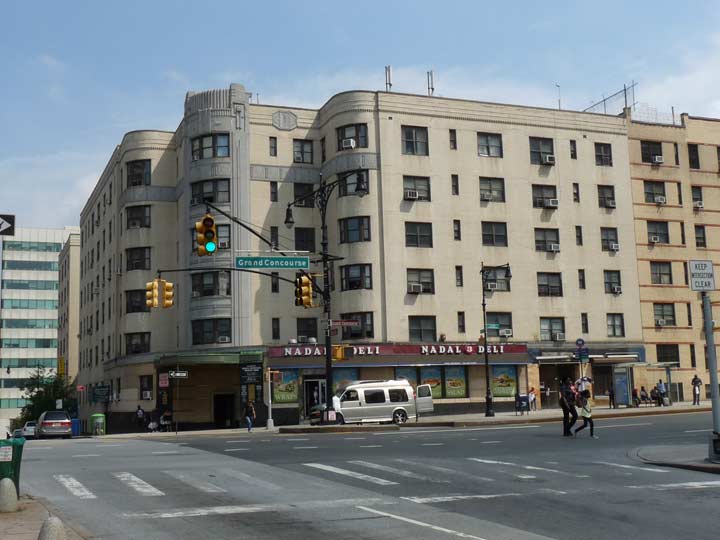 #888 Grand Concourse, on the southeast corner of East 161st, is just one of many Art Deco apartment house masterpieces built on The Conk in the 1920s and 1930s. #888 was designed in 1937 by Emery Roth, a Hungarian immigrant who had designed New York's fanciest hotels – he had earlier drawn plans for Central Park West hotels the San Remo and the Beresford. The circular entrance, with thin metal banding and a ceiling mosaic,  is catercorner to Joyce Kilmer Park. Note the undulating curves– the building has no sharp corners on the exterior.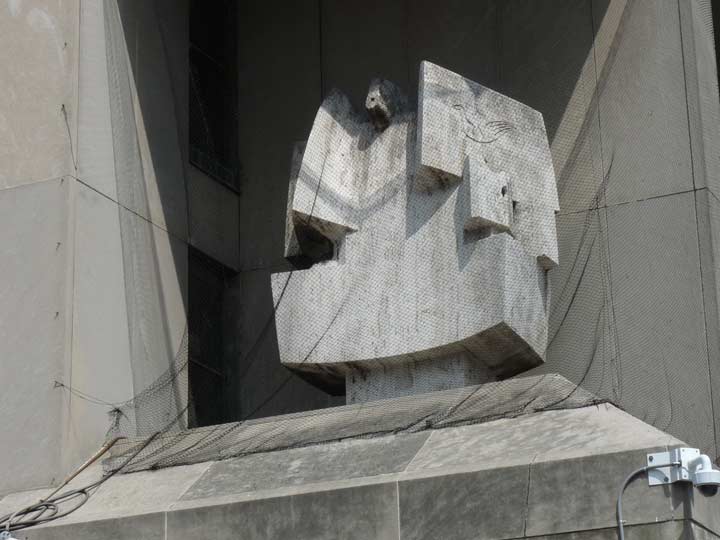 Turning east on East 161st, I passed several buildings I'd rather not wind up in, since I don't have the training to be a judge, lawyer or police officer. The other alternative is criminal. The stolid Bronx Criminal Courthouse was constructed in 1977 between Sheridan and Sherman Avenues, when Brutalist buildings reminiscent of anything the Soviet Union or George Orwell in 1984 would dream up for the Ministry of Love still held the fancy of architects. I zeroed in on this sculpture of… something.
Can there be such a thing as a tree-shaded public plaza in the back of a criminal court building? Hardly a venue that lends itself to relaxation. Yet here it is in the back of the glass-curtained Bronx County Hall of Justice, designed by "starchitect" Rafael Viñoly and opened in 2008. The building houses 47 separate criminal courtrooms, seven grand jury rooms, and offices for the Department of Corrections, Department of Correction and Bronx District Attorney. Note the "corrugated" edges on the glass and aluminum exterior, built to maximize sunlight. Some of the people who enter the building may not see too much of it again.
In mid-2015 this building tested positive for Legionnaire's Disease. (I shot this series on a Saturday, and I couldn't enter…)
Across the street from the Hall of Justice is the state of the art — for the 1920s: the Melrose Central Building, now home to several small businesses and offices. We are now alos on the northern edge of Concourse Village, a housing project begin in 1965 and originally sponsored by the Amalgamated Meat Cutters and Butcher Workmen of North America and later financed with a $36.5 million loan by the New York State Housing Finance Agency. The Village consists of six 25-story towers containing 1,875 apartments.
A Corvington-stoplight-traffic monitor hybrid that couldn't be conceived of just a couple of decades ago at East 161st and Concourse Village East, which is Morris Avenue's name as it passes through the project. It also sports a pair of arrowhead signs.
It's unclear what route was originally referenced here. If you keep heading east on East 161st and zig to East 163rd Street at Elton Avenue, you can get to the Bruckner Expressway, which has connections to both bridges.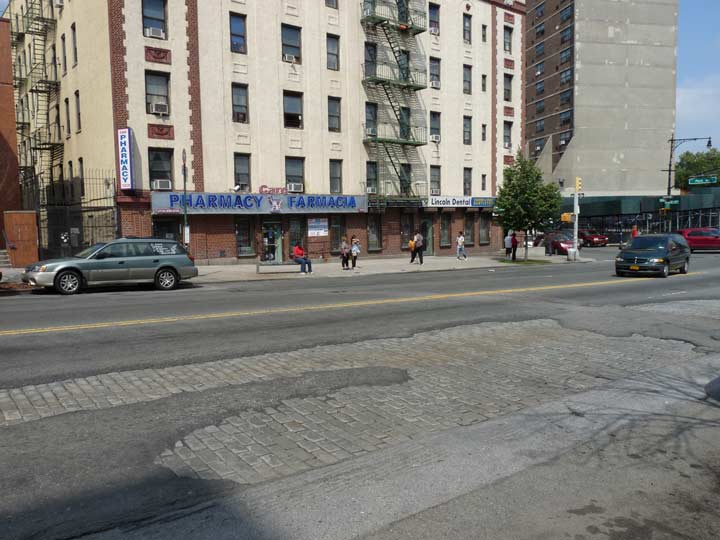 Some original Belgian blocks where the pavement has been worn off on East 161st between Morris and Park Avenues.
(Here Morris and Park Avenues are parallel, but further north there is a neighborhood and an avenue called… Morris Park, named for a former racetrack.)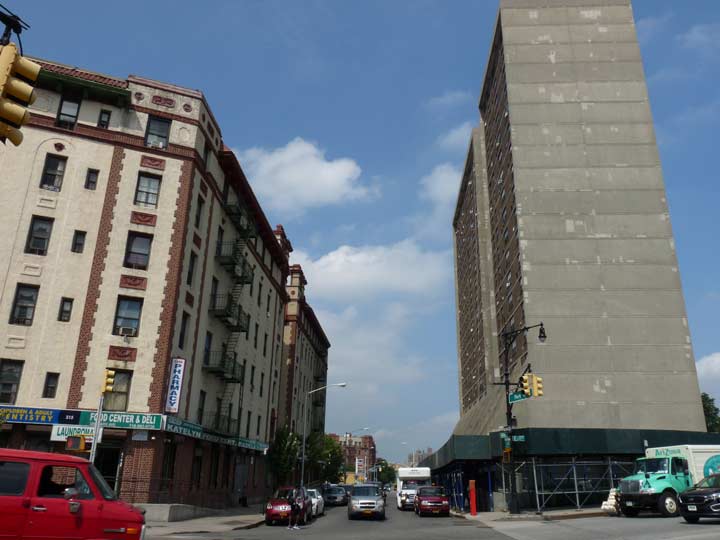 Though the former NY Central Railroad now servicing Metro-North runs in an open cut, bordered on both sides (in most spots) by Park Avenue, which shares a house numbering system with Manhattan's famed Park Avenue (as does Third Avenue) a couple of massive apartment houses, like #3204 Park, have been built in platforms directly above the open cut. The Melrose Metro-North station is located just a block north on East 162nd Street.
Since the RR runs a few blocks east of the Grand Concourse and has frequent local stations, there has been talk about integrating it further into the NYC transit system, but to date, nothing has happened on that front.
Upon reading the NYC Parks Department's description of Railroad Park, on East 161st Street between Park and Courtlandt Avenues I was amazed to learn that the arched structure at the park entrance is not an abandoned public bathroom, as I had thought, but is instead the abandoned Melrose RR stationhouse! I had never suspected its existence. It joins other abandoned Bronx stationhouses in Hunts Point, along the Bronx River, and in Morris and Pelham Bay Parks.
It's also one of the older Bronx parks — it opened in 1902 and was known as Melrose Park until 2001 when NYC Parks Commissioner Henry Stern renamed it. Melrose takes its name from a Sir Walter Scott novel, Melrose Abbey — the surveyor was Scottish. Waverly Place in Greenwich Village  is also named for a Scott novel.
And speaking of abandoned structures, here's 421 East 161st, between Melrose and Elton Avenues, which ostensibly is now home to a day care center, but looks like it hasn't seen any action for awhile. According to Cinematreasures, in a former life that began in 1916, it was the 1,129-seat Melrose Theater, which also had a rooftop stage that could accommodate 1,100. It was converted to a banquet hall in the 1940s. However, one of the friezes is dated 1921, so the date of construction is in dispute.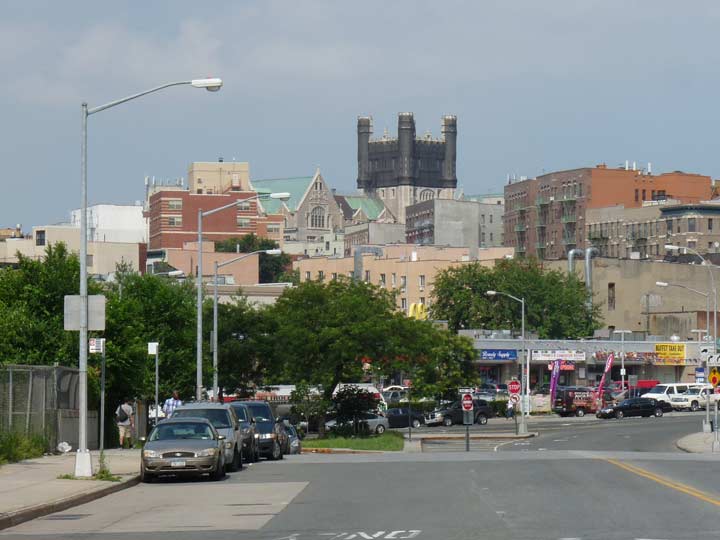 Looking north on Elton Avenue, you can see the massive Morris High School, built in 1897. When I last saw the school a few years ago (the end of 2010) it was completely shrouded in construction netting, but the work is almost finished and only the top of the tower is still being worked on. I'll have to get over there soon to see how the newly refurbished building looks. Alumni and -ae include Milton Berle, Mae Questel (the voice of Betty Boop), Secretary of State Colin Powell and journalist Gabe Pressman.
Elton Avenue south of East 161st. For some reason, this rather unimportant street (one-way south of 161st) has been chosen by the Department of Transportation as a venue for retro-Triborough Bridge style lampposts, which I have seen only in Queens thus far, on stretches of Broadway, Ditmars Boulevard and Jamaica Avenue. (A number of originals can be found on East 125th Street in Harlem at the bridge entrance).
There used to be a very complicated intersection here where East 161st Street and Elton, Washington and Brook Avenues all come together. Traffic engineers have streamlined things so that traffic flows eastbound from East 161st to Elton Avenue and then into East 163rd. The center of the intersection is now occupied by O'Neill Triangle and the new Boricua College branch at Melrose Commons.
This used to be known as O'Neill Square, and was named for a World War I local hero, but the NYC Parks Department is unsure about which O'Neill it is!
East 161st Street, as part of the traffic reconfiguration, was changed to a pedestrian plaza on the north side of the Bronx Borough Courthouse. In the summer of 2015, this was the only part of the old courthouse not covered in construction netting.
The heads of a god and two goddesses look balefully on East 161st Street at the back of the courthouse.
Though construction netting rules the front of the Bronx Borough Courthouse in July 2015, a Google Street View from June 2014 shows it with its true face. This building has been officially closed since 1977 and is a ruin protected by the Landmarks Preservation Commission.
It was built when the Bronx was a borough, but not yet a county. The Bronx only attained county status in 1914 and until then, it was a part of New York County, which since 1914 has been made up of the Borough of Manhattan exclusively. This building saw the newly-minted Bronx County's first murder trial and conviction. The Borough Courthouse features two statues representing Justice, one of which looked into the Third Avenue Elevated cars as they rattled past. Yes, in this case, Justice isn't blind.
The Borough Courthouse is located at an unusual Bronx crossroads — here, Third Avenue takes a sharp jog to the northeast, following the old Coles' Boston Road path, while Brook Avenue angles northwest, along the path of the now underground brook the avenue follows. The Borough Courthouse replaced a country inn, Hammer's Hotel.
The Bronx Borough Courthouse should not be confused with the Bronx County Courthouse, or the Mario Merola Building, the present home of the Bronx Supreme Court, County Clerk, Sheriff, Public Administrator, District Attorney, and Bronx Borough President. That building (see above) is located on the Grand Concourse between East 158th and East 161st Street and was built in 1933 by architects Max Hausel and Joseph Freedlander. Hausel was an associate of Michael Garvin, who built the Borough Courthouse in 1905. Between 1933 and 1977, the Borough Courthouse served as the Bronx branch of the New York City Criminal Court.
A building this impressive deserves frequent viewings. Although the building's fate is unknown, in 2015 its exterior is apparently receiving a cleaning. A wooden sign dating to the Ed Koch administration (1978-1989) survived on the facade under the statue of Justice at least until 2014.
Whenever I'm around here I check on a few things. There's a riotous apartment building at the NE corner of St. Ann's Avenue and East 161st with an exquisite etching of the cross streets on the corner. Before street signs and google maps, this was the way you knew where you were, if you were from a different place.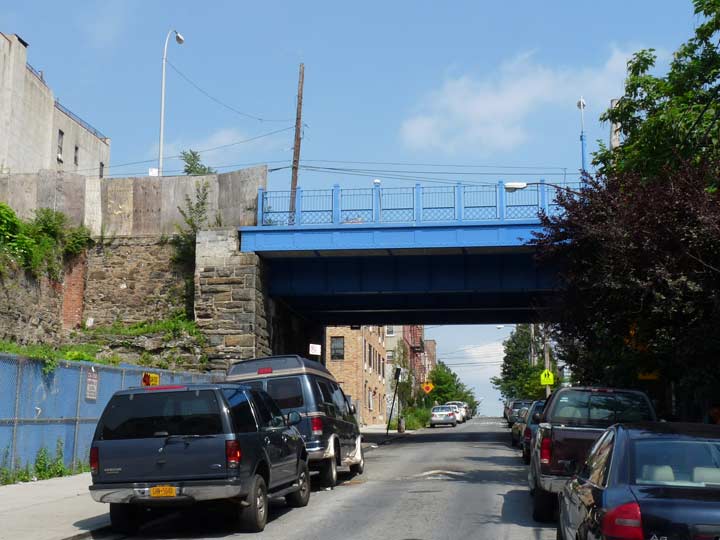 There's a steep hill just east of the Courthouse plaza. Engineers simply built a stone and iron bridge to take Eagle Avenue over East 161st Street at this point.
It was finally time to go into the Courthouse for my first, and perhaps final, time. The art exhibit, When You Cut into the Present the Future Leaks Out, was ending on July 19th and this was just one day before. To be frank, I'm not an art guy but I was drawn here out of curiosity as to what would remain of the Courthouse. Other than some moldings, bronze doors, and marble work, I'm sorry to say, not very much. But I was glad to be able to enter.
Had I been on assignment to report on some of these exhibits, I'd certainly have paid more attention to them (the exhibit was free of charge) but I didn't have the patience to sit around — as I've said, it was a pretty hot and humid day.
I did like this exhibit on redlining, the supposedly illegal practice of denying goods and services to certain neighborhoods based on demographics or race. The maps used were classic Hagstroms from the mid-1960s! I didn't zoom in close enough for detail, though.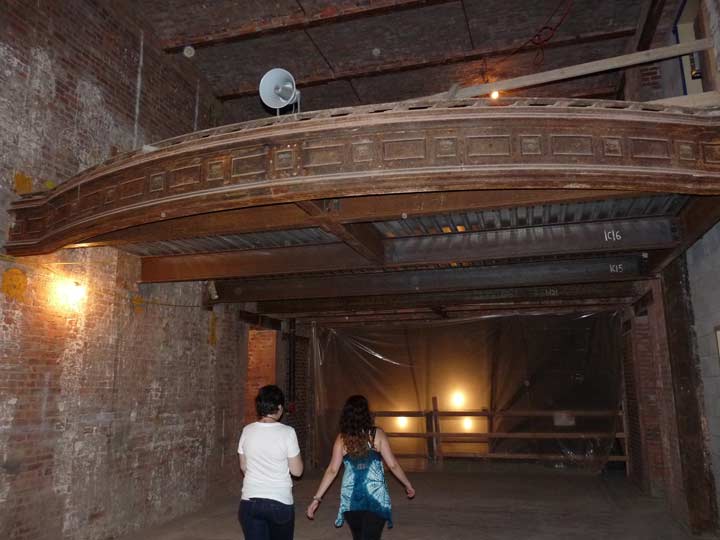 A last look inside the Courthouse. It's a magnificent ruin; hopefully, something decent will soon occupy it permanently.
One last look for now. The Courthouse stands in a very uneven plot, as the two intersecting streets, Third Avenue (in the Bronx, street signs for the most part proclaim it to be Third, not 3rd, to differentiate it from Manhattan's 3rd Avenue. When the 3rd Avenue el was extended into the Bronx in the 1880s, it ran along this route which was a mix of several different avenues and roads; the city united it as Third Avenue) and Brook Avenue both run in curving, uneven routes. Brook Avenue runs along a now-vanished brook that gave it its name.
Heading south on Brook Avenue, here is St. Peter and Paul Church at #836. The church was constructed in 1932 in a Collegiate Gothic style. The parish was founded in 1912 and the much older elementary school can be seen around the corner at #833 St. Ann's Avenue.
Between Brook and St. Ann's Avenue and East 156th and 159th Streets is dominated by the relatively new development, Melrose Commons, designed by Magnus Magnusson and completed in 1998. Attached two to four-tory townhouses contain 263 condominiums.
Much older buildings can be found on Third Avenue walking south, approaching The Hub.
With that, I disappeared into the East 149th Street station. If you think the Bronx streets are hot in July, try that station — that's real heat.
8/9/15