Years ago, when FNY was just getting started back in 1999, I got word that there was a hidden street in the Bronx, unmarked on maps and by the Department of Transportation. The alley; known as Garden Place, was accessible only by an alleyway on White Plains Road south of East 240th Street. I went up there, recorded the alley, which is a dirt road in a tough part of town, included it on my Bronx Alleys page, and mostly forgot about it afterward.
In 2015, I'm revisiting a lot of New York's alleys because many of the photos I took with a film camera more than 15 years ago, were scanned at a 4″ width, and I now show FNY photos at 9 and 10-inch widths and blowing up such small photos to that width would render them fuzzy and hard to look at.
Here, I'm showing the image of Garden Place that I got in 1999. Since I don't want to go to Wakefield during the week and pay the exorbitant weekly Long Island Rail Road and MTA fares, I asked FNY Correspondent Gary Fonville to see what he could make out of Garden Place these days.
Unfortunately Garden Place seems to have been privatized, since both possible entrances on White Plains Road have now had fences installed.
Going around the corner, Gary found another possible entrance from East 240th Street was also locked behind a gate.
However, on the north side of East 240th Street, Gary found a curious thing. There's another building behind a locked gate that is marked "4600 Garden Place." But how could this be? Isn't Garden Place's north end on East 240th? Well, as the history reveals, not quite.
The earliest map in which I can find a reference to Garden Place is this Hyde map from around 1900, when Garden Place was part of  a (probably proposed) real-estate development called South Vernon Park, likely so named because it was just south of the town of Mount Vernon. Garden Place ran, then as now, just east of White Plains Road, with just an alley or two connecting the two thoroughfares.
Given the subsequent maps I discovered, I had doubts that South Vernon Park had been developed, since the late great Bronx historian John McNamara doesn't mention it at all in History in Asphalt. However, I did find a 1935 court case that said it had been surveyed and laid out around 1890, became part of the village of Wakefield and was subsequently absorbed into the City of New York, which then included just Manhattan and the Bronx, in 1895.
On the map shown above, some streets are still on the NYC map: Garden Place, Osman Place, St. Ouen (Street) and Penfield Avenue.
This map from just a couple of years later shows a much-changed situation. Only Garden Place remains, while the rest of South Vernon Park has been eliminated, if it was ever built. Since this map was made, East 240th Street has been extended east one block to Furman Avenue. By this time only parts of Vernon Parkway remained on the map.

Interestingly, one of the short alleys that today accesses Garden Place is still there today and was formerly marked as "Walkley Place" on maps.
Also, as seen on the map, Garden Place formerly extended north of East 240th Street a full block to Bronx Street, now called Cranford Avenue. This may explain that sign on the fence on the north side of East 240th Street marked "4600 Garden Place." Some buildings north of East 240th may still possess their old Garden Place house numbers and addresses.
White Plains Road was connected to this section of Garden Place by the now-vanished Sommer Street.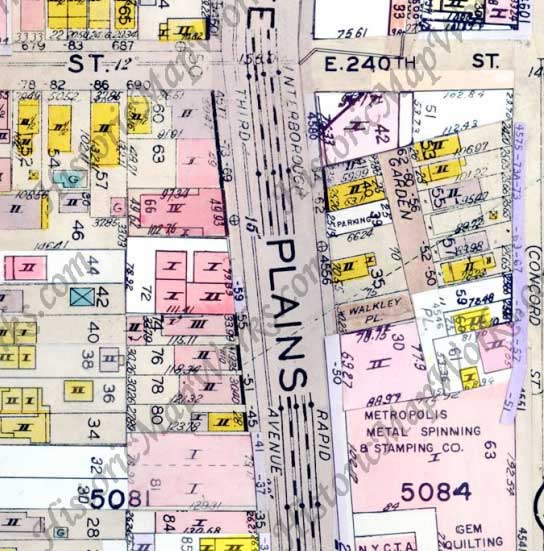 This map was drawn in the 1920s, but pretty much shows today's situation, with Garden Place accessed by Walkley Place with about six homes located on its east side.  A short driveway is shown connecting it to East 240th Street today.
Since the mid-1910s the old South Vernon Park property has been replaced with a partial street grid, but also by a large train yard servicing the White Plains Road elevated.
Finally, Matt Green of the site I'm Just Walkin' in which he continues an ongoing project to walk every street and block in NYC, got this picture of the north end of Garden Place in April 2013; it still looks largely the same as it did when I saw it in 1999.
9/16/15