Construction began for the Long Island Rail Road between Brooklyn and Jamaica, and points beyond, in 1836. The railroad ran down the center of Atlantic Avenue, a major route running from the waterfront into Jamaica. At first, all service was at grade level on the surface, but by the early 1900s, a series of tunnels and viaducts was completed that avoided conflicts with horse and wagon and later, automobile traffic.
One stretch of track on Atlantic Avenue was not placed underground or elevated for a long while: a stretch between Highland Park and Jamaica. This stretch remained adamantly at surface level until a tunnel was finally completed in 1942 that ran from the East New York station east to the Boland's Landing workers' platform in Richmond Hill. At that time, all passenger stations between East New York and Jamaica… except one, at Woodhaven.
This photo from Art Huneke's Arrts Arrchives shows the grade-level Woodhaven station, probably in the 1930s.
This photo from Arrts Arrchives shows a connection from the Atlantic Avenue LIRR tracks to the north-south Rockaway LIRR branch.
In 1942, the new underground Woodhaven station opened. This station featured a transfer upstairs to the Rockaway Branch LIRR Woodhaven station. As Joe Brennan explains (this photo is taken from his page and originally was published by Art Huneke) after LIRR service to the Rockaways ended in 1950 after the Jamaica Bay trestle burned down, service to the station became more and more infrequent, and the underground Woodhaven station was closed in 1976.
The above-ground Woodhaven station seen here, meanwhile, was abandoned after 1962 when service ended on the LIRR Rockaway branch closed (as was the transfer to the underground Woodhaven station).
I've received an anonymous donation of recent photos taken at the underground Woodhaven LIRR station. Trains whistle past here at speeds of 60-80 MPH, and today riders are completely unaware of a closed station.
Original stairs, rails, and some original tilework is still in place.
Showing an underpass connecting the two platforms.
Along the Woodhaven station platform.
An interesting feature of the Woodhaven station is, as it was opened in 1942, it adhered to then-current designs, which meant that machine-Age IND-type signage and lettering was employed for station signage.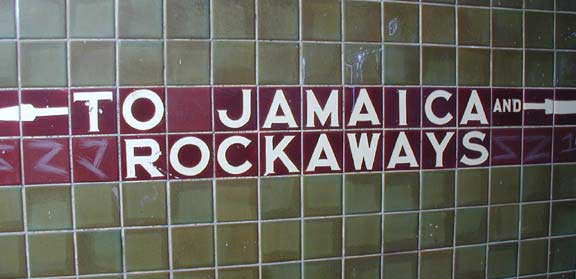 The East New York station at Van Sinderen Avenue was opened at the same time as the Woodhaven station and uses the same type of lettering, which appears in most IND subway stations that opened between 1933 and 1950.
It's doubtful that Woodhaven, built to be a twin of sorts of the IND subway stations of the same era despite being a Long Island Rail Road station, will ever see passenger service again.
9/28/15