PART 1 | PART 2 | PART 3 | PART 4 | PART 5
Metropolitan Avenue is one of the lengthiest routes between Brooklyn and Queens. It was first built in 1815, give or take a year, as a toll road and was known  along much of its length as the Williamsburg and Jamaica Turnpike until the mid-1800s, when it was bestowed its current name. It runs from the East River to Jamaica Avenue and along the way, marks the southern limit of Newtown Creek, and runs through Lutheran/All-Faiths and St. John's Cemeteries, as well as Forest Park. It's the spine of several communities — Williamsburg, Middle Village (so named because it was midway between Williamsburg and Jamaica), Forest Hills and Kew Gardens, and forms the boundary line between Ridgewood and Maspeth.
I have walked along the full lengths of many roads during the 16 years (as of 2015) spent doing Forgotten New York. I usually make two or three trips or so — it took about ten years before I was able to complete Bedford Avenue from Sheepshead Bay north to Greenpoint! It usually doesn't take that much time; Richmond Terrace on Staten Island took two separate trips in two or three weeks.
I choose the routes I am going to walk full-lengths carefully. The most important thing is, the road has to have a lot of changes — infrastructurally most of all, because that is what I concentrate on, but also the 'feel' or atmosphere has to change dramatically along the way. There are a number of lengthy roads in Queens like Francis Lewis Boulevard that are mostly residential; the "Frannie Lou" looks different than its other sections only when it passes through Cunningham Park. I do not want a "sameness" in the pictures.
Unlike my other full-length street pages this time, I did it all in one burst and walked the full length of Metropolitan Avenue in one day, taking about eight hours. I am not a speed walker. My legs are short and I take short strides. Little old ladies can get ahead of me. I am also stopping a lot to take pictures. Had I decided to walk more briskly, I suppose I could have shaved an hour or two off. According to the measurement tool on Google Maps, Metropolitan Avenue is about 8.3 miles from the East River to Jamaica Avenue, so I was going one mile an hour.
My total mileage on the day was 13 miles. That's because I had to walk through Williamsburg to get to Metropolitan and then down Jamaica Avenue to get to the Jamaica LIRR station, where I got a train to Woodside and then another one to Little Neck.
GOOGLE MAP: METROPOLITAN AVENUE 
After burrowing for a mile through St. John's Cemetery, which I discussed at the end of Part 3….
..
… Metropolitan Avenue intersects Cooper Avenue, which begins as a trickle in Bushwick as Cooper Street, gains a couple of lanes upon entering Queens, and meanders northeast to Woodhaven Boulevard, transferring some traffic there and onto Yellowstone Boulevard into northern Forest Hills.
Like Metropolitan Avenue, Cooper Avenue is a very old road. This is a section of an 1852 atlas of Queens County that I have helpfully labeled — Cooper Avenue follows the same course today, running past Met Ave. at the edge of what is now St. John's Cemetery and ended at a road that would evolve into Trotting Course Lane, and then gain a lane or eight, becoming Woodhaven Boulevard.
Crossing the multi-laned Woodhaven Boulevard, I chanced upon a new, streamlined Wendy's store design, plenty of browns and reds. But the real historical attraction in these parts is a block north of here, where a renegade slice of the old Trotting Course Lane forms a triangle with Woodhaven Boulevard and Polo Place.
Because of the street names, NYC Parks has introduced an equine theme:
This triangle, located at the corner of Trotting Course Lane, Polo Place, and Woodhaven Boulevard, is a Greenstreet that is owned by the Department of Transportation and maintained by Parks. Greenstreets is a joint project of Parks and DOT started in 1986 and revived in 1994. Its goal is to convert paved street properties, such as triangles and malls, into green spaces. This site features a flagpole with a yardarm flying the flags of the United States, the City of New York, and Parks. Beneath the flagpole are four imprints set into the cement base. Two depict polo players, while the last pair feature a pack of horses. At each corner of the triangle stand decorative hitching posts, each adorned with a sculpted horse's head. There are benches here as well to provide a spot for quiet contemplation.
Officially this is called Nat Schneider Triangle in honor of a local personality (1896-1969) a set designer for Ziegfeld Studios, president of a local bus company, State Assembly candidate, president of several civic organizations, WWI vet and American Legion commander.
Trotting Course Lane appears in two separate sections in Forest Hills and as stated, are relic sectionss of the straightened Woodhaven Boulevard. I give a full account of this road on an earlier FNY page.
This is a very old stretch of road itself, and it contains a Revolutionary-era cemetery, marked by a NYS Historical sign placed here in 1936.
It's one of a handful of such surviving family burial plots scattered around the borough; among them are two belonging to the Lawrence family in Astoria and Bayside. Even more have been buried beneath architecture and parkland; some, like the Wyckoff-Snediker Cemetery in Woodhaven, are on church property and are not visible from the street.
Remsen Cemetery contains eight burials from 1790-1818. A historical plaque identifies Colonel Jeromus Remsen (1735-1790), who served in one of the major Revolutionary War chapters, the Battle of Long Island.
The Hempstead Swamp once occupied a vast area of land that sits just east of present-day St. John's Cemetery in Queens. The greater area was first settled in 1653 as 'Whitepot' by English and Dutch farmers, including the Remsen, Furman, Springsteen and Morrell families. They found the land good for growing hay, straw, rye, corn, oats and various vegetables. During colonial times, there were only a few roads that cut through the marsh. One of these was Whitepot Road, known as Yellowstone Boulevard today.
The other was Remsen's Lane, a road which became 63rd Drive and 64th Road. The Remsen family lived along the road, and their burial ground, which includes the resting place of Revolutionary War veteran Colonel Jacobus Remsen, is still intact here.
Near the cemetery stood a school called the Whitepot School, built by the founding families, which served the area into the early 19th century. Christina Wilkinson, from FNY's Rego Park page
Why did this small cemetery survive when so many others in Queens were bulldozed? An American Legion post, the one that Nat Schneider commanded, stood here and made sure it was preserved, and it was finally designated by the NYC Landmarks Preservation Commission in 1981.
The intersection of Trotting Course Lane and Alderton Street has officially been designated Remsen Square. The Remsen family comes up quite commonly in Brooklyn, where there is a Remsen Street in Brooklyn Heights and a Remsen Avenue in East New York and Canarsie.
More on the Remsen Cemetery [Brownstoner Queens]
Also at this intersection is the Thomas X. Winberry Garden, named for a local veteran and activist. There is also a Thomas X. Winberry Way at Metropolitan and Ascan Avenues.
The decommissioned Rockaway Branch of the Long Island Rail Road passes Met Ave. on a trestle just east of Trotting Course Lane. The railroad branch has been a source of heated discussion over the past few years as different groups of advocates are pressing for restoration of rail service, possibly as a subway branching off the Queens Boulevard Line; another group want to convert the spur to a linear, north-south park and bikeway.
As is well-known, nothing at all will be done, but I do like it that the city recently gave the trestle a new paint job.
In 2000, a group of crazed fanatics and I braved injury, rats and snakes and walked the entire length of the spur.
More recent photographs  [Abandoned NYC]
This was the former location of the Parkside LIRR station (see below)
I may have to begin including parking lot lampposts on FNY's lamppost pages, as a number of strange and different designs have begun to appear. These samples are on the Metropolitan Avenue Educational Campus at #91-30, which includes the Metropolitan Expeditionary Learning School and the Queens Metropolitan High School. The building, seen at left, is nothing special, so I didn't include it  here.
Dominating the north side of Metropolitan Avenue between Selfridge Street and 69th Avenue is Royal Collectibles, which owns not one but two separate storefronts. And, for a May 23rd appearance, they got a big name, beloved Long Island wrestling legend Mick Foley, who cut a two-decade championship swath in World Championship Wrestling, the World Wrestling Federation and other organizations under three personae: as Dude Love, a hippie character; as Cactus Jack, a wild west character; and his most controversial creation, Mankind, a deranged type fresh from the asylum who warred with The Undertaker and his brother Kane.
What looks like a hand-drawn barber shop sign at 69th Road south of Met Ave. I think the Prince Valiant cut went out when the He-Man cartoon went off the air, though.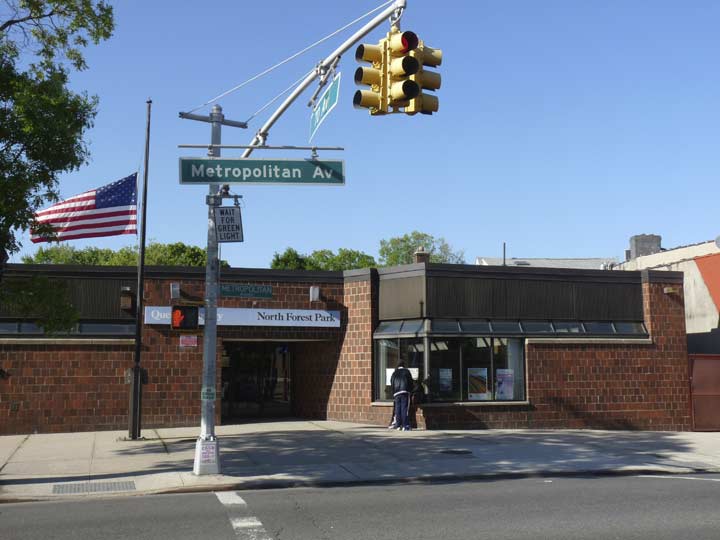 North Forest Park branch of the QPL, at Metropolitan and 70th Avenues. This is better than some mid-1970s library construction I've seen… but when you compare it to the Beaux Arts designs for libraries funded by a donation from industrialist Andrew Carnegie in the early 20th Century (a staple of Forgotten NY tours) these will come up lacking.
Handsome brick bank building with Corinthian pilasters built in 1928 on the south side of Met Ave. and 70th Avenue. No indication of its original tenant; now a Chase.
Sad to say, a number of restaurants were closing or soon would close along this stretch of Met Ave. in the spring of 2015. One was the Café Alpina, a reminder of the days when so many German or German-themed restaurants were scattered in Glendale, Middle Village and Forest Hills. Among the deceased are also Durow's, Niederstein's, which was mentioned in Part 3, and Von Westernhagen's. Surviving is Zum Stammtisch at Myrtle and Cooper Avenues.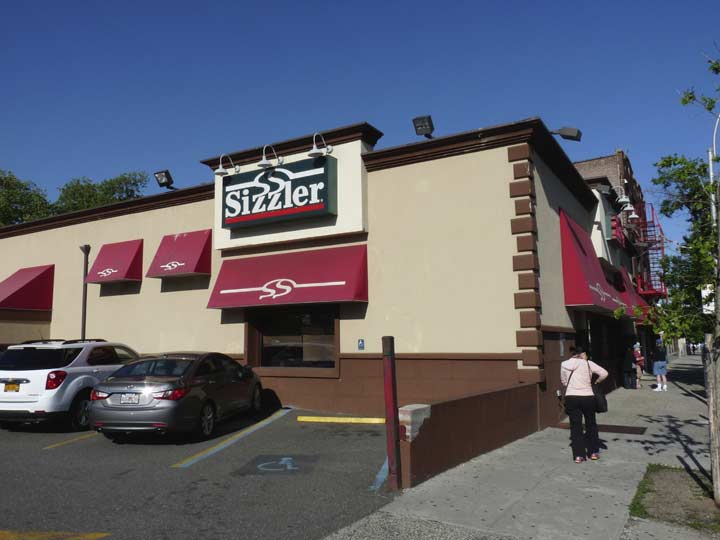 Sizzler was a chain restaurant that, at one point, had hundreds of locations all over the country. They had dwindled down to a precious few and when it closed, this one on Metropolitan Avenue and 70th Road was one of the last remaining Sizzlers.
You may have noticed that in Part 3, Metropolitan Avenue was plunging east from 69th through 80th Streets. East of St. John's Cemetery, in an unusual quirk, Metropolitan Avenue again engages the same numerals — this time as avenues! This is the only section of Queens in which numbered avenues run to the northeast instead of east and west, hence the repetition. The house numbering system carries on as if Metropolitan Avenue was running through numbered streets; for example, the Sizzler's address was 100-27 Metropolitan.
Some of my favorite Forest Hills signs are along this stretch, such as this one with raised plastic white letters at the local post office called the Parkside station. The park in question is the vast Forest Park, which is just a block away from this location. The local Long Island Rail Road station, also called Parkside, was at Met Ave. west of Selfridge Street. It opened in 1927 and closed in 1962, along with the rest of the branch between Queens Boulevard and Liberty Avenue.
That sign is just an appetizer for its next-door neighbor, Jones Surgical Co. at the corner of 71st (Continental) Avenue, which boasts green linoleum with both white plastic or vinyl letters and painted letters. Plenty for the graphics fan here including a 2-snake caduceus, and a long-outmoded telephone exchange, BOulevard 1-9300. There was also a BO in Manhattan which stood for BOwling Green.
Meanwhile on the other side of 71st Avenue there's Continental Hardware, named for 71st Avenue's older name (71st Avenue is called Continental for a few block in Forest Hills Gardens to the north, and the final stop on the Queens Boulevard local trains R and M is 71st/Continental.
East of 71st Avenue Metropolitan Avenue boasts some formidable confectionaries. Normally I'm a Carvel devotee, but in lieu of what's down the block (see below) accept no substitutes.
Aigner Chocolates, a gourmet chocolate confectioner a step above Hershey's, plans on reopening October 22, 2016 after a hiatus. My question: do locals pronounce it AIG-ner or in the French fashion, ah-NYAY?
Eddie's Sweet Shop is well-known to FNY devotees — it has held forth on the corner of Metropolitan and 72nd Road for several decades, and I hold forth about it now and then on FNY and also in Brownstoner Queens.
A visit to the interior — with wood tables with wrought-iron chairs, wood paneled walls with ancient light fixtures, and menu of ice cream sundae dishes and fountain specials like banana splits with any topping imaginable (within reason), mit plenty of schlag (whipped cream) — no doubt provides the same experience as in 1995, 1965 or 1935.
A huge glass case beckons the kiddies with candy of all descriptions. Etched glass signs, a neon "soda" sign and a "privilege" sign provided by Coca-Cola contribute to three generations of store signage, if you enjoy noticing that sort of thing. I always order two scoops of vanilla, hot fudge and nuts because I am a hidebound traditionalist when it comes to ice cream parlors.
I'm in here only once or twice a year, lest I become a bigger man.
Brick for brick, the Fox Funeral Home at Metropolitan and Ascan Avenues is one of the handsomer buildings on the route. If anything, funeral homes are even more tight-lipped about their buildings than are churches and schools (unless they are landmarked and other sources have details), so I don't have any info on the architecture; the funeral home was founded by 1906.
Met Ave. is a road of many faces. After several blocks of storefronts, private homes and lawns are seen in Forest Hills between Ascan Avenue and the Interborough (Jackie Robinson) Parkway.
At the east end of its involvement in Forest Hills, Met Ave. intersects two major roads. The first is Union Turnpike, a major road that has a center median for most of its route.
Union Turnpike begins its lengthy run to New Hyde Park, Nassau County, from Myrtle Avenue and 86th Street. It appears on a Queens 1909 Bromley atlas as Union Avenue between Metropolitan Avenue and Brushville Road (today's 188th Street) in 1909, but by 1913 it had been mapped as Union Turnpike from Myrtle Avenue to the Queens line.
Unlike actual "turnpikes" it was unlikely that an actual toll was charged, with a large log, or pike, turned to admit traffic after the fee was paid (those were mostly phased out by the turn of the 20th Century). This was the only road in NYC called a "turnpike" until 2007, when a section of Jamaica Avenue between Cross Island Parkway and the Nassau line at Little Neck Parkway was made into a western extension of Jericho Turnpike.
The Interborough Parkway, opened in 1935, was Robert Moses' second grand parkway project in the five boroughs (the first was Grand Central Parkway). It passes mostly through the Cemetery Belt separating Brooklyn and Queens, and while the parkway necessitated some disinterments and reburials, Evergreens Cemetery historian Dario Daddario told me it passed through a relatively un"populated" area of various cemeteries and hence, there were few upheavals necessary. I have a cache of photos showing some intricate stone bridges used by the then-narrow parkway within the cemetery grounds, but Daddario tells me the last of them were removed a few years ago. At about Forest Parkway south of Myrtle Avenue, the Interborough enters Forest Park.
By 1987, the Interboro, built for moderate traffic, had proven inadequate for the fast and furious traffic of the modern age, and modern lighting and "Jersey" concrete barriers were installed. Its occasional sharp curves still make the Jackie a little hair-raising at times.
In many ways Jackie Robinson was the most compelling player in major league baseball history. He was selected by Brooklyn Dodgers owner Branch Rickey to break the MLB color barrier in 1947 (no African-American had been employed by a major league team since at least 1901, the beginning of the "modern era" of major league ball) after a sterling athletic record at UCLA, where he had lettered in track, football, baseball and basketball. Rickey needed a can't-miss prospect, as well as a person who would be able to endure the inevitable racial nonsense that would arise in a sport where many players were from the deep South.
Robinson was a five-tool player who hit for average, and power (averaging 16 home runs per year),  possessed above average speed, and excellently threw and fielded his position (second base for his early years). Advancing age and diabetes slowed him down in 1956 and 1957; the Dodgers traded him to the Giants, who like the Dodgers were moving to California, but Robinson chose to retire. Jackie Robinson passed away in 1972, shortly after addressing a World Series crowd in Cincinnati. He is interred in Cypress Hills Cemetery, through which passes the parkway later named for him. In 1997 his uniform number, 42, was retired by every major league team, except for players already wearing it; the last one, legendary Yankee reliever Mariano Rivera, retired in 2013.
No borough-wide memorial had been named for him until 1997, when upon the 50th anniversary of his ascension to the Dodgers, New York State designated the entire route of the Interboro Parkway in his name.
Next: through Forest Park and into Kew Gardens and Jamaica
PART 1 | PART 2 | PART 3 | PART 4 | PART 5
9/27/15