According to the New York Times, the name "Hollis" comes via Frederick W. Dunton, the first developer of the area, which was once known as East Jamaica. He was a native of Hollis, New Hampshire. Originally, Hollis, a parallelogram defined by 180th Street, Francis Lewis Boulevard, Hillside Avenue and 104th Avenue and bisected by Jamaica Avenue, was settled by the Dutch and centered around the present intersection of Jamaica Avenue and Hollis Avenue, which was once called Old Country Road.
During the Revolutionary War, General Nathan Woodhull was captured by the British at the Increase Carpenter tavern in 1776; according to legend, when the Brits ordered him to proclaim "God Save the King" he instead said, "God save us all" and earned a sword bludgeoning, for which his arm was later amputated. He was sent to a prison ship in Gravesend Bay, but a more sympathetic British official had him transferred to onshore house arrest, but he died later in the year.
Dunton developed several neighborhoods surrounding Hollis, many of which carry "Hollis" in their names, including hilly, exclusive Holliswood, now south of the Grand Central Parkway, and more middle-class Hollis Hills, to the GCP's north. General Colin Powell, activist Al Sharpton, humorist Art Buchwald and Atlanta mayor, later UN ambassador Andrew Young lived in Hollis, as did hip hop entrepreneur Russell Simmons and old-school rappers  Run-DMC.
Cunningham Park is one of the least publicized of Queens' vast park systems — no World's Fairs were ever held there, but it has its own set of attractions. Today it stretched from the Horace Harding (Long Island) Expressway south to Grand Central Parkway, while its western end runs irregularly along 199th Street, Un ion Turnpike and 193rd Street, while on the east it borders Oceania and 210th Streets and the Clearview Expressway.
Today, Cunningham Park consists of 358 acres, some of it being maintained wilderness. The park also boasts several mountain bike trails (unaware of how winding they are, I was temporarily lost on the trails in June of 2015!) Most of the park's playgrounds and athletic fields are located on the stretch along Union Turnpike east of 193rd Street, and along 73rd Avenue between Francis Lewis Boulevard and the Clearview.
Cunningham Park was developed in separate parcels acquired by the City between 1927 and 1945 and, after a short stint as Hillside Park, was named for NYC Comptroller W. Arthur Cunningham (1894-1934). After a distinguished military career, Cunningham was a rising star in NYC politics until his premature death from a heart attack. A bronze bust of Cunningham was installed in his namesake park, but it is currently on display at the Forest Park Overlook while its base awaits rehabilitation.
Recently I stumbled on a brace of photos originally taken about 1940  by surveyors looking at parcels the City was purchasing for the final piece in the Cunningham Park puzzle. They provide an interesting look at eastern Queens while it was still largely undeveloped. This photo was taken along 73rd Avenue, which was a pre-existing colonial road known before the 1920s as Black Stump Road since farmers would often mark the boundaries of their lands with blackened tree stumps. Perhaps this building was part of the Klein Farm, which survived as a produce market till shortly after 2000.
Looking south at 210th Street, which was still a clearing through the woods in 1940, from Horace Harding Boulevard, originally developed as a through route from Elmhurst to Nassau County as Nassau Boulevard in the 1930s, then named for a financier and friend of NYC traffic czar Robert Moses. It was widened into the Long Island Expressway in the 1950s, with Horace Harding's name still affixed to the service roads.
The scene is totally suburban in 2015. The Glory Lutheran Church appears on the left, with Middle School 74 on the right.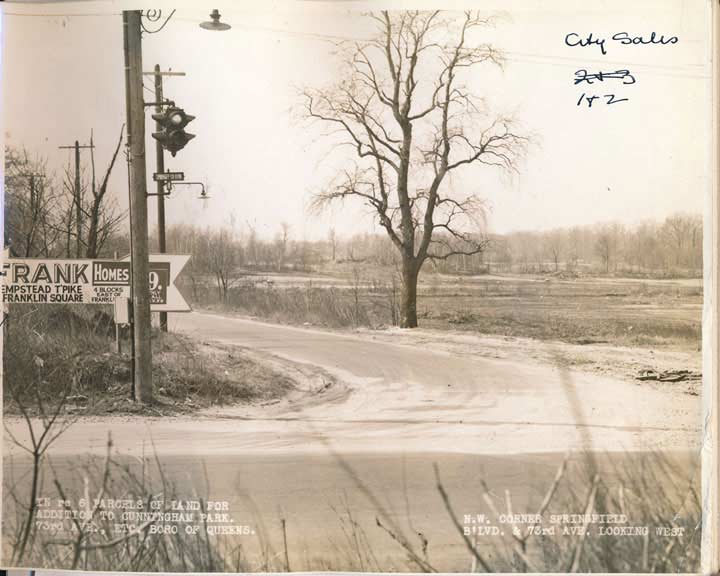 As the caption says, we're looking west along 73rd Avenue from its northwest corner of Springfield Boulevard. Both of these roads existed long before Cunningham Park was developed. Billboards advertising housing projects going up elsewhere in the borough were frequently seen along Queens roads in 1940. By then, this intersection was important enough to necessitate a traffic light.
Today, paralleling streets have been built and the area is dominated by the sprawling Windsor Oaks garden apartment complex. Just east of Cunningham Park, the neighborhood is known as Oakland Gardens (the Oakland Country Club formerly occupied the region).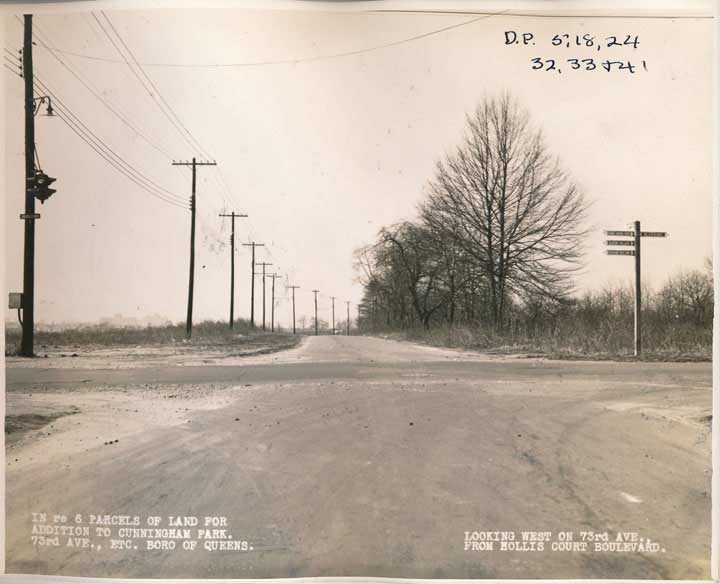 73rd Avenue meets Hollis Court Boulevard, another older road known previously as Queens Avenue or Queens Road. Hollis Court Boulevard originally ran in a straight line between eastern Flushing southeast to Jamaica, but the construction of Cunningham Park as well as the Long Island and Clearview Expressways split it into three sections. The "Court" was added to the road's name likely to class it up a bit as new housing was springing up along its route.
Note the directional signs on the right. These were featured all over Queens in the early 20th Century — signs pointing to disparate neighborhoods and towns were affixed to striped posts at prominent intersections. None of these have survived in any museum to my knowledge.
The same scene in 2015. The Clearview Expressway now cuts across 73rd Avenue and an entrance lane can be seen on the right. We are sitting in the approximate center of Cunningham Park.
Looking north on Hollis Court Boulevard at Union Turnpike in 1940. Union Turnpike, despite its name, was never a toll road controlled by pikes, or wooden poles, turned when the "customer" had paid his or her toll. It is an eastern extension of Union Avenue, a short road in Glendale, and was ran east into Nassau County in the 1930s. Its center median is still there, but its set of castiron "Twinlamps" is long gone.
Note the trestle in the background. It is still there, deep in Cunningham Park, and on it ran the Long Island Motor Parkway, the first toll road connecting Nassau and Suffolk Counties, originally built by William K. Vanderbilt in 1908 originally for car races. After it was extended west into Queens in the 1920s, the Grand Central Parkway supplanted it in the early 1930s, and it was closed to traffic in 1938 — but it was wisely turned into a pedestrian and bike path.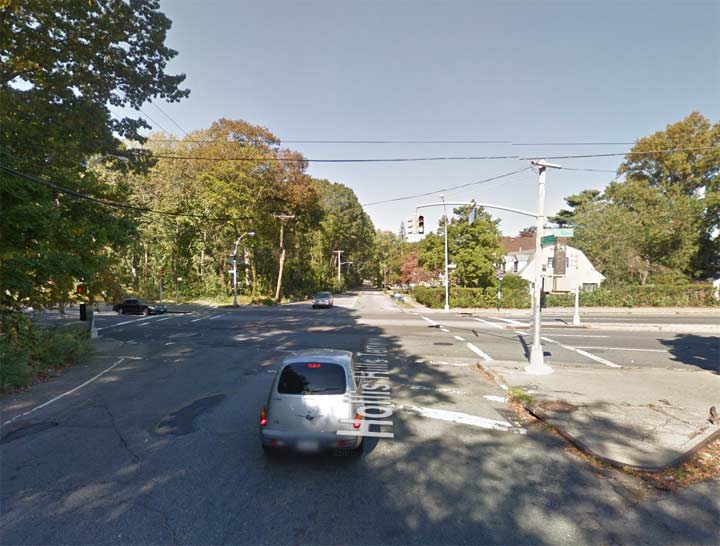 Same scene in 2015. In the 1970s, this stretch of Hollis Court Boulevard was renamed Hollis Hills Terrace for the neighborhood through which it runs (however, the cutoff section in Jamaica remained Hollis Court Boulevard, meaning two sections of the same street are miles apart).
North of here, Hollis Hills Terrace retains pretty much the same appearance it had in 1940, as it runs with no sidewalks through a wilderness area of Cunningham Park, passing under the LIMP trestle just as it did in 1940.
10/9/15