One of my favorites in Fordham is the Dollar Savings Bank tower on the east side of the Grand Concourse north of Fordham Road.  This Bronx landmark was built by Halsey, McCormack and Helmer, who also built Brooklyn's answer to the Empire State Building, the Williamsburg Savings Bank, now known as One Hanson Place. Like that building, the Dollar (most recently an Apple Bank branch, but now has available space for lease) is best known for its towering four-faced clock. The building is really two buildings in one, constructed in two separate decades.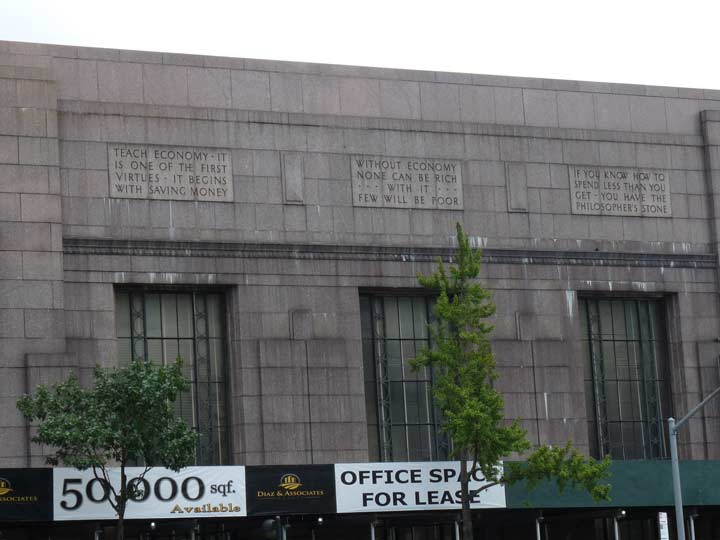 The Dollar, founded by paper box manufacturer Brian Hughes in 1890, was the first savings bank chartered in the Bronx. The Dollar Bank building was first built between 1932 and 1934 in the teeth of the Depression. On its exterior are chiseled some epigrams devoted to the importance of saving: "Teach economy: it is one of the first virtues – it begins with saving money"; "Without economy none can be rich; with it, few will be poor"; and "If you know how to spend less than you get, you have the philosopher's stone, " referring to a mysterious, unknown substance which alchemists believed to have the power to transmute base metals into gold.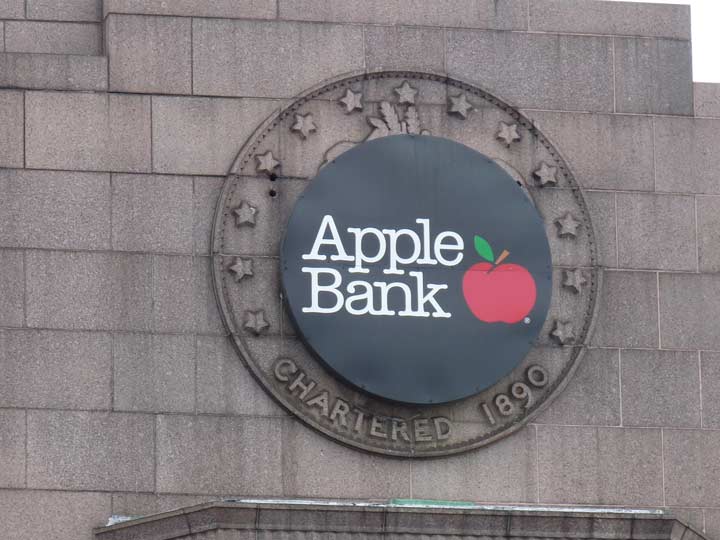 Two medallions featuring the profile of the allegorical female figure Liberty are on the exterior. The one on the original building has a bank logo affixed onto it, but an intact specimen can be seen at the roofline.
The Dollar's entrance, now hidden under scaffolding, features bronze doors depicting classical feminine figures holding a large key. The banking hall is detailed in marble, limestone and terra cotta. Angelo Magnanti's murals depicts early Bronx history: Jonas Bronck negotiating with a group of Native Americans and two horsemen crossing nearby King's Bridge. It's hoped that whoever moves in retains these features.
The clock was a later addition: its red-brick 10-story tower was constructed in 1950 to house the Dollar's offices. The clock hasn't worked for about 15 years.
10/1/15