Between Waverly and Christopher just west of 6th Avenue is a short dogleg called Gay Street, which contains a number of handsome Federal-style buildings and has a varied lore. The name of the street predates Greenwich Village's gay community by several decades, but the derivation is in dispute. In Naming New York, Sanna Feirstein claims it was named for Sidney Howard Gay (1814-1888), editor of the Chicago and New York Tribunes and a prominent abolitionist, but in The Street Book, Henry Moscow says the name 'Gay Street' appears in the Common Council minutes of 4/12/1827 — when Sidney Howard Gay was thirteen. The short lane is probably named for a local landowner in the mid-1820s, the years in which the street was first established.
Unlike other Greenwich Village streets, it is a part of neither the "east-west" groupings of streets like Christopher, Charles, Perry, etc. nor the "north-south" streets like Bleecker or West 4th (which was originally Factory Street). Rather, it connects two streets, one from each group.
Though it is narrow now, for its first decade, Gay Street was even narrower. It was widened in the 1830s which necessitated the razing of some buildings on its east side and the construction of new buildings. That's why the houses on the west side of the street date to the 1820s and 1830s, while most of the buildings on the east side are in the Greek Revival style popular a couple of decades later.
Over the years, Gay Street has been rich with showbiz and literary figures and has been the subject of plenty of movie shoots, as you might imagine.
Even though Gay Street is quite short, its entire length cannot be seen from either end because of the bend it takes just south of Christopher Street. Sometimes, you see references to Greenwich Village streets that call them "winding." This is not really the case, as the Village has its own separate grid that is independent of the overall grid established north of Houston Street. Streets like Waverly, West 4th and Bleecker streets do change orientation but they do so slowly, and it could be said they do it in a slow "winding" manner, but not as extreme as some writers would have you believe.
Looking south on Gay Street. I was standing at the bend in the road when I shot this image.
Two buildings with frontage on Gay Street actually have Christopher Street addresses. #14 Christopher, a 5-story loft building, was constructed in 1897 by developer/architect Frederick Zobel. It's distinctive because of its large picture windows (the one on the 4th floor is arched) and balconies on the Christopher Street side. Occupying the ground floor in mid-2015 was the Whynot French bistro.
On the other side of Gay Street is the largest building fronting on it, #10 Christopher, a massive 7-story brick loft building that went up in 1903.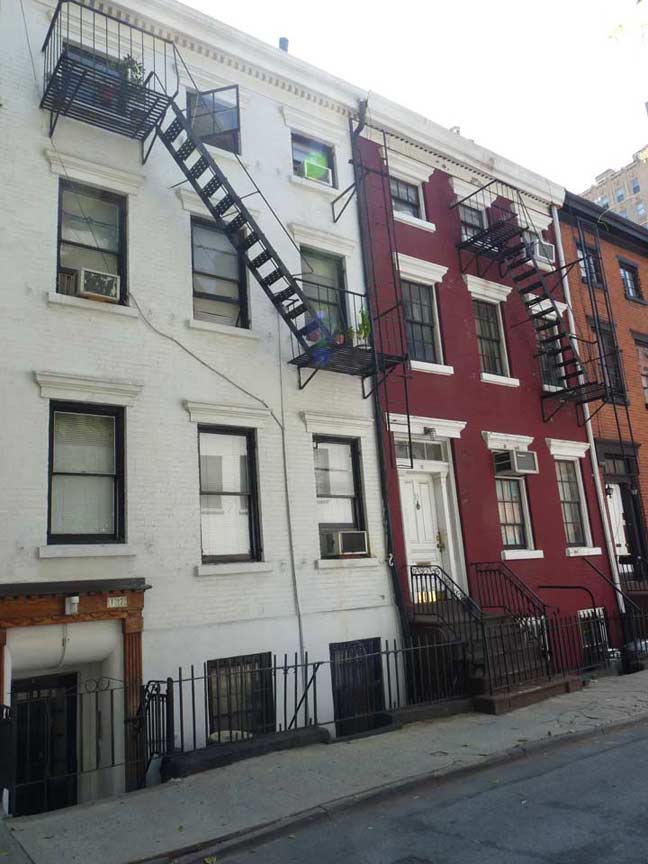 #17 (left) and #15 Gay Streets. Both were constructed in 1844 by Thomas Cumming. #17 was featured in the 1993 Al Pacino film Carlito's Way.
#18 Gay Street was built in 1831, with a 4th story added in 1883. Author Mary McCarthy ("The Group"), lived in a studio apartment here in 1936.
#16 Gay Street was built in 1828 for merchant Francis Barretto, who was also an assemblyman in Hunts Point in Westchester County which was later part of the Bronx. Hunts Point streets are named for Barretto and for his wife, Julia Coster. Originally 2.5 stories, the third floor and roof cornice were added at an undetermined later date.
#14 (right) and #12 Gay Street are twins, though not identical. Both were constructed in 1828, making them among Gay Street's oldest buildings. Both feature a central dormer with a triple sash window, Flemish bond brickwork and Doric columns by the entrance.
Ruth McKenney, working for The New Yorker, wrote a series of stories about her family's residence in the basement of #14, later collected in the book "My Sister Eileen" which later became a Broadway play and the 1953 Broadway musical Wonderful Town. Tragically, Eileen McKenney was killed in a car crash in 1940, and didn't get to see the play or the musical.
Update: #14 was judged to be unsafe and was torn down in 2023.
From Comments: #12 was once home to Mayor Jimmy Walker and later to Frank Paris, who created the first "Howdy Doody" marionette.
#10 Gay Street is a 5-story brick apartment building constructed in 1892, and closely resembles #143 Waverly Place around the corner; they were likely built at the same time.
#13 Gay Street was built in 1844, the same year as its neighbors #15 and #17. Attorney William Kunstler, who specialized in representing leftwing clients, had an office here for many years, where he was later joined by the present-day talk show host Ron Kuby, who still practices.
#11 (left) and #9 Gay Street were constructed by Thomas Cumming, who also owned and built several Gay Street properties, in 1860, replacing stables. Note the original newel posts at the entrance.
Looking toward Waverly Place from about #10 Gay Street.
Looking toward Christopher Street from just south of #10 Gay Street, with the bend quite clearly apparent.
#141 Waverly Place incorporates #5 and #7 Gay Street. The building went up in 1826 as a 2-story building for carpenter John Pollock, with the top two floors added in 1860. One of the building's more unusual features is the trio of interesting wrought-iron fire escapes. Joe Coffee occupied the ground floor in 2015. (Unlike most Americans I have never been gripped by coffee frenzy and have had about 10 cups of coffee lifetime; I also don't drive. What kind of Murican am I?)
Info from Greenwich Village LPC Report and Jim Naureckas' Songlines.
10/2/15