In northern Brooklyn, you have to watch your step and be careful. Careful inspection of street signs, that is. Up there, there are two streets called Meserole. The first, Meserole Avenue, is in Greenpoint and runs east-west from Franklin Street east to Russell. A further section from North Henry east to Kingsland Avenue was eliminated several years ago (its ghost can be seen on Kingsland). But, that's not the Meserole that concerns me today.
The other Meserole, Meserole Street, is about 1.5 miles south of Meserole Avenue and also runs east-west, from Union Avenue east to Morgan, then after a few blocks' interruption, from Varick east to Scott.
According to Leonard Benardo/Jennifer Weiss' Brooklyn By Name, the streets are named for one of the original European settler families in Greenpoint, the Meseroles; patriarch Jan arrived first, purchasing land from his father-in-law, early Greenpoint settler Pieter Praa later passed on to Abraham's sons, Jacob and Abraham. I'm not sure which Meserole each street is named for.
I decided to walk a portion of Meserole Street since two of Williamsburg's old breweries are located there, but I found some very interesting architecture and street art.
Getting off the L train at the Montrose Avenue stop I walked up Bushwick Avenue for a block and then turned east, where there is a 3-block street running south called Bushwick Place. This is actually a cutoff bend in what was a colonial-era road, the Old Bushwick Road, which here mostly paralelled Bushwick Avenue, but further southeast, ran in Evergreen Avenue's course, accounting for several almost unnoticeable twists and turns in that street. Ultimately it ran through what is now Evergreens Cemetery and ended at the Jamaica plank Road, now plain Jamaica Avenue.
Fronting on both Bushwick Place and Meserole Street is a rather imposing brick building with terra cotta markings: "Bottling Department, Edward B. Hittleman Brewery."
The building dates to about 1885 and was originally the Otto Huber brewery, one of Brooklyn's largest, which at its peak turned out 10,000 bottles of beer per day. Huber had purchased the Hoerger brewery in 1866. Huber passed away in 1890 and in the 1920s, the Huber family sold to Hittleman, who operated the brewery until 1951. More recently, this building was where one of Williamsburg's only remaining beer production plant and one of Brooklyn's prime tourist attractions, the Brooklyn Brewery, was founded in 1988 before later moving operations to their present building on North 11th Street near Wythe Avenue. In the recent past the building has been used as a ginger ale bottling plant and currently hosts a gymnasium.
As you may know, northern Brooklyn was formerly home to dozens of breweries beginning in the late 1800s, and well-known makes such as Schaefer, Rheingold and formerly, Trommer's all had plants in Williamsburg and Bushwick. Some of the buildings are still remaining, and I walked several of the streets where brewery plants are still standing in September 2015.
On the Meserole Street side of the brewery, the dates 1875 and 1885 are rendered in yellow and blue terra cotta. I'd imagine that 1885 is the building construction date, but I'm not sure about the 1875.
On the lower right you can see the initials "O" and "H" on the keystones above the arched doors. I wasn't looking for them when I was on the block, hence the non-closeup, but they are the only remnants of Otto Huber's brewery still extant.
In addition, on the Meserole Street side there is what is likely a newer building with the words "ICE HOUSE" in the same terra cotta rendering used for the Hittleman plaques on the Bushwick Place side.
Somewhat mysteriously, a smokestack bearing the initials "VD" and the date 1858 can be seen toward the rear of the brewery on the Bushwick Place sign. A few blocks away, on the corner of Grand and Waterbury Streets, a sign saying "F.H. Von Damm Est. 1858" is set into the brick wall of a corner building. According to Eating in Translation, the Von Damm family operated a grocery and was also in the animal feed fertilizer business, leading to speculation that the Huber/Hittleman breweries dealt with its services.
Lastly, the building that was likely the Huber/Hittleman brewery offices can be found at #1 Bushwick Place on the corner of Meserole. Many area breweries, as we'll see, had separate office buildings — many still stand and are used as residences. Not this one, though.
Additional info: New York Shitty
Further east on Meserole, past Waterbury, is a group of surviving painted signs for the former Hemley Supply Co. at #300. Frank Jump has been here first, of course, and reports that he was informed that this was originally a warehouse for mattress and bedding supplies. Thus, the sign proclaiming "cold rolled strip steel" is either a later addition, or a predecessor to Hemley.
I turned left on Waterbury Street, which was named for Noah Waterbury, first president of the village of Williamsburg in 1827 and later first president of the City Bank of Williamsburg in 1852. This is really deep Brooklyn here — in the Super 70s, venturing into the heart of East Williamsburg rbetween 6 PM and 6 AM required a firearm or crossbow. In the 2010s, a nascent nightlife, or at least lunch life, seems to be developing.
Newtown is a vegetarian cafe on Waterbury, named for the nearby creek separating Brooklyn and Queens. Reviews are generally favorable on Yelp.
Next door at Waterbury and Scholes is the Anchored Inn, a lunch spot (with a full bar) by day and a heavy metal concert venue called The Acheron by night. There are no residences in the immediate area, so this is a prefect spot for it. The interior is also noted for its eclectic paintings collection and a mermaid carving over the door.
Waterbury Street, as well as Meserole (see below) has become a gallery of sorts for street artists, much as the (sanctioned, former) 5 Pointz in Hunters Point or Welling Court in Astoria have become. These gradually are overpainted by other artists over time. Many of these artworks were painted for the Juicy Brooklyn Art Festival held in June 2014.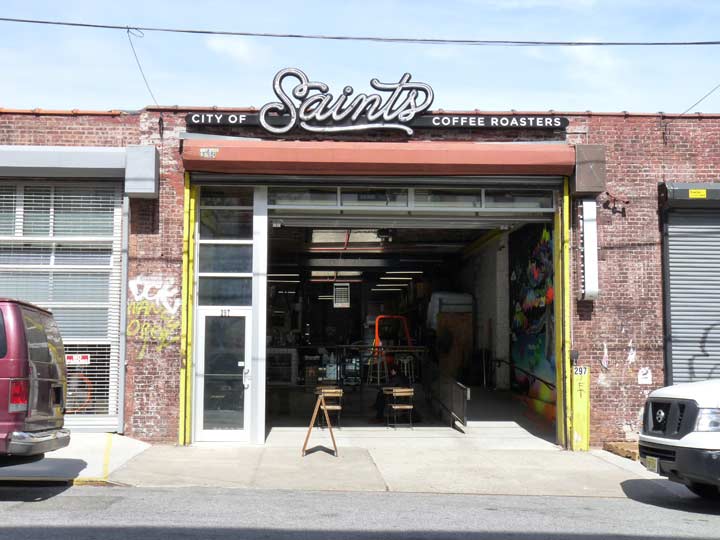 Further east on Meserole between Waterbury and Bogart Streets, City of Saints Coffee Roasters has sprung up amid an otherwise all-industrial block. I had thought its origins might have been in New Orleans, but the company website explains that it comes from "Harar, Ethiopia – the original 'city of saints'– where coffee has been grown and traded for centuries." Apparently, the walled city was where the first domesticated coffee plants originated.
More of the street art clustered at Meserole and Waterbury Streets.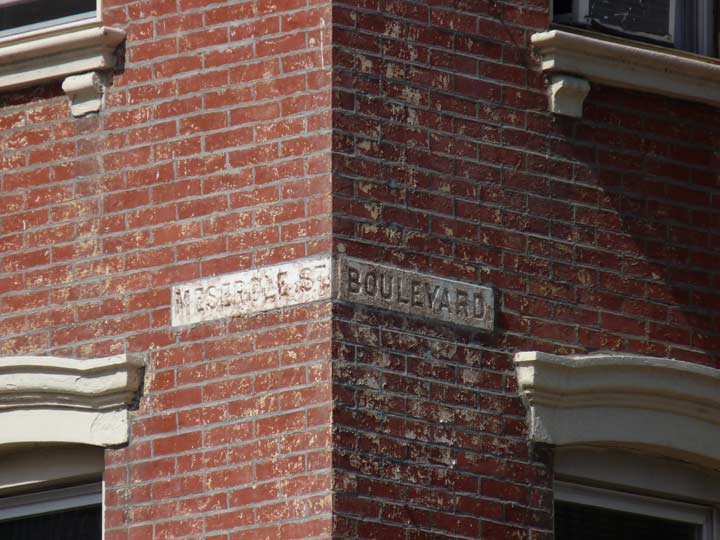 I can't find any maps that has "Boulevard" instead of Bushwick Avenue. I'm aware that the northern section, north of Beaver and Belvidere Streets, was called Morrell Street in the 19th Century. This building, though, which looks as if it dates to the 1860s or so, displays prrof of a former name.
Walking west along Meserole, you find a number of brick buildings "of a certain age," likely the 1860s or 1870s. This one, #184 Meserole, just west of Humboldt, has kept its old bluestone sidewalk. But this is just a prelude to what I "discovered" a few doors away.
An incredible find for me at #174 Meserole, a clapboard house which has retained most if not all of its original intricate woodworking and stained glass window treatments. What craftsmanship was at work during the late 19th Century! No doubt many other buildings in northern Brooklyn boasted this kind of work, but most have succumbed to practicalities like aluminum siding.
The building was constructed in 1887 by architects Franz Joseph Berlenbach Senior and Junior. Among Berlenbach Jr's other Williamsburg designs is the Church of the Annunciation school building at Havemeyer and North 5th Streets, seen on FNY's Metropolitan Avenue Part 1.
Thankfully the Landmarks Preservation Commission has landmarked the building, and it cannot be altered except under certain conditions. As I was leaving, I saw an older woman leave through the front door, but I'm not one to accost people I don't know about their residences.
Montrose Morris, as usual, has more about this extraordinary building in Brownstoner.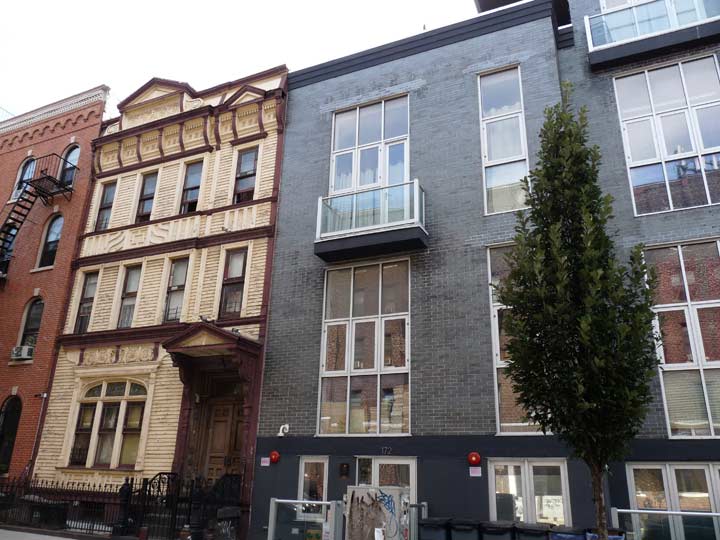 An illustration of what can potentially happen when buildings aren't landmarked is the modern building that was constructed next door  by architect Robert Scarano, Jr. But will Scarano's designs be looked upon favorably or in a historical context when they are 128 years old, like #174 Meserole?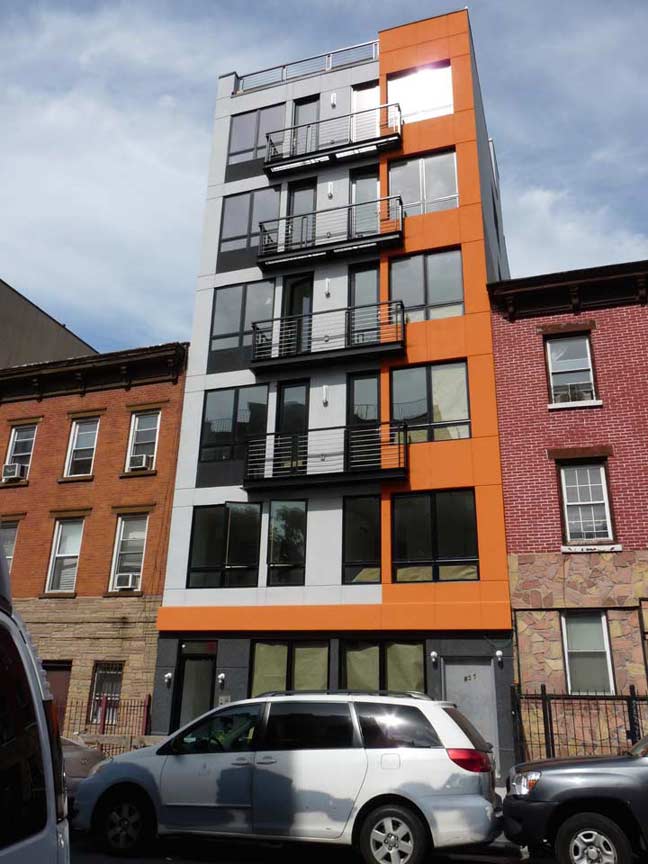 Across Meserole Street, #155 is the visual definition of noncontextual construction, though, to be honest, I don't mind the design. However, those huge windows are going to let in a lot of sun, so residents should be prepared for a bug air conditioning-promoted electric bill in the summer.
Surviving carriage houses are relatively rare in Williamsburg. This one, constructed in 1898, is at #164 Meserole.
A huge French Second Empire pile at the SE corner of Graham Avenue and Montrose is the Louis B. Schuler residence. Schuler (1844–98) was a wine importer and beer distributor, working with the several breweries in 19th Century Williamsburg; he married Otto Huber's sister. The building was constructed in 1881. After Schuler's death the building became the City Trust Bank for a few decades. More in Brownstoner.
On the NE corner of Graham and Meserole is a textbook case of how to take a perfectly good brick building and make an ugly melange out of it, with an extra floor of Brooklyn Crap added onto it. A street sign, though considerably weathered, is s till there, unusually spelling out "GRAHAM AVENUE."
Standing sentinel at Meserole and Lorimer Streets, just north of the Lindsay Park Houses, is the former Joseph Fallert brewery, in business between 1878 and 1920. The firm produced the brand Alt-Bayerisch ("Old Bavarian"), a dark brew advertised for family use as "food" – see the 1897 ad at the bottom of the page here.
As mentioned, a number of brewery office buildings survived along with their parent factories in Williamsburg. The Fallert office still stands on Lorimer Street between Meserole Avenue and Montrose Avenue.
The Ministry of Love, or a Verizon telephone switching equipment building, oversees all at the NE corner of Meserole and Lorimer.
10/11/15