ForgottenTour #95, July 26, 2015, was an exploration of the little-known aspects of Madison Square, its environs,  and lower 5th Avenue, including: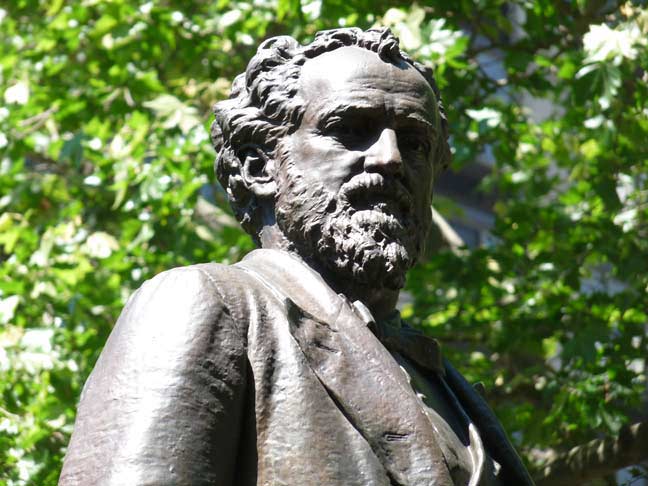 Described as a forceful, charismatic and flamboyant orator, Roscoe Conkling was Senator of New York between 1867-1881 after two stints at the House. In 1876, Conkling lost in a squeaker to Rutherford B. Hayes for the Republican presidential nomination (Hayes later triumphed in the general election by amassing more electoral, though not more popular, votes than Democratic opponent Samuel Tilden, in a situation not unlike the 2000 presidential election.)
In March 1888 Conkling was caught outdoors near Madison Square at the worst of the Blizzard of '88 and died from exposure 6 weeks later.
Sculptor John Q.A. Ward's memorial statue in Madison Square was dedicated in 1893. Ward has sculpted many statues scattered about Manhattan including the George Washington at Federal Hall on Wall Street.
The  NY State Appellate Court – Madison Avenue and East 25th was built in 1900 in Italian Renaissance style; much care was lavished on the building's limestone exterior and interior art, including statues of famous lawgivers and civic virtues.
On the Madison Avenue side, the sculptures, each by a different artist, are
Confucius, the great Chinese philosopher
"Peace" allegorical group
Moses
On the 25th Street side:
Zarathustra, the Persian founder of Zoroastrianism
Alfred the Great of England
Lycurgus, the legendary lawgiver of Sparta
Solon, the Athenian statesman, lawgiver and poet
Louis IX (1214-1270),  the only canonized king of France
Manu, a Hindu deity
Justinian, the great Byzantine emperor
Vacant, formerly Mohammed. This was removed by request because in Islam, the Prophet is not supposed to be represented in art.
The tall gilded sidewalk clock on 5th Avenue between West 23rd and 24th is one of three remaining on 5th Avenue. This one was built by the Hecla Iron Works in the 1880s and marks the former location of the Fifth Avenue Hotel.
11/9/15