On ForgottenTour #96, August 9, 2015, we walked up 9th Street and then Prospect Park to 15th Street and took in some little-known aspects of the neighborhood…
The Charles Higgins ink factory building on 8th Street between 4th and 5th Avenues was converted to apartments by Con Edison's Renaissance Program in 1982.
Higgins' mansion still stands on 9th Street behind the factory and facing on 9th Street between 4th and 5th Avenues. It's been the home since 1981 of jazz musician and teacher Charles Sibirsky. When it was built, Park Slope was open country. Charles and his wife Vita have appointed the house with vintage furniture as well as two vintage pianos: a 1920 Steinway Model "O" in the cupola, and a 1913 Steinway Concert Grand in the downstairs living room. The living room features a room separation featuring Civil-war era cut glass, which, Charles claims, was repaired after a recent accident with the original cutting stone he located in Cobble Hill.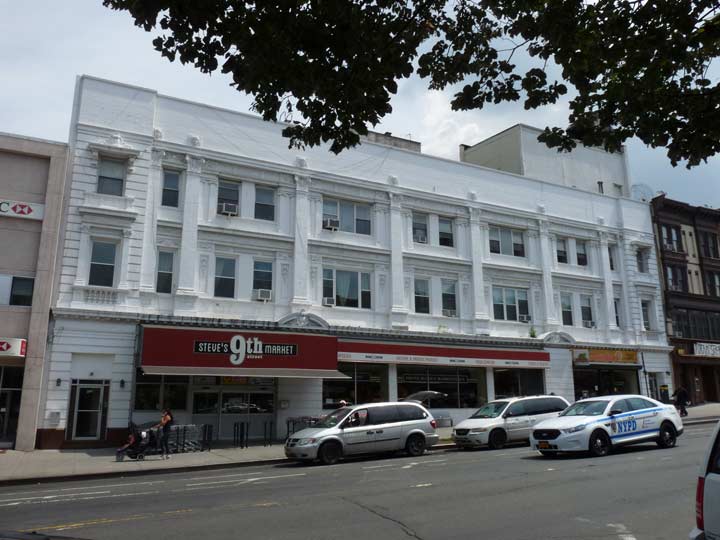 The former RKO Prospect Theater was home to vaudeville shows and then films from 1914 until 1967. It has housed a number of supermarkets in recent years. The rear end is now condominiums. In 1925 a comedian named Ted Healy played here in an act that involved three young hecklers who'd sit in the audience and pick fights with him and each other. His act became a huge hit, but the hecklers became more famous than Healy once they struck out on their own as the Three Stooges.
11/9/15