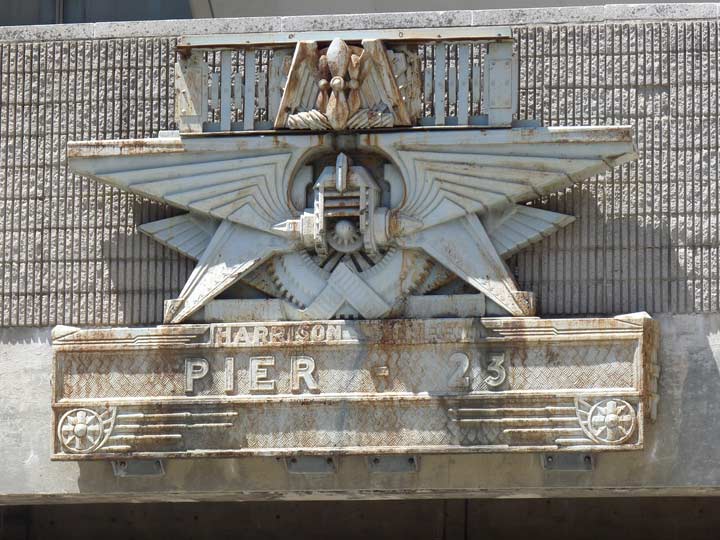 On a morning when it dropped to 11 degrees Fahrenheit, it's appropriate to talk about a frieze.
This aggressively Machine-age frieze is attached to a pedestrian overpass in Independence Plaza over Harrison Street just west of Greenwich, adjacent to a group of early-19th Century dwellings that were moved here when the area was redeveloped in the wake of the original World Trade Center and the Independence Plaza housing project in the early-to mid 1970s.
This frieze was originally built for the West Side Highway, which was built in stages from 1930-1950 and demolished in stages from 1973-1989. It was the idea, along with the West Side Freight Elevated (now High Line Park) of Manhattan Borough President Julius Miller; the highway was officially known as the Miller Highway, asn thus appeared on maps with that name. New Yorkers resolutely called it the West Side Highway. There's a wing motif shared with a turning gear motif — in the Depression years, the government set up the Works Progress Administration to provide employment  by designing and building public works: highways, buildings, hospitals. Much of the West Side Highway was built in this period.
The cross street is notated at the bottom of the frieze, as well as the pier that the street accessed. Until the 1960s, Manhattan's west side featured a bustling waterfront as ships bearing imported goods were loaded and unloaded on the piers facing West Street. Ocean liners also berthed on the west side; today, there is a remnant of that with various excursion lines and ferries. Today, though, most of the west side waterfront is parkland.
If you look at the top of the frieze, it contains some of the design of the roadway's railings. The design was shared with the West Side Freight Elevated and many of those railings are preserved in High Line Park.
When the West Side Highway was torn down, preservationist Dan McCarthy, who helped save the Harrison Street dwellings, purchased the frieze and had it affixed to the plaza overpass. There may be other such friezes in private collections. The West Side Highway also featured plaques depicting the seal of the State City of New York, and some of those may also survive privately.
I have more on the West Side Highway here.
1/5/16