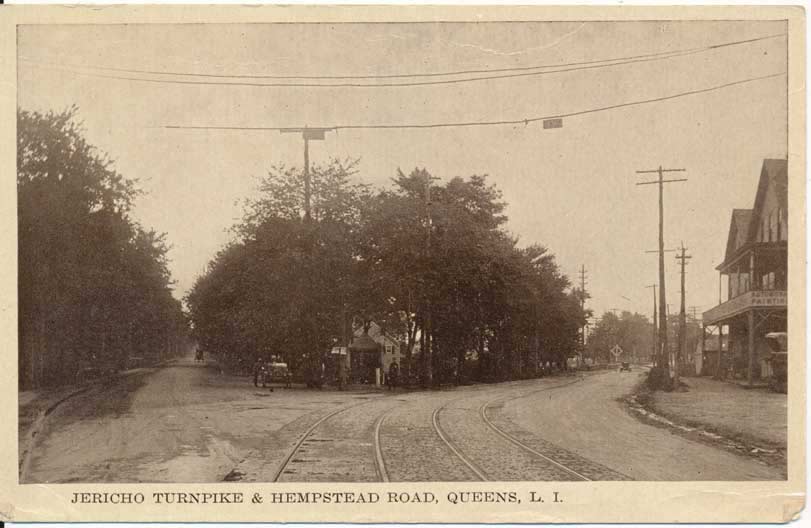 Here's a look east at the junction of Jericho Turnpike and Hempstead Road in a postcard view between 1900 and 1910. Long Island Electric trolley tracks seen in the roadbed supported service until 1933. These two routes were narrow two-lane roads at the time. Look carefully and you can see a railroad crossing signal at right: this is the main line of the Ling Island Rail Road, which was placed on an elevated trestle in 1923.
At this point Jamaica Avenue from this point east was still known as Jericho Turnpike, for the mid-Nassau County town where it originally ended; it has since been extended to Middle Country Road in Smithtown, Suffolk County. From the early 1800s, Jamaica Avenue and Hempstead Avenue were known as the Hempstead and Jamaica Plank Road and was a toll road paved with wood planks. From the point today's Hempstead Avenue diverged from Jamaica Avenue, the latter was called Jericho Turnpike.
About 1920, these roads received their current names, with Fulton Street in Woodhaven and Jamaica as well as the Hempstead and Jamaica Plank Road becoming Jamaica Avenue, and also Hempstead Avenue in Queens and Hempstead Turnpike in Nassau County.
From 1920 to 2005 the stretch of Jamaica Avenue between 225th Street and 257th Street that existed halfway in Queens County (the north side) and halfway in Nassau (the south side) went by two names: Jamaica on the north side, Jericho Turnpike on the south. After some years of pushing by the local organizations such as the Bellerose Community Civic and Community Board 13, the NY City Council decided to rename the north side Jericho Turnpike, and Mayor Michael Bloomberg signed the bill June 5, 2005; street signs were changed within a couple of months, giving NYC its second modern-day "turnpike" (after Union Turnpike.) The turnpike attained its present width in 1962.
Today Hempstead Avenue continues to diverge from Jamaica Avenue at the same point, and you can see the elevated LIRR trestle on the right. Hempstead and Hempstead Turnpike form NYS Route 24 and runs out to Route 110 in western Suffolk County. The triangle formed by Jamaica Avenue, Hempstead Avenue and 213th Street is now known as Litchhult Square, likely for a local personage; thus far, the world wide web is quiet on which one.
2/17/16