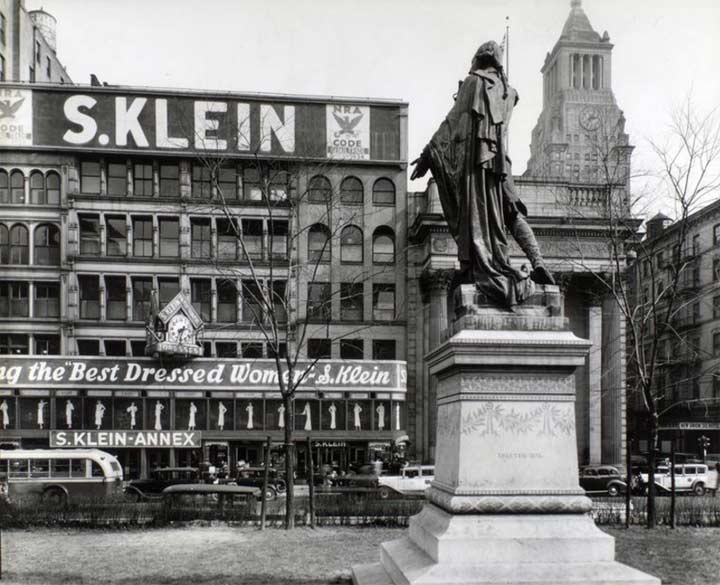 Samuel Klein founded the discount chain S. Klein in 1906, with the flagship store at Union Square East and East 14th Street, and the business eventually grew as large as 19 stores in the metropolitan area before the inevitable decline. The Union Square flagship closed in 1975 (the space is currently filled by the 1987 Zeckendorf Towers apartment complex; the S.Klein Union Square building remained vacant for over ten years after the stores closed). Samuel Klein maintained control until his death in 1942, and the Klein family sold the franchise in 1946 but retained the property.
The company emblem was a measuring square, seen with the clock above the word "dressed" in the 1930s photo shown above. The catchphrase "on the square" was a play on the company's flagship location at Union Square and its profession of fair business practices.
Two substantial remnants of S. Klein remain, in a doorway on Clinton Street in the Lower East Side marking a former branch, and a giant illuminated sign in Newark, NJ that has never been torn down.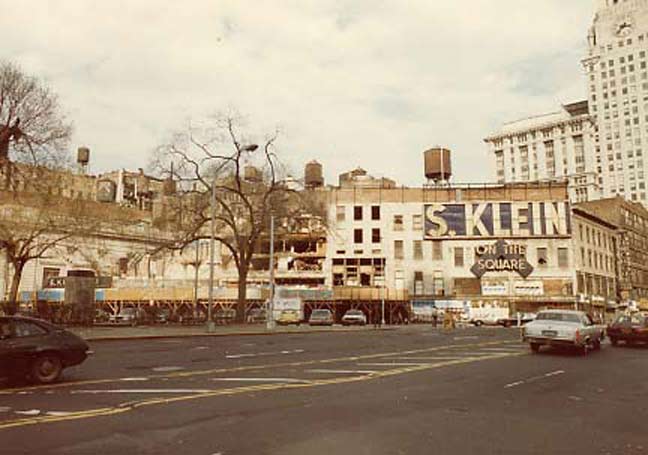 S.Klein on the Square  — note the large measuring square logo under the words "On the Square." The building is finally under demolition in this 1986 photo by Bob Mulero.
This sign, formerly illuminated with neon bulbs, appeared at a Union Square subway entrance. Photo: Bob Mulero.
This illuminated S. Klein sign stood silent sentinel on Broad Street in Newark, NJ across the street from Military Park for 37 years after the store closed in 1976. The buildings shown here were demolished in 2013 to give way to a new 20-story building owned by Prudential Insurance. Photo by me in November 2003.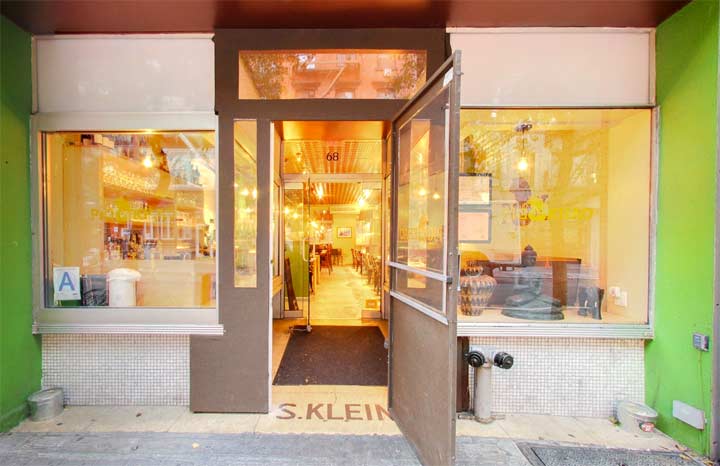 The only immediately apparent sign that S. Klein stores ever existed is in front of 68 Clinton Street in the Lower East Side, currently (206) home to a Pig and Khao, a Filipino-cuisine themed restaurant. Photo Google Street View, which allows you to go right in.
3/1/16