The Downtown Alliance, a business improvement district representing lower Manhattan including the Financial District, first unveiled a set of black and white street signs back in 2000, most of which featured a building or scene from the general neighborhood. Most of those original signs are still surviving including a couple purposely retained that featured the fallen twin towers of the World trade Center.
In late 2015, the Downtown Alliance began installing updated, larger signs along Broadway from the Battery north to Liberty Street, The new signs are three-dimensional and are electronically lit from within, although only one photo of Broadway just north of Bowling Green appears on the signs that have been installed thus far. The signs were designed by Temple Edge Lit.
The lettering represents the recent trend toward upper-and-lowercase instead of all caps — however, Highway Gothic, or a font quite similar, appears on the signs instead of Cleartype, the NYC street sign trend the last several years.
Lower Broadway, of course, is known as the Canyon of Heroes, as ticker tape parades celebrating politicians, explorers, warriors and winning sports teams and individuals have been feted for nearly a century in over one hundred such parades. Every ticker tape parade that has ever run up Broadway is set in concrete on sidewalks lining both sides of the street.
I must confess — it's been an ambition of mine for some time to write a book that would describe each of Broadway's ticker tape parades and those celebrated. I know — the idea will now be pilfered and someone else will run with it…
Lower Manhattan features both a Cedar and a Pine Street. Both 'conifer streets' were named for royalty before the Revolutionary War, as Little Queen and King, respectively; Pearl Street was Queen.
Lower Manhattan's Exchange Place and Exchange Alley are both named for the nearby Stock Exchange. I wish Exchange Alley would revert back to its Dutch and British Colonial name, Oyster Pasty Lane, named for a recipe made with the bivalves. It is the narrowest street in NYC that accepts vehicular traffic.
Liberty is another street whose name changed to represent American freedom from the British — until 1794 it was Crown Street. There is a Crown Street in Brooklyn's Crown Heights, but it is named for its location at the crest of a hill.
Like many streets in Lower Manhattan, Rector Street was named because of its proximity to Trinity Church. Many streets in Tribeca are named for rectors, sextons and other churchmen associated with the church over the early decades of NYC.
One street in lower Manhattan has retained a British association, Thames Street, named for London's river. It is pronounced 'temz' as it is over there. (Some years ago the NY Yankees and Detroit Tigers had an outfielder, Marcus Thames, who pronounced his name as spelled: "thaymz."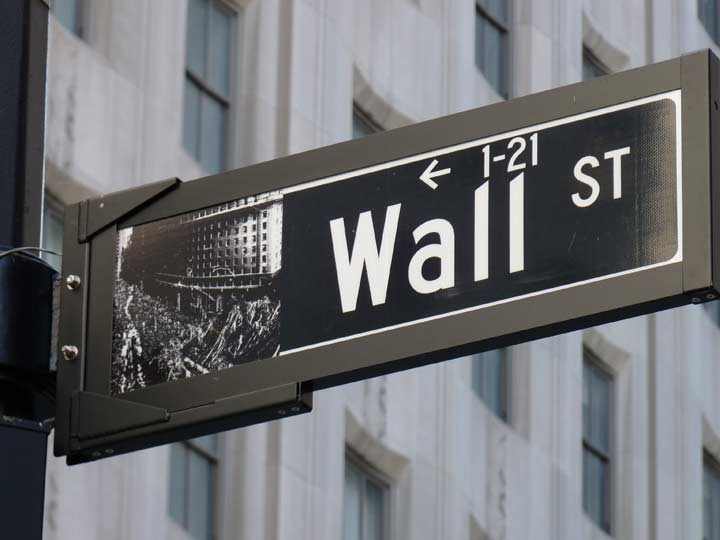 Finally, Wall Street needs no introduction as its name is synonymous with American finance and wealth. The original wall was built by New Netherland's Dutch rulers to keep out any British or Lenape who had designs on the colony. In 1664 the Brits arrived from the Hudson River and Upper New York Bay with an overwhelming naval force and the Orangemen surrendered without a shot. A terra cotta representation of the wall can be found in the IRT #4/5 train station.
6/24/16