I've done a great deal of photography in Hoboken and Jersey City beginning in 2014; I've covered just about all the north-south streets in Hoboken and have done quite a bit in the downtown and Hamilton Park and Harsimus Cove areas of Jersey City as well. In 2008, I dedicated quite a bit of time to Jersey City which produced several Forgotten NY pages… some of which I'd forgotten I'd done, such as The Heights and the Van Vorst House; Bergen Square; the Dixon Mills pencil factory; and 2013's Van Vorst Park. Hoboken hasn't been ignored but I've done only one lengthy post from way back in 2003. I have taken hundreds of photos since and I plan on JC, Bayonne, Weehawken, Hoboken, and even Newark getting their due soon enough (they are all on Hudson-Bergen light rail or PATH, which enables the auto-free webmaster easy access). For the purists who want FNY to cover strictly the 5 boros, you'll be disappointed as I plan to expand the purview to the greater metropolitan area, and this means that trips to places like Yonkers or Port Washington may be offered for inspection soon, with the main focus remaining on Bronx, Brooklyn, Manhattan, Queens and Staten Island.
In the spring and summer of 2016 I have been employed at a large education textbook publisher in Hoboken. However, there's only a half hour for lunch so I usually eat in the company cafeteria. As we have gotten into the warm months the sun stays out longer, so I've been able to do some walking after work if I'm in the mood. On May 25, 2016 I set out west on Hoboken's 2nd Street with the intention of walking to the Journal Square PATH station. Despite having some experience in these parts, I'm still the wide-eyed rookie in many ways. I covered a lot of ground but took relatively few photos, but that's perfect as I'm running out of time for my self-imposed Sunday night deadline!
GOOGLE MAP: HOBOKEN TO JERSEY CITY HEIGHTS
I walked all the way west on Hoboken's 2nd Street until arriving at the Hudson-Bergen Light Rail station on the west side of town at Marshall Street. I wasn't going to take the light rail today (I did take it in January and obtained some interesting angles, which will find their way onto a future post.) Scattered around Hoboken are a number of previous street sign schemes, and both of them made their way onto this post in what till a few years ago was an unfrequented part of town. Both are made of enamel and metal, while one is black lettering on white, the other white lettering on blue. This is actually not the oldest variety of street sign found in Hoboken — I've found older. We can say that NJ municipalities don't have the mania for replacing nonstandard signage that the NYC Department of Transportation does; I wish the DOT had the same mania for replacing unreadable sun-bleached signs.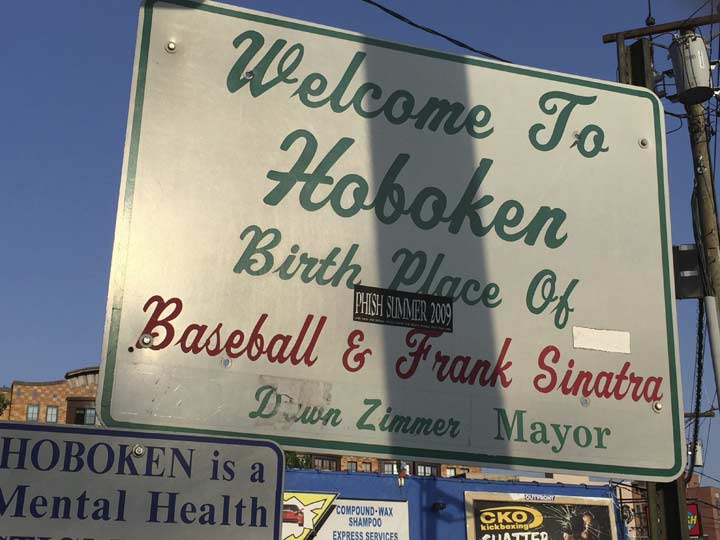 This sign has been found at the confluence of Marshall Street, Paterson Avenue and 1st Street for many years; periodically, the mayor's name is changed and admirably, the city seems to be able to match the font each time. Though games resembling baseball had been played long before the first organized professional game in Elysian Fields in Hoboken, this seems to be enough for the city to be the "birthplace of baseball." Old Blue Eyes, meanwhile, had a hardscrabble childhood in Hoboken, and rarely returned after his golden voice brought him fame.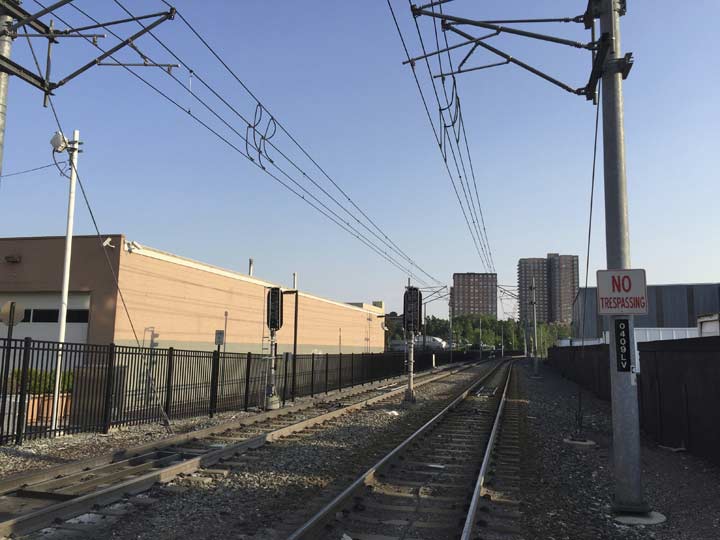 The Hudson-Bergen Light Rail has become such a convenient way to get between the urban areas in northern New Jersey it's hard to imagine a time when it wasn't there, but the line has only been in existence since April 2000.
In early 2016 the De Blasio administration put forth a plan called the Brooklyn-Queens Connector, which would be very similar to the HBLR and run along Brooklyn and Queens waterfront areas. The plan has been met with a mix of enthusiasm and skepticism. The BQX, though, would not have its own right of way as the HBLR does for the most part and would have to have dedicated rights of way built on existing streets. If everything comes together on schedule (which is quite a rarity), the BQX would not operate until 2024.
Though Hoboken is easily approached by PATH, HBLR and by boat from the east, north and south, getting there from the west is another matter. The Mile Square City is separated from Jersey City on the west by a high bluff. Only a few roads traverse it, among them Paterson Plank Road (which used to be made of planks) which intersects twisting, turning Mountain Road and further north, the 14th Street Viaduct. In the north, Hoboken is connected to Weehawken by two viaducts and to Jersey City in the south by just Newark Street and Marin Boulevard.
This staircase to the JC Heights, an alternate to Mountain Road for pedestrians, seems to be new — I can't recall its presence on earlier forays to the area. Regional denizens, set me straight be emailing kevinjudewalsh@gmail.com.
It was erected in 2013, replacing an older one in disrepair. It cost nearly $1M.
I decided to get some exercise and walk up the hairpin-shaped Mountain Road instead. You're in Jersey City when you get to the top and the sun is still shining on the Shining City, though you're in the shade at 7PM. By far, this is the curviest road in JC, which is set up on a rough grid pattern.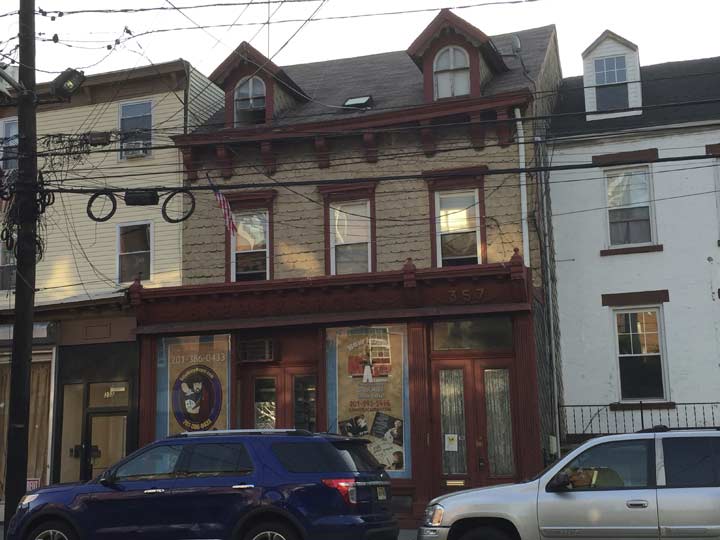 357 Palisade Avenue has been preserved over the years and hews relatively closely to the way it looked decades ago. A close looks reveals the house number and "Breher Bros." on the facade above the entrance.
The 1880 Federal census has this home/store occupied by Frederick and Fredericka Best Rauch. Frederick was a druggist. They were both German immigrants. By 1887 the Rauches had moved to Rochester, NY. It is believed that they later moved back to Germany. Fredericka would have been the grand niece of Jakob Best, founder of the Best Breweries in Milwaukee, the later became Pabst. She was also a second cousin of Maria Best Pabst, wife of Captain Frederick Pabst. [flickr]
There are a great deal of Dutch names to be found on the Jersey City street map:
By 1621, the Dutch West India Company was organized to manage this new territory and in June 1623, New Netherland became a Dutch province, with headquarters in New Amsterdam.Michael Reyniersz Pauw received a land grant as patroon on the condition that he would establish a settlement of not fewer than fifty persons within four years. He chose the west bank of the North River (Hudson River) and purchased the land from the Lenape. This grant is dated November 22, 1630 and is the earliest known conveyance for what are now Hoboken and Jersey City. Pauw, however, was an absentee landlord who neglected to populate the area and was obliged to sell his holdings back to the Company in 1633. [wikipedia]
More on Pauw a bit later. Booraem is similar to Brooklyn's Boerum Place and Boerum Street and the family could be the same; spellings were not completely standardized until the early 1800s.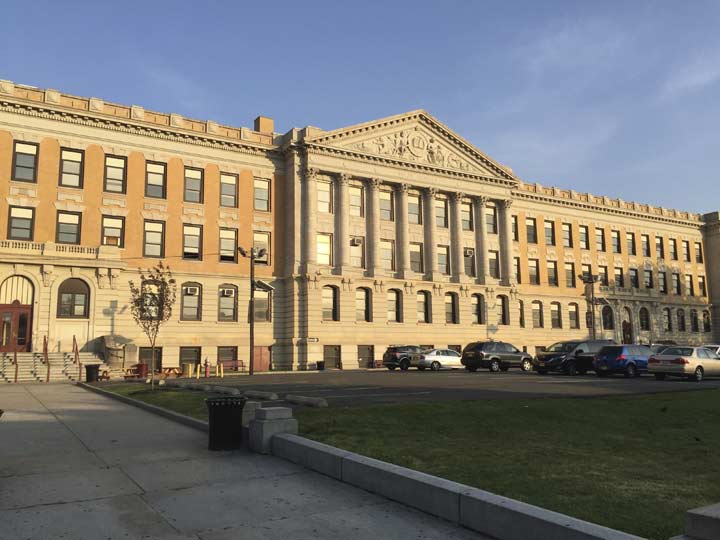 South of Route 139 and just before attaining Newark Avenue, I walked past William L. Dickinson High, which is the largest high school building I have ever seen (outpacing Franklin K. Lane in Brooklyn by a wide margin).
When it opened in 1906 it was called Jersey City High School. Its 2000-seat auditorium saw extensive public use including Republican and Democratic party rallies and celebrity appearances. The building was expanded to its present size in 1912 and again in 1933. In 1913 it was named for the Jersey City superintendent of schools, William L. Dickinson, who had argued for its creation in the 1880s, long before it opened. Alumni/attendees include rapper Akon and actress ("Fast and Furious", "Lost") Michelle Rodriguez, who left after the 9th grade.
Pompilio and Sons tombstone manufacturers, Palisade and Newark Avenues. They are susually found near cemeteries and indeed, the historic Jersey City and Harsiumus Cove Cemetery is a couple of blocks further east on Newark.
Now the sacred eternal resting place of thousands of soldiers from the Revolutionary & Civil Wars, the War of 1812, the Spanish-American War, WWI and II, forward, as well as home to our earliest Jersey City founders, leaders, residents and legends. With its 200 year old English Ivy adorning many of the towering trees, and the monumental works of art, this 6-acre sanctuary of peace and unique history is one of the most beautiful natural settings in Jersey City. [Jersey City and Harsimus Cove Cemetery]
Abandoned until 2008, the cemetery is now under the care of the above-linked organization.
St. Joseph Roman Catholic Church, Pavonia and Baldwin Avenues. One of Jersey City's oldest parishes, it was organized in 1856 with the present church building erected in 1873. "According to tradition, the blue-gray stone from which it was built was taken from the Erie cut where the railroad workers had toiled." Unlike many churches, a comprehensive history can be found on the church's website, including an account of the mysterious "eyes" which could be seen from the top of the church tower until the 1950s (I suspect someone forgot to turn the lights off, but I'm not of a spiritual bent).
Pavonia Avenue, meanwhile, is a latinized form of the Dutch name Pauw. Pavonia was the first European settlement in what is now Hudson County and takes its name from Michael Pauw, who purchased the land from the Lenape in 1630 in a deal similar to Peter Minuit's for Manhattan a few years before. In Dutch, pauw, pronounced "pow" means "peacock."
Citibike has breached the borders of NYC and has come to Jersey City. Not in most sections of Queens, Bronx, or Staten Island, though.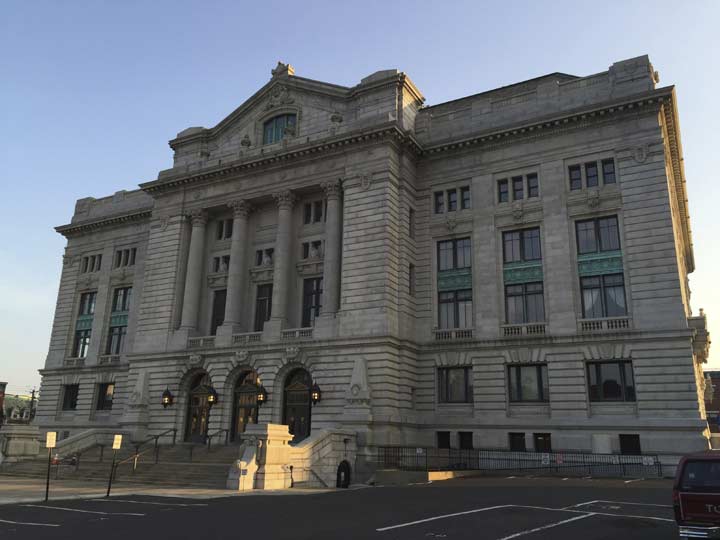 Another massive Jersey City building (they went big or went home in the early 20th Century) is the Justice Brennan Courthouse on Newark Avenue. Constructed in 1910 and designed by JC native Hugh Roberts as the Hudson County Courthouse and seat of Hudson County government, it sat abandoned for years until it was renovated and reopened in 1985 at which time it was also renamed for Supreme Court Justice William J. Brennan Jr. (1906-1997), a Newark native who served on the high court from 1956 to 1990.
Trio of older signs on Newark Avenue, which preserves a number of them.
Area highlights are provided by Destination Jersey City, which are quickly commented on by the local youth. The website shown beneath the map is defunct.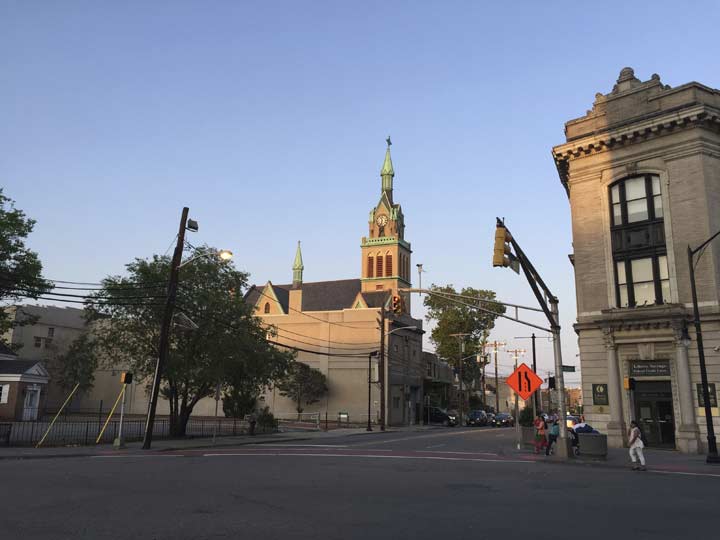 This part of Jersey City is called Five Corners for the intersection of Summit, Hoboken and Newark Avenues. The clock-towered spire belongs to St Paul Lutheran Church.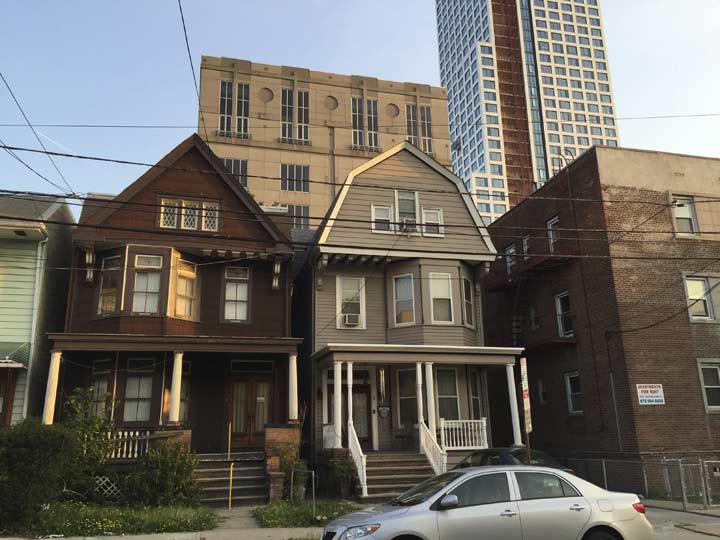 A pair of older houses on tree-shaded Van Reipen Avenue near Summit. Post offices have to be careful in Jersey City — there is also a Van Reypen Street, which serves as the source for fast and furious Tonnelle Avenue.
At the end of tiny Homestead Place, one of the twin towers of the projected Journal Squared residential towers project is rising. One tower will be 53 stories tall and the other will be 70. Both, of course, will offer unparalleled views of the harbor and the Shining City for an appropriate price.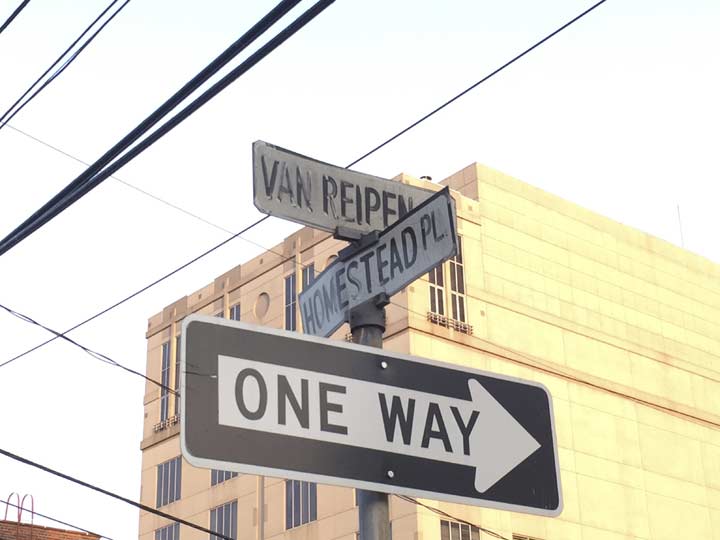 One of the charms of Jersey City is its occasional remaining hand-lettered street signs, many of which are still in place, albeit sun-faded.
Some more of the residential buildings along Van Reipen Avenue son to be in the shadows of monsters.
Getting dark, time to kick it in the head before I get kicked in the head. The Journal Square transit hub serves the PATH trains and over a dozen bus lines and is where PATH commuters transfer to proceed on to Newark. Originally opening in 1912, the present Brutalist concrete building opened between 1972 and 1975.
6/26/16