Only a few horse troughs, or drinking fountains, remain around town. I've noted ones placed by The American Society for the Prevention of Cruelty to Animals and funded by Edith Bowdoin in the center median of Northern Boulevard and Linden Place in Flushing; near Grand Army Plaza on the border of Central Park; and outside the old HQ of the ASPCA on Butler Street in Cobble Hill, Brooklyn. There's also the Robert Ray Hamilton fountain on Riverside Drive and West 76th Street, and the remaining John Hooper Fountain in Sugar Hill, seen on this FNY page, among others.
Remnants of When Horses Roamed the City [Untapped Cities]
Here's one I had overlooked, on the edge of the John Muir nature trail and near the Van Cortlandt Park Lakehouse (formerly the clubhouse for the VCP golf course). It was installed in 1906 and honors attorney Algernon Sydney Sullivan (1826–1887).
Sullivan, a native Indianan, established a law firm in Cincinnati in 1851 and then moved to NYC at the outbreak of the Civil War. His first notable cases was defending the crew of the captured Confederate vessel Savannah, arguing for humane treatment as prisoners of war. He arranged for a prisoner exchange with the Confederates. He later fought the Tweed Ring as a reform Democrat, and served as NYC's public administrator from 1875-1885, refusing calls to run for mayor. In 1879 Sullivan and his law partner, William Nelson Cromwell, organized the firm of Sullivan and Cromwell; the prestige firm is still in business today.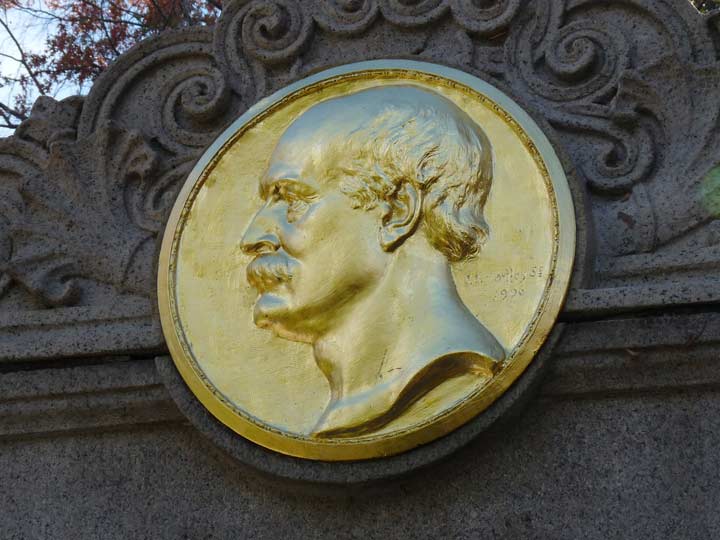 After his death, an Algernon Sydney Sullivan Memorial Committee raised $6000 to commission a memorial fountain. The 10-foot high granite stele has a basin on both sides, as well as medallions with a profile of Sullivan fashioned by sculptor Jonathan Scott Hartley. The fountain was restored between 2001-2003; renovations included a resumption of function and a gilding of the medallions.
11/11/16