In December 2016 I played Queens Jeopardy at Neir's Tavern at 78th Street and 88th Avenue in Woodhaven, a neighborhood that I'm quickly finding is one of the best preserved in NYC. Vast tracts of it look exactly as they did decades ago, if you discount modern store signage, modern street lighting, etc.
Woodhaven and Ozone Park were settled in the 1600s by Dutch and English colonists, who gradually eased out Native Americans; Woodhaven became a racing hotbed in the 1820s when Union Course, at what is now Jamaica Avenue and Woodhaven Blvd. was built in 1820s. Centerville and Aqueduct Race Tracks would follow.
From the 1830s to the 1850s, what is now East New York and Cypress Hills, Brooklyn, and Woodville, Queens, were developed by Connecticut businessman John Pitkin. To avoid confusion by the Post Office with an upstate New York State town in the days before zip codes, Woodville residents voted to change Woodville's name to Woodhaven in 1853.
Neir's, opened in 1855 (or 1829, depending on what account you read; the tavern itself says 1829) as The Pump Room, or Old Blue Pump House, to serve Union Course patrons: the race track stood across the street in the 19th Century. The Neir's name comes from Louis Neir, who purchased the place in 1898, adding a bowling alley, ballroom, and rooms for rent upstairs. The last seven years, it has been owned by firefighter Loycent Gordon, who added nightly events and new menu items (the burgers are among the borough's best).
However, another longstanding Woodhaven eatery is nearby at Jamaica Avenue and 86th Street, a corner profiled in FNY in 2014 because there is a remaining corner building sign with the street's old name, South Ferry Street. At the time, I failed to notice the corner restaurant, Pop's.
While between freelance jobs I volunteer at the Greater Astoria Historical Society scanning postcards and historic images; I must have seen thousands of these, off and on, over the past 4 or 5 years doing this. I was working on a binderfull of Woodhaven images lent to GAHS by collector Bob Stonehill (here is an online sampling of his collection).
This photo of Ferry and Jamaica Avenue in 1916 stirred up a memory. Pop's? I had seen Pop's in Woodhaven before. Yes, it was under that South Ferry sign (I do not know where the "South" comes from, since the street is shown as Ferry on postcards and maps). If you look carefully, you can see the street sign on the side of the building — it's still in place.
From what I can gather of the ancestry.com boards, Popp's Cafe was originally a German men's club that became a tavern and then an ice cream parlor after Prohibition. The last owner in the original Popp family, Ralph Popp, sold what was then a full-menu diner-style restaurant in the 1970s. The place has changed hands since then and somewhere along the way, it dropped one of the p's and turned into Pop's.
I do not know if these are original stained glass signs from Popp's configuration as an ice cream parlor.
No doubt, some of the woodworking and glass are from the early 20th Century.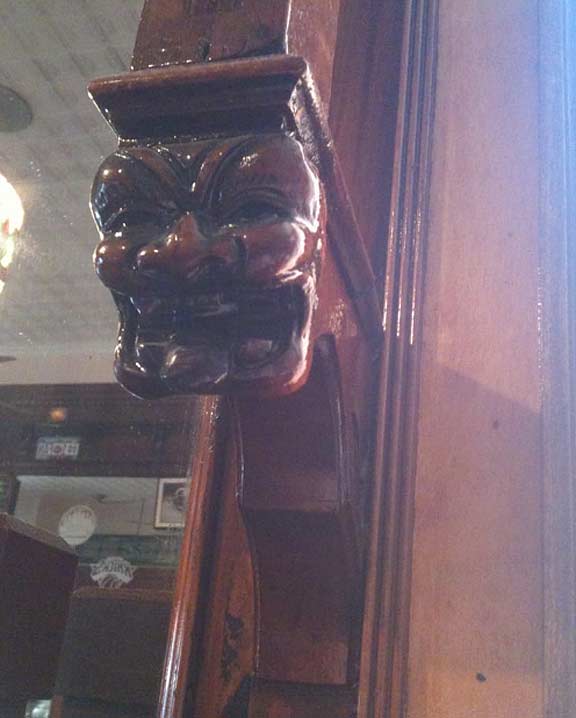 Woodworking like this isn't attempted anymore!
A recent Street View look at Jamaica and 86th Street. Most of the buildings in the 1916 photo are still there and so is Pop(p)'s.
12/17/16