Well, the 2nd Avenue Subway, which opened on 1/1/17, was among the most talked-about events in NYC in late 2016 and early 2017. How can it be Forgotten? I'll find an angle. It occurred to me that I had never walked up 2nd Avenue along the subway route, as the Upper East Side has been largely unplumbed territory for my camera. The new subway, essentially a northern extension of the Broadway and Brighton Lines (the Q train for those unfamiliar with the nomenclature) runs up 2nd Avenue between 63rd and 96th Streets, with a northern extension to 125th Street expected by the late 2020s, by which time I may or may not be alive! Thus, I thought it important to be there on the subway's opening day — I had never been present on opening day for any previous subway line.
Thus, I decided to explore both 2nd Avenue for interesting things in a Forgotten New York vein, as well as the new stations themselves. If you're from out of town, this is a rare chance for you to take a look at these spanking new additions to the MTA subway system. I'll also take a look at the art installations for all three new stations, and the new renovations to the fourth. I'm not an art critic, but I can provide some information on the new images on the walls.
Here's a short history by National Public Radio of the 2nd Avenue Subway, first proposed in the 1920s. Wars, depressions and recessions, as well as the high costs of construction, have delayed and whittled the project down over the years.
GOOGLE MAPS: SECOND AVENUE SUBWAY ROUTE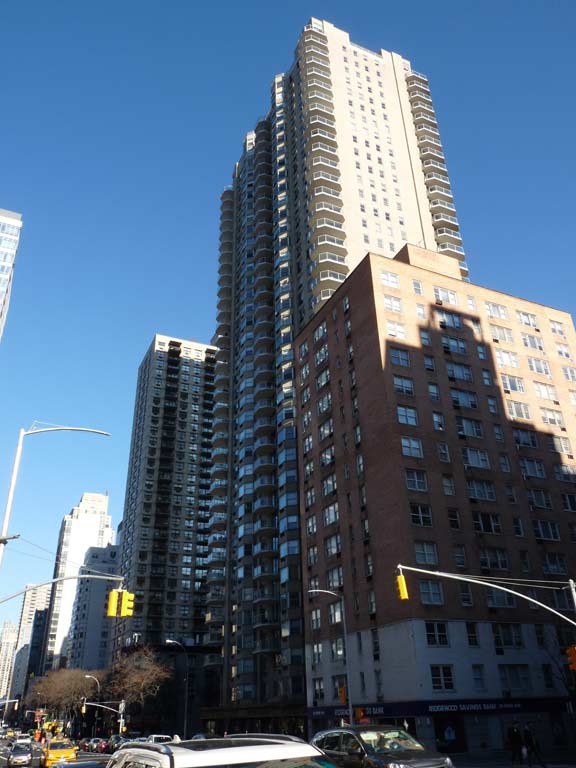 Having just emerged from the new 72nd Street station, I now continued ambling up 2nd Avenue toward the following station at 86th Street.
At East 74th, there's a trio of buildings of impressive height, the first being #300 East 74th, constructed in 1967. A one-bedroom apartment here costs about 3/4 million dollars. The are balconies on each floor on all 4 sides. Next door at #310 is a brick Art Moderne classic apartment building that went up in 1937.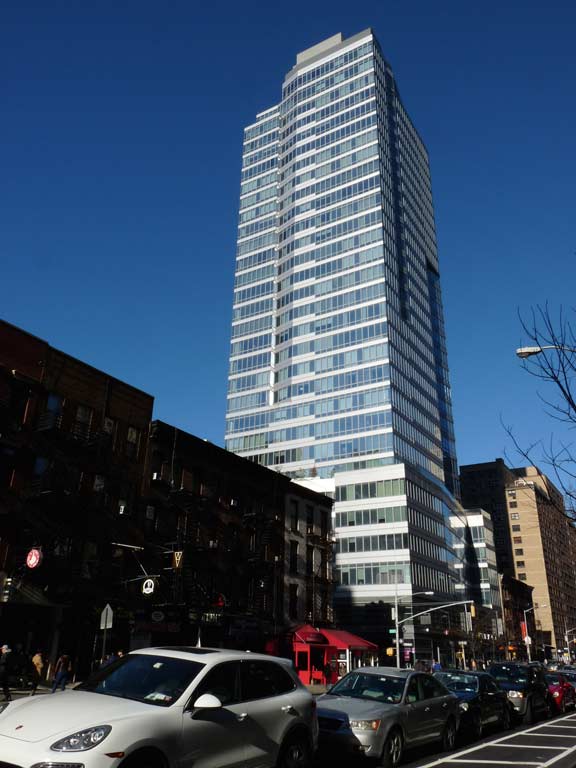 On the diagonally opposite corner is #255 East 74th, a gleaming condo tower constructed in 2008.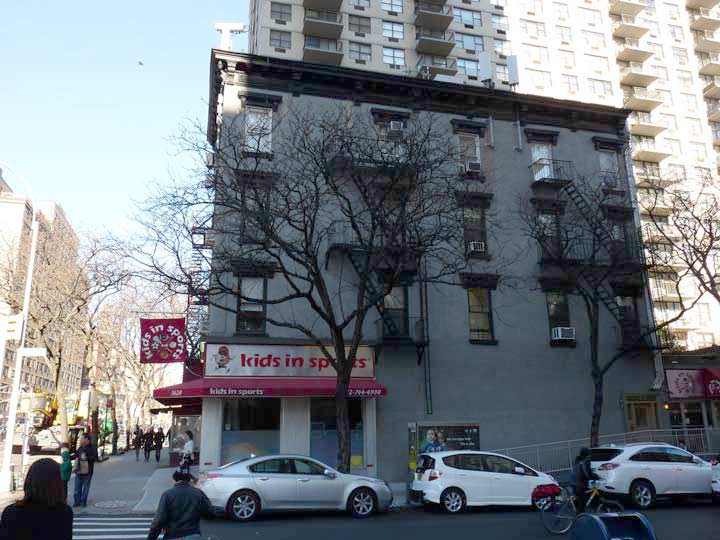 I'm more interested in the holdout older buildings along 2nd Avenue, such as this 4-story walkup apartment/stores combo on the NE corner of 2nd and East 74th.
In HighRiseVille, here's a quartet of old campaigners on the NW corner of 2nd Avenue and East 75th Street.
Barring interesting buildings on 2nd avenue, there are some interesting signs. Here's one of two Mel's Burger Bars in Manhattan; the other one is on Broadway in the Upper West Side. The sign is Helvetica, but it was treated (likely in Photoshop) to resemble chalk marks. Reviews on yelp.com, as is customary, range from 1 to 5.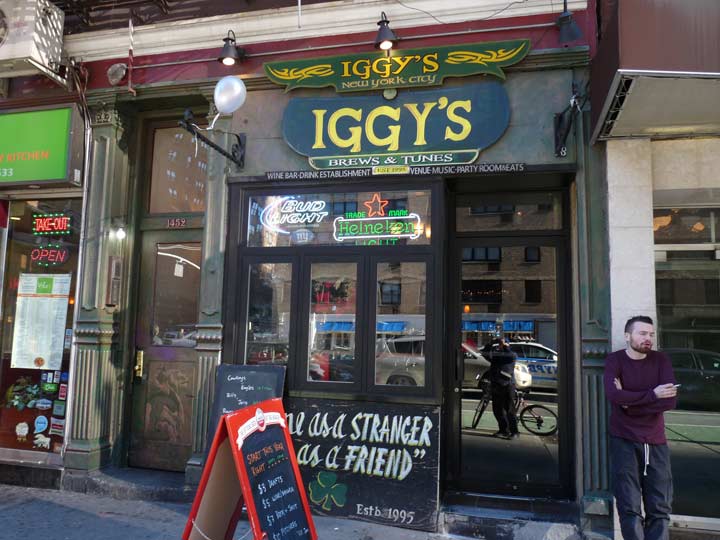 Two doors down, in another holdout building from the 1910s on East 76th, is Iggy's Brews and Tunes. One would hope James "Iggy Pop" Osterberg is on the jukebox.
Looking up 2nd Avenue from East 82nd. In January, shadows are harsh — I haven't lightened the photo at all. January 1st was also one of the two or three sunny days of the entire month.
The pedestrian plaza in front of the high-rise 303 East 83rd street features a somewhat forlorn-looking sculpture that resembles a bent musical note.
The first indication that there is a subway entrance on East 83rd Street is the presence of a large ventilation building on the northwest corner.
The left side of 2nd Avenue between East 83rd and 84th is another surviving bank of pre-WWI buildings. One of them features a hanging sidewalk clock that has lost its arms.
Only the east side of the avenue features a southern entrance for the 86th Street station, between East 83rd and 84th. It's protected from the weather by a glass canopy.
There's also a new piece of hardware I didn't see at the other new SAS stations: a sidewalk Subway sign with an attached open-station indicator.
Indicator lamps of this type first appeared in the early 1980s. Green meant the entrance was open 24/7, while red meant it was closed part of the time. As of the 1990s, you could get in with a MetroCard. At first, there were also yellow lamps, which indicated you could get in part of the time, but after the rise of the MetroCard they were dropped. In the 1990s, the appearance of many of the indicator globes was amended so that only the tops were green or red, though you still see quite a few all-green globes around.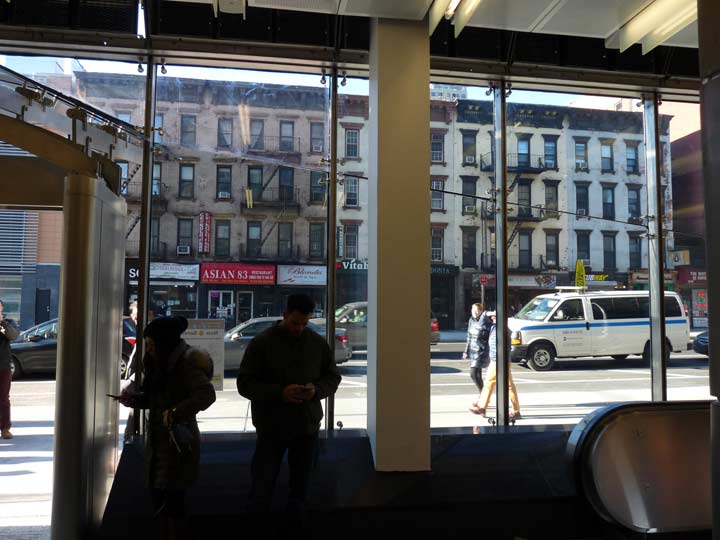 There's a glass-windowed foyer at the 83rd Street entrance that nicely sets off the older buildings across 2nd Avenue.
Up Close and personal: Upon entering the station you quickly notice one of the twelve 9-foot tall portraits that grace the entrance area and mezzanine beneath. These were created by NYC-born painter Chuck Close (1940- ), working from photographs and using both ceramic tiling and mosaics. They feature both cultural figures, everyday New Yorkers, and also two of Close himself.
Close, an inspirational figure because of a condition he has had since 1988 that renders him mostly quadriplegic (he has some movement in his arms and paints using paintbrushes taped to his wrists; he also has trouble recognizing faces, and paints portraits as a therapeutic measure) has been exhibited worldwide, received a National Medal of the Arts and was appointed by President Bill Clinton to serve on the President's Committee on the Arts and Humanities.
The above portrait is of Cindy Sherman (1954- ) New Jersey-born photographer and film director.
Cindy Sherman is one of the best-known and most important photographers working today. Her decades-long performative practice of photographing herself under different guises has produced many of contemporary art's most iconic and influential images. At the heart of Sherman's work is the multitude of identity stereotypes that have arisen throughout both the history of art and the history of advertising, cinema, and media. Sherman reveals and dismantles these stereotypes as well as the mechanics of their production in creating series after series of photographs that focus on particular image-making procedures. [The Broad]
Close's 1977 portrait of avant-garde composer Philip Glass (whose 80th birthday is the week this is written) hangs over the escalator banks at the 83rd Street entrance. Do I have a Philip Glass story? Sort of. Every year I participate in the Transit Museum Trivia Challenge held every January. About 35 teams with two to six players participate; my team finished second the initial year by one point, we won the second year, and have been second or third twice since. Anyway, one of the questions was about this very portrait: name the first in a trilogy of films scored by Glass in the 1980s. Of course I immediately thought of Koyaanisqatsi, but spelled it with a double N instead of a double A, and since correct spelling was a stipulation, we were marked incorrect. (I was told only one team got the answer and/or spelling right).
I confess I haven't been a big listener over the years, but I am familiar with Einstein on the Beach which I think could have been a pop hit if they cut it down to 3:05.
Artist/musician Pozsi B. Kolor. If anyone has any info on his work, e me at kevinjudewalsh@gmail.com
British-American painter Cecily Brown (1969- ), and a "Close-up" (see what I did there?) of the small mosaics used to render her portrait on the 86th Street mezzanine.
Brown's paintings combine figuration and abstraction. Expanding the tradition of abstract expressionism, she has become known for her painting style suggestive of abstract and abstract expressionist painters such as de Kooning and Oskar Kokoschka. Sexuality and attraction are important themes in her work, which she explores through semi-figurative and abstract means. Her paintings also recall the works of Philip Guston and the Bay Area Figurative School of the 1950s and 1960s. Brown often titles her paintings after classic Hollywood films, such as The Pajama Game, The Bedtime Story and The Fugitive Kind. In 2013, Brown based a series of paintings on a photograph of a large group of nude women that appeared on the British release of a 1968 Jimi Hendrix album Electric Ladyland. wikipedia
American artist Kara Walker (1969- )
Walker is best known for her panoramic friezes of cut-paper silhouettes, usually black figures against a white wall, which address the history of American slavery and racism through violent and unsettling imagery. She has also produced works in gouache, watercolor, video animation, shadow puppets, "magic-lantern" projections, as well as large-scale sculptural installations like her ambitious public exhibition with Creative Time called A Subtlety (2014). The black and white silhouettes confront the realities of history, while also using the stereotypes from the era of slavery to relate to persistent modern-day concerns. Her exploration of American racism can be applied to other countries and cultures regarding relations between race and gender, and reminds us of the power of art to defy conventions. wikipedia
In 2014 Walker's sugarcoated sphinx in the Domino Sugar factory in Williamsburg, Brooklyn, in 2014 caused a sensation; the building is presently under conversion to condos. ForgottenFan Mary Beth and I tried to see it but the lines down Kent Avenue under the blazing thermonuclear eye of God dissuaded us.
St. Albans, Queens artist Alex Katz (1927- )
Often associated with the Pop Art movement, Katz began exhibiting his work in 1954, and since that time he has produced a celebrated body of work that includes paintings, drawings, sculpture, and prints. His earliest work took inspiration from various aspects of mid-century American culture and society, including television, film, and advertising, and over the past five and a half decades he has established himself as a preeminent painter of modern life, whose distinctive portraits and lyrical landscapes bear a flattened surface and consistent economy of line. Utilizing characteristically wide brushstrokes, large swathes of color, and refined compositions, Katz created what art historian Robert Storr called "a new and distinctive type of realism in American art which combines aspects of both abstraction and representation." [Richard Gray Gallery]
Artist Sienna Shields is Mrs. Chuck Close.
Shields' paintings span several years, made from acrylic colored paper cut into fragments and pieces, later collaged onto canvas. In person, each piece has a surprising depth, with visible layers, washes, and strokes coming together to create a striking composition. Themes of nature and fragmentation can be found in Shields' work, made in a somewhat meditative state. [Whitewall]
Most likely, the best-known personality portrait on the 86th Street mezzanine is Long Island-NYC rocker Lou Reed (1942-2013). After releasing several singles between 1962 and 1965 Reed formed the Velvet Underground under the aegis of Pop artist Andy Warhol; while their influence was far greater than their record sales they did issue classics like "Rock and Roll" and "Sweet Jane." Reed went on to a lengthy solo career that included albums like Berlin, Transformer, and New York and the song for which he's best known, "Walk on the Wild Side," a top 20 hit in 1973. I only saw him in concert once, with Velvets alumnus John Cale at the Brooklyn Academy of Music in 1989, performing the Warhol bio-LP Songs for Drella.
One of two Chuck Close self-portraits on the 86th Street mezzanine.
Back up the escalator to street level…
Dorrian's, at 2nd Avenue and East 84th Street, was opened by Irish immigrant James Dorrian in 1960, and is still overseen by his son Jack Dorrian. It has long been a watering hole for "young urban professionals" and has also been patronized by the New York Yankees over the years. It gained temporary infamy in 1986 when Robert Chambers was convicted of the murder of Jennifer Levin in Central Park after the two had met at what was then called Dorrian's Red Hand.
At East 86th, 2nd Avenue is the epicenter of Yorkville.
Yorkville did not start out as a German neighborhood; from colonial times, it was a small settlement on the Upper East Side clustered along the now-disappeared Boston Post Road as it meandered north.
Beginning around 1930 German as well as eastern European and Irish immigrants began moving to the East 80s. There were greater opportunities to find work as well as new apartment buildings began to appear at the time, and there was plenty of mass transportation. Bear in mind that NYC had many trolley car lines and both the 2nd and 3rd Avenue Els were in business until 1940 and 1955 respectively. But the neighborhoods around the els began to dilapidate and age, and calls rang out to eliminate the els and let the sunshine in — but the el wasn't replaced, in part, until January 1, 2017.
From FNY's Yorkville page:
…one of the last restaurants in the area offering pure German fare (though there's still Zum Stammtisch in Glendale, and there's Killmeyer's Old Bavaria Inn in Charleston, Staten Island, a Forgotten favorite; Staten Island's Schaffer Tavern in Westerleigh is due to close in early 2017).
If it's boiled pig knuckles you're looking for (a wee adventurous for your webmaster) or something I'm fonder of, the jaeger schnitzel, breaded veal smothered with a mushroom-cream gravy, served with spaetzle and red cabbage, Heidelberg is the place.
Schaller and Weber has a more subdued sidewalk sign than when I last went past in 2008. Established in 1937 just as thousands of Germans and eastern Europeans moved into Yorkville, it remains the foremost representative of the neighborhood's former identity. Brand names that I remember from the German butchers in the Bay Ridge of your webmaster's youth are stil here: Knorr, Maggi, Panni, Bechtle.
I've always been fond of the German predilection for meals of meat, potatoes and vegetables, and German cuisine is unafraid of carbs (a meat & potatoes diet served my father well for 84 years). (Sauerkraut, however, is still problematical for me.) I'll eat anything ending in -schweiger, -braten or-schnitzel.
Another of the MTA's new-style, glass-roofed entrance kiosks on the NE corner of 2nd Avenue and East 86th.
Another Chuck Close portrait at the bottom of the escalator.
A building on East 86th, constructed in 1889, has some up to date additions: cell phone relays.
A look at one of the elevators; track level is about three stories down. There are just 3 access points for the 86th Street station, and none on the west side of 2nd Avenue.
Approaching East 90th Street, Knickerbocker Plaza, part of the Ruppert Towers megaproject between East 90th and 92nd and 2nd and 3rd Avenue, comes into view.
According to NYC Architecture,
Ruppert Towers were built as an urban renewal project on the site of the old Ruppert Brewery, which closed in the 1960's. The complex consists of three 24- to 42-story brick-clad towers set on a landscaped site, unified by a consistent design highlighted by narrow vertical windows and chamfered corners with cantilevers. The buildings' height, irregular massing, and dynamic design create a visual landmark on the Upper East Side…
Ruppert's Brewery (which survived Prohibition by bottling and selling near-beer) was perhaps best known for the annual salary battle between Babe Ruth and Yankee owner Ruppert. Located in Yorkville, then a heavily German neighborhood, it took up four blocks (East 90th to East 94th), between Second and Third Avenues, a complex consisting of 35 fortress-like brick buildings. Ruppert's Knickerbocker label was sold long his after death to Rheingold, in 1965. The complex, which survived 98 years, was bulldozed and replaced by enormous high-rises, one called Ruppert Towers. A sad employee, on the last day of the plant's operation, poured himself a cold one and groused, "This would never have happened if the Colonel were still alive."
I don't know. The brick cladding makes these one of the handsomer high rise projects along 2nd Avenue, in my humble opinion.
I've known for several years that the streets bordering these high rises were given a special lamppost design, and these are high-rise lamps to go along with the high-rise buildings, towering over the usual octagonal poles the city uses as a rule. They go back to when the project was built from 1975-1979. They also appear on East 91st, a walkway between the two towers.
Ventilation tower at the NW corner of 2nd Avenue and West 93rd.
The entrance to the 96th Street station on the west side of 2nd Avenue is via the ground floor of Astor Terrace, a 32-story luxury residential tower built in 1985. What we see by now as hallmarks of the new line, such as a glass rain protector and metallic lighting stanchions are in lace, as well as blue-and white artwork by Sarah Sze (see below).
An instantly recognizable SAS entrance kiosk on the NW corner of 2nd Avenue and East 94th.
Handsome pre-war apartment house on the SW corner of 2nd Avenue and East 94th.
Few of the original posters advertising the upcoming line were still in place on 1/1/17. The Q has immediately vaulted into first place for the city's most interesting subway line, from its brand new SAS stations to its southern stretch operating over what used to be the Brooklyn, Flatbush and Coney Island Railroad.
Though I photographed the entrance kiosk on the NW corner of East 96th and 2nd Avenue in 1/1/17, I returned two weeks later not only to photograph the Lex/63rd Street station but also to see what the glass roofs looked like after a light snowfall. It'd be interesting to see the interaction with a heavy snowfall but such has not yet materialized in the winter of 2016/17 yet.
I think the industrial design of the stations overall, and especially the elevators, has been greatly influenced by Jonny Ive's designs for Apple Computer over the years. The elevators somewhat remind me of the ill-fated Cube and the glass kiosk roofs look like the frosted glass stairsteps seen in Apple stores.
No other artist dominates their respective stations like Boston-born artist Sarah Sze (1969- ) does with her "Blueprint for a Landscape," which covers every horizontal surface in several shades of blue and white–over 4300 individual wall tiles and 14,000 square feet — with everyday objects such as sheets of paper, birds and trees rendered as if they are caught up in a whirlwind of activity, as if caused my a moving train, added to a blueprint-like vector line design.
A look at the platform through the floor-through mezzanine. The 96th Street mezzanine doesn't need color as much as 72nd and 86th Streets do because of the Sze installation, but I'm hoping the station bullet curtains are preserved indefinitely.
To celebrate the opening of the SAS the MTA cladded several trainsets in blue with the station-bullet ID theme.
Risking overkill with the theme, perhaps, even the boxy newsstands (the industrial design again remind me of Steve Jobs' NEXT box computers) have been surfaced with the same theme. How long will newsstands be able to survive?
I haven't found myself in the Upper East Side that much, but now that the Q goes there, I just might start making it more of a destination.
"Comment as you see fit" kevinjudewalsh@gmail.com
1/29/17