The Manhattan Savings Institution was first chartered in 1850 and the bank survived under that name for a surprisingly long time, until 1942.  Then it became the Manhattan Savings Bank after some mergers, and after a few more it's now part of the HSBC world bank conglomerate: it was founded as the Hong Kong and Shanghai Banking Corporation but is now based in London. UK.
In 1891 the bank's new, Queen Anne-style sandstone palace, designed by architect Stephen Decatur Hatch, at 644 Broadway at Bleecker was completed. As with most Queen Annes it's visually interesting with bay windows, large arches on the ground floor and smaller ones on the top floors, a chamfered (slanted) entrance diagonally facing the corner, and a copper-topped corner tower. Hatch added some American-themed touches such as a Native-American looking visage peering above the front entrance.
As the area became industrial the entire building sunk into disrepair even after it was converted to residences in the 1980s, but in 1999 and 2000 the entire building was restored to original glory.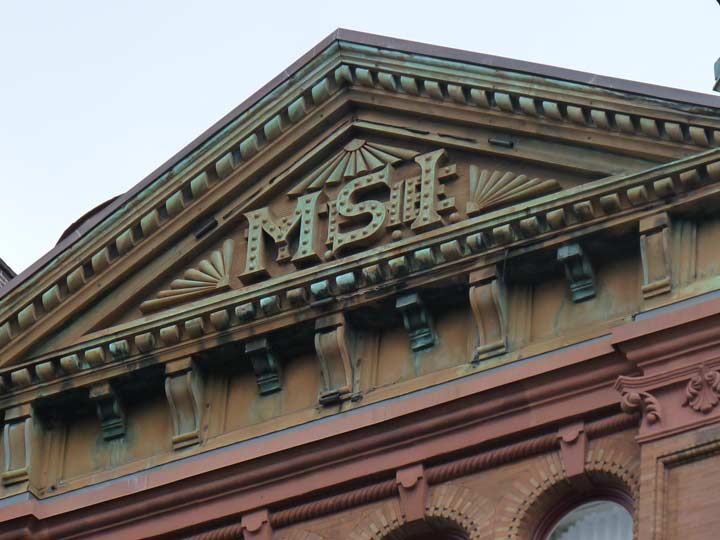 One of the building's Easter eggs is the initials MSI on the pediment above the roof. Look closely and you can see the word "THE" underneath the MSI.
Info from Daytonian in Manhattan
"Comment as you see fit": kevinjudewalsh@gmail.com
1/3/17