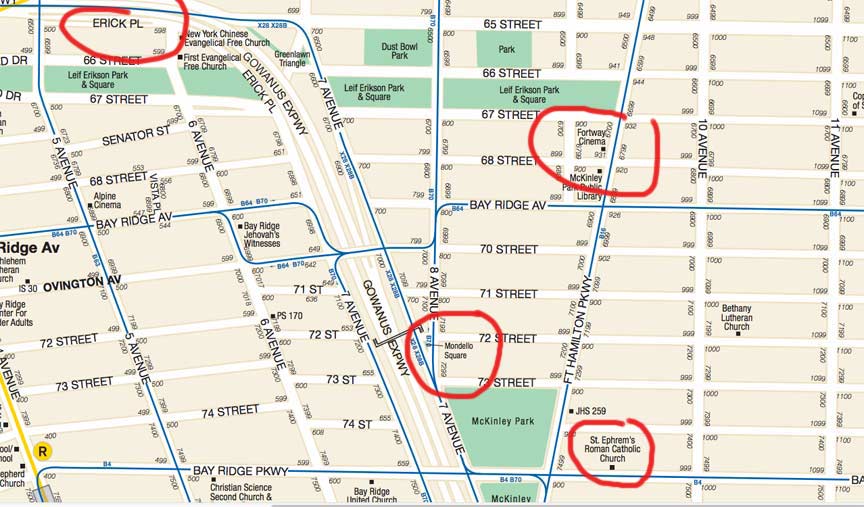 Were you aware the MTA makes street maps? They certainly do and they are available for perusal at every subway station. Now, the MTA's version of New York City is incomplete; maps are only produced for selected areas in which there are subway stations and they encompass several neighborhoods. For years, they were seen only at subway stations, but now (and probably the last few years) they've been online, too, right here. This is the entire Bay Ridge map.
These maps are exhaustive and unlike Google Maps, you don't have to zoom in tight to see all the detail; zooming makes them more visible. However, Google has much more detail the tighter you zoom. What you see above is a portion of the Bay Ridge MTA map I zoomed in on.
The MTA does have to work on its game as far as accuracy is concerned. I've circled some problem or unique areas.
–"Erick Place" does not exist in the area I've circled; that's 65th Street. To the right you see another "Erick Place," running along the Gowanus Expressway between 6th and 7th Avenues. The correct spelling on the street signs is "Eirik," which is likely how "Eric" is spelled in the Scandinavian countries. It borders Leif Ericsson Square and possibly honors Bay Ridge's Scandinavian heritage. The street, along with Dyker Place between 82nd and 85th Streets, was created as a service road bordering the Gowanus Expressway, which was built between 1959 and 1964.
–The Fortway Cinema had an 80-year run between 1927 and 2007, but since then, the building has hosted a supermarket.
–I give the MTA credit — even Google Maps doesn't show Mondello Square, in the triangle formed by 7th and 8th Avenues and 72nd Street. I'm well familiar with it, since I lived just across the expressway at 654 73rd Street between 1982 and 1990. Oddly I have never eaten at the neighborhood institution, New Corner Restaurant.
–Being a little picky here but St. Ephrem's Church faces on Fort Hamilton Parkway and the front entrance isn't on Bay Ridge Parkway (75th Street) between FHP and 10th Avenue. My cousin Eileen was married there in 1986; after Lenny Dykstra hit a game winning home run against Houston in the playoffs, I put on my tuxedo and walked across the pedestrian bridge and McKinley Park to the church from my building on 73rd Street. That was the only time in my life I ever wore a pink bow tie. There is no photographic evidence.
"Comment as you see fit." kevinjudewalsh@gmail.com
2/15/17