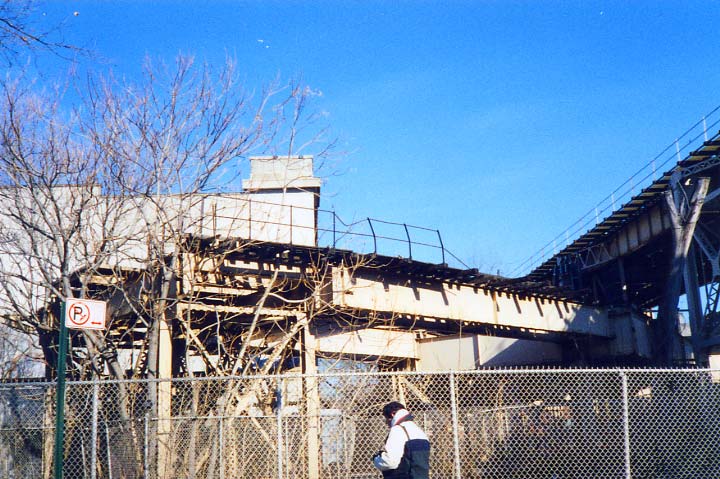 This small remaining piece of the 9th Avenue El at River Avenue in the Bronx, shown here in 1999, was eliminated between 2007 and 2009 when the New Yankee Stadium was constructed on the west side of River on the old space formerly occupied by John Mullaly Park at East 162nd Street.
The 9th Avenue El, which had its origins in the 1860s, ran up Greenwich Street, 9th Avenue, Columbus Avenue, West 110th Street and 8th Avenue to its northern Manhattan limits at the old Polo Grounds, then was bridged across the Harlem River and actually ran under a tunnel in a Bronx promontory before emerging on the other side of the cliff, merging with the Jerome Avenue El at River Avenue and 162nd. Service ended in the early 1940s on most of the line, but a short stretch of the el served as a shuttle line between the IND 155th Street station and the IRT 167th Street station until 1958. The service was ended when the Giants fled the Polo Grounds for San Francisco.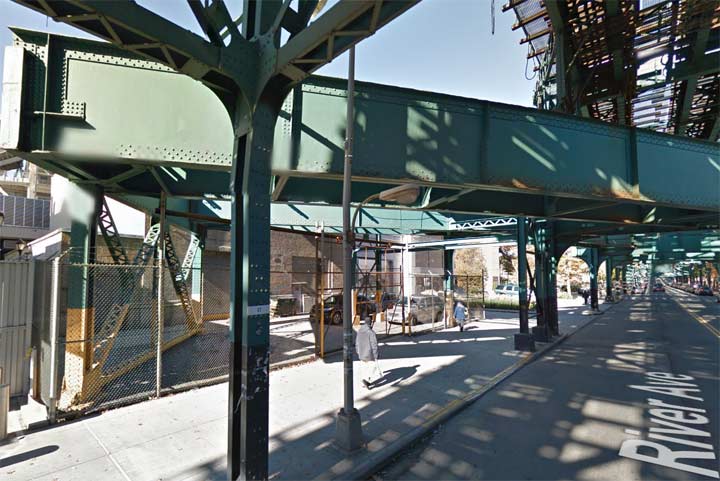 Even though most of the connection track has been torn down a small piece of it can be seen here on River Avenue north of Gate 8 of Yankee Stadium.
Here on Jerome Avenue on the west side of New Yankee Stadium, there's a high concrete wall painted blue. Above the wall is the platform and trackbed of the former Jerome-Anderson Avenue station where the el emerged from the tunnel. The East 162nd Street street sign was orphaned when the street was eliminated during the stadium construction.
I visited the platform and tunnel with other foam…er, trainbuffs in 1999.
"Comment…as you see fit." FNY Comments are once again active!
3/8/17