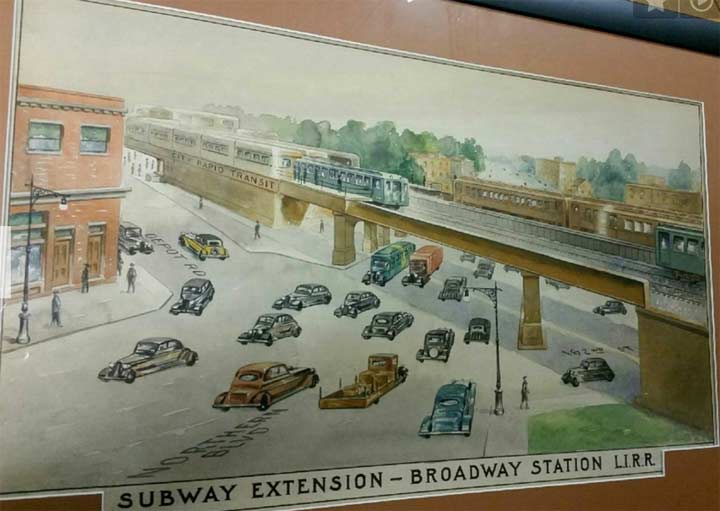 A Forgotten Fan sent me a very interesting watercolor depicting both subway cars and LIRR cars on the elevated Long Island Rail Road trestle at Northern Blvd. and 162nd Street in eastern Flushing, apparently promoting an extension of the Flushing Line on the LIRR tracks. From the looks of the cars, it was produced sometime in the 1930s. The Broadway LIRR station ran at grade until 1913, when the boulevard was lowered and the LIRR trains, which run on an embankment here, placed on a steel trestle. Interestingly there is no "Broadway" here; Queens' Broadway runs from Astoria to Elmhurst. However, until about 1920, Northern Boulevard was called Jackson Avenue west of the Flushing River; Broadway east of it; and North Hempstead Turnpike once across the city line in Great Neck. The name of the route has continued its fluidity, since it's now unofficially Northern Boulevard to the Suffolk County Line, but motorists just call it Route 25A once you get out that far.
Extending the Flushing Line down the LIRR Port Washington tracks has been bandied about for decades, but likely won't happen for a variety of reasons. Placing the #7 and the LIRR on the same tracks would effectively end express LIRR service, which is scheduled mornings and evenings; and most importantly, the good burghers of Bayside, Great Neck, and points east would ill suffer the everyday Joes and Janes who normally take the subway, with its lesser comforts and lower price points. When I work freelance in Manhattan I take the Q12 bus and #7 from Little Neck to Manhattan. The ride takes 90 minutes, but is just $5.50 round trip (as of 2017). I have Long Island Rail Road tracks a block away from where I live, but peak fares to Manhattan cost $20 round trip daily. For those prices, you get a soft seat and faster service, but not much else. But you can see how different the prices are. (When I know I will take the peak LIRR every day, I buy a monthly ticket, which represents about a 35% discount off the normal peak price.)
Practically speaking, connecting the #7 to the Port Washington branch would likely necessitate building a connecting track somewhere in the Citifield area, though Governor Andrew Cuomo has already tabbed that general area to set up an AirTrain connection to La Guardia Airport.
It's always been interesting to speculate a connection like this, but both practical and societal factors doom it.
More subway lines that never were or can't be, in Joe Raskin's The Routes Not Taken.
"Comment…as you see fit." FNY Comments are once again open!
3/6/17