Not long ago I marched down 4th Avenue and 39th Street in a neighborhood called Greenwood Heights, after its position just west of Green-Wood Cemetery. A couple of months before that, though, I walked from near the waterfront east through Sunset Park itself, further east into Borough Park and ended up around sunset in Kensington. Though I'm quite familiar with all three areas, they have gotten somewhat less coverage in FNY than other areas, largely because they're "bedroom" communities without a lot going on — at least till lately. Gentrifiers have had their sights set on Sunset Park of late; and Mayor de Blasio has proposed NYC's first light rail line in decades, the Brooklyn-Queens Connector, which would originate in Sunset Park and run along Brooklyn and Queens' waterfront neighborhoods northeast as far as Astoria.
GOOGLE MAP: SUNSET PARK to BOROUGH PARK
In Part 1 I left off as I was about to enter Sunset Park.
When I was a kid, my parents warned me to stay out of Sunset Park on my bike voyages and pedestrian explorations. "The bad boys are there," was the explanation. I took the warning to heart and never spent much time in the park, even after I grew up and had nothing…er, not much…to fear from the bad boys. Missing out on Sunset Park was a mistake.
It's not Brooklyn's highest promontory…that honor goes to a peak in Greenwood Cemetery…but Sunset Park comes close, and it was named for the occasionally spectacular sunsets that can be seen from here. The park, between 5th and 7th Avenues and 41st and 44th Streets, offers views of the entire panoply of Upper New York Bay, with views of nearby St. Michael's Church, the statue of Liberty, Jersey City, Manhattan, Staten Island and, on those rare perfectly clear days, New Jersey's Watchung Mountains, the only real mountains visible from NYC.
Sunset Park itself was founded in the late 1890s in a rectangular 41.5-acre plot between 5th and 7th Avenues and 41st and 44th Streets. As Sergey Kadinsky reports in Hidden Waters Blog, it once had a pond used for fishing in the warm months and ice skating in cold months (NYC once has a climate that featured extended cold periods enabling outdoor ice skating). Streets were mapped in the area before the park was constructed, but they were paper streets only, reflecting what city planners had determined to run through there. The pond, which had been created when the park was originally built, was eliminated when the Sunset Park swimming pool was built in 1936, which I'll take a look at later. Sadly, the carousel and 6-hole golf course that used to be here are long gone.
It wasn't until the 1980s that I bicycled extensively into Sunset Park and discovered the exquisite western and northwestern views it had especially from the hill rising just east of 5th Avenue. In this view we're looking at the attached brick buildings lining 42nd Street in the foreground, then Jersey City past Upper New York Bay, and the Watchung hills beyond that.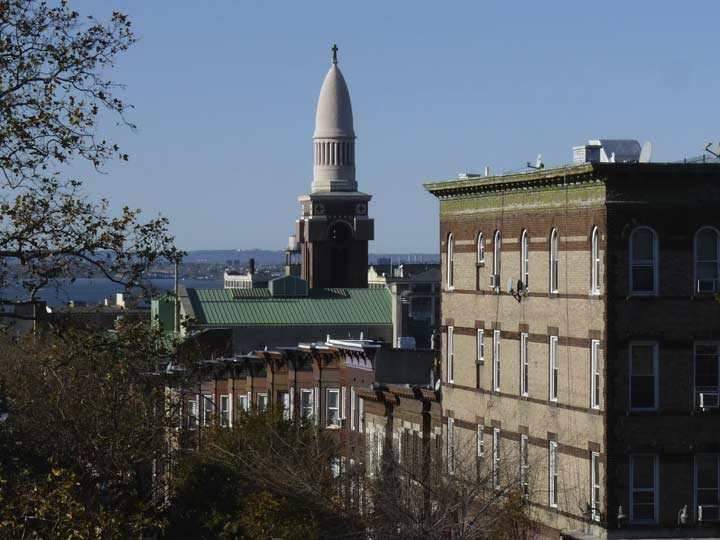 Dominating the view a bit to the northwest is the 200-foot tall bishop's miter that tops off St. Michael's Church.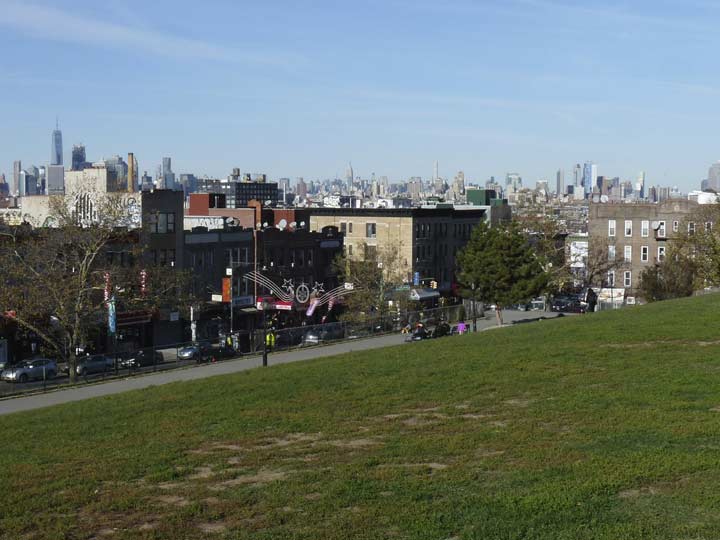 The entire panoply of Manhattan and downtown Brooklyn skyscrapers can be seen from here, from #1 World Trade Center, the Empire State Building, 432 Park (nuff said) to Brooklyn's new cluster of downtown skyscrapers.
I tend to zoom in on the King of All Buildings (no matter how high they build them, that will always be my name for it). I often try to spot it from wherever in the city I happen to be. I think my favorite views are from Calvary Cemetery in Queens, 47th Avenue in Sunnyside, Seneca Avenue in Ridgewood and Victory Boulevard in Staten Island, though I think it's even better when I happen to see it when not looking for it as has happened to me at Avenue M and Ocean Parkway and from a spot in Kissena Park in Flushing I've never been able to find since! I have only been to the 102nd floor once, as I took a ride up there during lunch hour from Macy's in 2000. I see that since then, the security has been laid on pretty thick and the price has become relatively unaffordable.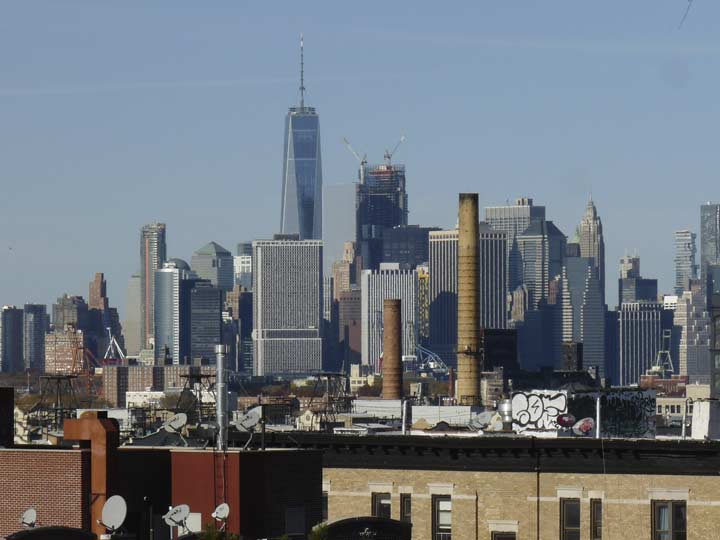 A look at the downtown thicket and #1 WTC, which opened in 2015. So far, publishing giant Condé Nast is the most "important" tenant. The building is mostly the design of David Childs, who modified and "blanded" the original design by Daniel Libeskind that was accepted after a two-year design competition; I think the original, with a long, narrow shaft pointing skyward, was better, but security affected whatever the city originally wanted to do.
Google aerial view of Sunset Park. Note how tall trees are kept to a relative minimum in the western side of the park to take advantage of the Manhattan views. The rest of the park is thickly shaded. Playgrounds, fields and the park pool are located between 6th and 7th Avenues.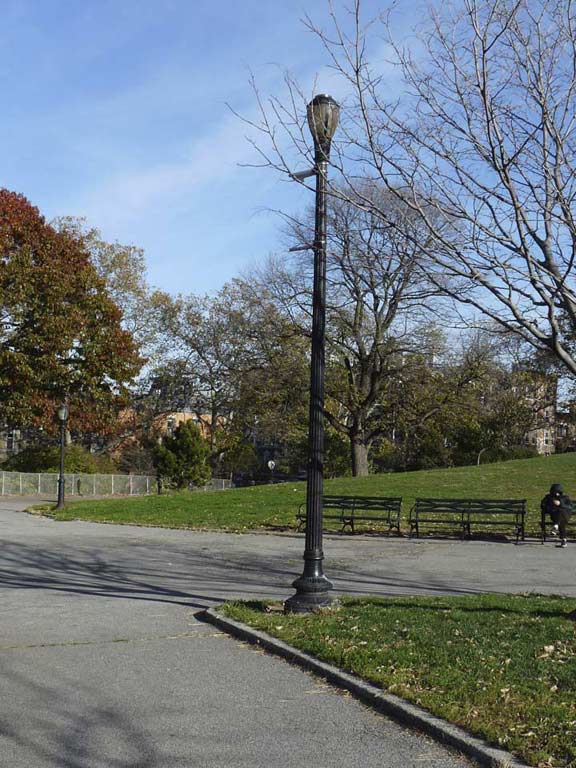 Most of the park lamps are the usual Type B lamps found in other parks, with one exception. As far as I've observed the city usually uses the first thing found in the lot whenever a replacement lamp is needed, explaining this outlier.
Scenes from the park's southeast end at 7th Avenue and 41st Street. After a period of severe deterioration from 1975-1990 due to the city's near-bankruptcy, Sunset Park and other city parks have enjoyed a renaissance and paths, entrances and flora are well-maintained. Vandalism is repaired promptly.
Located at 7th Avenue between 42nd and 43rd Streets, the Art Deco Sunset Park Pool administration building looks much the same as it did, with Art Deco elements preserved from its opening in 1936 as part of Works Progress Administration project that built 11 public pools divided among NYC's 5 boroughs; Astoria Park's was the largest, and even hosted Olympic team swimming trials for the 1936 games. The pool itself is behind the building; it and its attendant playgrounds received an upgrade in 1984 with new play equipment.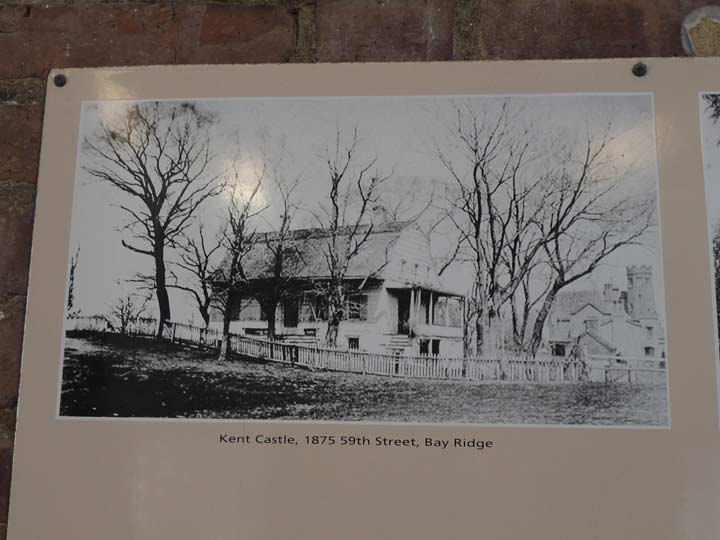 Best of all, from my perspective, are some photos of long-gone classic edifices that were in the Park Slope, Bensonhurst and Borough Park areas such as the Kent Castle, built ca. 1875 on 59th Street. According to the Brooklyn Eagle, the "castle" stood at 2nd Avenue and 59th Street; the given address would correspond to between 18th and 19th Avenues. It was demolished in 1910.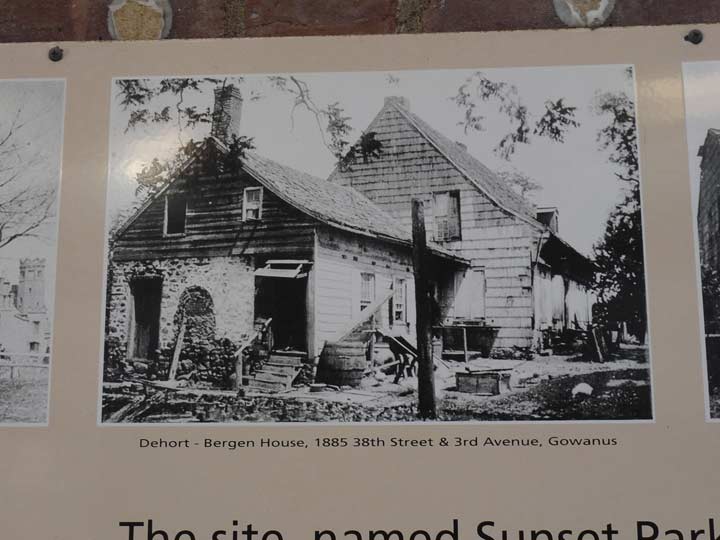 The former DeHart-Bergen House (misspelled on the sign) at 3rd Avenue and 38th Street as seen in 1885. It was built in 1680, give or take a few years, by Symon Aertszen DeHart, who had arrived in New Amsterdam in 1662. The building remained standing for over 200 years and was demolished in the late 1800s, about the time the 5th Avenue El was curving west on 38th Street to 3rd Avenue; the building may have been a casualty of that construction. Much more in rootsweb.
Tunis Bergen House, also built in the pre-Revolutionary era on the Gowanus Road, the only thoroughfare located connecting the Fulton Ferry area with Bay Ridge in those days. The building survived almost until the World War I era at what is now 2nd Avenue and 58th Street.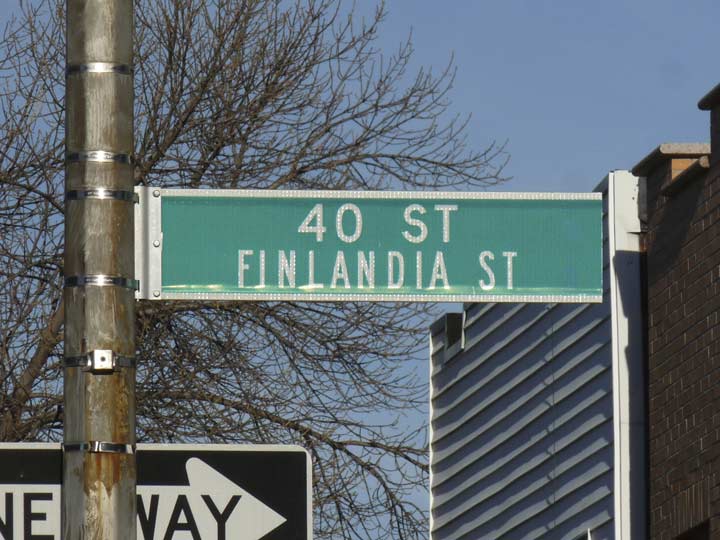 In just 20 years, I've noted the stretch along 8th Avenue become one of NYC's three Chinatowns (along with the one in Manhattan and the one in Flushing); the area nearest the water has a distinctly Latin, now primarily Mexican, flavor, and Borough Park is one of NYC's three Hasidic Jewish strongholds, along with Crown Heights and southern Williamsburg. When I was small, many, if not all, nonessential businesses closed Sundays, but in Borough Park it was the reverse, with Sunday the busiest day of the week. 30 to 40 years ago, Sunset Park and its neighbor to the south, Bay Ridge, boasted a considerable Scandinavian population, primarily Norwegian (Nordisk Tidende was to be found on most newsstands, and a number of Danish bakeries lined Fifth Avenue). The Scandinavian legacy is being preserved by the annual Norwegian Independence Day Parade in May, Lutheran Medical Center on 2nd Avenue and 54th Street (founded in 1883 by a Norwegian Lutheran nurse, Sister Elizabeth Fedde, which is improbably noted in the signage at the 53rd Street BMT subway station), and a few other locations we'll discuss here. The Danish Athletic Club on 65th Street and Gjøa Sporting Club around the block on 64th are also survivors.
Until recently there was even a combined Norwegian-Chinese restaurant on 8th Avenue, the Atlantic/Wee Kee at 8th Avenue and 54th Street:
I adored this place. The Chinese menu was just what you would have expected. It may have been good eating; I don't know—I never tried it. I made my choice from the six of seven Norwegian entrees listed on a board hanging above the counter and ate them silently among the few other elderly, stoic Norwegian men. The meals were all made by the Chinese cook, but from recipes carefully taught to him by the former owner of the Atlantic. It was fish pudding, boiled potatoes, and various stews, all truly delicious. I went down especially for lunch about once a year until the Wee Kee was replaced by another Chinese restaurant. There is not a trace the place ever existed now, and nobody around the neighborhood seems to remember anything about it. Sad. [Lost City New York]
The blocks between 40th and 44th Streets were home to a substantial Finnish population. Finland is in Scandinavia (with Norway, Sweden and Denmark), but its language is from a different root and is unlike Danish, Swedish or Norwegian. In Finland, the country is called Suomi; the word doesn't resemble other Scandinavian country names' English counterparts such as Sverige, Norge and Danmark.
On 43rd Street between 8th and 9th Avenues, we find the first cooperative apartment in the country, founded by 16 Finnish immigrant families in 1916. The first of these coops was located at #816 and was called Alku, or "beginning." A gold leaf sign on the doorway identifying it has been lost in recent years, but the second such co-op, Alku Toinen, "Beginning II" is chiseled in and still remains at #826.
A decade later, Brooklyn's "Finntown" was home to 25 other housing cooperatives, complemented by a cooperative shopping complex including a restaurant, meat market, bakery, and grocery, but almost none of the apartments in these simple looking brick buildings are occupied by Finns today. [Place Matters]
Montrose Morris weighs in on the Finnish co-ops in Brownstoner.
I am unclear about it and my research has not confirmed it, but there are a pair of very handsome buildings across the street from each other on 7th Avenue between 40th and 41st Streets known as the Sunset Court Association and Sunset Home Association. These buildings are also co-operatives, but I'm not sure if the Finns had anything to do with them. They are joined by the Sun Garden Home Association, 637-661 41st Street, and Sunset View Association (not signed as such on the building) at 601-611 41st. They could have been part of the first wave of Finnish immigration to Sunset Park but I'm just not sure.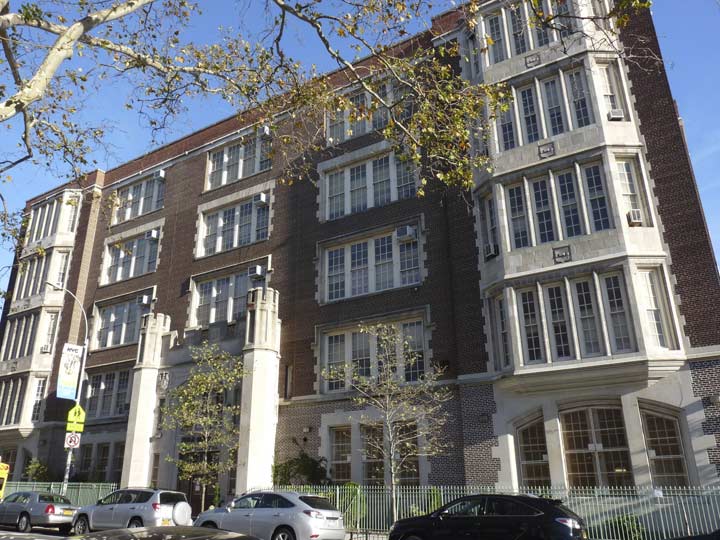 Students at PS 169, the Sunset Park School, enjoy a view of Sunset Park from 7th Avenue-facing windows. The school was built in the early 20th Century; by then, there was a rough template for public school construction, as a rule the "H-plan" pioneered by prolific schools architect C.B.J. Snyder (1860-1945).
"Snyder insisted that all N.Y.C. public schools be built of fireproof materials, and he developed an interlocking type of stairwells, such that the buildings could be emptied within three minutes," she writes in the book. "His schools included new features reformers were pushing for, such as auditoriums with projection rooms and organs, space for public art, laboratories, vocational training facilities, gymnasiums, swimming pools and roof playgrounds. The buildings were designed also to accommodate new after-school activities like recreation classes and evening lectures." [NY Times]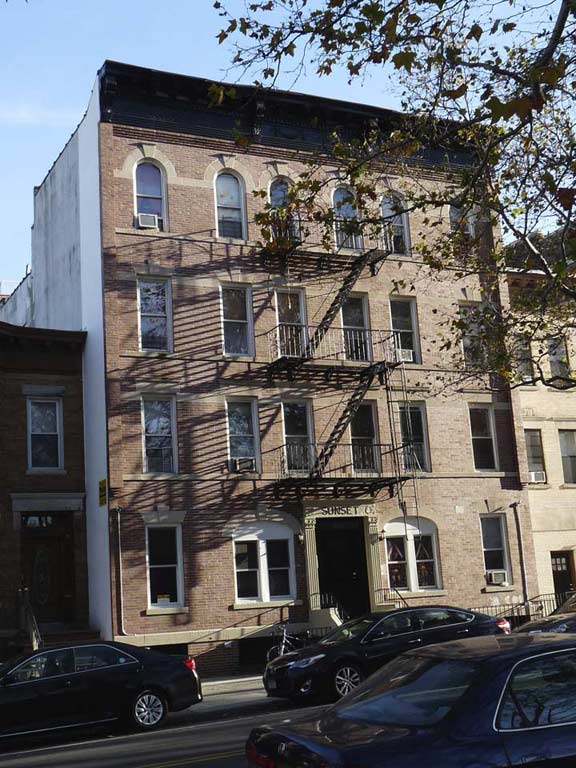 This is a very pleasant part of town, or at least looks like it with the right sun angle. Here is an apartment building at 7th Avenue and 43rd Street titled "Sunset." I don't know if it was a part of the co-op apartment system in the area.
Juxtaposed on 41st Street, across from the Sunset Home Association near 7th Avenue, is the past and present of what developers deemed optimal residential architecture. You may guess which samples I found more attractive.
After noting the wonders surrounding the blocks around Sunset Park, I began to walk a little faster toward my destination, the F train on McDonald Avenue. It gets late early in November, as Yogi put it, and the shadows were already beginning to make a difference. I spotted an interesting Deco-era building on the NW corner of 9th Avenue and 42nd Street, with some interesting (to me) and vaguely Egyptian iconography at the front entrance.
At 42nd Street, 10th Avenue and New Utrecht Avenue meet up and the West End El takes a brief 2-block jaunt over 10th Avenue that oddly went completely unchronicled on any paper map from any company. In 2016, I did a complete New Utrecht Avenue under-the-el-walk.
In Brooklyn there are worlds alongside worlds, and other worlds next to those worlds. In about an hour, I have moved from heavily Latino western Sunset Park through heavily Chinese eastern Sunset Park to northern Borough Park, which is one of the most distinctively Jewish regions in the world outside Israel:
Borough Park is home to many Hasidic groups, the largest being the Hasidic Bobov sect, which consists of a main group and the splinter faction, Bobov-45; the Belz, Ger, Satmar, Stolin, Vizhnitz, Munkacz, Spinka, Klausenburg, Skver, and Puppa communities also reside here, among others. There is a minority of Hareidi non-Hasidic Lithuanian Jews (typically called Litvish or Yeshivish), with a smaller number of Modern Orthodox Jews. There is also a large population of Yemenite Jews, many of whom immigrated in the early 1920s. wikipedia
Beginning in the 1970s, many of the smaller one-and two-family homes that lined Borough Park's side streets were razed in favor of multifamily dwellings. Enough of the older building stock remains to provide a contrast.
The spire of St. Catherine of Alexandria Church can be seen far and wide around Borough Park. The Roman Catholic Church at Fort Hamilton Parkway and 41st Street is a scene veteran–it was built in 1901.
…a Christian saint and virgin, who was martyred in the early 4th century at the hands of the pagan emperor Maxentius. According to her hagiography, she was both a princess and a noted scholar, who became a Christian around the age of fourteen, and herself converted hundreds of people to Christianity. Over 1,100 years following her martyrdom, St. Joan of Arc identified Catherine as one of the Saints who appeared to her and counselled her. wikipedia
The term "Catherine wheel" means both an instrument of torture — it was named for the device on which St. Catherine of Alexandria was to be martyred — and also a variety of fireworks instituted in 1769 during the reign of Catherine The Great in Russia. Neither has anything to do with the other.
Fort Hamilton Parkway, originally Avenue, was one of the first streets laid out in Borough Park and Bay Ridge, dating to the late 1800s, It connects Ocean Parkway with the western Fort Hamilton entrance at 101st Street.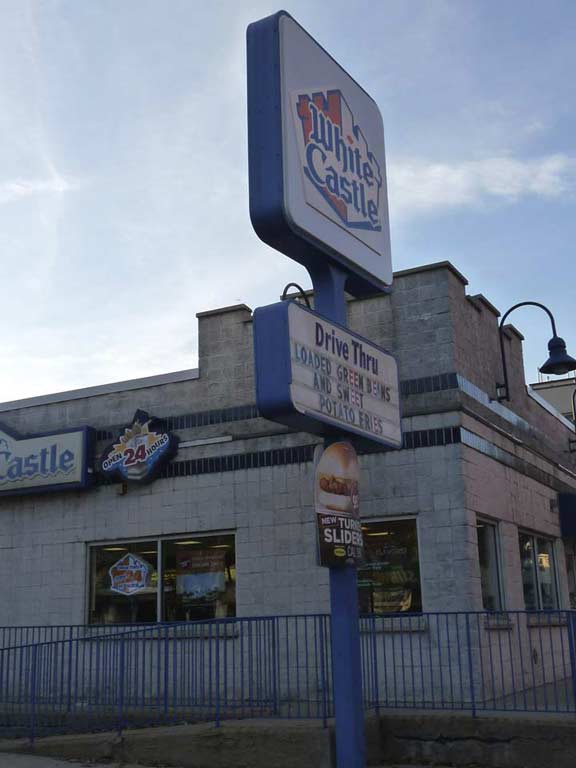 My go-to White Castle in Borough Park is at FHP and 41st Street. White Castles are like Shane… they tend to come back.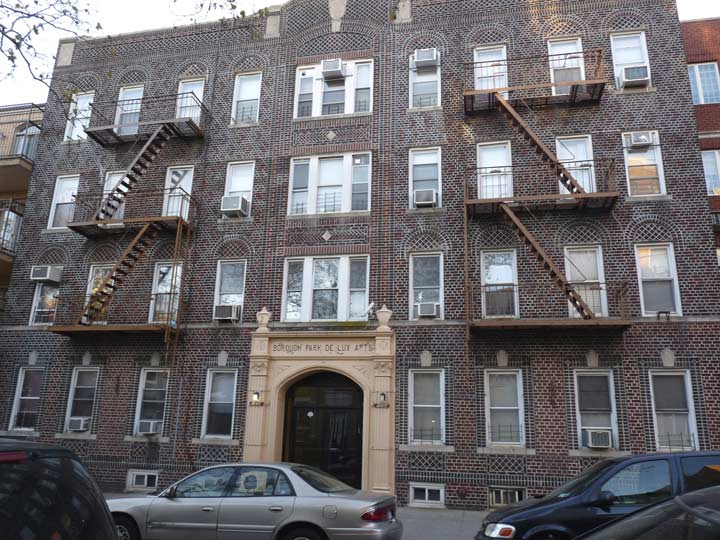 Continuing apace on 42nd street here's the Borough Park De Lux Apartments between 12th and 13th Avenues, one of the larger remaining pre-WWII multifamily buildings.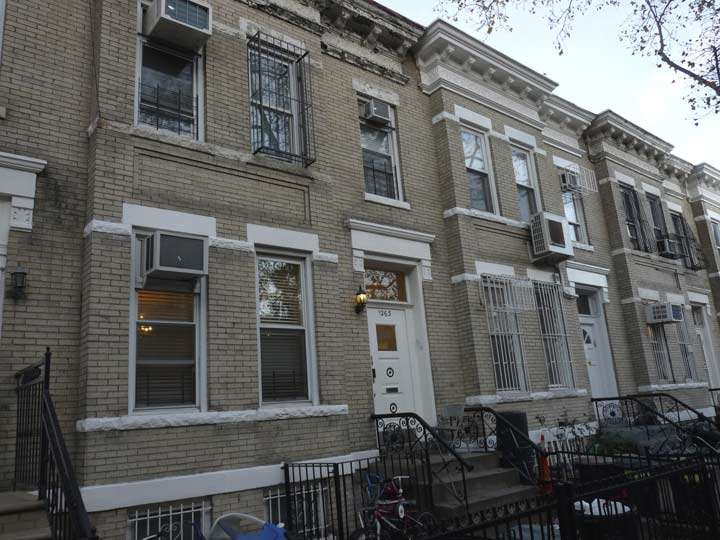 Directly across the street is a handsome row of attached brick residences.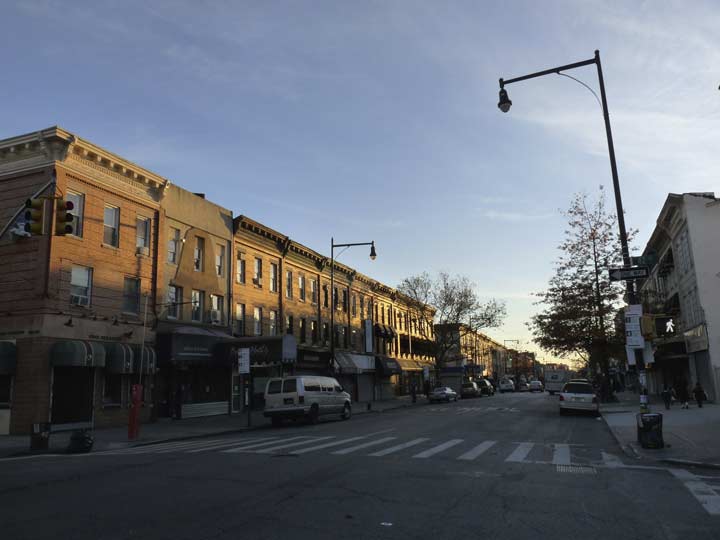 Roaming in the gloaming at 13th Avenue and 42nd Street. The main shopping street of Borough Park is quiet on Saturdays in heavily Jewish Borough Park.
Hand-lettered sign for Avrom's Shoe repair, 42nd Street east of 13th Ave.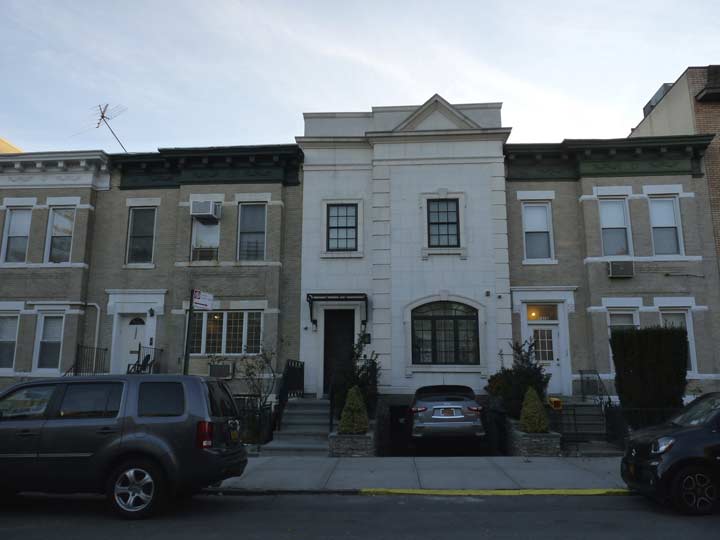 A midblock interruption in the line of attached brick dwellings, between 13th and 14th Avenues. Without Landmarks protection developers can do what they choose to do.
PS 164, 14th Avenue and 42nd Street, also called the Caesar Rodney School after a signer of the Declaration of Independence (1728-1784); on December 7, 1787, Delaware became the first state to ratify the Constitution of the United States, and has since promoted itself as "The First State," and it bears that appellation on the back of the Delaware state quarter issued in 1999. A street in Williamsburg is also named for Rodney.
The school may be another C.B.J. Snyder design.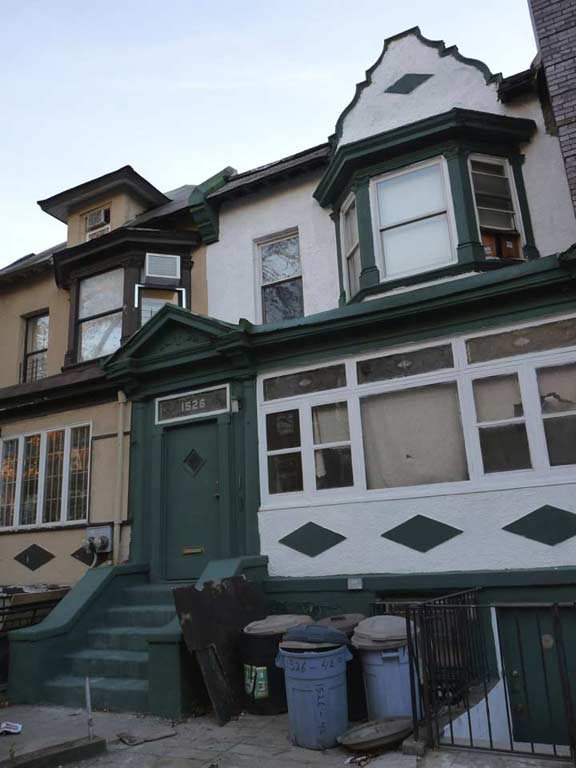 An unusual pair on 42nd between 15th and 16th Avenues, in that they seem to be untouched by aluminum siding or other alterations that have been done to shore up dwellings from the early 20th Century. Both have enclosed front porches and 3-sides bay windows on the 2nd floor. #1526 has what must be original stained glass paneling on the transom and above the windows.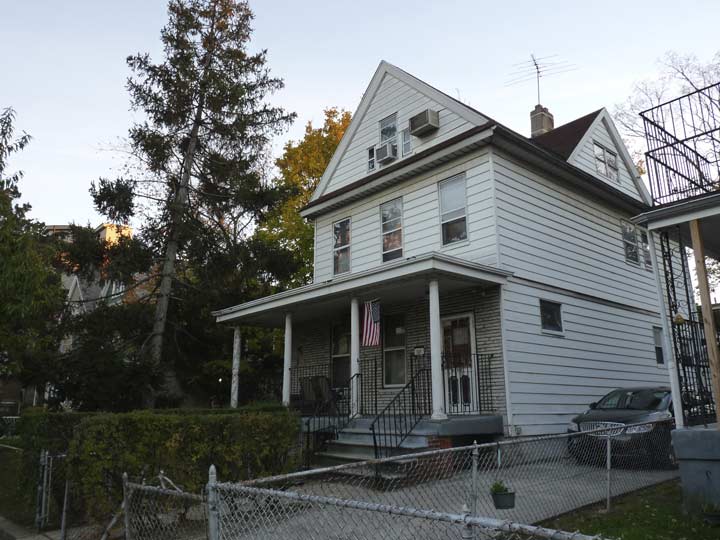 Freestanding homes with porches and full lawns are relatively unusual in these parts, though not in others; this is on 42nd between 16th and 17th Avenues.
One of a number of McMansion monstrosities that have arisen on the same stretch. The knack of building beautiful urban one-family dwellings has apparently been lost. Even the attempt at a Mansard roof doesn't help things much. Note the scale of the two cottages next door.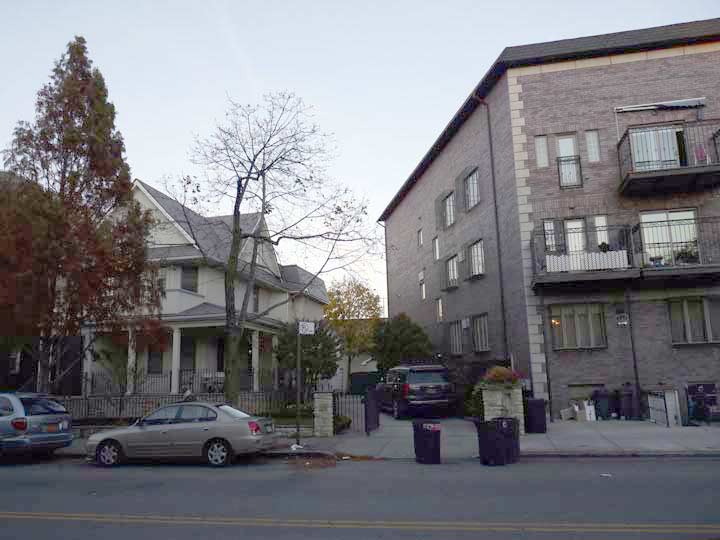 At Dahill Road and 41st Street I stopped to note the appearance of a slanted driveway with a corresponding odd angle in a newer building next door.
This is the remaining extant piece of a colonial-era road called Lotts Lane or Little Lane. In fact as this FNY page explains, it's one of a number of old roads, or pieces of old roads, that run through Borough Park and Kensington that also include Old New Utrecht Road, New Utrecht Avenue, Martense's Lane (now 36th Street) and Church Lane (now Church Avenue).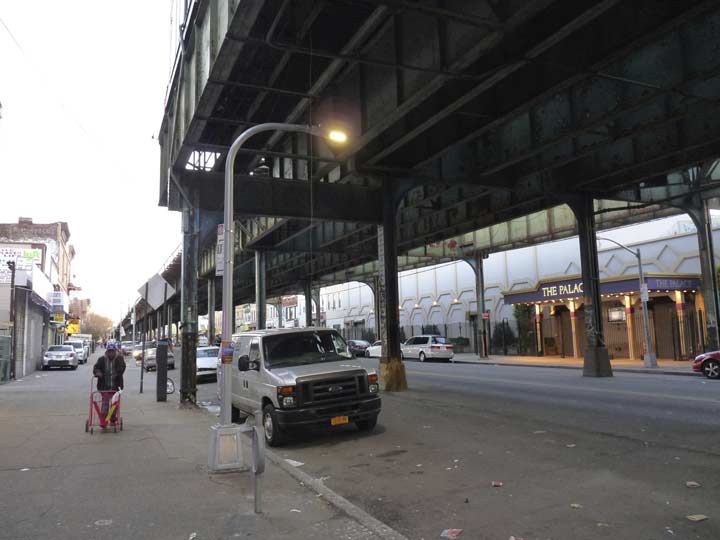 I was expecting to catch the F on the Culver El back to Manhattan at Ditmas Avenue, but the MTA had other plans; longrunning work on the el has closed several Manhattan-bound stations. There was nothing to do but walk south to 18th Avenue, which was built as an express station (there is no current express service on the Culver) and it gave me the chance to snag this photo of a new davit-style LED lamppost, which is popping up under els all over town.
"Comment…as you see fit." FNY Comments are once again open!
3/5/17